Big juicy blueberries are in season right now and there's no better way to enjoy them than first thing in the morning with these moist and fluffy Blueberry-Rosemary Pancakes. I use Bob's Red Mill Organic 7-grain Pancake mix mix which uses stone ground whole grain flours and whole ground flaxseed meal to create a delicious earthy blend. You can find it at natural food markets or online.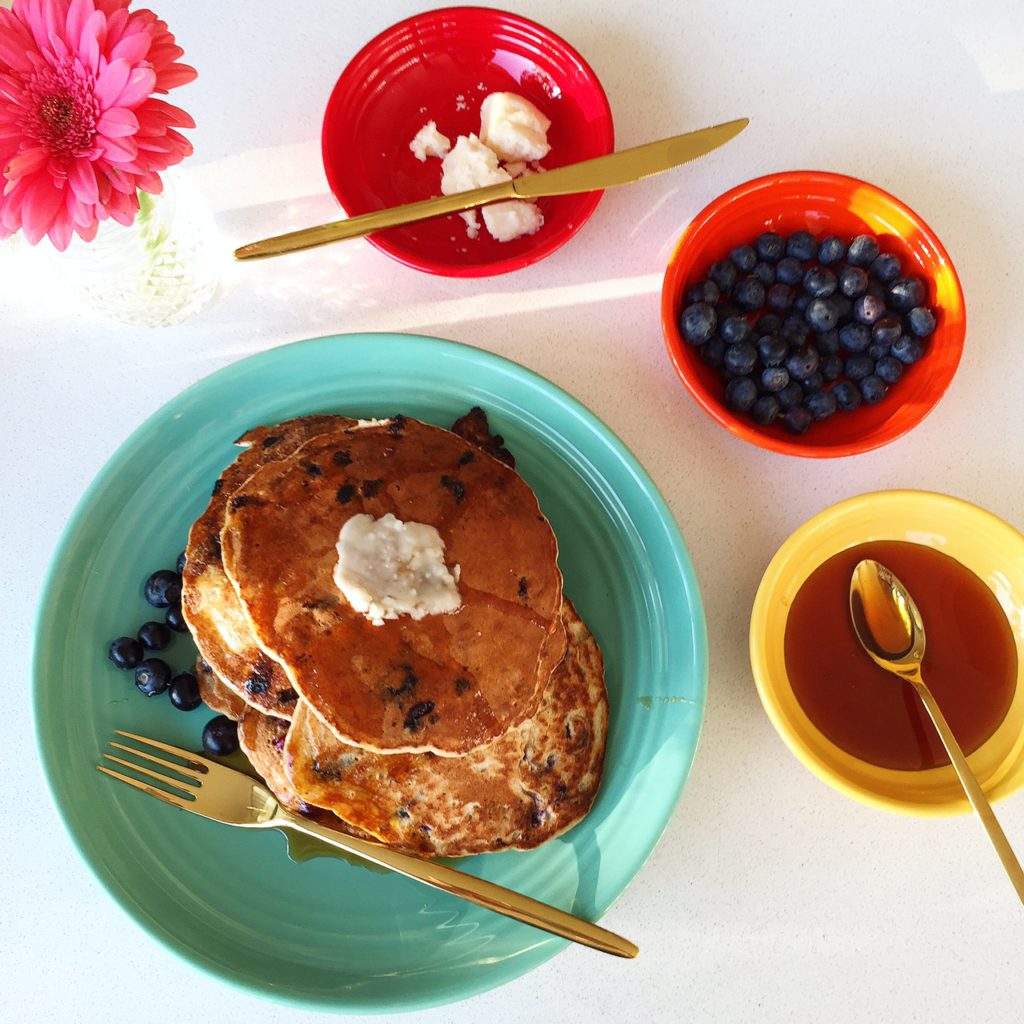 Fresh rosemary adds a fragrant herbal element and orange blossom honey adds a sweet floral note. Finish them off with creamy coconut butter and you have next-level blueberry pancakes that you can make in just minutes.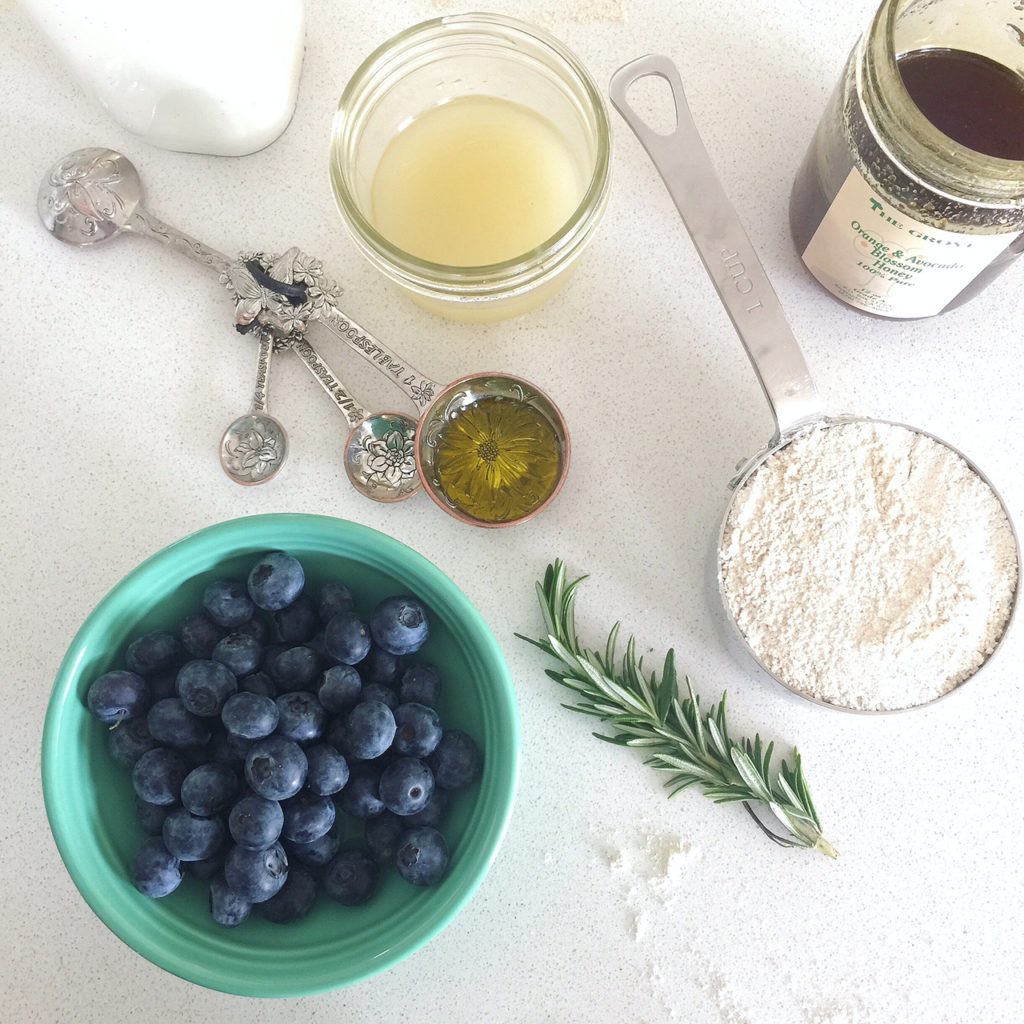 They are made perfectly moist and fluffy thanks to aquafaba – the liquid from canned beans that can be used in place of eggs in lots of recipes. If you are unfamiliar with aquafaba you can check out this Facebook page to learn more about it and check out all of the crazy inspiring things people are doing with it.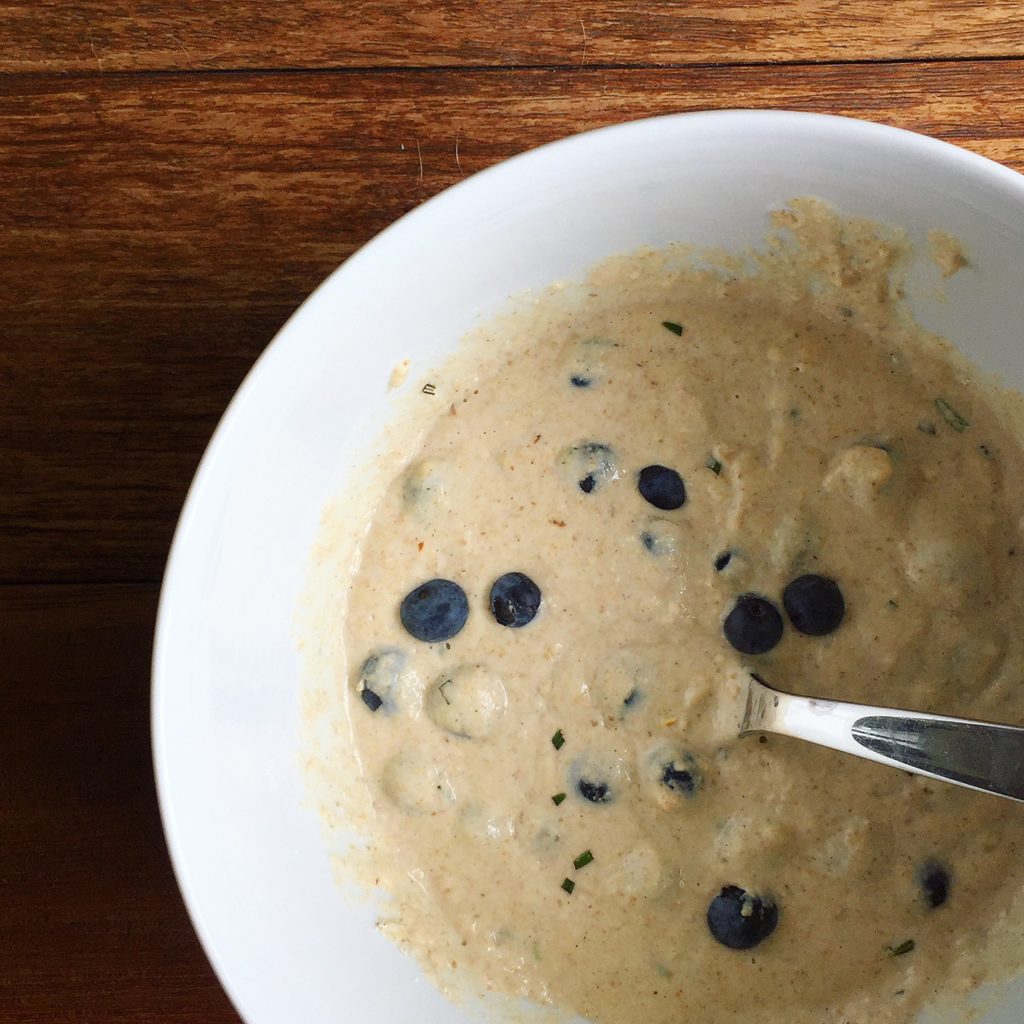 These Blueberry-Rosemary Pancakes are perfect for:
when you need a quick, but extra satisfying breakfast.
as an easy yet impressive centerpiece for you brunch menu.
when you find blueberries on sale at the market.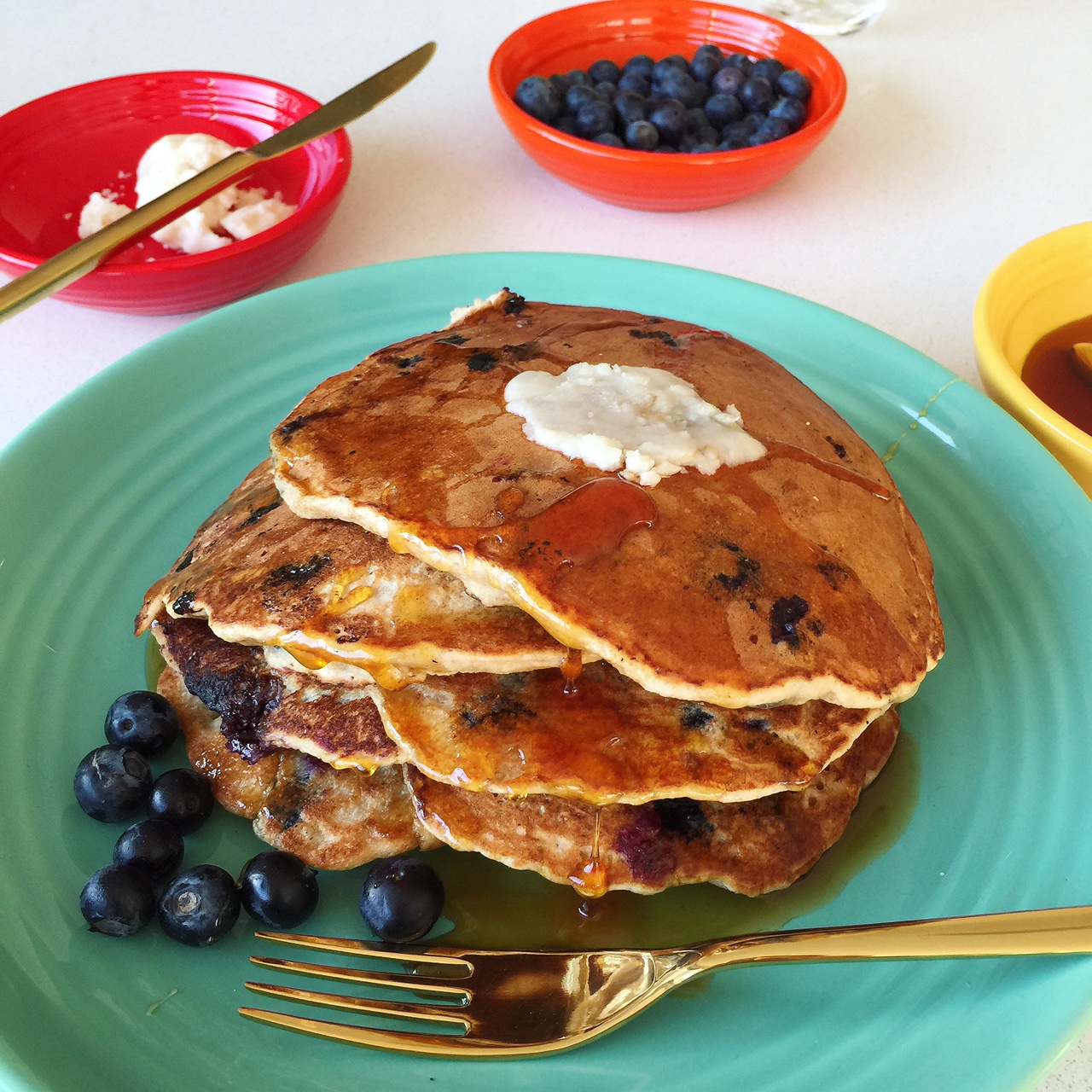 Nutritional Highlights:
Eating whole grains regularly can lower your risk of coronary heart disease and promote healthy digestion.
Blueberries are low in calories, but highly nutritious and among the world's most powerful sources of disease fighting antioxidants.
Rosemary is known to have memory boosting and mood enhancing qualities making it an ideal herb to enjoy first thing in the morning.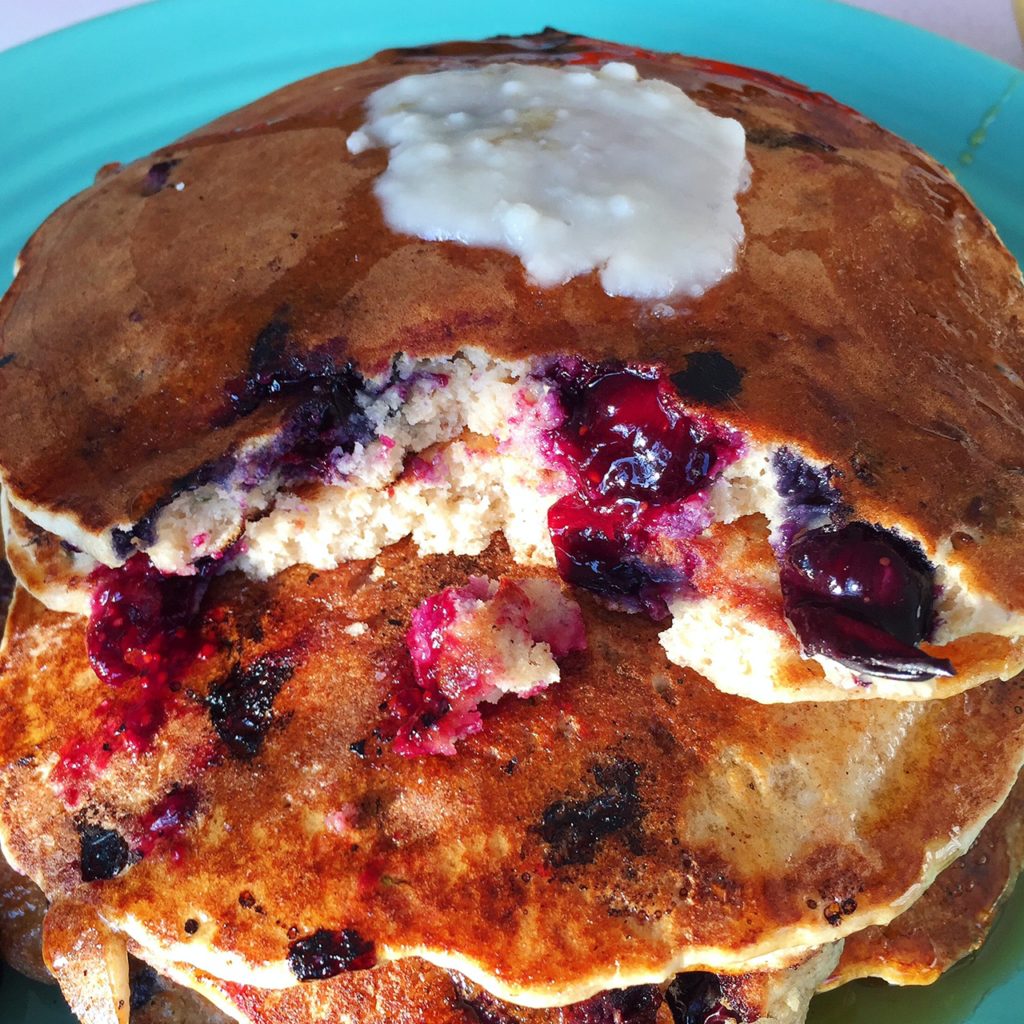 7-Grain Blueberry-Rosemary Pancakes with Orange Blossom Honey and Coconut Butter
Ingredients: makes 4 medium pancakes

Pancakes:

1 cup Bob's Red Mill 7-Grain Pancake Mix
3/4 Non-dairy Vanilla Flavored Milk
3 Tbsp Aquafaba (liquid from canned cannelini or chickpeas) 
1 Tbsp Extra-Virgin Olive Oil
1 scant tsp fresh Rosemary, chopped
Pinch of Cinnamon
Pinch of Sea Salt
3/4 cup fresh Blueberries

Toppings:

Orange Blossom Honey
Coconut Butter (sometimes labeled Coconut Manna)
1. In a mixing bowl blend pancake mix, milk, aqufaba, rosemary,  cinnamon and sea salt whisk with a fork to blend. Fold in the blueberries. Do not overmix.
2. Heat a griddle or non-stick pan on medium until water sizzles when you add a drop.  Use a quarter of the batter to make each pancake. Flip the pancakes when bubbles show in the middle of the pancakes and the edges begin to brown. Gently loosen the bottom of the pancake with a spatula before flipping. Cook for another couple of minutes until both sides are golden brown. Serve with a generous pat of coconut butter and drizzle with orange blossom honey.
Notes:
Use maple syrup or blueberry jam in place of honey to keep it vegan.
You can use one egg in place of the aquafaba if you prefer.
Homemade nut milks lead to slightly denser pancakes vs. store-bought milks due to their thicker consistency.
Use your leftover cannelini beans to make this Spring Clean Bowl or leftover garbanzo to make this delicious 10-Minute Veggie Curry.