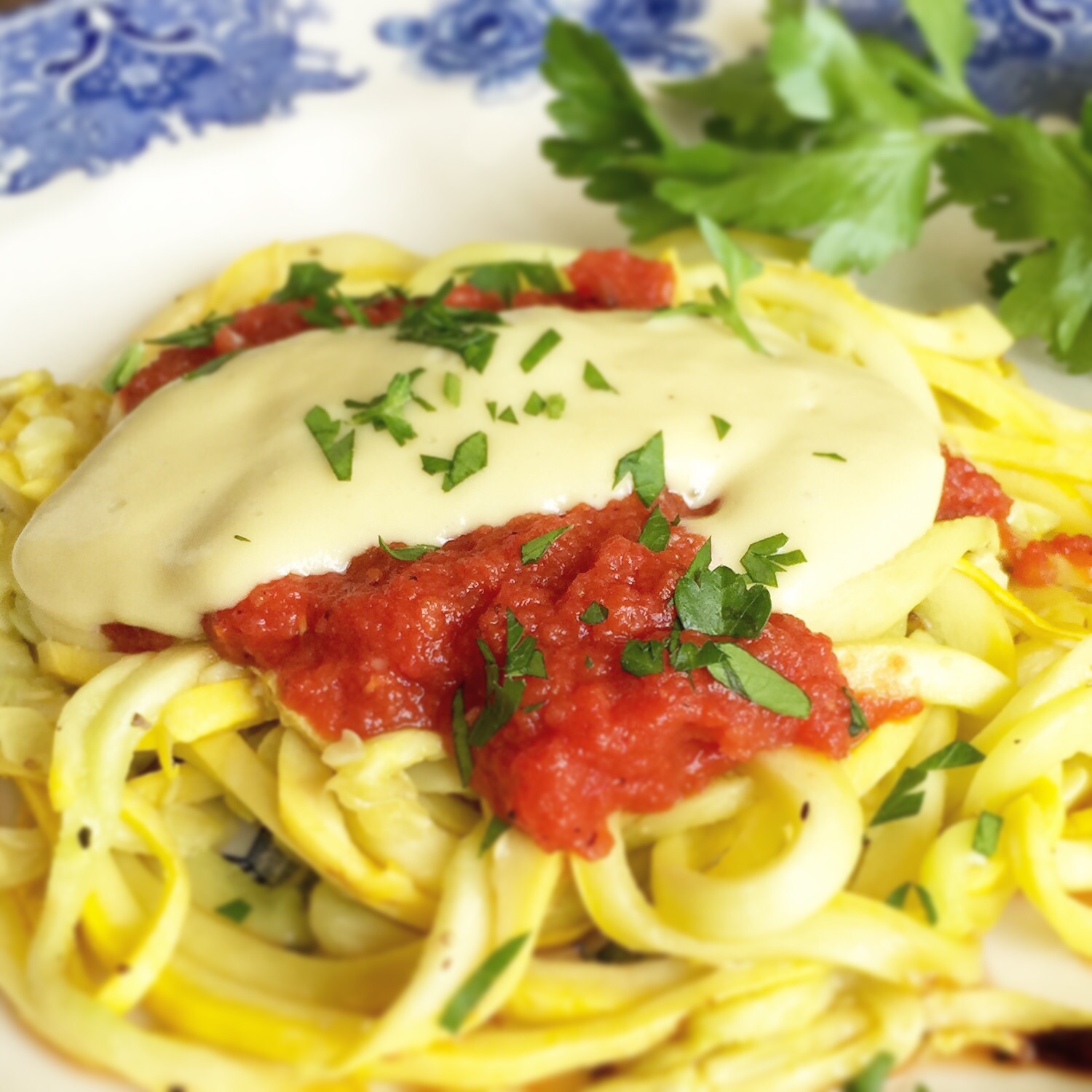 This is such a delicious and healthy plant-based and gluten-free alternative to pasta! Everything comes together really quickly and the gooey cheese sauce tastes rich and decadent even though it contains only 2 tablespoons of cashews per serving. The secret to its texture is tapioca flour which comes from the starchy cassava plant. You get the nutty parmesan flavor from nutritional yeast which is one of the only vegan sources of vitamin B12.
Using simple zucchini noodles means that even though this dish is really satisfying, it never feels too heavy like traditional creamy pasta dishes. Zucchini noodles also give you a lot more vitamins and have about 1/5th the calories of regular pasta. It's one of my favorite recipes to make for lunch or weeknight dinners, I'm sure you'll love it too. Enjoy! xJacq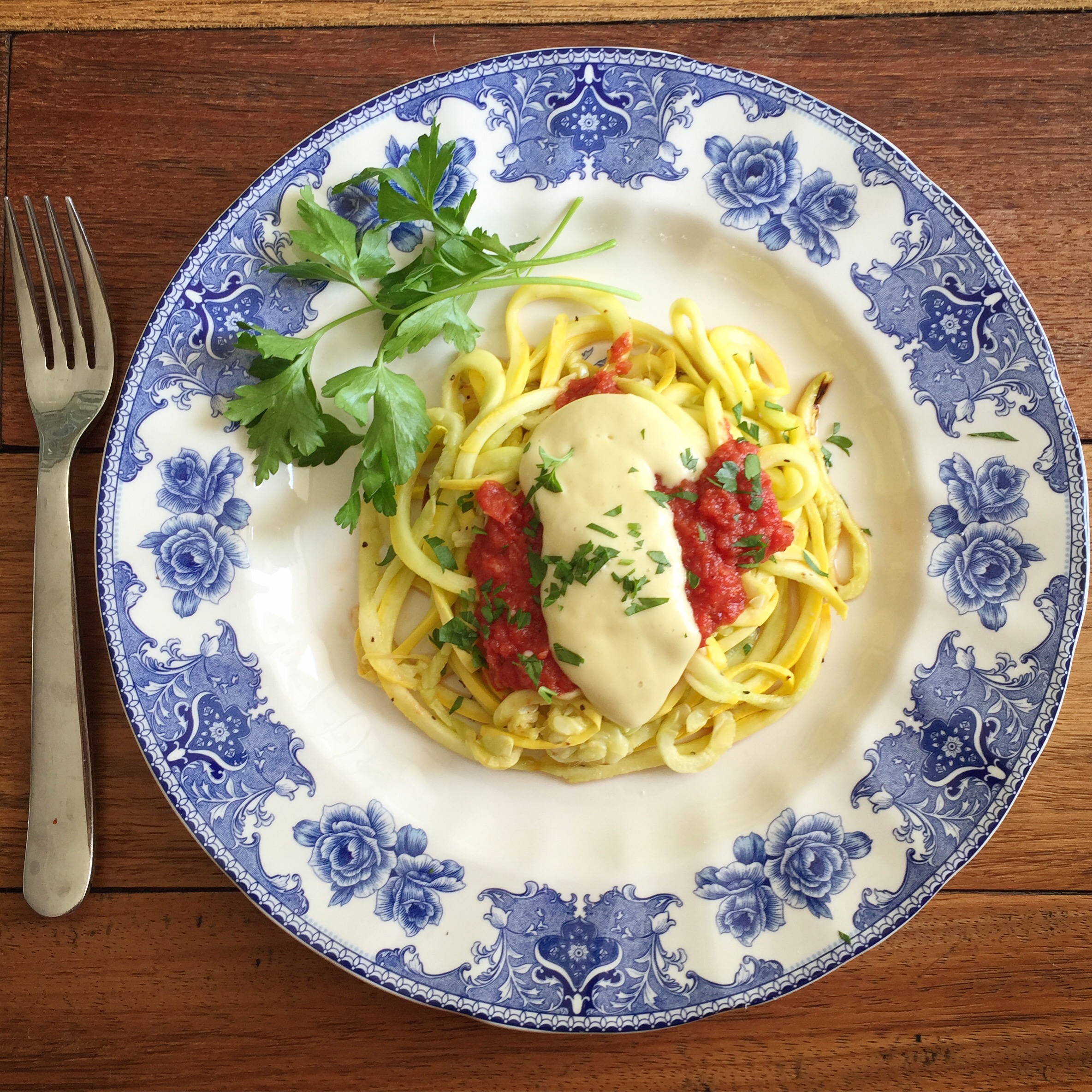 Ingredients: 2 Serving
Marinara:
1 14oz. can fire-roasted tomatoes
2 Garlic cloves
1/4 Yellow Onion
1/8 tsp Agave Syrup 
1/4 tsp each Kosher Salt, Black Pepper and Dried Oregano

Cheese:
1/4 cup Raw Cashews, soaked and rinsed*
1 cup Warm Water
1.5 Tbsp Nutritional Yeast
2-3 Garlic cloves
2 Tbsp Tapioca Flour
1.5 Tsp Apple Cider Vinegar
3/4 tsp Kosher Salt

Noodles:
2 Zucchini 
2 tsp Olive Oil
1 Garlic Clove

Garnish:
1 Tbsp Italian Parsley,chopped
1 Tbsp Basil, chopped
1. Blend all of the ingredients for the marinara together in the blender until almost smooth. Pour into a saucepan and place on the stove top.
2. Rinse the blender then add all of the ingredients for the cheese sauce and blend until smooth. It will be watery. Pour into a small pan and set on the stovetop.
3. Cut the Zucchini into noodles, either using a spiralizer or vegetable peeler. You can find a youtube how-to here. 
4. Mince the garlic and add to a pan along with the olive oil, heat for 30 seconds over medium then add the zucchini noodles, and sprinkle with a pick of salt and pepper. Cook 2-3 minutes, tossing occasionally, until warm and tender.
5. Meanwhile heat the tomato sauce on medium-low, stirring occasionally. Heat the cheese sauce over medium and stir continuously while scraping the sides and bottom until it is thick and gooey, about 3 minutes. It will start to curdle before it comes together and thickens.
6. Use tongs to divide the zucchini onto 2 plates. Top with marinara and cheese sauce then garnish with parsley and basil.
*Soaking nuts makes them easier for your body to digest and absorb nutrients from. Cover nuts in water and soak for 2-4 hours. Drain and rinse. Alternatively you can boil them for 10 minutes which does not have the same nutritional benefits, but will make them easier to blend.