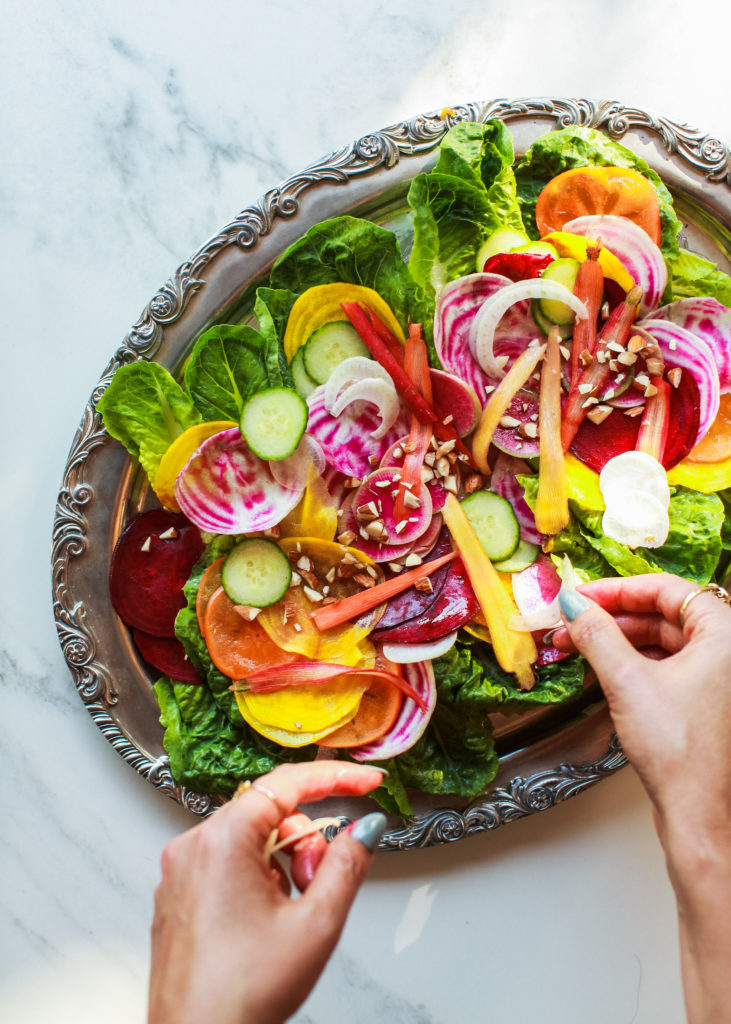 This rainbow root vegetable salad is a beautiful and easy dish that adds a gorgeous array of colors to your winter table.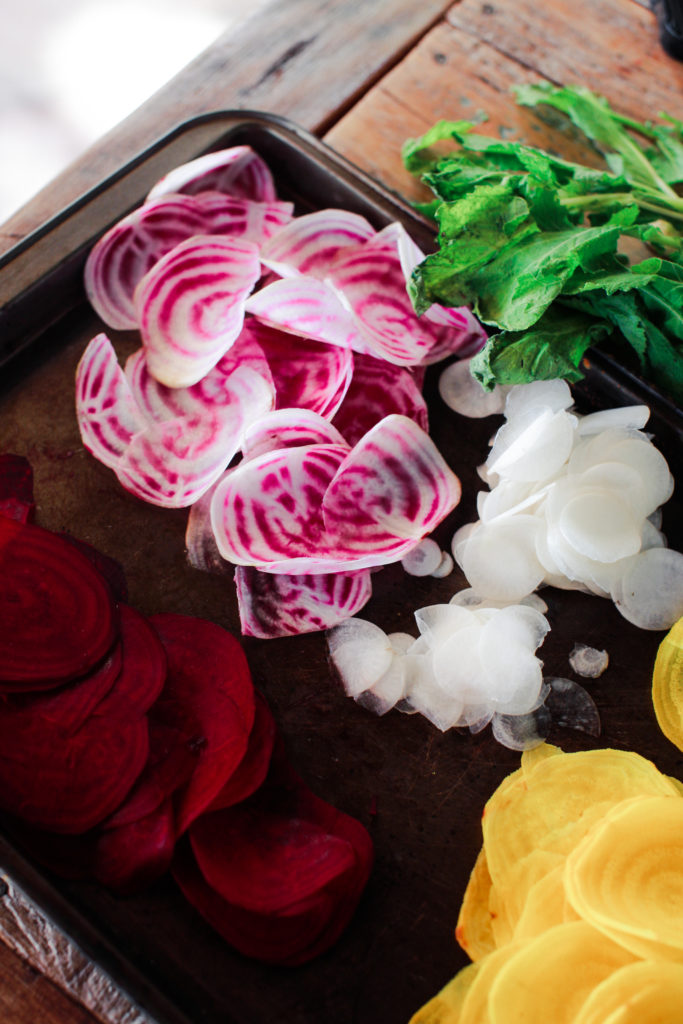 All of the vegetables are raw so the trick is to use a mandolin to slice the veggies so they are just thick enough to hold their shape. Then we add sweet persimmon and golden raisins to perfectly balance the earthy flavor of the root veggies.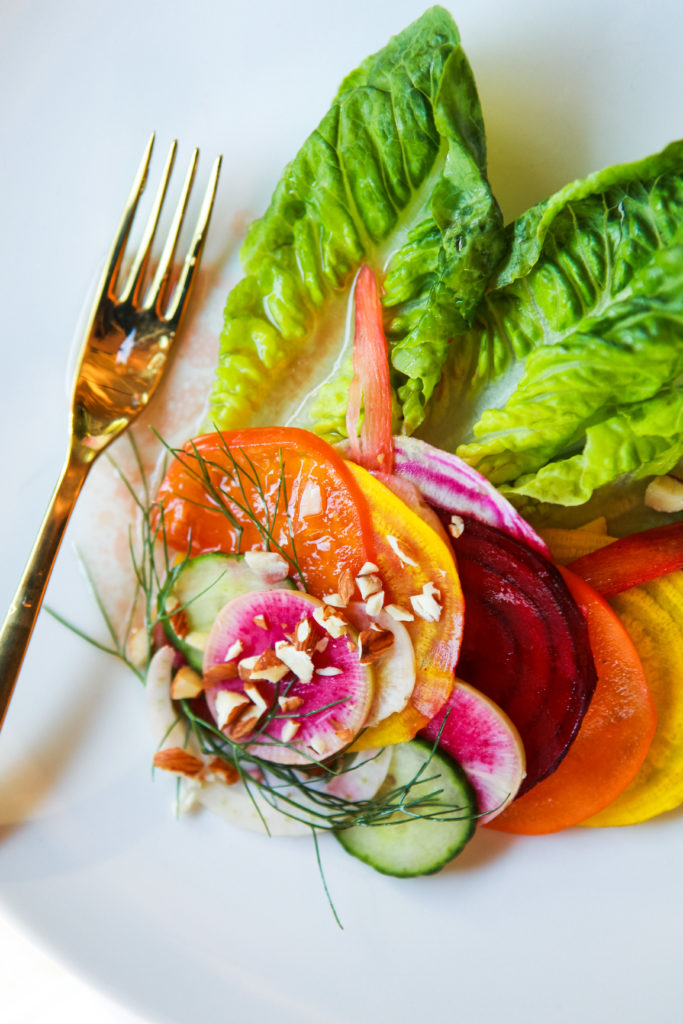 It's a celebration of the seasons bounty which makes it a perfect dish for New Years! Enjoy and best wishes to you as we step into a new year! With love, Jacq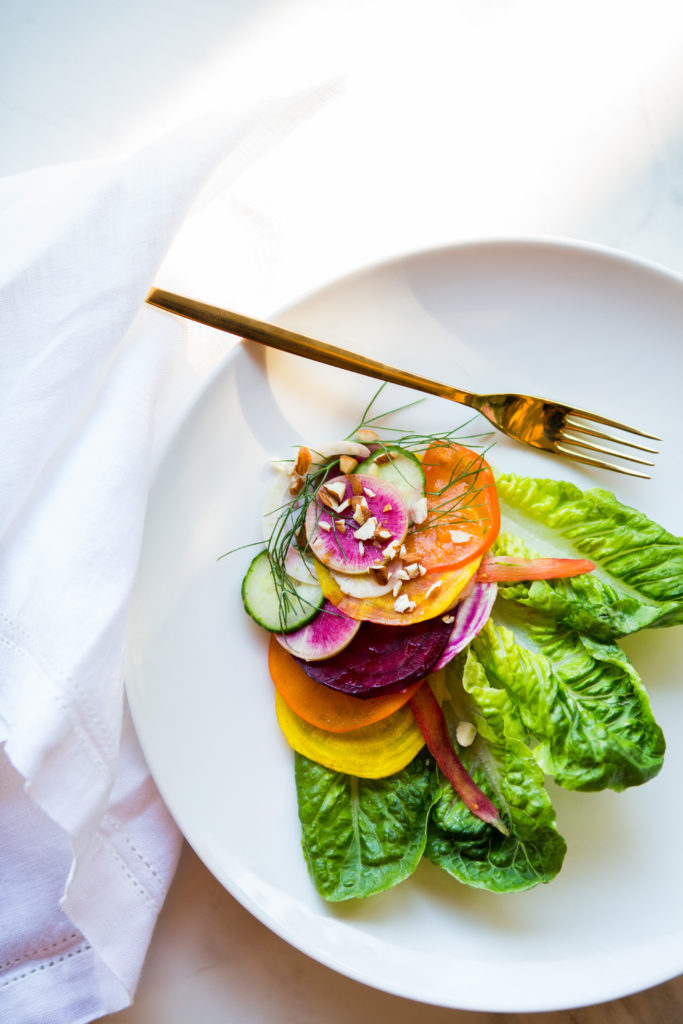 Rainbow Root Vegetable Salad
---
Serves 6 as appetizer
Ingredients 
1/4 Fennel bulb and fronds
3 small watermelon radish
1 persian Cucumber
2 baby turnip (or 1/2 small turnip, peeled)
1/2 Yellow Beet, peeled
1/2 Chioggia (striped) Beet, peeled
1/2 Red Beet, peeled
3 rainbow Carrots
1 large Fuyu Persimmon (sub fuji apple if not available)
3 Romaine Lettuce Hearts
5 tablespoons Almond Oil, divided
1/2 Lemon
Sea Salt
Black Pepper
1/2 Orange
1 tablespoon Red Wine Vinegar
1/4 cup roasted almonds, chopped
1/4 cup Golden Raisins
1/2 Lemon
Flaky Sea Salt (such as Maldon)
---
Directions:
 Working on a large baking sheet thinly slice the vegetables into separate little piles. First trim off the bottom of the fennel and thinly slice the bulb using a mandolin. Reserve the fennel fronds for garnish. Next very thinly slice the radish, cucumber, turnip, yellow beet, chioggia beet and red beet.
Wash your hands to remove the red beet juice then trim the carrot tops to 1/4 inch (if applicable) Slice the carrots lengthwise into ribbons using a vegetable peeler. Cut off the top of the persimmon and thinly slice it using a knife.
Trim off the bottom of the romaine and place the romaine leaves on a platter. Squeeze the juice from the lemon over the greens and drizzle with 2 tablespoons almond oil.  Sprinkle with a generous pinch of salt and pepper, and gently toss to coat. Spread greens out on the platter.
Squeeze the juice from the orange into a small bowl. To that add 3 Tbsp almond oil, the red wine vinegar, mustard and a pinch of salt and pepper. Whisk well to blend.
Layer the vegetables and persimmon on top of the greens using tongs. Drizzle with the orange dressing. Sprinkle with the almonds and golden raisins and garnish with the fennel fronds. Finish with a pinch of flaky sea salt and freshly ground black pepper.
The photos in this post were taken by Ashley Randall Photography