Every year there is the question of what vegetarian main dish to make on Thanksgiving. I'm always looking to serve something that feels extra special, but that isn't too complicated on an already busy holiday. In the past I've made dishes that turned out well, but still kind of felt like one more side. I decided to do a little recipe testing ahead of time this year and came up with this dish that deserves to be the center of attention. It's beautiful, flavorful and hearty. It's super satisfying because it's full of protein and fiber. Maple, pecans, cranberries, and warming spices like cinnamon and nutmeg make it the perfect dish for fall.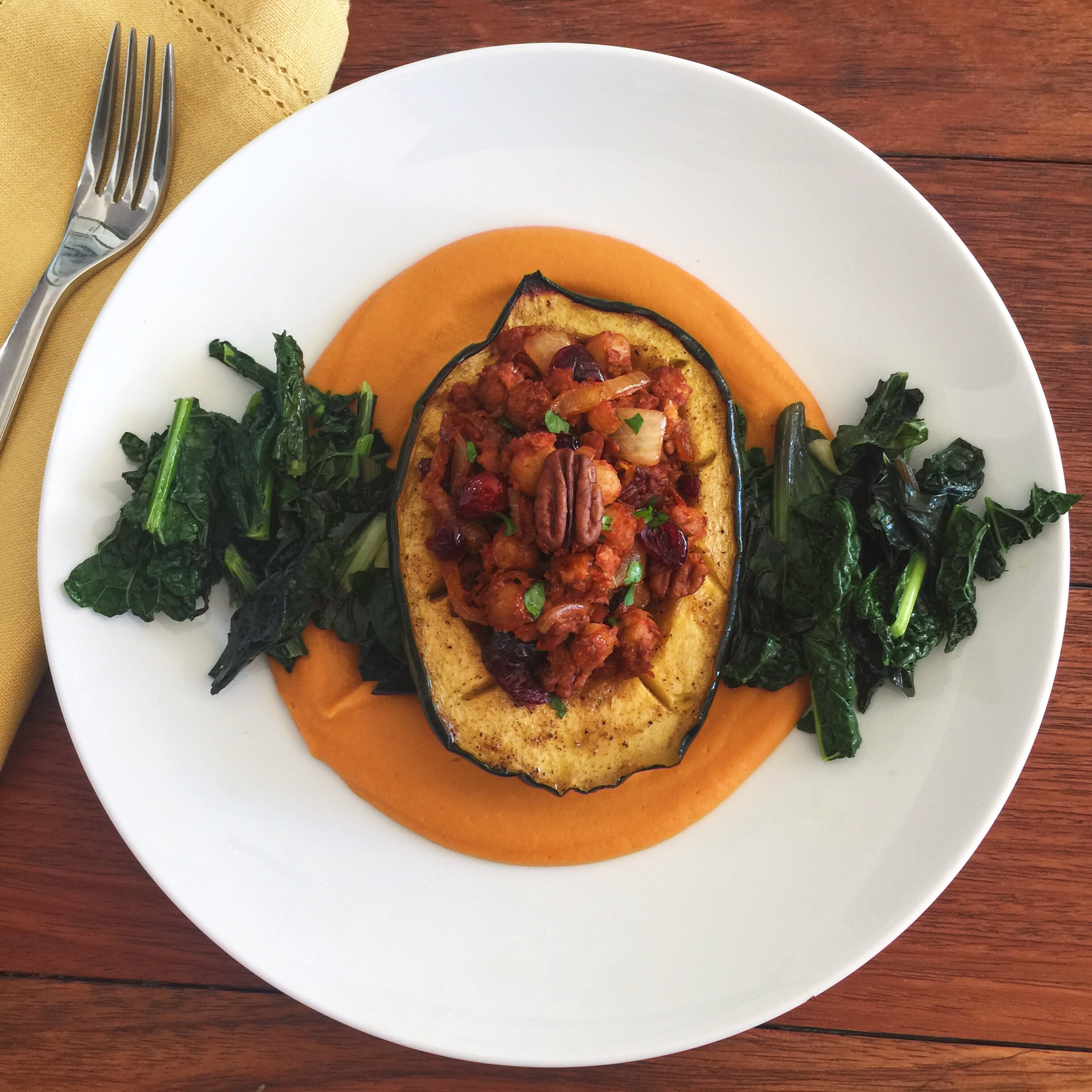 It's simple to make, but using the acorn squash as bowls makes for an impressive presentation. The filling comes together easily while the squash roasts. This is the kind of meat-free main dish that will make a carnivore feel jealous if there is not enough to go around. I really can't wait for you to try it. I've made it two more times since I first came up with the recipe and everyone loves it. I hope you do too! Don't forget to tag #feelgoodthanksgiving if you use the recipe. I would love to see your creations!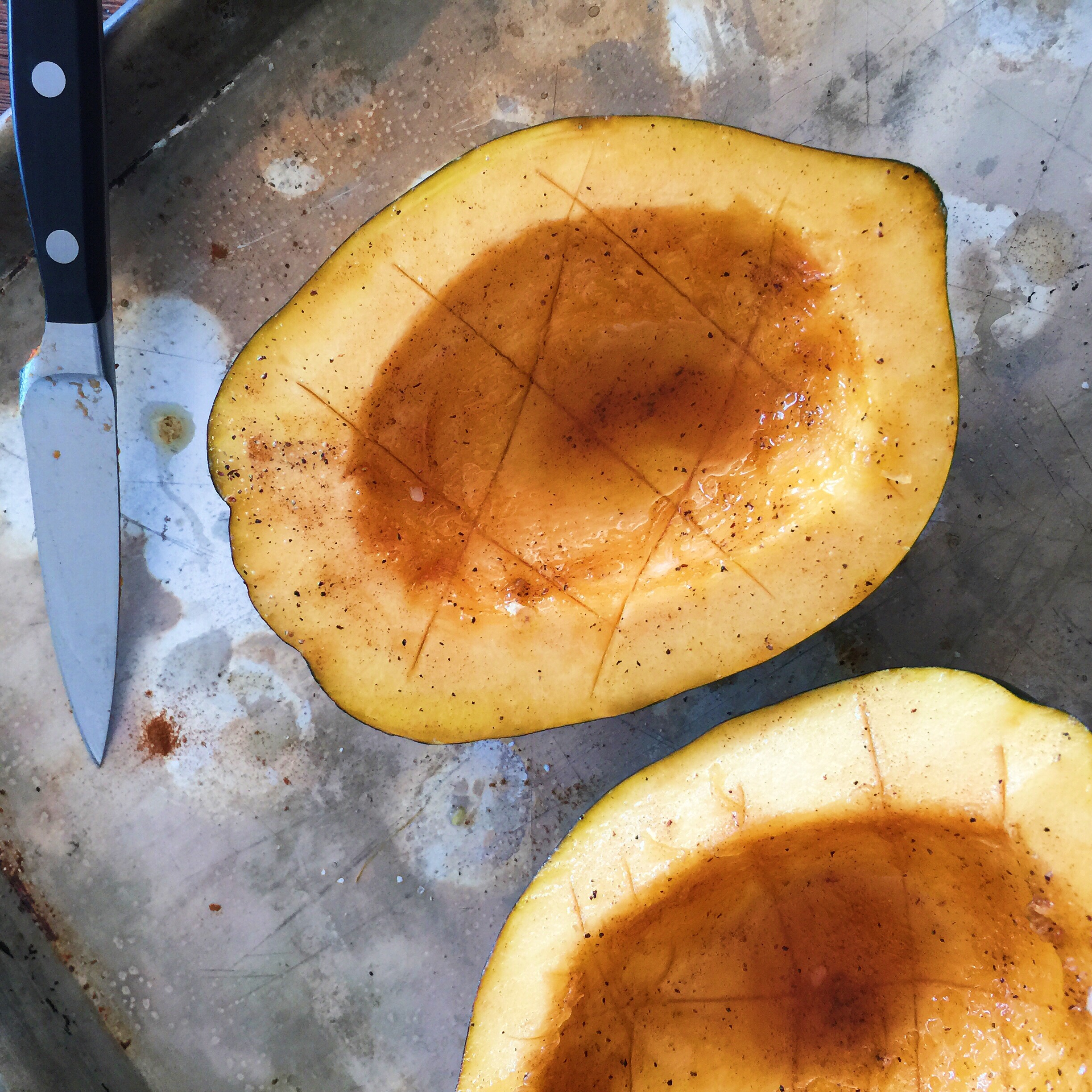 I also just wanted to say thank you to my readers. I love what I do, so I am really so grateful for all of you! Have a wonderful holiday! xJacq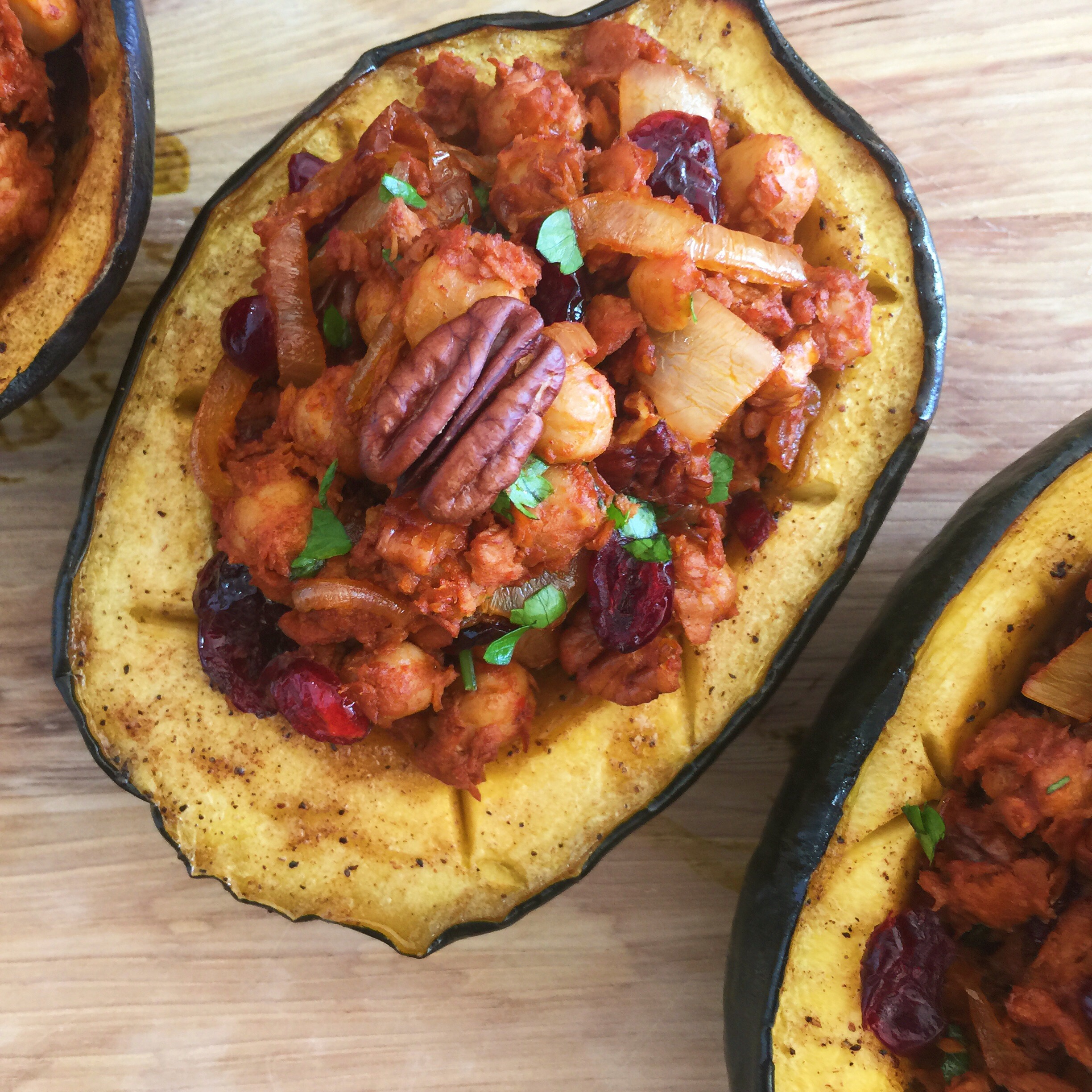 Ingredients: 4 servings

For the squash: Pre-heat oven to 400*
2 Acorn Squash
2 Tbsp Maple Syrup
2 Tbsp melted Coconut Oil or Olive Oil 
Sea Salt 
Black Pepper 
Cinnamon 
Nutmeg 
4 cloves Garlic, halved
 
For the filling: 
3 Tbsp Coconut or Olive Oil 
1 small onion, thinly sliced (about 1.5- 2 cups)
pinch of Sea Salt 
1 tsp Balsamic Vinegar
2 cups cooked Garbanzo Beans (about 1.5 cans) 
1/3 cup chopped Pecans + 4 halves 
1 12 oz. package Soy Chorizo 
1/4 cup Dried Cranberries + 1 tsp for garnish
1/3 cup Italian Parsley Leaves, chopped + more for garnish 
pinch of Smoked Salt (optional)
Squash:
1. Cut squash in half longwise avoiding the stem. Scrape out the seeds and strings using a spoon.
2. Score the squash with knife cutting 1/2 inch deep on the diagonal to make a criss-cross pattern. Poke around the middle of the squash several times with a fork. (These steps are optional, but allows the syrup and spices to soak in, so I think it's worth the effort!)
3. Place squash on a baking sheet skin side up. Mix the oil and maple syrup in a small bowl and rub over the skin with hands or a basting brush. Sprinkle generously with salt and pepper. Flip squash, cavity side up and divide the remaining oil/maple mixture between the pieces. sprinkle generously with salt, pepper, cinnamon and nutmeg (about 1/8 tsp each or more for larger squash). Spread the oil and spices around with a brush or spoon. It's ok if it pools a bit in the middle. Place 2 garlic clove halves inside each squash.
3. Roast in the oven 45 min- 1 hour until browned and tender.
Meanwhile…
Filling:
1. Heat the oil in a large sauté pan on medium add the onions and pinch of salt and stir occasionally. When onions get translucent (about 2 min) lower heat medium-low. Stir approximately every 5 minutes. If they start to burn at all, lower heat.
2. When the squash are nearly ready and the onions are soft and caramelized, add the balsamic vinegar to the onions and stir. Next add the pecans and garbanzo, raise the heat to medium and sauté 2 minutes. Add the soyrizo and stir gently to incorporate, until everything is heated through. Avoid smashing the garbanzo beans. Add the parsley and dried cranberries and mix until the ingredients are evenly distributed. Remove from the heat.
3. Remove the squash from the oven when browned and tender. Using a fork, remove the garlic cloves from the squash, slice them and add them to the filling.
Assemble:
Heap the filling into each squash half. Place 1 pecan half on top, sprinkle with chopped parsley and a couple more dried cranberries.
Serve With:
Spiced Sweet Potato Puree and greens sautéed in garlic and olive oil with just a pinch of smoked salt.