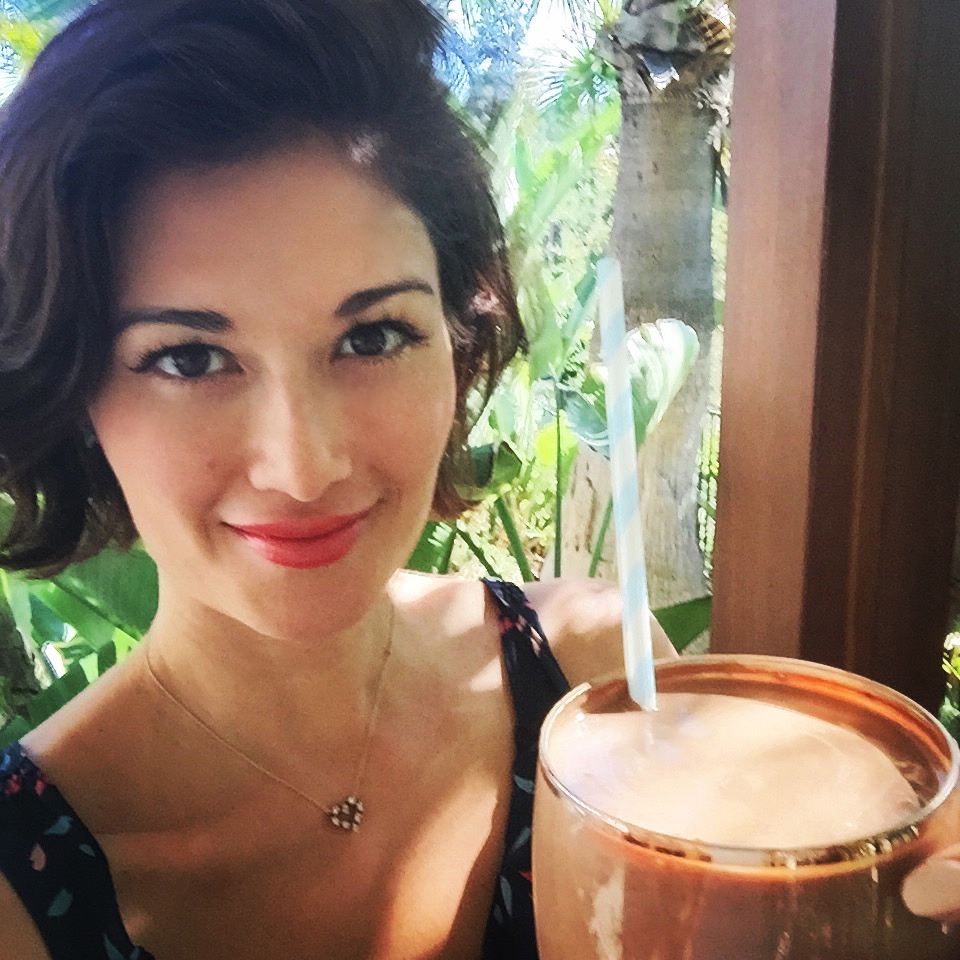 Welcome to The Feel Good Kitchen!
 This blog is a celebration of all of the things we can do to keep feeling our best, no guilt, no diets, no drama! It's all about  moving our bodies, feeding our soul, enjoying life, and most of all eating natural whole foods  that make us feel good! There are a lot of diets out there, but one thing most people agree on is that we should be eating more plants, so my main focus as a chef is creating delicious plant-rich recipes to share with you. The recipes are a reflection of the way I eat which means mainly plant-based and gluten free, but also occasionally includes wild or sustainably raised seafood, pasture raised eggs and whole grains such as farro, etc. I will always list any non-vegan friendly ingredients in the title of the post so you can avoid reading it if you are following a vegan lifestyle.
 A bit of backstory…
 I began working as a fashion model at the age of 15 and, like many young women, quickly came to see food as an enemy. Being skinny was the ultimate goal, without a thought about being healthy. By the time I was in my early 20s I felt tired all the time and was starting to feel moody and have anxiety attacks. Though I was living what seemed like a glamorous life on the outside I couldn't enjoy it fully because I didn't know how to really take care of myself. That's when a friend introduced me to yoga which led me to understand that in order to feel good mentally and emotionally, you have to take care of yourself physically. Seems obvious enough, but at the time it was a revelation!
Learning to cook was an extension of learning to take care of myself, to literally find the nourishment I needed. I was living in Milan at the time and I don't think there is a better place to learn about food or cooking than in Italy. The Italians have such a wonderful appreciation for fresh, healthy ingredients and food made from scratch. They take so much pleasure in cooking and eating that I couldn't help but start to change the way I looked at things. Learning to prepare whole unprocessed foods changed my life for the better in so many ways.
What is "Feel Good Food"?
Over time I found that a diet filled with a variety of vegetables, fruit, whole grains, nuts, legumes, and occasionally eggs and seafood made me feel so much more energized and healthy than I ever had before. Another great benefit of eating this way is that I don't have to worry about my weight, count calories or ever feel deprived. The more nutrient- dense whole foods I eat, the better I feel. It really is that simple! It's amazing how eating well, exercising regularly  and having tools for relaxation can improve your life so much. It's almost too simple to be true, but it is. Nothing feels (or looks for that matter) better than being healthy.
As far as what I've cut out- I don't eat red meat or poultry. For the most part I avoid dairy, refined carbs and processed foods, though I still have a penchant for fresh baked bread and red wine on occasion.(Is Tuesday an occasion? I think so. Every day's a blessing, right?!)  This way of eating is what works for me, but that being said, I don't think there is one perfect diet for everyone. It's all about figuring out what makes you feel happy and healthy.  I think one of the most important things I have learned is to think of food as a great pleasure. It's not the enemy, it's not just fuel or just medicine, above all it is a gift of nourishment that we get to enjoy multiple times a day, so why not make the most of it? For this reason, I always try to focus on creating  recipes that are equal parts deliciousness and nutrition.
Bio etc…
I haven't even introduced my self up until this point. How Rude. My name is Jacqueline King Schiller and I am a graduate of the Professional Chef Program at The Natural Gourmet Institute and The Professional Plant-Based Cooking Course from Rouxbe Cooking School. I am also a certified yoga teacher. I live in Los Angeles, California with my husband, baby boy, a bulldog and a few silkie chickens. I cultivate a little backyard "farm" with citrus and fruit trees and a vegetable garden. I have always lived in an apartment before so there is a bit of a learning curve but it's definitely worthwhile! I encourage anyone who has a little extra space (even a balcony!) to try growing your own produce. It's fascinating to see how food grows and to connect with the whole process.
I am currently in the process of writing a cookbook with my best friend Abbie Cornish which will be published in early 2019 by Abrams Books. (Yay!) I hope The Feel Good Kitchen will be a resource on delicious and healthy food and drink recipes, health and greener living, and all the ways we can take care and love ourselves, because that's where it all begins. All the best xJacq
Contact feelgoodkitchen@yahoo.com
*All photos except where noted or linked are taken by me on an iPhone