This is the first in a new series of bargain recipes. Each salad cost approximately $2.75 using all organic produce. In LA I would say a salad like this would cost $12-14 at a cafe so making it at home is a big money saver!  It's a hearty and flavorful winter dish using the best ingredients of the season. I love it because it's really high in protein; both quinoa and edamame are complete proteins. All of the veggies means it has lots of vitamins and fiber so it's really filling and energizing too. It's one of those clean eats meals that'll help you get back into your skinny jeans after the holidays 😉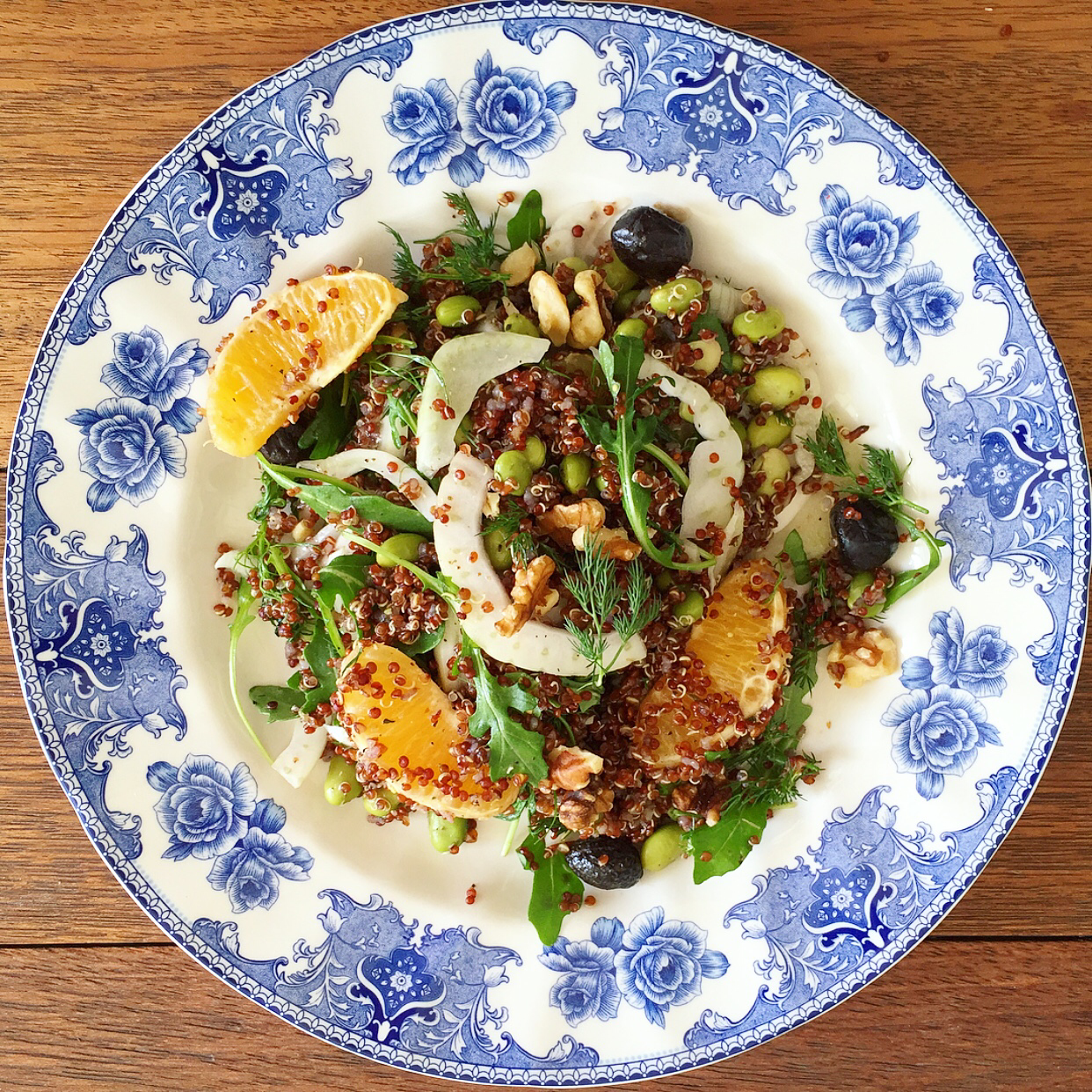 You can make a bigger batch of the quinoa and edamame then freeze the leftovers to use later as a quick base for a meal. Just freeze it in a 1-inch layer in a freezer zip-lock. It will keep for months. When you're ready to thaw, place a bag in the fridge overnight or reheat the frozen quinoa directly in a sauce pan with a couple of tablespoons of water until warm. It's a great time saving idea to make a little extra when you cook grains so you always have some ready to go in the fridge or freezer. Enjoy! Jacq
Ingredients: 4 servings

Salad:
1 cup Red Quinoa
1 tsp each Sea Salt & Black Pepper
1/2 tsp herb d' provence
1 cup shelled Edamame, frozen
1/2 small Fennel Bulb + Fronds
1/2 cup fresh Dill, Chopped
2 Oranges
1 1/2 cups Arugula
16 Black Olives
16 Walnut Halves, crumbled

Dressing:
Juice of 1 Orange
1 1/2 Tbsp Olive Oil
1 Tbsp Red Wine or Balsamic Vinegar
1/2 tsp Dijon Mustard
Big pinch each Sea Salt, Black Pepper, Herb d' Provence
1. Rinse quinoa using a fine mesh sieve and drain well. In a small pot add quinoa and seasonings to 2 cups water and bring to a boil over high. Once boiling add frozen edamame and bring back up to boil, then lower to a simmer on medium-low and cover.
2. Meanwhile thinly slice the fennel bulb. Roughly chop the fronds and dill. Peel and separate oranges into segments. Make Dressing by whisking all of the ingredients together.
3. Check quinoa after 15 minutes, the grains should be tender and it should appear that they have sprouted little tails. If not, cover and cook a few minutes more. When ready, remove from heat and let sit 5 minutes covered before fluffing. If there is extra water on the bottom, allow to cook uncovered for a couple of minutes before covering and allowing to rest.
4. You can serve this warm or if you would like your quinoa to be chilled, spread it in a thin layer on a large plate and stick in the freezer for 10 minutes. Toss the quinoa with the remaining ingredients and dressing. Divide onto 4 plates and serve immediately. If you are not eating it all at once you can toss everything except the arugula and refrigerate, then add the arugula just before serving.