Prepared correctly fresh lima beans are such a treat! These are not the mealy, mushy, tasteless beans of your youth. They have a bright, green, creamy flavor that pairs beautifully with delicate poached shrimp. I like to cook them till they are tender with still just a bit of bite. The preserved lemon adds a subtle complexity to this dish. It is available at specialty food shops and many supermarkets or you can make your own. Enjoy! -Jacq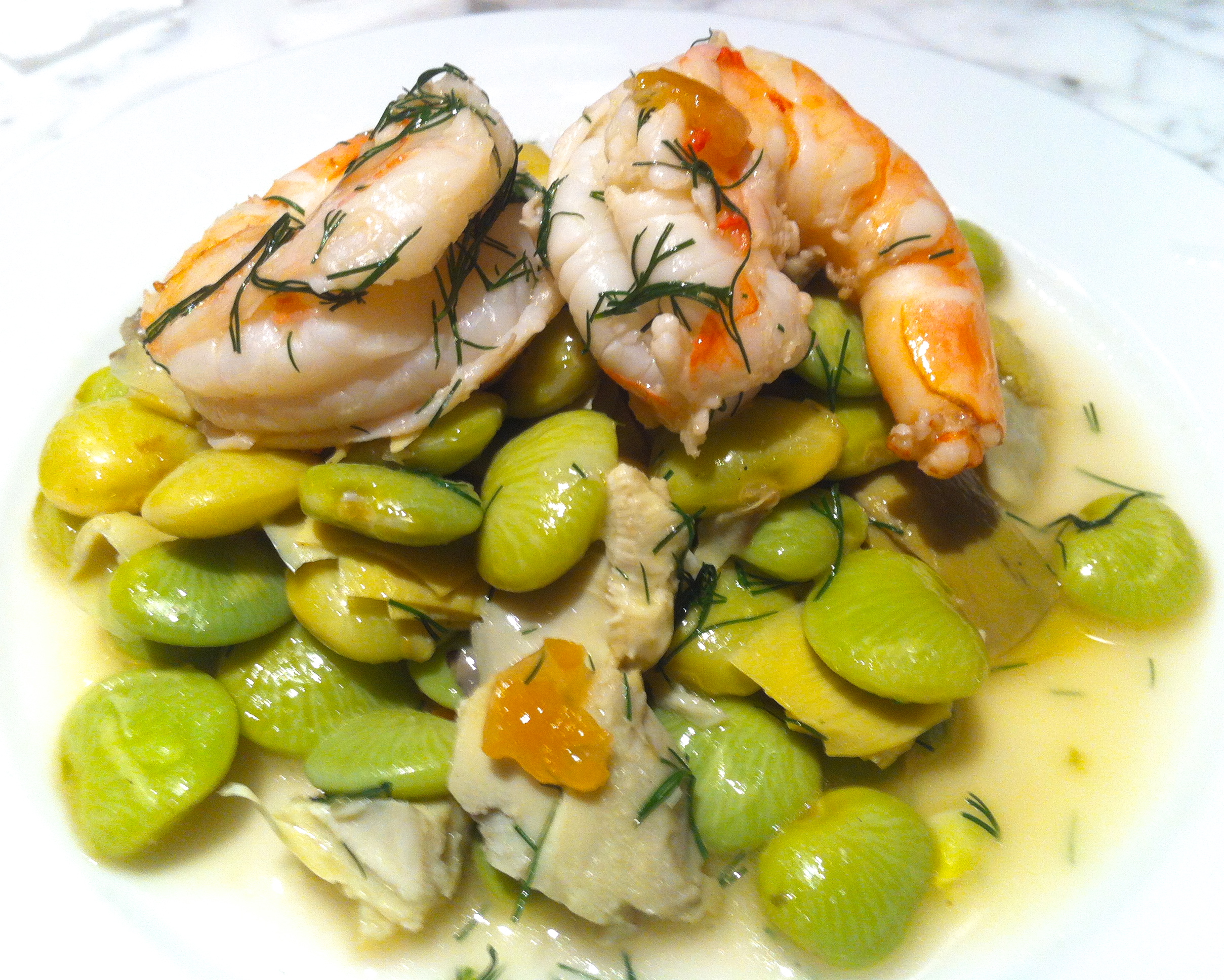 4 appetizer or 2 main dish servings
For Lima Beans:
2 1/2 cup Fresh Shelled or Frozen Baby Lima Beans
1 1/2 cup Vegetable Broth
1/2 cup Water
1/4 cup White Wine
3/4 cup Marinated Artichoke, drained and chopped
1 Tbsp Preserved Lemon, chopped
Bring liquids to a boil in a saucepan, add lima beans and lower to a simmer until beans are tender but not mushy about 15 minutes. Drain (you can reserve liquid for another use) and stir in artichoke and preserved lemon.
For Shrimp:
8 medium to large shrimp, peeled and deveined
1/2 cup Vegetable Broth
1/2 cup White Wine
4 Tbsp Coconut Oil
4 cloves Garlic, finely chopped
2 Tbsp Fresh Dill, chopped
1 Tbsp Fresh Tarragon, chopped
Butterfly the tip of the shrimp if desired. Add broth, wine and garlic to a small saucepan over medium-low heat, add coconut oil 1 Tbsp at a time and whisk to incorporate. Add herbs and shrimp. Heat on low about 5 minutes, turning once, until shrimp are white and pink not grey or translucent.
Plate shrimp on top of lima beans and spoon poaching liquid and herbs on top. Garnish with a sliver of preserved lemon and sprinkle of black pepper.