I just got back from our annual vacation in Canada to find summer in Los Angeles still in full swing. The first few days of September have been scorching with temperatures hovering near 100*. My tomato plants are loving the prolonged heat and I came home to find them full of sweet, delicious fruit. I couldn't resist posting this shameless tomato selfie on the BHF Facebook Page..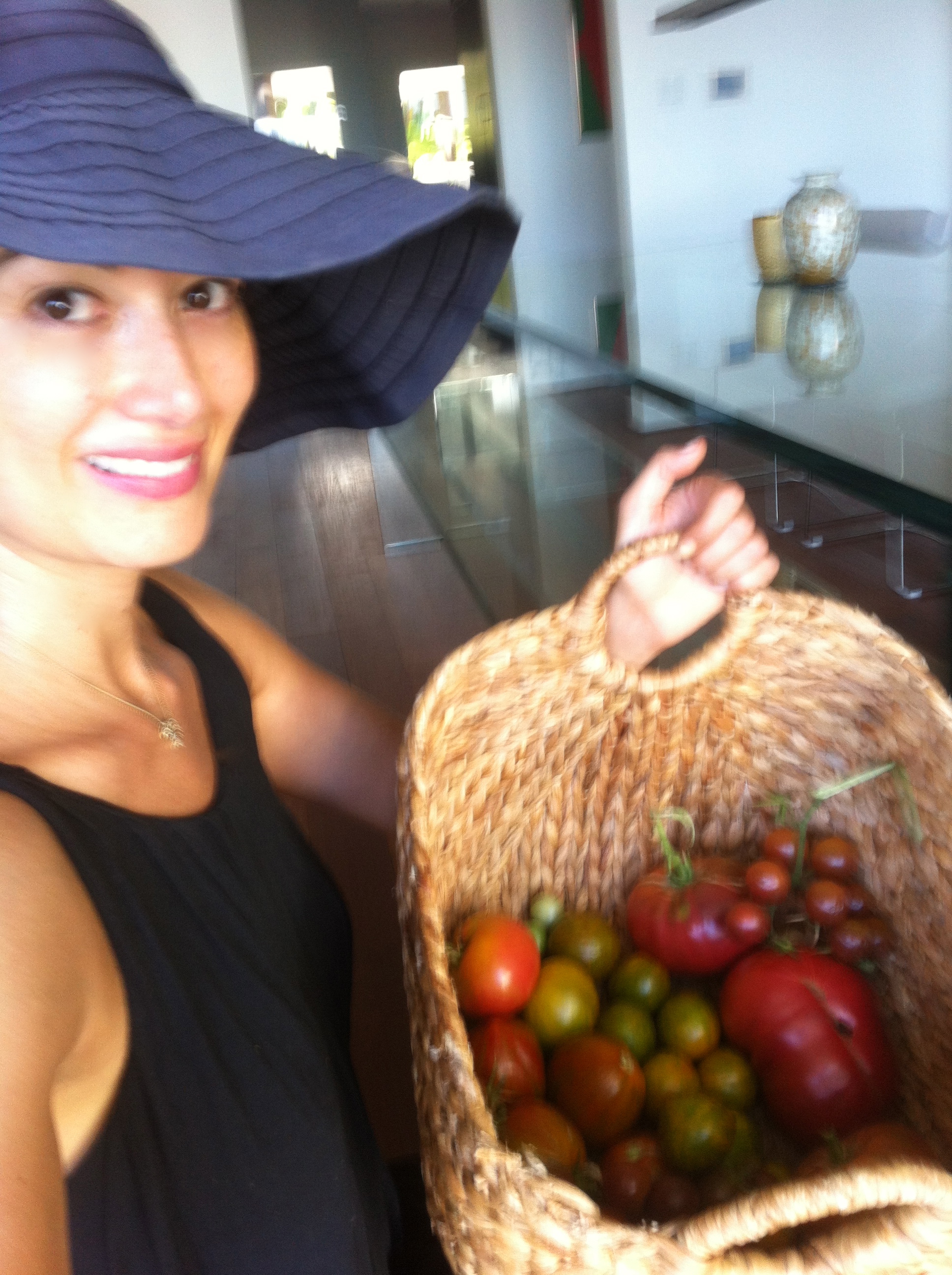 When my friend Paige saw the pic she commented "I want to eat you tomatoes!" so I gladly invited her over for a tomato-centric lunch. I also had a couple of little Japanese eggplant, yellow summer squash, zucchini and peppers in the garden so I thought of making ratatouille but wanted something lighter. I came up with this salad of grilled vegetables in a cherry tomato vinaigrette. It tastes delicious warm or chilled and is a fresh, healthy take on a summer standard. Enjoy!
Ingredients: Serves 4
For Tomato Vinaigrette:
1 pint Cherry Tomatoes, halved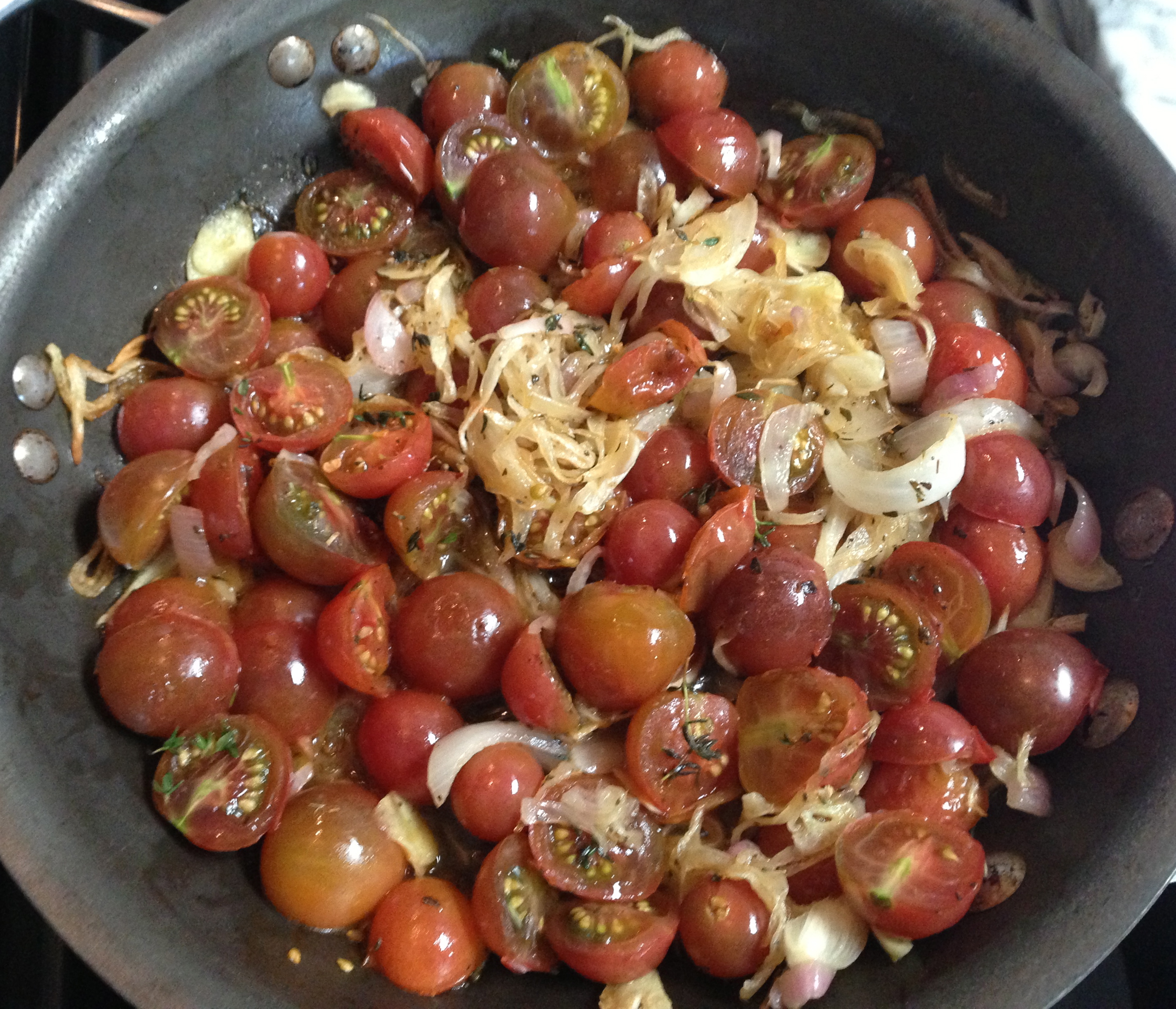 1small Onion cut into 1/4 inch thick slices
1Shallot
2 cloves Garlic
2 sprigs Thyme
Pinch of Herb d' Provence, Chili Flakes, Salt & Pepper
Olive Oil
Red Wine Vinegar
For Grilled Vegetables:
1 lg Zucchini, cut lengthwise into 1/4 inch filets
1lg Yellow Summer Squash cut lengthwise into 1/4 inch filets
2 small Japanese Eggplant, halved
1 red or orange Bell Pepper, sliced
Olive Oil + Red Wine Vinegar
Pinch of Herb d' Provence, Salt & Pepper
1/2 cup Oil-Cured Black Olives
1/2 head of Butter Lettuce
For Vinaigrette:
Sautee onion in about 3 Tbsp olive oil over medium-low heat until onions are soft and translucent, about 6 minutes. Chop shallot and add to pan, cook 2 minutes. Thinly slice garlic, add to pan and cook an additional 2 minutes. Add tomatoes, thyme leaves and seasonings. Simmer on low until tomatoes begin releasing their juices but still hold shape.
Meanwhile…
For Grilled Veggies:
Toss veggies (except lettuce) in a bowl with a drizzle of olive oil and a generous pinch of salt, black pepper, Herb d' Provence and a splash of red wine vinegar. Grill over medium flame on a BBQ or grill-pan flipping occasionally until blackened cross marks appear on both sides .
Assemble:
Smash 4-5 tomatoes in the pan with a fork to release juices and stir in a splash of red wine vinegar.
Lay 2-3 butter lettuce leaves on each salad plate. Layer alternating slices of grilled veggies into stacks. Spoon tomato mixture on top. Sprinkle with olives and garnish with torn basil and Italian parsley leaves. Enjoy! xJacq
*if serving chilled., refrigerate vinaigrette and veggies separately up to one day ahead before assembly.