I read an article recently that said young people are not hosting as many get togethers nowadays  in part because they are intimidated by the trend of gourmet cooking. It made me want to put together a post to show how easy it can be to put together a beautiful spread for a party in less than an hour with no cooking involved! I really think there is nothing better than getting together with friends and/or family and enjoying some good food and sharing a laugh. We spend so much of our lives online that it's important to make the effort to get together live and in person once in a while, and the holidays are the ideal time to do it.
For starters we'll make a big party tray so you'll need to invest in a big platter if you don't already have one. This is something you can use time and time again when you have people over. I have a couple of fancy ones that I bought at estate sales for the same price as plastic ones you would get at a discount store so keep your eyes peeled at yard sales and vintage shops. You can also use a large wooden cutting board instead.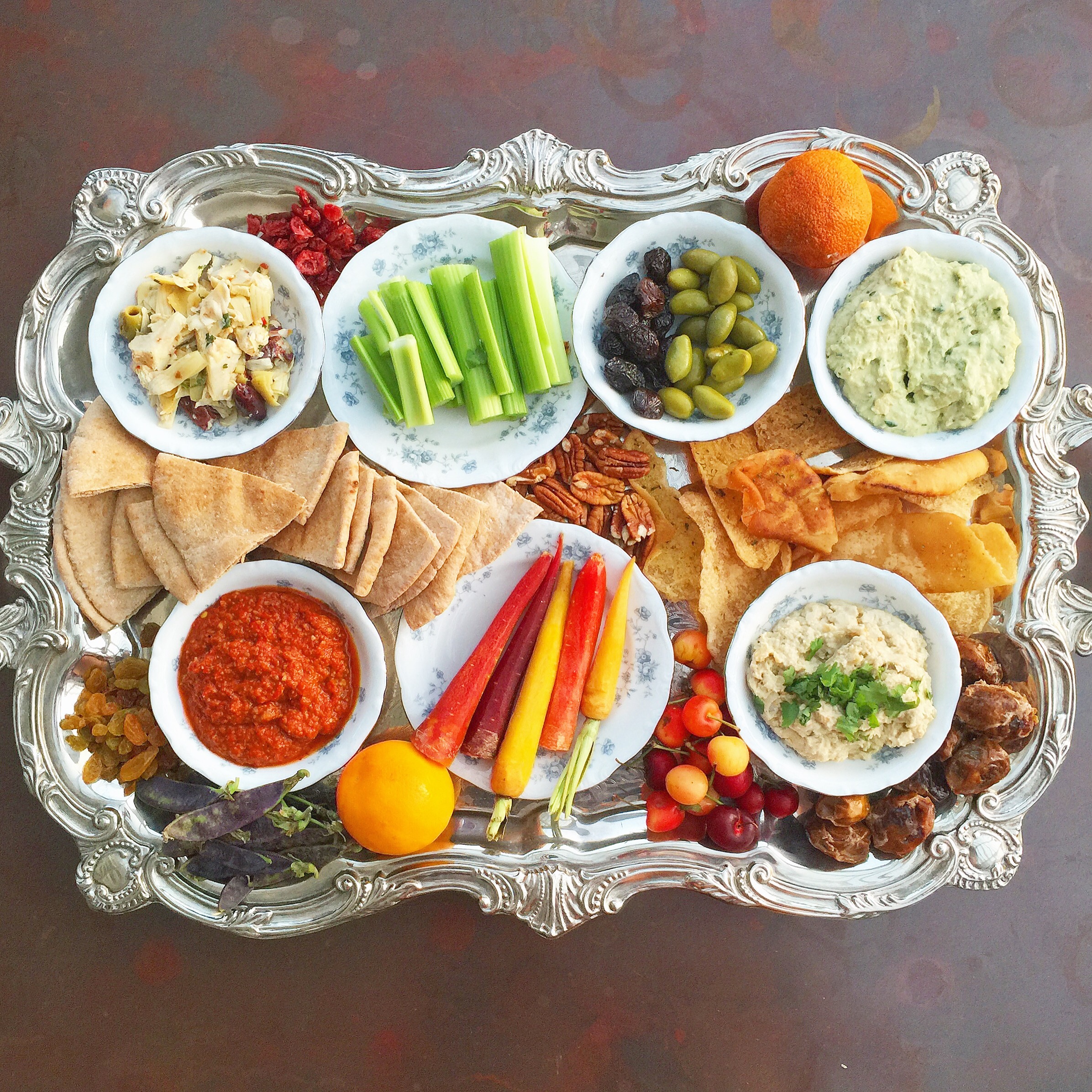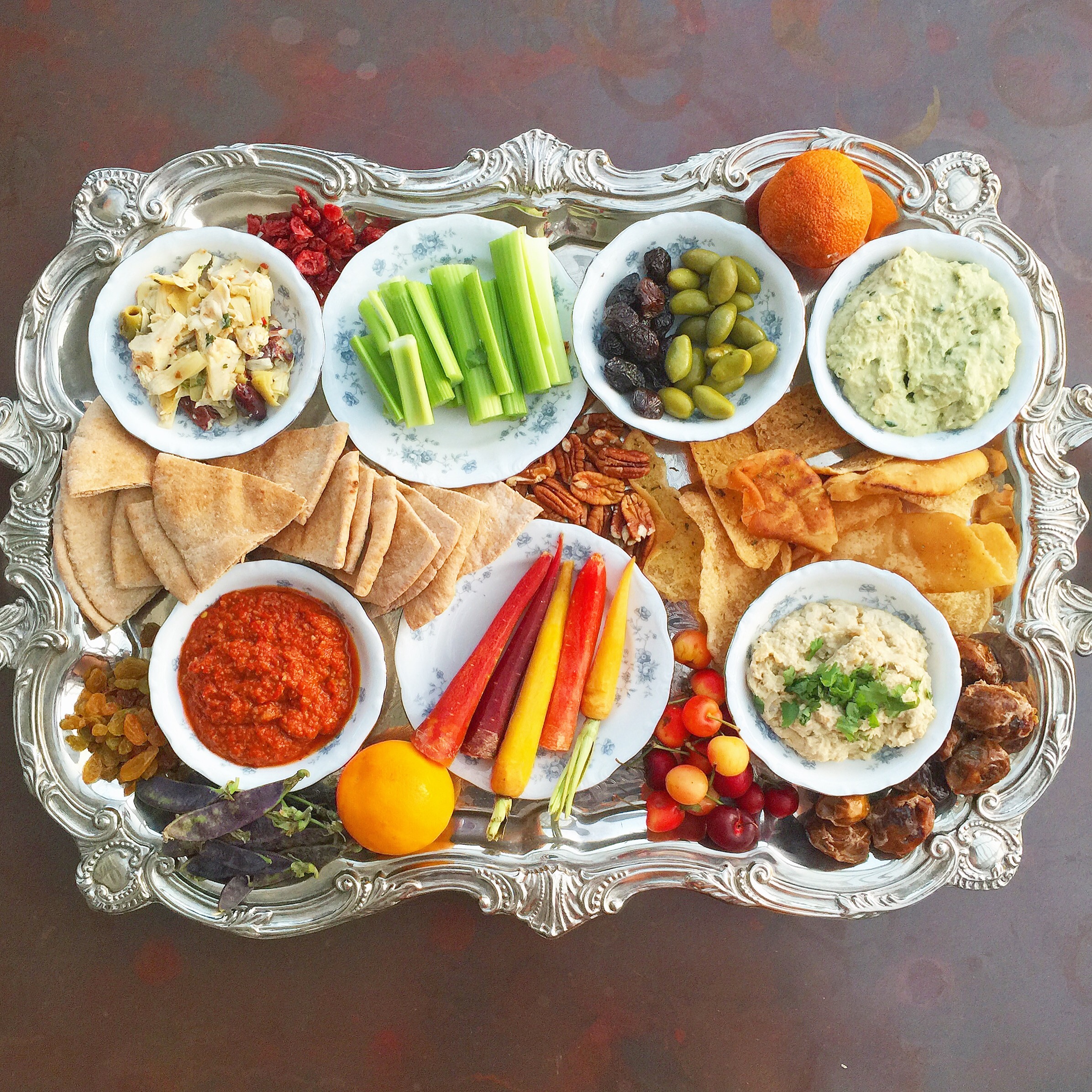 The key to making the platter look beautiful is that you'll want to pile it up with ingredients so it looks abundant and inciting. Make sure to keep the packages in case you have leftovers. Use a mix of fresh fruits and veggie slices, dry snacks, dips and/or preserved foods. Place the dips and any wet foods in little bowls in the middle. Here are some ideas on ingredients to use.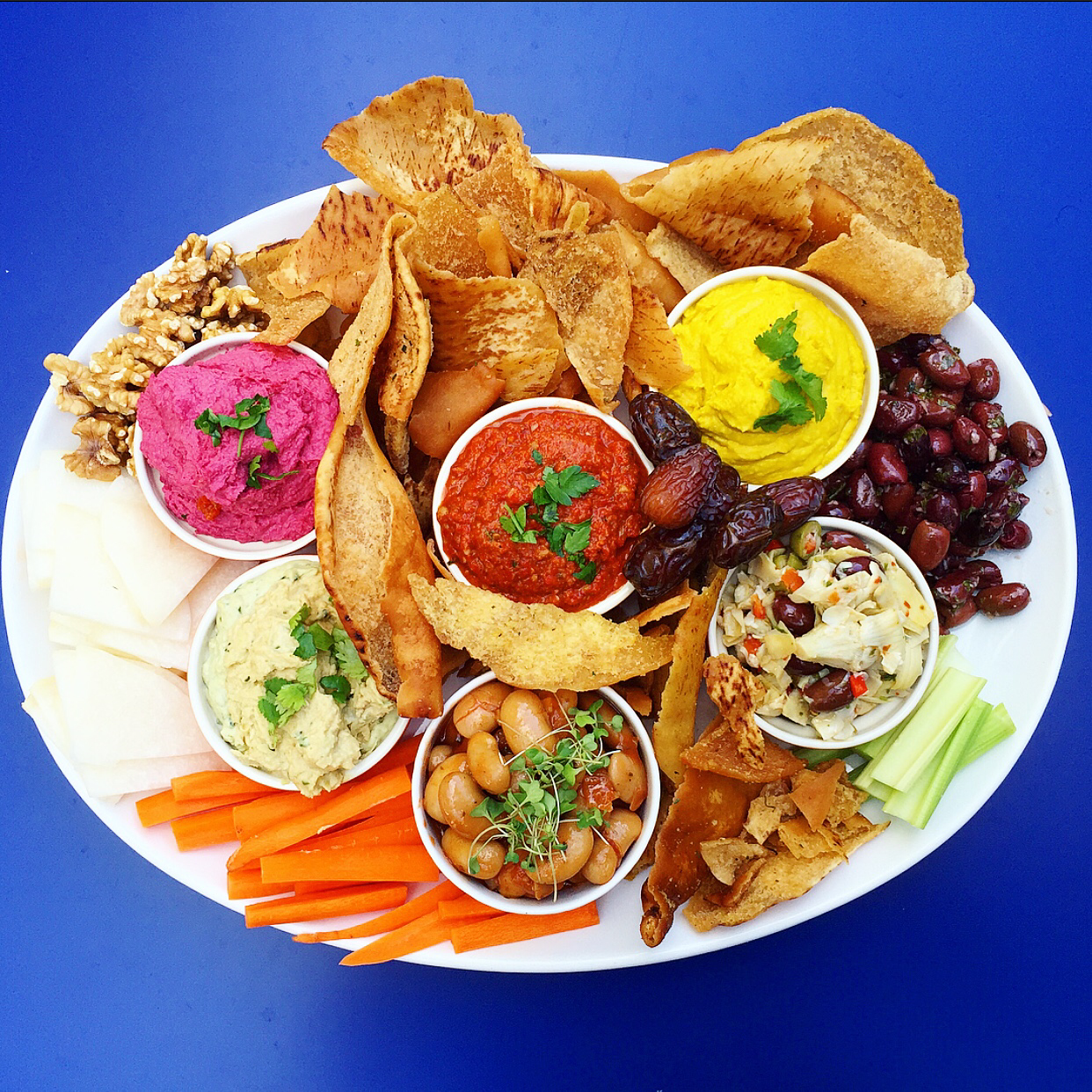 From The Pantry:

Died Fruit such as apricots, plums, figs, goji berries, raisins etc.
Raw, roasted and/or candied nuts such as Almond, Pistachio, Pecans etc.
Wasabi Peas
Kale Chips
Toasted Coconut
Crackers
Pita Bread Triangles
Chocolate pieces or chips

From The Fridge:

Fresh Seasonal Fruit, sliced or whole, berries, grapes, tangerines etc.
Fresh Cut Veggies, celery, carrots, broccoli, radish, peppers etc.
Edamame
Pickles
Hummus
Sun-dried Tomatoes
Artichoke Hearts
Olives
Roasted Red Peppers
Dips, Cashew Cheese, Pesto etc.
Once you have your party on a plate done you can put together these other delicious and easy holiday appetizers. Even though you're not making a ton of different dishes, there really is something for everyone.
These Watermelon Radish Toasts with Baked Tofu and Marinated Snap Peas are as beautiful as they are delicious. Avocados can be a little tough to find and pricy out of season, so you can substitute the avocado cream with hummus with some lemon lemon juice mixed in, if you prefer.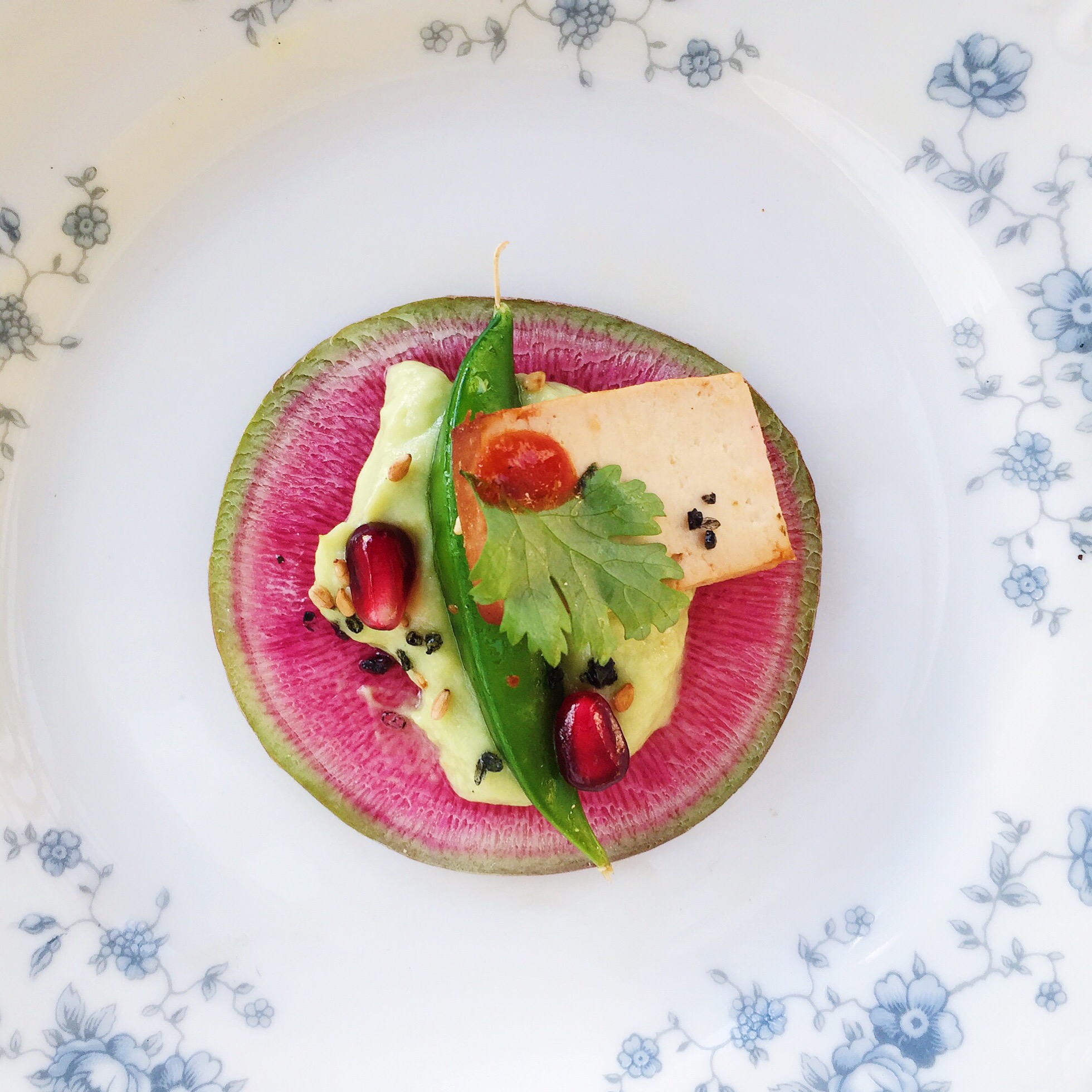 These Medjool Dates With Nut Butter and Raw Cacao are a sweet, creamy and bitter chocolatey treat.
Smoked Salmon, Almond Cream Cheese, Veggies and Dill are a match made in heaven on cocktail bread in these crowd pleasing toasts.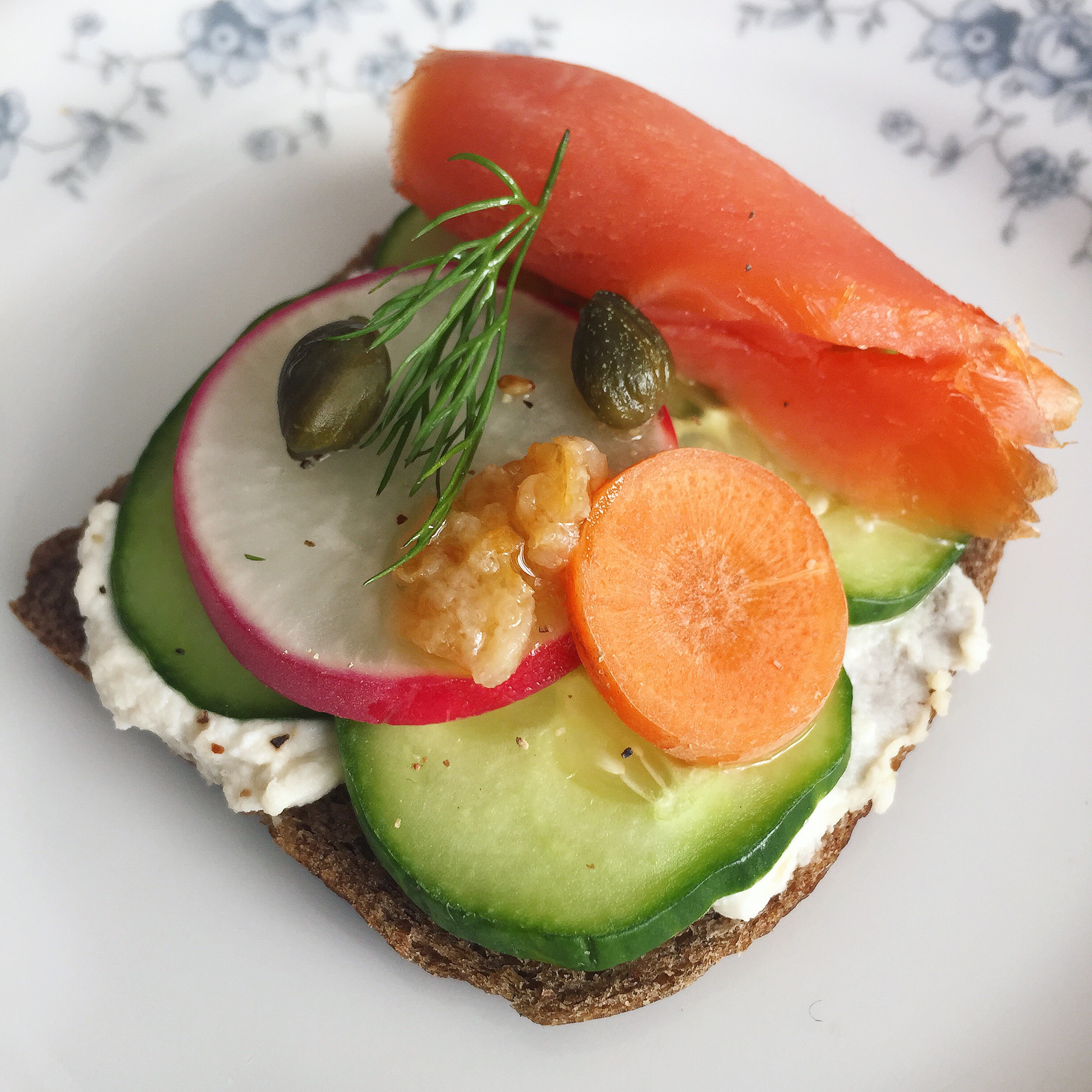 Lastly, don't forget the wine! I love serving this Merry Mulled Wine at holiday parties. It's like winter's answer to Sangria.  It's so wonderfully warm and spicy and makes the whole house smell delicious. You don't have to use fancy wine since you're adding citrus and spices. You can keep it on the stove or in a crockpot and let guests help themselves.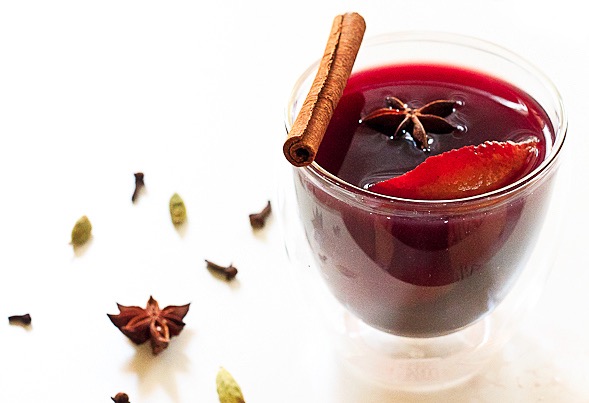 I hope you're having a lovely holiday season so far. Let me know if you have any questions. I'm here to help. Have fun, be safe and cheers! xJacq