Simple ingredients are elevated in these delicious mini toasts. They're perfect for entertaining; easy to throw together and always a crowd pleaser. Salmon, cream cheese and veggies are natural partners and the lemon, dill and capers add a fresh and savory flair.
I use pumpernickel cocktail bread as the base which is the perfect size and has a full flavor that pairs nicely with the other ingredients. You can also use your favorite sliced bread and cut it into quarters. This is the route to go if you want gluten-free or organic bread since I have not seen those offered in cocktail size.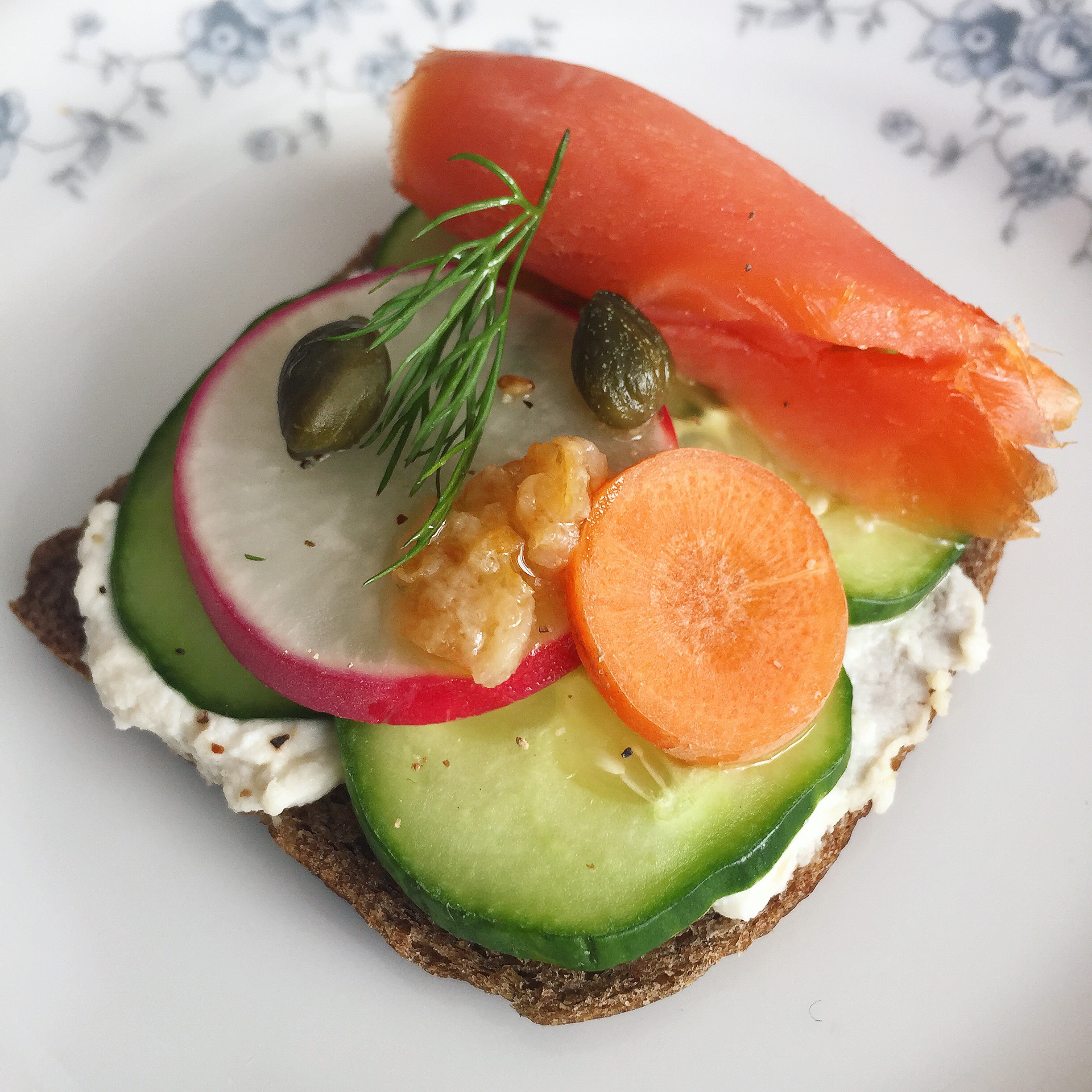 As for the salmon I always use wild Alaskan salmon. Alaska is known for responsible management of their fishery populations. Wild salmon is more nutritious than farmed because it's eating a varied diet and swimming sometimes thousands of miles before it is caught. Farmed salmon is fed pellets that contain grains and soy and sometimes even chicken. They are often vaccinated and fed additives to make their flesh more pink. They're kept in pens where they don't have much room to swim. This means wild salmon has a far superior ratio of omega-3 to omega-6 fats. Wild salmon is, as you would expect, more expensive but the good thing about these hors d'oeuvres  is you only need to use a little sliver on each toast, so they won't break the bank.
I was given a jar of preserved lemon in olive oil in a gift basket recently and I must say the savory citrus flavor paired really nicely with the salmon. It can be a little tricky to find at the market though, so you can use a little sprinkle of fresh lemon juice instead. There is fat in the cream cheese and fish so you won't miss the extra oil.
I hope you and your guest enjoy these appetizers! Have a great time at your gathering. xJacq
Pre-heat oven to 350*

Ingredients: makes approximately 16 toasts

1/2 package cocktail bread or 4-5 bread slices cut into quarters
4 oz. Cashew, Almond or Tofu Cream Cheese
1 Cucumber, thinly sliced
1 Carrot, thinly sliced
3 Radish, thinly sliced
4 oz. Smoked Salmon
2 Tbsp Fresh Dill
2 Tbsp Preserved Lemon or Fresh Lemon Juice
Capers 
Black Pepper
1. Lay the bread on a baking sheet and bake until lightly toasted about 8 minutes. (This step is optional, but it helps keeps the bread from getting soggy.)
2. Spread each square with a thick layer of cream cheese. Cover with cucumber slices. Add one carrot slice, one radish slice, one dill leaf and a sliver of smoked salmon per piece.
3. Top each with 1/4 tsp preserved lemon or lemon juice. Add 2 capers per slice and sprinkle with a little fresh cracked black pepper.