Your mission, should you choose to accept it, is to make the best veggie chili in town. And why wouldn't you? Veggie chili is healthy and hearty and tasty and the flavor is just so…American. Like BBQ, chili is one of those things we can imagine cowboys eating around the campfire in days gone by, making it the perfect thing to serve at your 4th of July cookout! I have to admit I am loath to give out this recipe. I'm a Scorpio and Scorpios love to keep secrets. In the past when people have asked for the recipe I've always given an artfully incomplete answer, but now that I've started this blog I've decided to offer it up for the greater good. It's the right thing to do.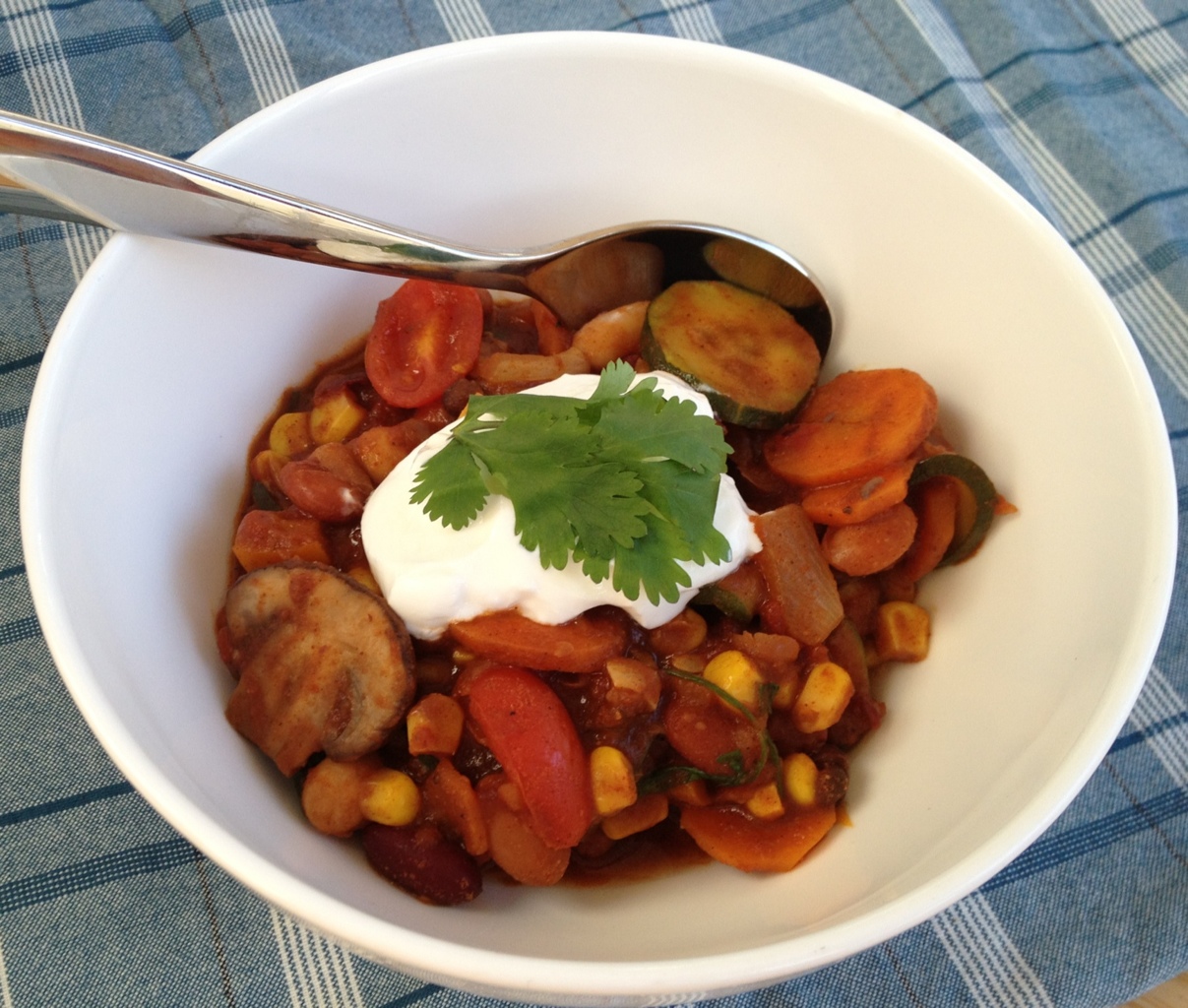 I guess the first thing you should know is there are some secret ingredients. Ready, drumroll please… coffee, mexican chocolate and Sriracha! They may surprise you but they turn this chili into a melting pot of flavor. I happened to have a lovely coffee with chicory from my recent trip to New Orleans which has a wonderful smokey flavor, but any dark roast will do. If you're not familiar with Mexican Chocolate, it's chocolate with cinnamon and sugar made for cooking or making hot chocolate, not for eating straight. It's available in the Latin section of most big grocery stores. I like to use Taza Cinnamon Chocolate Mexicano which is organic and dairy free. As for the Sriracha, you are probably familiar with it, since it's one of the most popular chili sauces around. Try to get the kind made by LA based Huy Fong Foods with the rooster on the bottle or  Organicville's Organic Sriracha Sauce as the more traditional Thai versions can be a bit tangier and sweeter. I use Simply Organic Vegetarian Chili Seasoning Mix or you can make your own chili seasoning and add 1 Tbsp masa harina or brown rice flour to it as a thickener.
I always try to use all organic vegetables and organic BPA-free canned beans. All of these healthy ingredients can be found at your local Whole Foods, Trader Joe's or online at Thrive Market. It's helpful to use a mandoline to cut the carrots, zucchini and mushrooms into even slices quickly.
Follow this recipe and I assure you it will be Mission Accomplished! Wishing you a happy and safe Independence Day! :)Jacq
Serves 12-15
Ingredients:
2 Tbs Olive Oil
1 medium Onion
1 medium Shallot
1 Bell Pepper any color
4 Garlic Cloves
3 medium Carrots
3 medium Zucchini
8 oz. sliced Cremini (Baby Portobello) Mushrooms
8 oz. Cherry or Grape Tomatoes, cut in half
1 can (15 oz.) EACH Black, Kidney ,Garbanzo, Cannellini and Pinto Beans
1 can Corn or the Fresh Kernels from 3 Ears of Corn
2 cans Italian Stewed Tomatoes
3/4 tsp Kosher Salt
1/2 tsp Black Pepper
1/4 – 1/2 tsp of Cayenne pepper
1 package Chili Mix
1 1/2 tsp grated Mexican Chocolate
1/2 cup dark roast Coffee
2 tsp Sriracha Chili Sauce
1/2 cup fresh Cilantro, chopped + more for garnish
Cashew Sour Cream for topping
If you don't have any on hand, brew coffee. In a large pot heat oil on medium low. Dice onion and add to oil, stir to coat for 2 minutes. Thinly slice shallot, add to pot and cook for a couple more minutes. Peel and finely chop garlic, add to pot. Stir 2 minutes more until everything looks translucent but not browned.
Dice bell pepper and stir into the pot. Slice carrots into thick coins, stir them in. Slice zucchini into thick coins, add to pot and stir. If using fresh corn add now. Drain liquid from canned tomatoes into pot. Roughly chop the stewed tomatoes and add.
Rinse beans with water in a colander. Drain and add to pot. Sprinkle with 1/2 tsp salt, 1/2 tsp pepper, cayenne if using, and Chili Seasoning Packet. Pour 1/2 cup coffee into pot. Stir until the seasonings dissolves. Grate mexican chocolate with a cheese grater and sprinkle 1 1/2 tsp over chili. Add the Sriracha Sauce. If using canned corn drain and add now. Add mushrooms and simmer for 3 min. Add the fresh tomatoes and cilantro. Sprinkle with remaining 1/4 tsp salt and simmer 3 minutes more, stirring occasionally. Serve in bowls and top with cashew sour cream. Garnish with fresh cilantro leaves. Enjoy!