These sophisticated, sweet and creamy mini-mousse cups pack a superfood punch. Avocado, spirulina and cacao are some of the most nutrient-dense ingredients on the planet, but they come together in a treat that tastes of pure chocolate decadence.  Orange blossom water adds a delicate floral note and can be found next to rose-water in that baking section or Middle Eastern aisles of supermarket. Spirulina is a blue-green algae that is very high in amino acids and balances the sweetness of this dessert with its earthy flavor. It can be found in the herbal supplement aisle of natural markets and health food stores. My favorite toasted coconut chips to go along with this recipe are the crunchy, spicy Made in Nature Ginger-Masala Toasted Coconut Chips.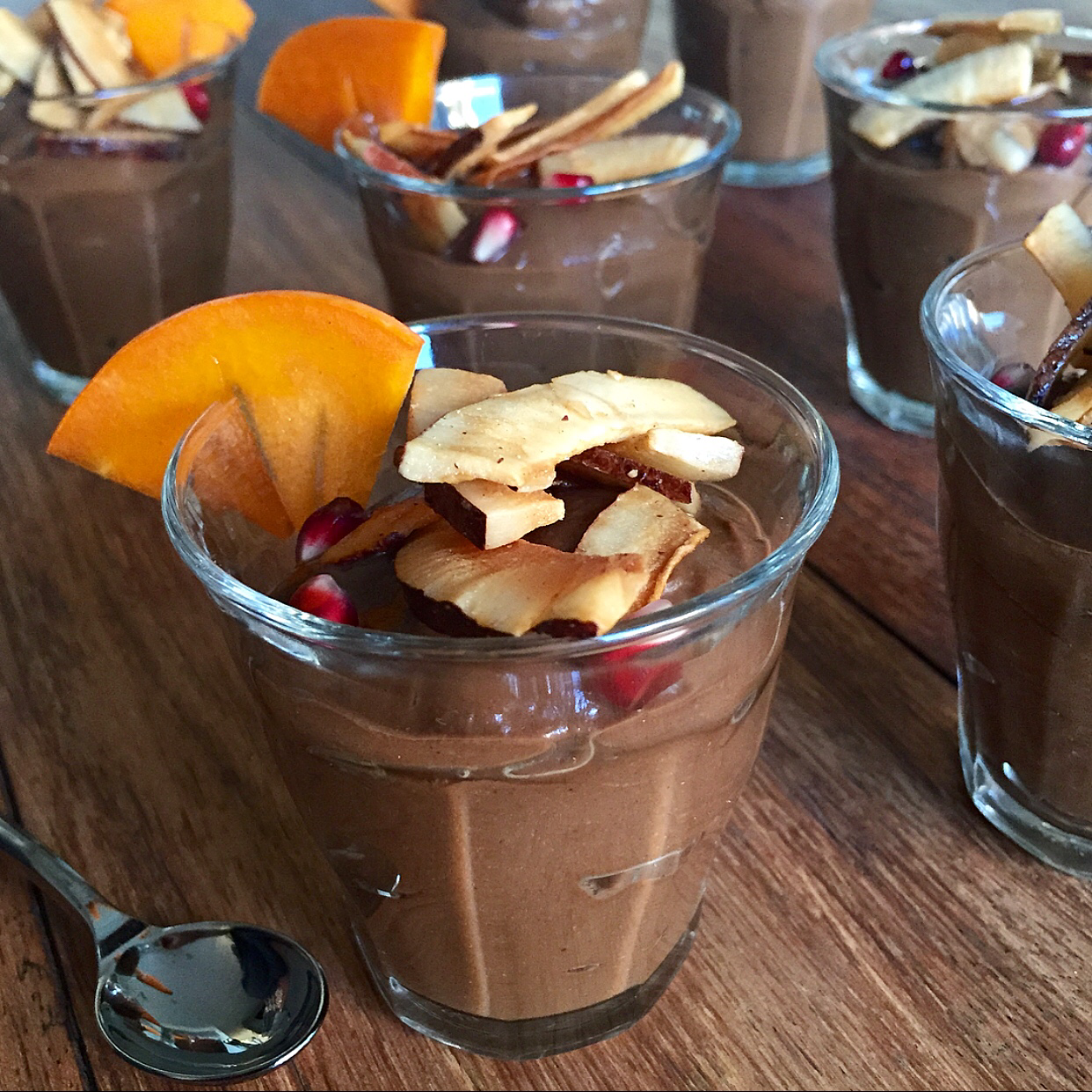 This the perfect recipe to make for a cocktail party since it takes only a few minutes to throw together in the blender. It's so nice to serve something sweet and delicious without it being too rich and heavy. Your guests will love it! I use little glass espresso cups for serving, but shot glasses work well also. Enjoy! xJacq
Ingredients: 10-12 servings 

3 Avocado
1 1/2 cup Almond Milk
3/4 cup Cacao Powder
1/2-3/4 cup Orange Blossom Honey
3 tsp Vanilla Extract
9 Ice Cubes
1/2 tsp Spirulina Powder
1/2 tsp Orange Blossom Water
Big Pinch Each Cinnamon, Cardamon & Sea Salt

Toppings:

1/3 cup Toasted Coconut Chips
3 Tbsp Pomegranate Seeds
1 Persimmon or Orange, sliced into wedges
Blend ingredients until smooth starting with 1/2 cup honey. Add additional honey if needed and blend again briefly. Spoon the mousse into shot glasses. Top with coconut chips and pomegranate seeds. Garnish with a persimmon or orange wedge. Mousse can be made up to 2 days ahead if refrigerated. Add toppings just before serving.