The holidays will be here in no time, so I wanted to start writing some special small-bite recipes for you. Forget the fried or frozen hors d' oeuvres. We're talking party food you can feel good about! Here we have a plant-based version of a traditional canapé. It's fun to use these ingredients in an unexpected and playful way. The carrots and lentils taste like the ocean thanks to the nori sheets and sea salt. The blini are made with nutty brown rice and earthy buckwheat flours, and you get creaminess and a bright citrus flavor in the lemon cashew crème fraîche. Together these flavors add up to an irresistible little package both you and your guests will love!  Enjoy! xJacq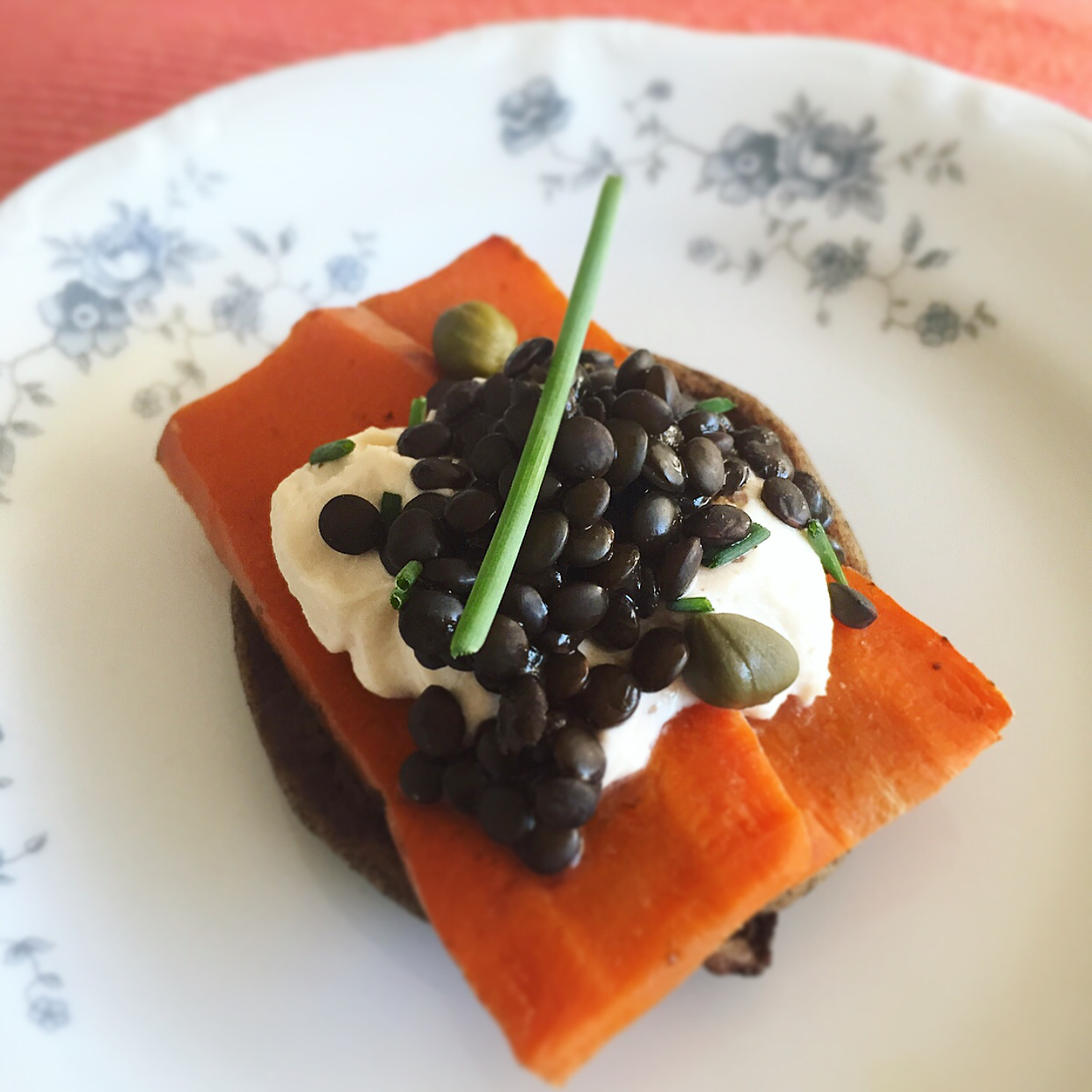 Ingredients: Makes approximately 16 

For Lox: Preheat oven to 400*

2 large carrots
2 Tbsp Miso Paste
1 Nori Sheet
3 cups water
1 tsp Liquid Smoke

For Caviar: 

1/2 cup Beluga Lentils
1 1/2 cup Water
1 Nori Sheet
1 tsp Sea Salt

For Lemon Creme Fraiche:

1 cup Raw Cashews, soaked 2-4hrs in warm water and rinsed
1/4 cup water
1/4 + 1/8 tsp Sea Salt
1 small Lemon, Juice and Zest

For Buckwheat Blinis:

1/2 cup Buckwheat flour
1/2 cup Brown Rice Flour
2 tsp Baking Soda
1 1/2 tsp ground Chia Seeds
1 1/2 cups Non-dairy Milk
1/2 bunch chives for garnish
2 Tbsp Capers for garnish


Lox:
Cut the carrots into chunks 1 1/2 – 2 inches long. Thinly slice each piece using a mandolin. Blend The remaining ingredients in a blender until smooth. Add the carrots to a small baking dish and cover with the liquid. The carrots should be submerged. Cook for approximately 45 minutes on 400*. Test for doneness. If they are not yet tender lower the heat to 200* and cook about 15 minutes more. The carrots should be tender with just a bit of bite, not mushy. Remove from the oven and allow to cool slightly before transferring to a shallow dish. Refrigerate and allow the carrots to soak in the cooking liquid 2 hours to overnight. Once cooled cover with plastic wrap or store in an air-tight container if storing overnight.
 Caviar:
Add the lentils, water and nori to a small pot. Bring the lentils to a boil then lower to a simmer. Cook until the lentils soften, approximately 15 minutes. Remove from heat. Stir in the salt. Once cooled slightly, transfer to a bowl including any liquid and refrigerate. They are ready to serve once chilled, but can be made a day ahead. Once cooled cover with plastic wrap or store in an air-tight container if storing overnight.
Lemon Creme Fraiche:
Blend all the ingredients, except the lemon zest, together in a high-speed blender or food processor until smooth. Transfer to a bowl and stir in the lemon zest. This can be made up to two days ahead. Cover with plastic wrap directly touching the cream. Gently press out any air bubbles.
Blini:
Mix the dry ingredients. Make a well and add the milk. Whisk to form a batter and let stand 2 minutes. Heat a non-stick ceramic pan over medium. Once hot, pour a heaping tablespoon of batter in to make each blini. When air bubbles start to show in on top and the bottom begins to brown, flip the blini. Cook until both sides are slightly browned.
Assemble:
Drain the carrots in a colander and gently rinse. Drain lentils and remove Nori. It will be very soft, it's ok if some breaks off into lentils. Layer each blini with 1 or 2 pieces of carrot lox, a teaspoon of crème fraîche and a teaspoon of lentil caviar. Garnish each with minced chives, a caper or two and a 1 1/2 inch long cut chive.