Want to spice things up in the morning? Breakfasts burritos are a great change of pace from your regular smoothie or granola. Especially as the weather starts to cool, it's nice to get a warm meal in first thing. You can throw this together in under 10, minutes. It's filling, nutritious, super flavorful and just an all-around feel good way to start the day. This is the basic recipe, you can add in any of your favorite veggies. As long as they're thinly sliced or diced, they'll cook up quickly. Also feel free to sub other greens like kale or swiss chard. They'll just take an extra couple of minutes to cook down. If you are cooking for one, you can refrigerate half of the beans and eggs once they're cooked and reheat them quickly another day. If you are cooking for 3 you can stretch this recipe by cooking the whole can of beans and adding 1 more tortilla. Also, I call this a breakfast burrito, but it's pretty darn great any time of day. Enjoy! xJacq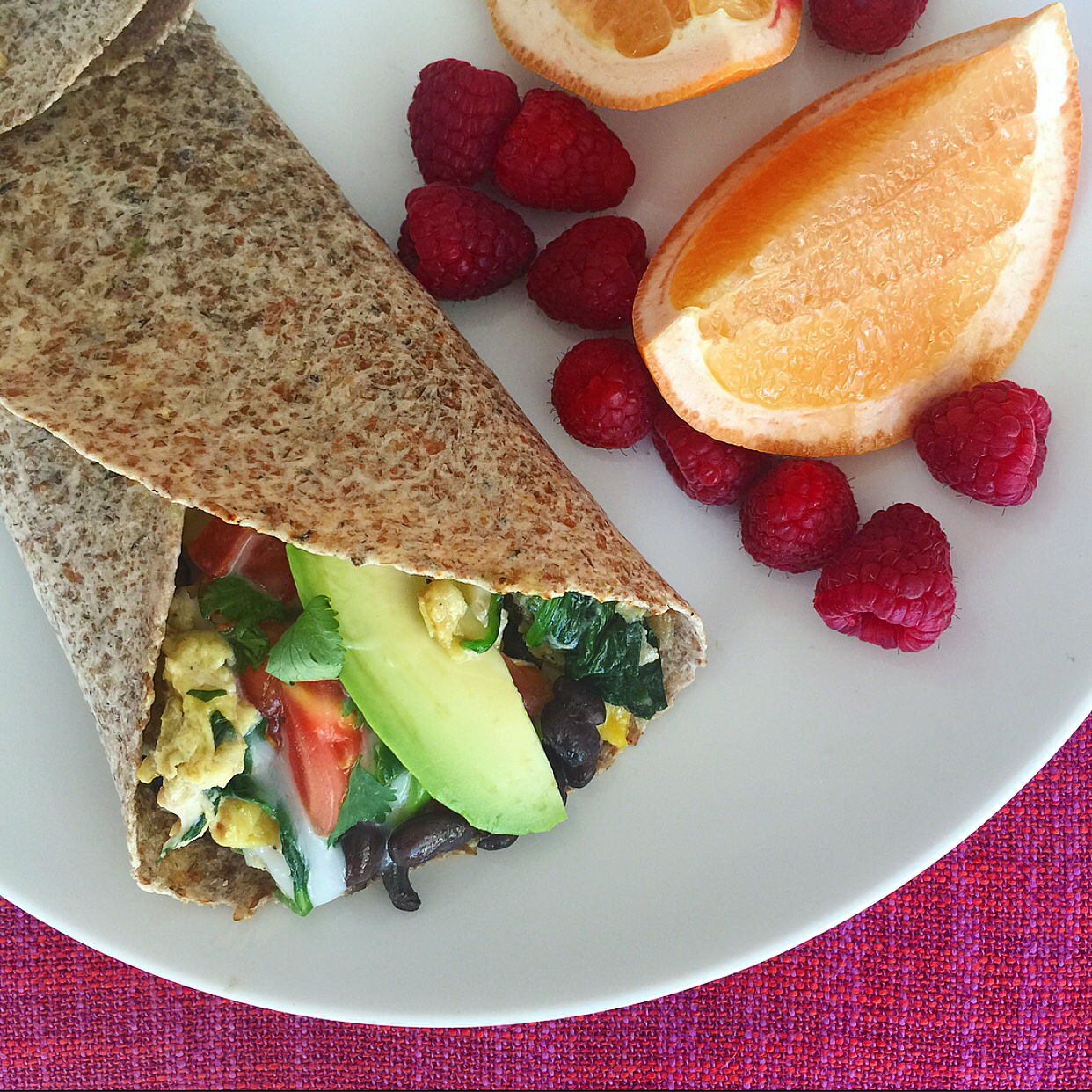 Ingredients: Serves 2 hungry people

For the Beans:

1/2 can Black Beans, drained and rinsed
Pinch each of Sea Salt, Black Pepper & Cumin

For the Eggs:

3 free range Eggs
Pinch each of Sea Salt, Black Pepper & Paprika
1 1/2 Tbsp Coconut Oil
1/4 small Onion, diced
1 cup Mushrooms, thinly sliced or diced
2 cups Spinach

Make it a Burrito:

2 Whole Grain or Brown Rice (gf) Tortilla
3/4 cup Chunky Salsa or Pico de Gallo
1/2 Avocado sliced
2 Tbsp Cashew Sour Cream or Coconut Milk Yogurt (optional)
1 Tbsp Fresh Cilantro Leaves
1. Add the spices to the beans and heat over low in a small pot, stirring occasionally.
2.Beat the eggs and spices in a small bowl. Heat a frying pan over medium heat, then add the oil, onions and mushrooms and sauté. When the onions start to brown (about 3 min), add the spinach. When it starts to wilt, pour in the eggs, allow to set about 1 minute then scramble gently for about another minute until cooked through but still moist.
3.Heat a tortillas directly on the burner over a medium flame about 30 second per side. Repeat with the second tortilla. Divide the eggs, beans and toppings between the tortillas. Leave room to fold the bottom 1/3 of the tortilla up, then fold the sides over to make a burrito. If you're taking it on the run, wrap the bottom 1/3 in a paper towel.