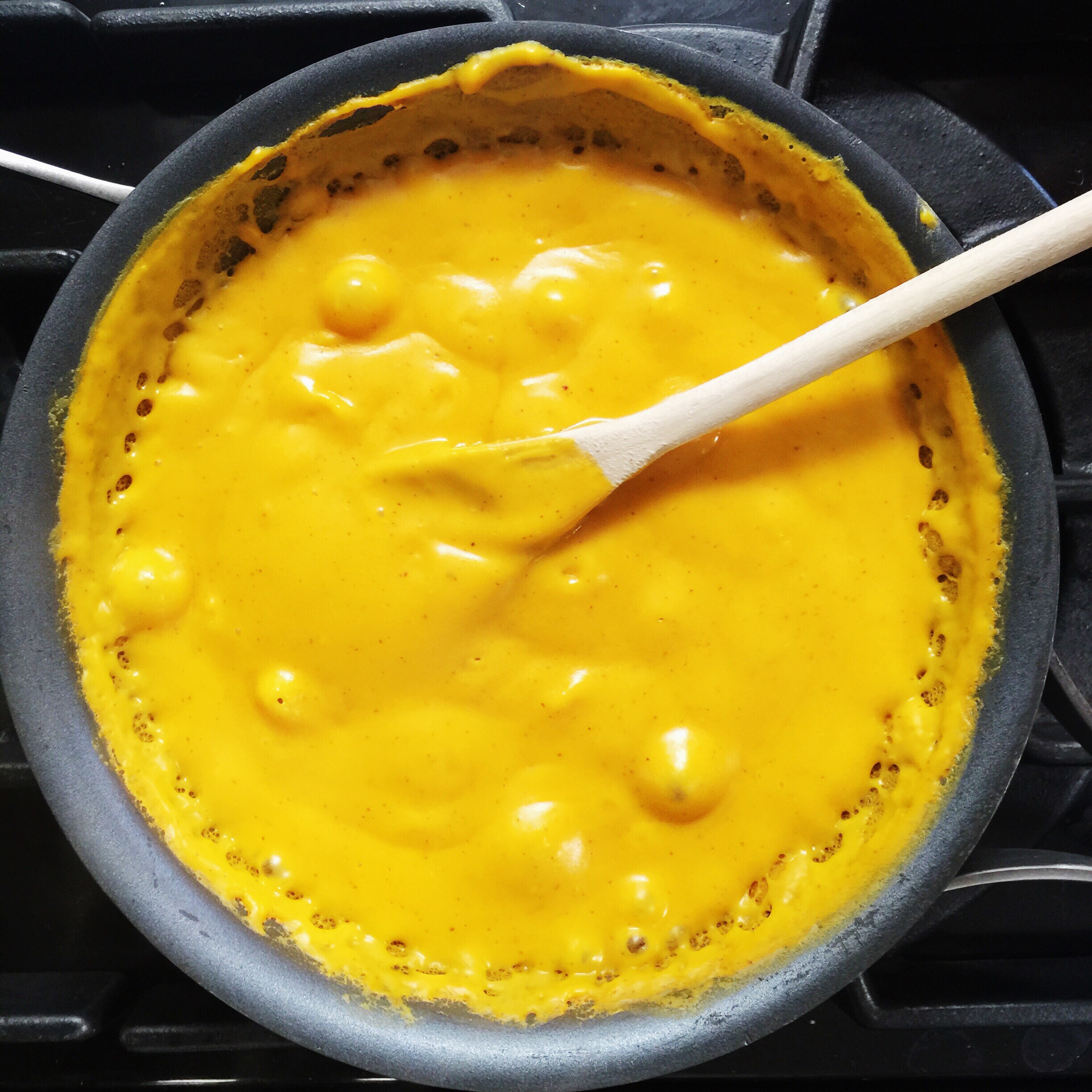 This is my favorite thing to make when people come over to watch football so I wanted to share it in time for the big game! Everyone loves these nachos and people always ask for the recipe. They are fresh, flavorful and satisfying without being too heavy or greasy. They're packed with veggies and other wholesome ingredients so they're super healthy, but still rich and filling. I make a couple of plates of these, one of my big party platters, and big bowls of popcorn sprinkled with truffle oil, sea salt, black pepper and nutritional yeast. This simple menu keeps everyone happy and since you can make most of it ahead of time, you won't have to spend the whole game in the kitchen. Enjoy! xJacq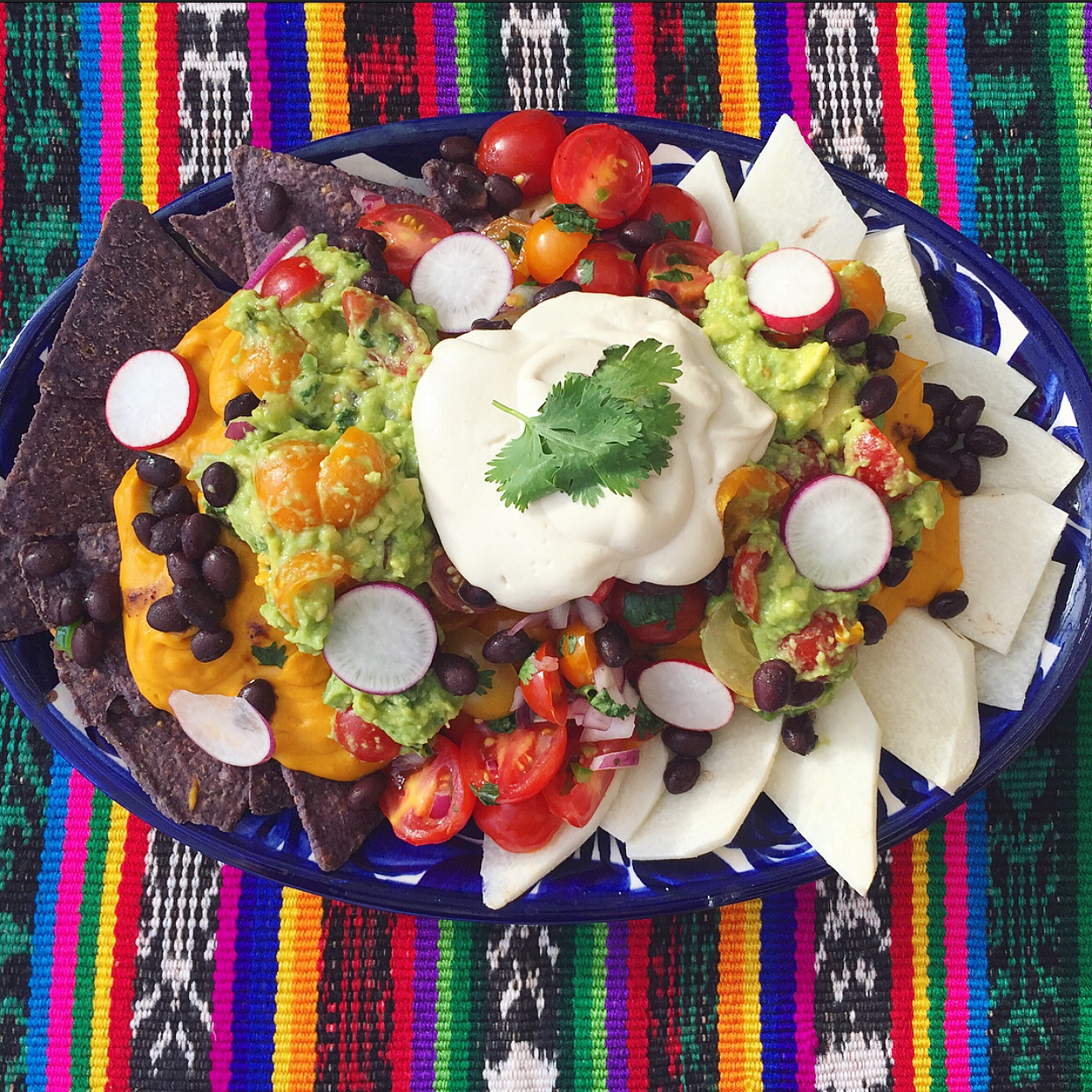 Ingredients: Serves approx. 6

Cheese Sauce:
1 Sweet Potato
1/4 cup Raw Cashews, soaked 2-4 hrs and rinsed
1 1/4 cup Hot Water
2 Tbsp Nutritional Yeast
2 Tbsp Tapioca Flour
1 1/2 tsp Apple Cider Vinegar
1 tsp Dijon Mustard
1 Garlic clove
3/4 tsp Kosher Salt
1-2 tsp Sriracha or Hot sauce
Pinch of Cumin or Taco Seasoning (optional)

Pico de Gallo: 
1 cup Tomato, chopped 
1 1/2 Tbsp Onion,finely chopped
1/4 Jalapeño deseeded, minced 
1/2 a lime, juice of 
Pinch of Sea Salt
1 handful torn Cilantro leaves

Guacamole: 
1 Garlic clove 
1 large or 2 small Avocado
1/2 lime, juice of
Pinch of Sea Salt & Cumin
1/2 cup Tomato, chopped
1/4 Jalapeño deseeded, minced
1 1/2 Tbsp Onion,finely diced
1 handful torn Cilantro leaves

Chips:
3-4 cups Organic Corn Chips
1 small Jicama, peeled and cut into chips

Toppings:
1 15 oz.can Spicy Black Beans, drained and rinsed
Cashew Sour Cream
2 Tbs Pickled Jalapeños (optional)
2 Radish, thinly sliced
Cilantro for garnish
Cheese Sauce:
Prick the sweet potato several times with a fork and bake in a 450* oven until easily pierced through with a knife (45 min-1 hr. ) Keep a sheet of foil underneath to catch any drippings.
Blend the remaining ingredients in a blender until smooth (1-2 min for a high-speed blender, 5-6 min in a regular blender) When the sweet potato is done, add 1/2 of the cooked sweet potato to the mixture and blend again. If your blender is weak, you may want to use a food processor for this step.
Pico de Gallo:
Toss the ingredients together and set aside.
Guacamole:
Mash the garlic in a mortar and pestle or mince. Mash garlic with avocado, lime juice, sea salt, and cumin with the pestle or a fork. Fold in the remaining ingredients.
Assemble:
Cover a large plate or small platter with 1/2 blue corn chips and 1/2 raw jicama chips. Heat the can of beans on med-low until warmed through. Heat the cheese sauce 2-3 minutes on medium until it thickens, scraping the sides and bottom of the pan with a wood or silicone spoon as you stir.
Pour half the beans on the chips. Top with the cheese sauce, pico de gallo and guacamole. Sprinkle the remaining beans on top. Add a big dollop of cashew sour cream and garnish with cilantro.