No my husband didn't propose on Valentine's. The "us" in the headline is you and me! It's been a year since I started The Feel Good Kitchen and I wanted to write a bit about what I've learned, what's to come, and announce our first giveaway. These lessons are in regards to blogging, but I think they can also apply to other businesses, projects or relationships which is why I wanted to share.
1. Commitment is Key- I dabbled in blogging for a couple of years before I started The Feel Good Kitchen. I never really gained any traction or audience before now because I wasn't taking it seriously. If you don't believe what you are doing is important, no one else will either. Why would people think my content had special value if I didn't feel that way myself? Since I started FGK things have grown relatively quickly because I am committed to sharing healthy recipes and a lifestyle that has been life-changing for me. It's a lot of work and there is still room for improvement, but it's been so worthwhile because I am passionate about what I'm writing about. I love that we are starting to build a community of people who want to feel their best through healthy eating and an active lifestyle; who believe that eating well should be delicious and taking care of yourself should be fun.
When I was writing before FGK, I was writing about things that I thought people wanted to read instead of what I actually cared about. I wrote decadent recipes and even posted meat dishes that I would never eat myself! No wonder why I couldn't stay consistent. I hadn't made the commitment to do the day-to-day work needed to keep a decent blog running because I didn't have the right motivation, which brings me too…
2. Have A Purpose- Everything changed when I decided to write about the healthy everyday foods that I use to feel my best. After years of dieting, counting calories, avoiding fats, feeling low-energy etc. I knew something had to change. After lots of experimentation I found that eating lots of nutrient-dense whole foods and exercising regularly meant I could feel energized, stay slim and ditch the scale. Not having to weigh myself or constantly be on a "diet" gives me a feeling of so much freedom, so of course I want to share! I feel excited every time I work on a new recipe now, or even post a photo on Instagram because I know that it's inspiring people to eat nutritious foods that make will make them feel great. Having a sense of purpose that isn't based solely on what you want to get, but more so on what you have to give, will motivate you to stay committed to your work.
3. Be You-In some ways this is the hardest part. Being authentic means you're putting yourself out on the line. When you're truly being yourself and using your voice there's always the fear that people won't like it, which means (eeek!) they don't like you. While that feels a little scary, what happens when you come from that place is the people who connect with you are really your kind of people, because they are connecting with your truth. I have a blogger friend who said whenever she loses a follower because of something she posts she just thinks "not my tribe". It's a great way to look at things in the online world, and it applies in real life too. Your uniqueness, your voice, your truth is what makes you truly special, it's what (the right) people will respond to and it's what makes you stand out. Keeping yourself hidden when you have so much to offer is, let's face it, kind of greedy, so take the leap, be brave and just be you.
Ok enough blogging/life lessons for the first year I think. Let's get to the fun stuff- our first giveaway! I've had the chance to try a lot of really great products this year and I would love to share some of my favorites with a lucky winner. Head over to Instagram to check out the rules and details. Hurry! The winner will be chosen Wednesday Feb 17th.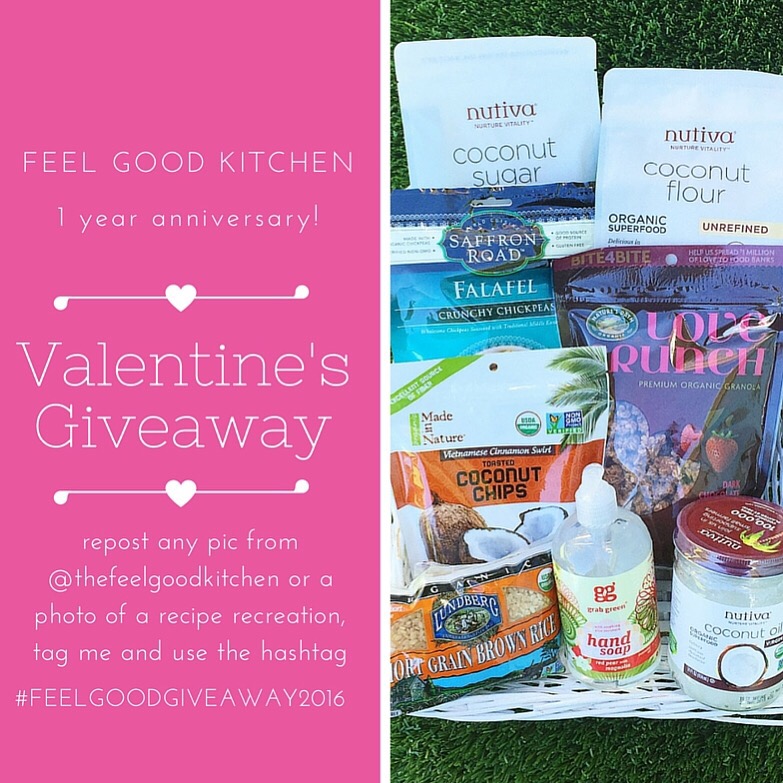 This year we've built up such a great community on Instagram and Facebook. I've just started a YouTube channel and am really excited about starting work on a cookbook with my best friend Abbie Cornish. None of this could be possible without you! So thank you so much for making the first year of the Feel Good Kitchen so wonderful and I'm looking forward to see where it all goes in 2016. Sending you so much love on this Valentine's Day! XOXO, Jacq