This is the dish friends and family ask for most often when I ask if they have any requests. Luckily it is one of the easiest dishes to make! This recipe is quick enough for a weeknight meal, but the sophisticated flavors also make it a great choice for a dinner party. The sweetness of the pecans works beautifully with the fruity/spicy mango chutney and the salmon offers a brain boosting dose of omega-3s. It's also perfect for a brunch buffet since it's just as tasty piping hot out of the oven as it is after it has cooled. I like to serve a large filet whole and allow people to take what they like. Try it and I'm sure it will be one of your favorites too. Bon Appetit! XJacq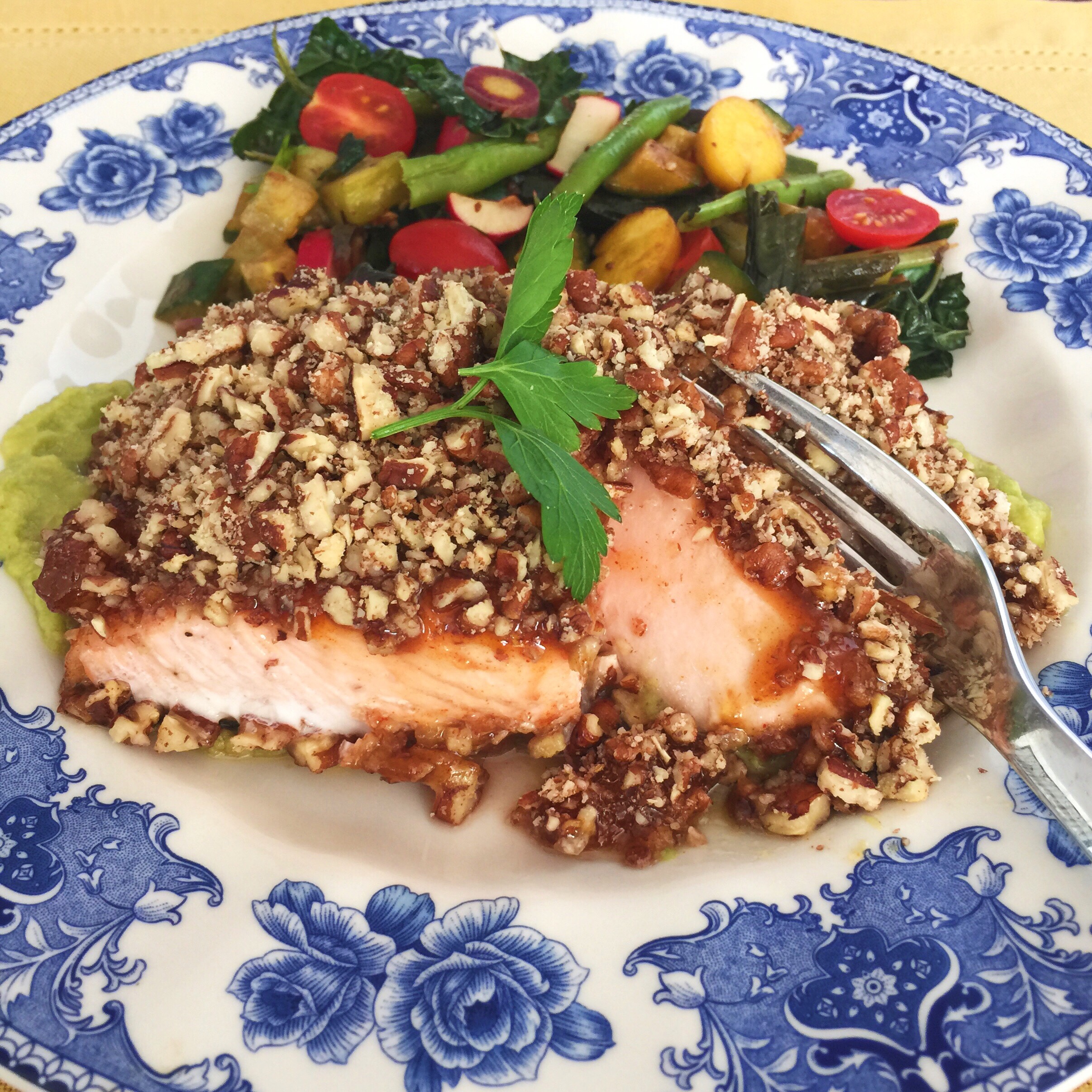 Ingredients: Preheat oven to 375*

Fresh Salmon filet, .5 lbs per person
Sea Salt
Black Pepper
Paprika (optional)
Mango Chutney approx 3 Tbsp per pound
Pecans approx 2/3 cups per pound of fish
Place a sheet of tinfoil 6 inches longer than your fish on a baking sheet. Lay the salmon skin side down in the center of the foil. Sprinkle with salt, pepper and optionally paprika. Spread a layer of Mango Chutney on salmon as if you were putting jam on toast.
Smash pecans using a mortar and pestle (or if you don't have one put the pecans in a ziplock bag and smash them with a rolling pin or soup can) until very coarsely ground. Cover top of salmon with the pecans to form a crust.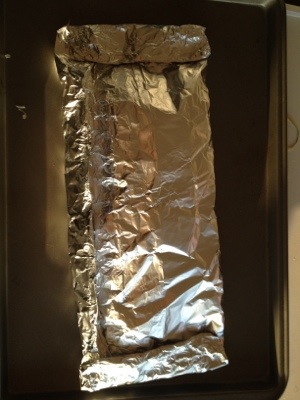 Fold the sides of the foil together at the top lengthwise and fold over a couple of times to seal leaving an inch of air so fish can steam. Fold the ends over a few times to make a packet.
Bake about 25 minutes for a smaller piece of fish and 35 minutes if larger. Remove fish from oven and let sit for 5 minutes. Carefully open packets and check for doneness. Fish should be pink and flaky. Remove fish from foil. (It's ok if the skin sticks to the foil, most people prefer their fish without it) and serve.