Cooking from scratch for a holiday can feel overwhelming so I figured it would be fun to show you a salad and veggies sides that can all roast in the oven together at the same time. They are so easy to make you can hardly call these recipes, but they are so beautiful and delectable everyone will be asking for seconds so make sure to make extra! Try to find the best looking organic produce you can find for fabulous flavor. If you are new to cooking just remember its much easier to add seasoning than to take away, so you can always taste and adjust the seasoning as you go. Ive left off measurements because this works whether you are cooking for 2 or for 8. 
What you'll need:
Vegetables:
Carrots
Small Red, White and/or Purple Potatoes
Brussels Sprouts
Tomatoes
Seasonings:
Olive Oil
Kosher Salt
Medium Ground Black Pepper
Cumin
Paprika
Chili Powder
Seasoning salt
Course Mustard
Onion
Shallot
Garlic
Rosemary
Cilantro, Basil
Italian Parsley
Honey
Preheat oven to 400*
Prep Veggies: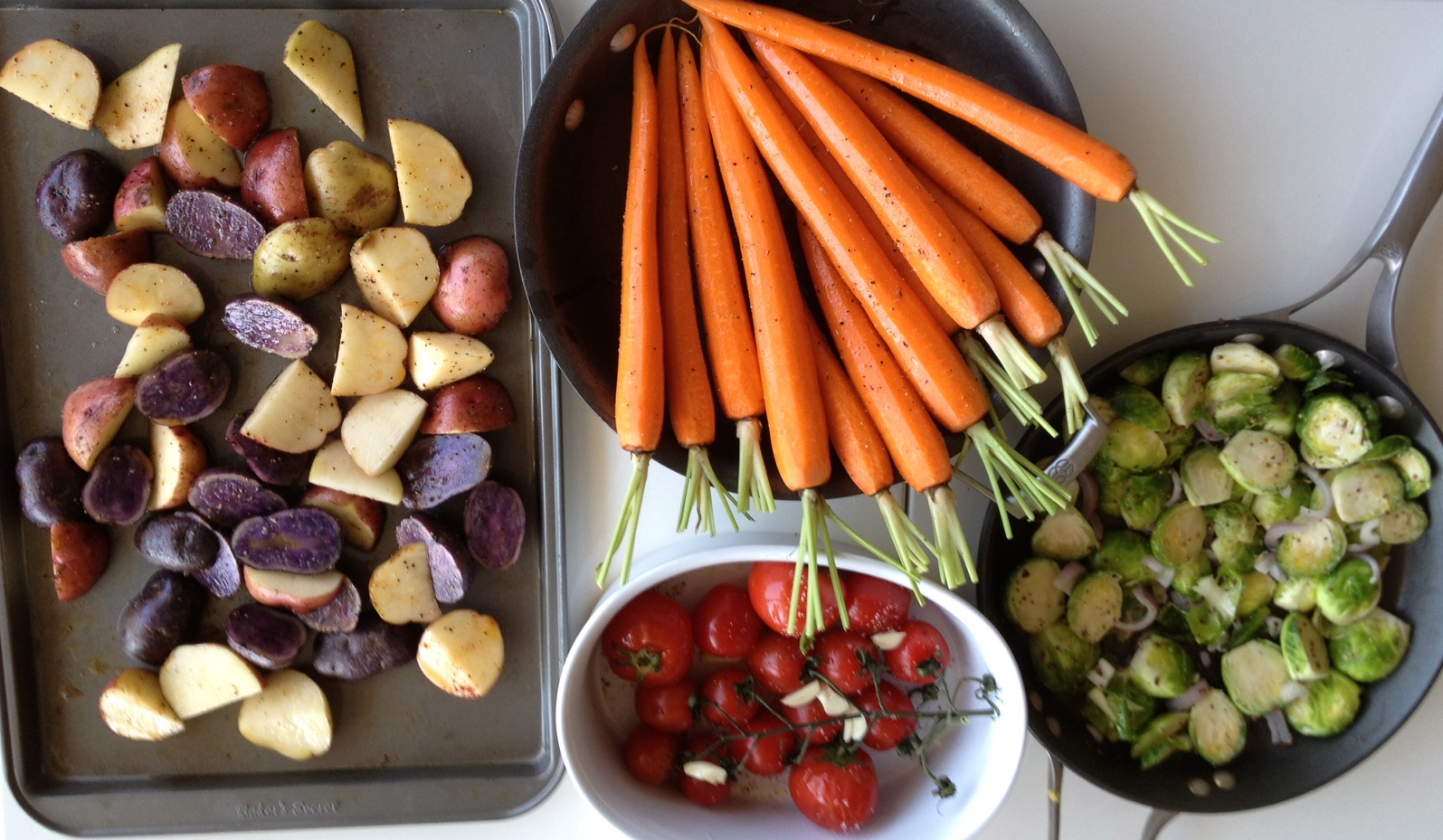 Carrots:
Trim all but 1 inch of carrot tops. Toss with olive oil. Sprinkle with kosher salt, pepper, a little paprika and a little cumin. Place in a baking dish.
Potatoes:
Slice potatoes into chunks. Cut smaller potatoes in half lengthwise, larger ones into quarters. Place on a baking sheet that has been greased with a bit of olive oil. (Just pour some in the middle of the sheet and spread it out with your hands so its well coated.) Drizzle potatoes with enough olive oil to coat. Sprinkle with a little kosher salt and a little seasoning salt, black pepper, and a bit of chili powder, toss well. Spread out in a single layer on the baking sheet.
Tomatoes:
Try to find organic tomatoes on the vine or any small to medium tomato. Place in a baking dish. Pour olive oil into your hand and gently coat tomatoes, sprinkle with kosher salt and pepper. Cut a few peeled garlic cloves in half and sprinkle on top of tomatoes.
Brussel sprouts:
Peel off any damaged outer leaves. Trim any rough bottoms. Cut Brussels sprouts in half or thirds if large and spread in a baking dish or sheet . Drizzle with olive oil. Add a little coarse mustard, about a tsp to every 2 Tbsp olive oil. Sprinkle with kosher salt and pepper. Squeeze the juice of a half an orange on top and toss.
Stick everything in the oven and look at the clock
Cut an onion, a shallot and 2 garlic cloves into slices. If your making a lot of potatoes, cut extra, you want enough to put a thin layer over the potatoes. Get out the honey, rosemary and cilantro and keep your orange handy.
Pour yourself a Mimosa and tidy up your mess. After 30 minutes in the oven:
Brussel Sprouts:
Remove from oven and grate a little orange zest over the top. Taste one (be careful, they're hot!) and see if you want to add more orange juice or seasoning. Replace
Potatoes:
Remove from oven and cover with the onion, garlic and shallots. Tear rosemary leaves off their branches and sprinkle on top. Toss and put back in the oven.
Carrots:
Remove and drizzle with honey and sprinkle with cilantro leaves. If you like things spicy you can add a couple chili flakes. Turn and replace in oven.
Tomatoes:
Leave them in the oven.
Now go set your table and come back to check on your veggies. They should be browned and fragrant when  done.
In my oven the timing went like this, but it can vary depending on how much you're making:
Brussels Sprouts: 50 min
Potatoes and Tomatoes: 1 hr
Carrots: 1 1/2 hrs. (if you want carrots to cook quicker cut them in half lengthwise at the start)
Sprinkle Potatoes with Italian parsley leaves before serving.
Toss carrots and sprinkle with fresh cilantro before serving.
Sprinkle tomatoes with fresh torn basil
Your Brussels Sprouts are perfect as they are. Just like you.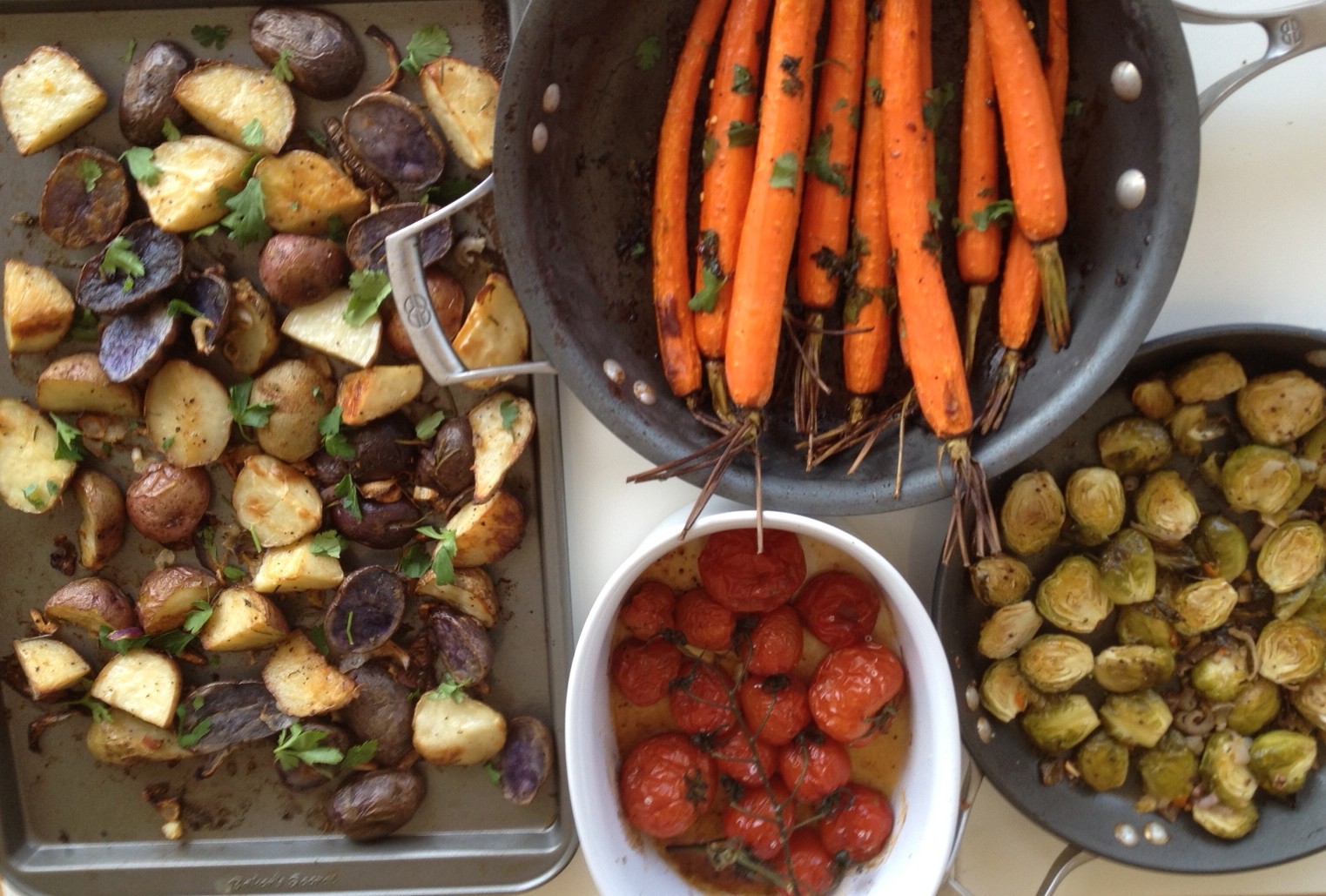 Happy Easter! Happy Passover! Bon Appetit! xJK