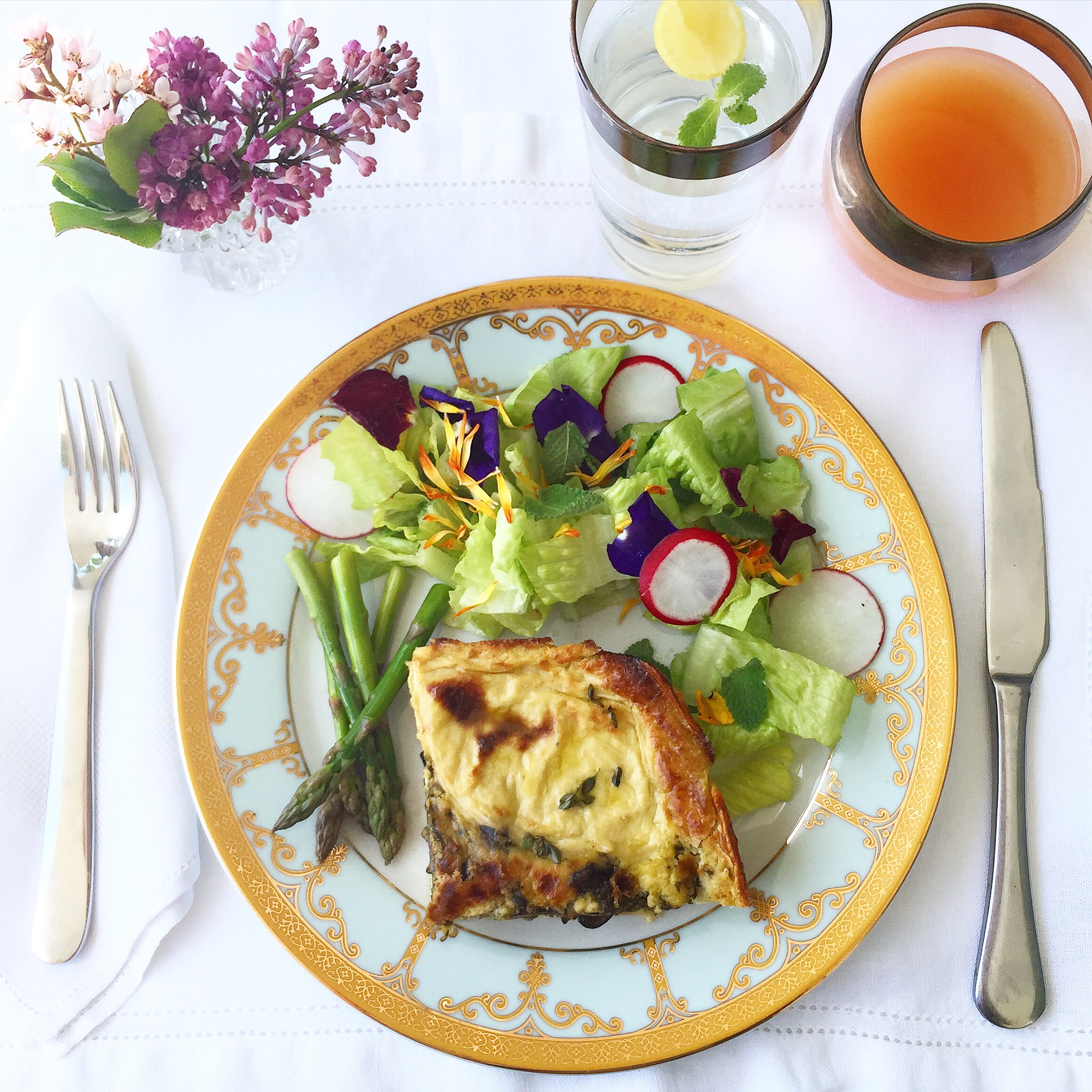 I am hosting Easter brunch this year so I wanted to come up with a main dish that would not only be meat and dairy-free, but special enough for a holiday and enticing to vegetarians and meat eaters alike. What I came up with is this sumptuous lasagna that is sure to please.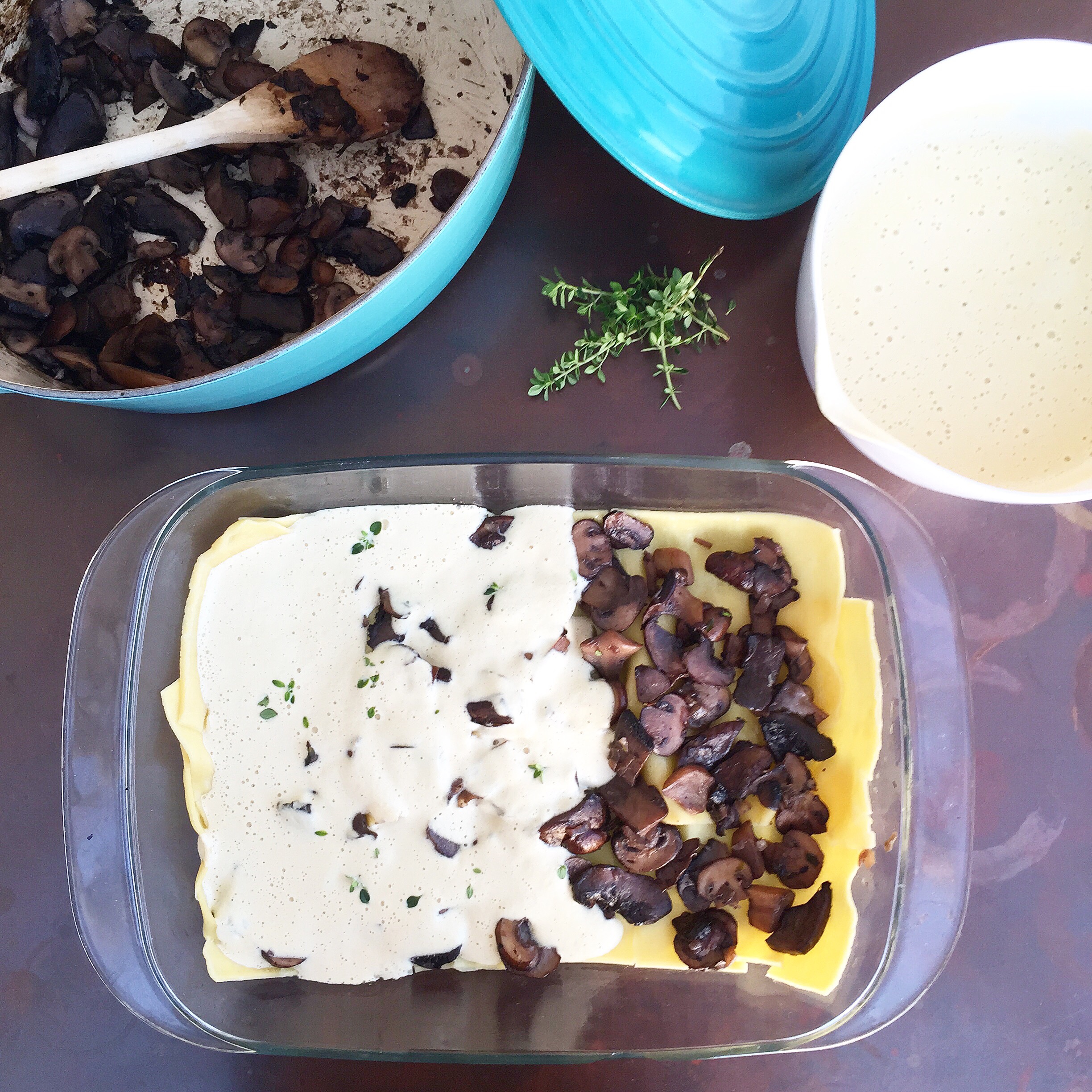 You can use a mixture of any mushrooms you like, I used mostly portabello and white button mushrooms because they were the most reasonably priced at the market as well a a few oysters. I used orange thyme which worked beautifully but can be hard to find so use lemon thyme or regular thyme instead. The cashews are used to make both a delicate béchamel and a gooey plant-based mozzarella. Both are incredibly creamy and delicious with none of the strange flavor or ingredients of most store-bought vegan cheeses. You can use your favorite pesto recipe or buy store-bought. I find the refrigerated pestos in the deli case are usually much better than jarred varieties. You can find dairy free versions at stores like whole foods.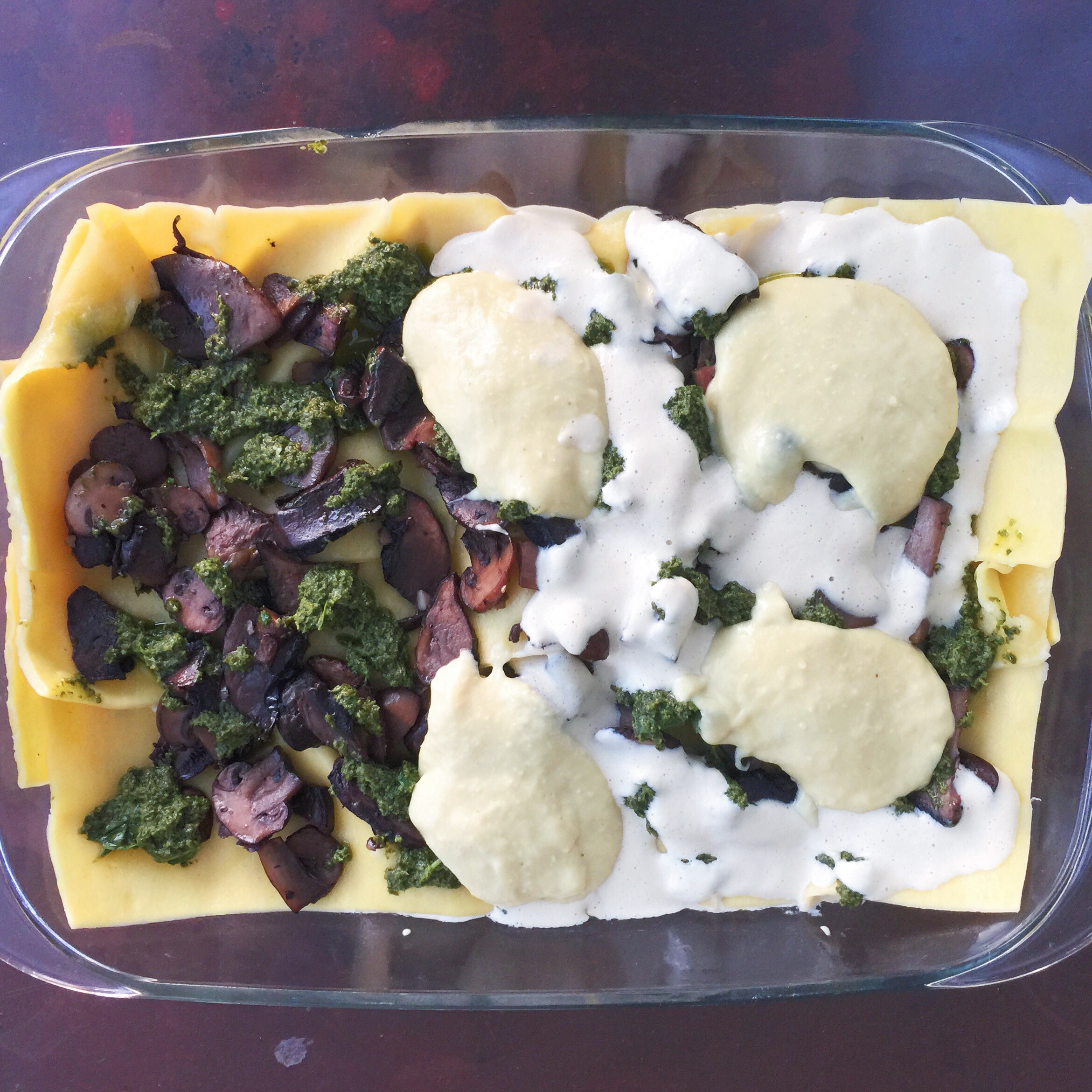 I made fresh pasta, so I did use an egg but if you wanted to keep it vegan, just substitute vegan lasagna noodles. You could also use your favorite gluten-free pasta. If you are making this for passover, you have a few choices, you can use matzoh bread instead of the noodles or long zucchini slices for an even healthier dish. You can also use special kosher for Passover pasta that is made out of potato flour. Use elbows or shells and layer it in the same way you would lasagna.
Of course it doesn't have to be a holiday to make this! It's a great one dish meal any time you have to feed a crowd. Just add a salad on the side and you're ready to go. You can even assemble it a few hours ahead of time and pop it in the oven just before dinner. I really hope you enjoy it! xJacq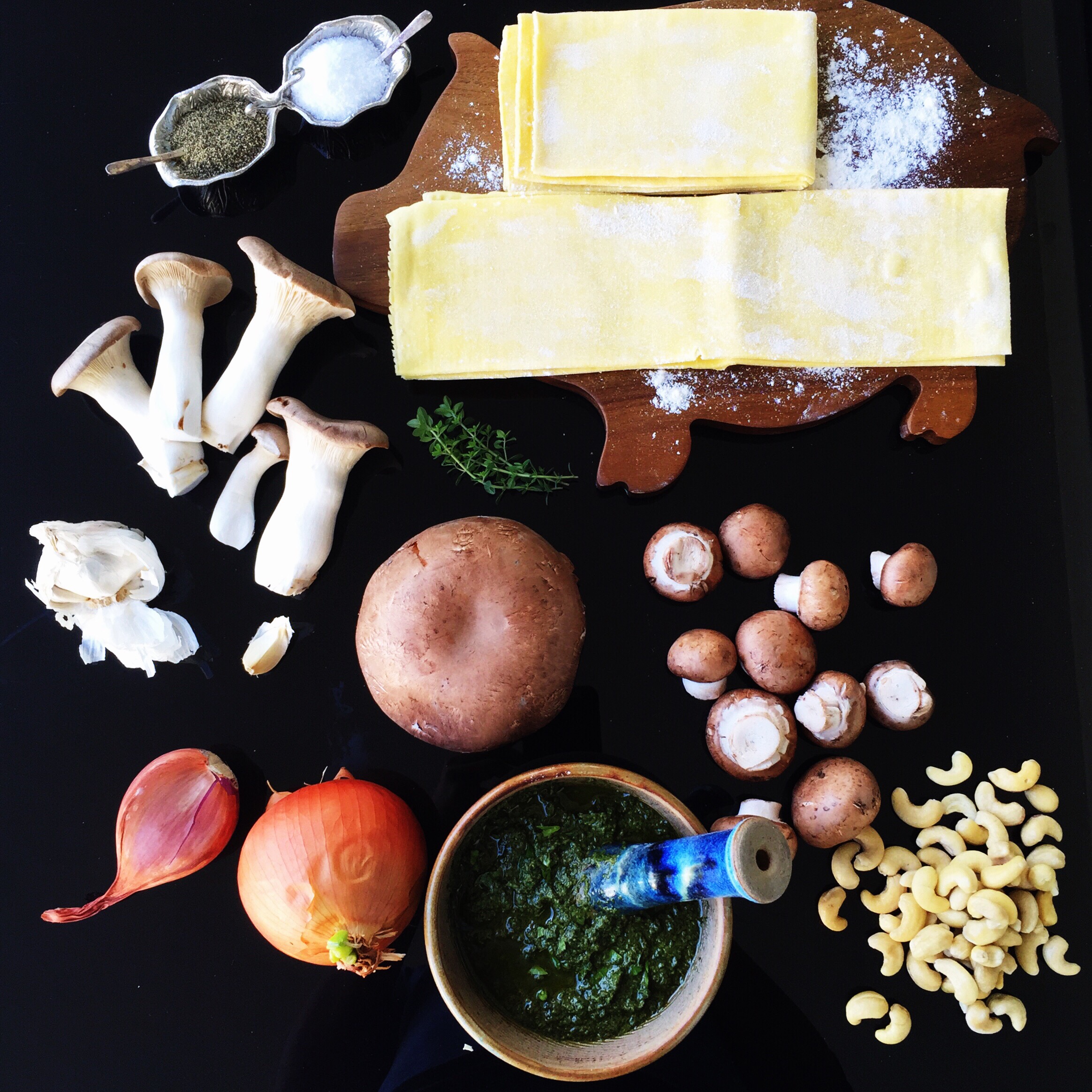 Ingredients: approx. 12 servings
Mushrooms:
1.5 lbs Mushrooms, cut into 1/4 inch thick slices
2 Tbsp Olive Oil
1 Shallot, finely chopped 
2 Garlic Cloves, finely chopped
6 sprigs Thyme
3 Tbsp Red Wine
1/4 tsp each Kosher Salt and Black Pepper + additional to taste

Cashew Béchamel (click here for recipe) 

Cashew Mozzarella:
1/4 cup Raw Cashews, soaked and drained
1 Garlic Clove
1 cup Warm Water
2 Tbs Tapioca Flour
1 Tbsp Nutritional Yeast
1.5 tsp Apple Cider Vinegar
1/2 tsp Kosher Salt

Lasagna:
6 Lasagna Noodles, Fresh or Dried
2 tsp salt
1 cup pesto


Trim woody stems and any soft spots from the mushroom. Slice 1/4 inch thick and no more than 1 inch long. Heat olive oil in a large sauté pan over medium, add shallots and cook about 2 minutes until translucent, stirring occasionally.  Add garlic and cook 30 seconds more, then add mushrooms, salt, pepper and the leaves from 3 thyme sprigs,  gently toss. Lower heat to medium low. If garlic starts to brown add a splash of water. Allow mushrooms to cook while you prepare the rest of the ingredients and stir only occasionally. They will begin to release a lot of water. Preheat the oven to 375*
Prepare the Béchamel, transfer to a pitcher or bowl and set aside. There is no need to rinse the blender. Put a large pot of water on to boil for the pasta, adding 2 teaspoons of salt. Meanwhile blend all the ingredients for the mozzarella in a high-speed blender on high until smooth, about 1 minute, pour into a small skillet and set aside. When the pasta water comes to a rolling boil add the pasta and gently stir to separate the noodles. Boil for 2 minutes if using fresh pasta or according to package directions for dried. It's best if the pasta remains slightly undercooked. Drain and rinse the pasta with cool water and gently separate the sheets, laying them out in a single layer on a baking sheet so they don't stick together.
Check the mushrooms, they should now look drier. If there is still water at the bottom of the pan, turn up the heat to medium and gently stir until it cooks off. Once the water has evaporated add the wine, toss and cook 2-3 minutes more so that it's absorbed. Taste and add additional seasoning if desired. (I added 1/8tsp each Salt & Pepper) Remove from heat.
Spread a thin layer of oil on the bottom and sides of a 9×12 inch baking dish. Add one layer of pasta then spread out half the mushrooms and cover with béchamel. Add another layer of pasta, cover with the remaining mushrooms then spread the pesto on top. Cover with béchamel and sprinkle with the leaves of 1 thyme sprig. Refrigerate any leftover béchamel.
To finish the cashew mozzarella, heat over medium and stir continuously while scraping the sides and bottom until it is thick and gooey, about 3 minutes. It will start to curdle before it comes together and thickens. Once smooth it will start to pull way from the pan as you stir. Remove from heat and top lasagna with dollops of the mozzarella.
Bake in the preheated oven for approximately 30 minutes until the top just begins to brown. Sprinkle with the leaves on the last sprig of thyme. Serve with additional pesto on the side if desired.