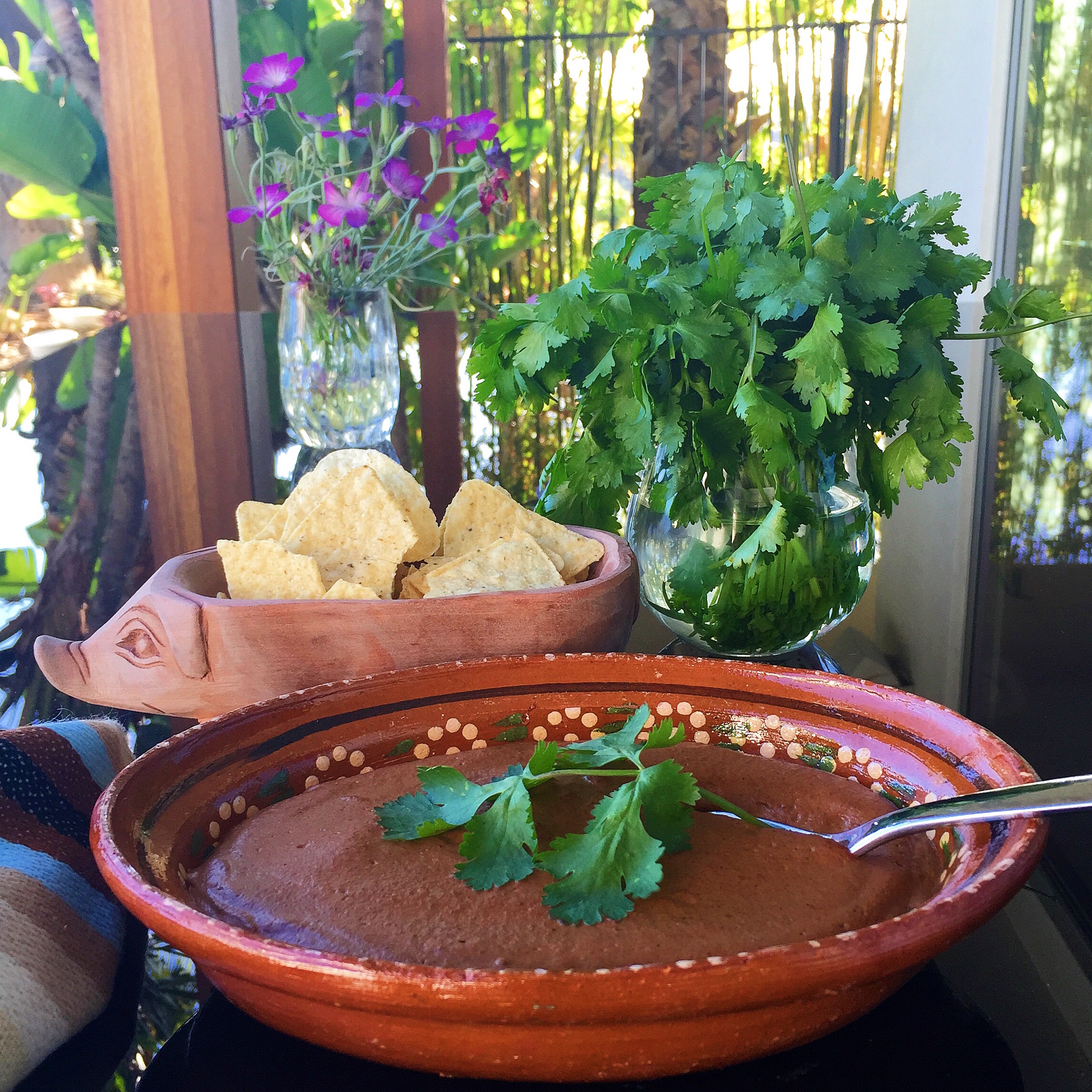 Mole is one of the most delicious and exciting sauces in the world in my humble opinion. It has such complexity of flavor and is surround by lore. It evokes images of old mexican ladies grinding spices and simmering chiles for days. Now, the chef in me loves the idea of cooking up an old traditional family recipe for hours on end, but the busy real-life working girl was looking for a simpler process. What I came up with is this raw version that (unbelievably!) can me made completely in a blender without missing out on all the savory flavor and spice.
When I say this is a "quick" mole, keep in mind that it's a relative term . You still have to measure out quite a few ingredients, but that shouldn't take more than 20 minutes and I promise it's well worth it! I tried to make a recipe with fewer components, but there is really no way to get an authentic flavor without the diversity of spices and other ingredients. Hopefully you'll have many of the spices in your pantry already, or you can find many of them online at Thrive Market.
The good news is that with all of these healthy ingredients, the is a plethora of nutritional benefits to this mole. The subtle chocolate taste comes from raw cacao which has one of the highest levels of antioxidants of any food. The veggies are full of vitamins, fiber, minerals and anti-oxidants and like veggies, the spices contain tons of healthy phytonutrient compounds including antioxidants. They are prized not only for their culinary uses, but also for their medicinal benefits. For example research shows that eating half a teaspoon of cinnamon daily reduces risk factors for diabetes and heart disease within six weeks and just 1 tsp of Oregano has as many antioxidants a 3 cups of spinach. You can read more about the nutritional benefits of spices here.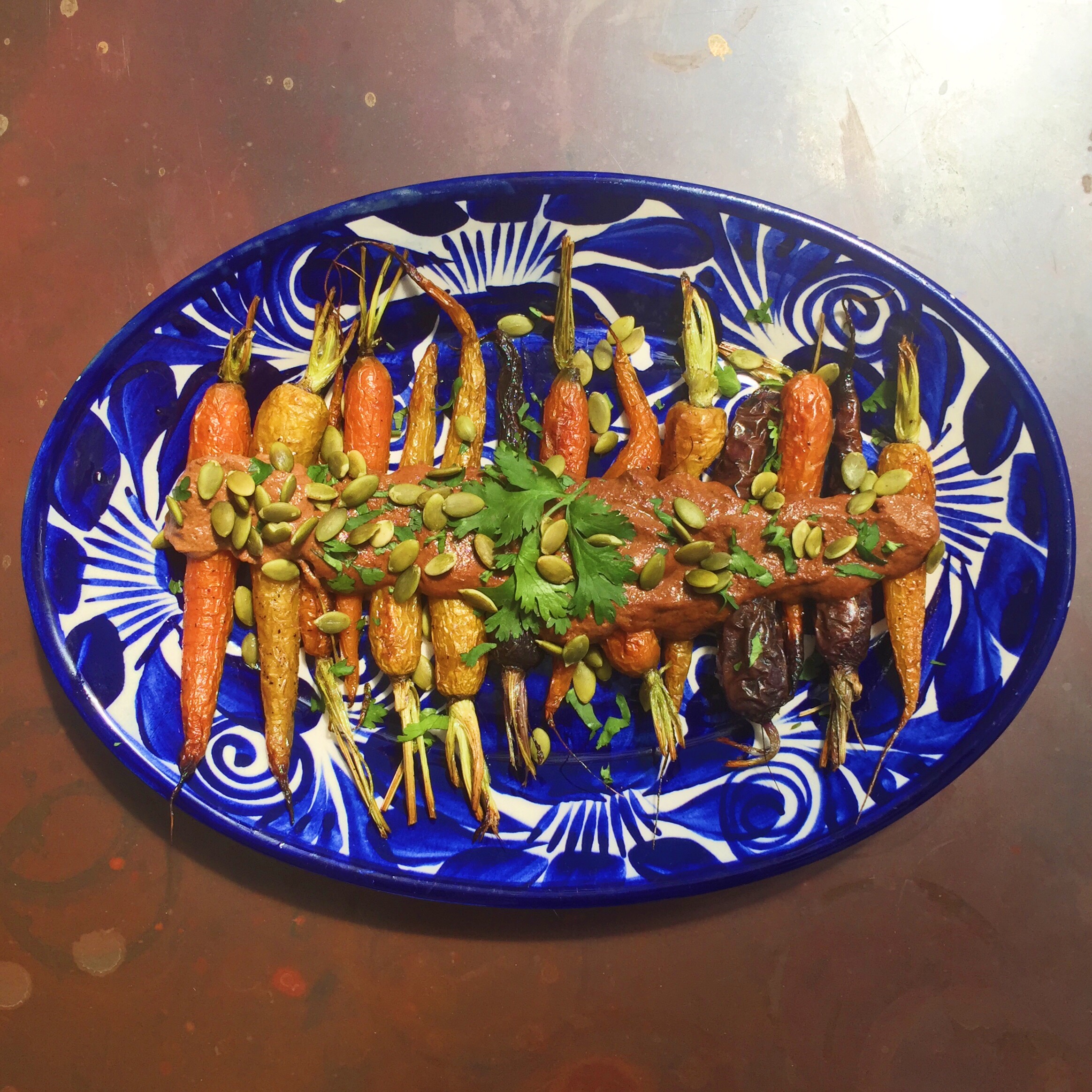 But enough about the nutrition, let's get back to the FLAVOR. With mole it's all about balance.We already covered the chocolate and spices but you also get sweetness from the raisins, nuttiness from the tahini and pumpkin seeds, tanginess from the tomatillos, savoriness from the tomatoes, garlic, and onion; and smokiness from one of the keys to this raw mole- smoked salt. It adds that smoky flavor without all the pesky roasting over open fire. Try my favorite called 7-Fire from Hepp's salt. You can also find smoked salt at Whole Foods or Gourmet Markets. All together these flavors come together to make a unique sauce that will be the highlight of any meal.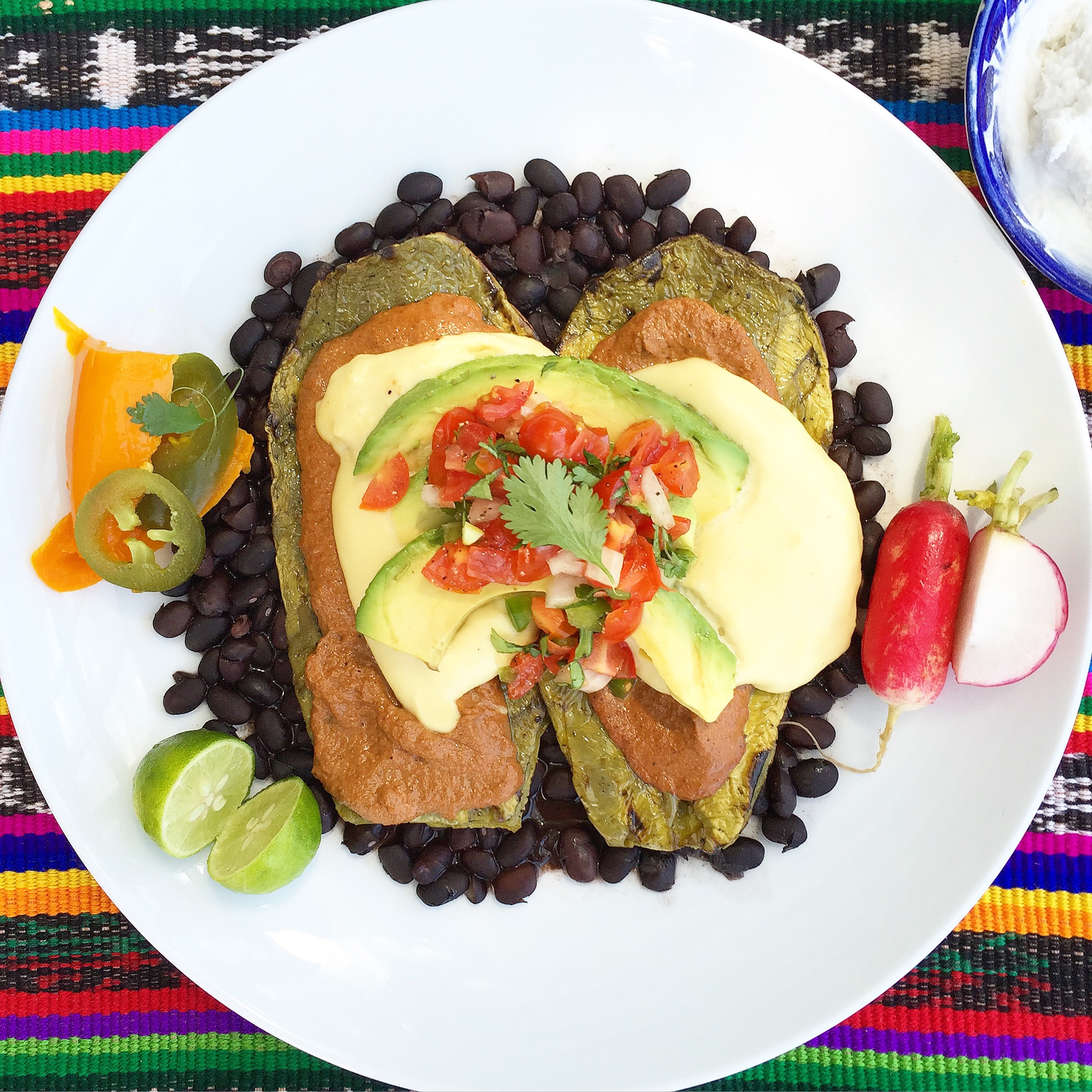 Traditionally mole is most commonly served with turkey or chicken but I really love to eat it over grilled cactus (nopales). Just coat the paddles in coconut oil, season with salt and pepper and throw them on the grill. Cook a few minutes until grill marks appear on each side, then slather them in mole. You can find them despined in the produce section of any latin market. Here I served them with black beans, a cashew cheese sauce and a sour coconut cream, salsa and avocado. All together it made for one of my favorite home cooked meals ever. You can find the recipe for the cheese sauce here.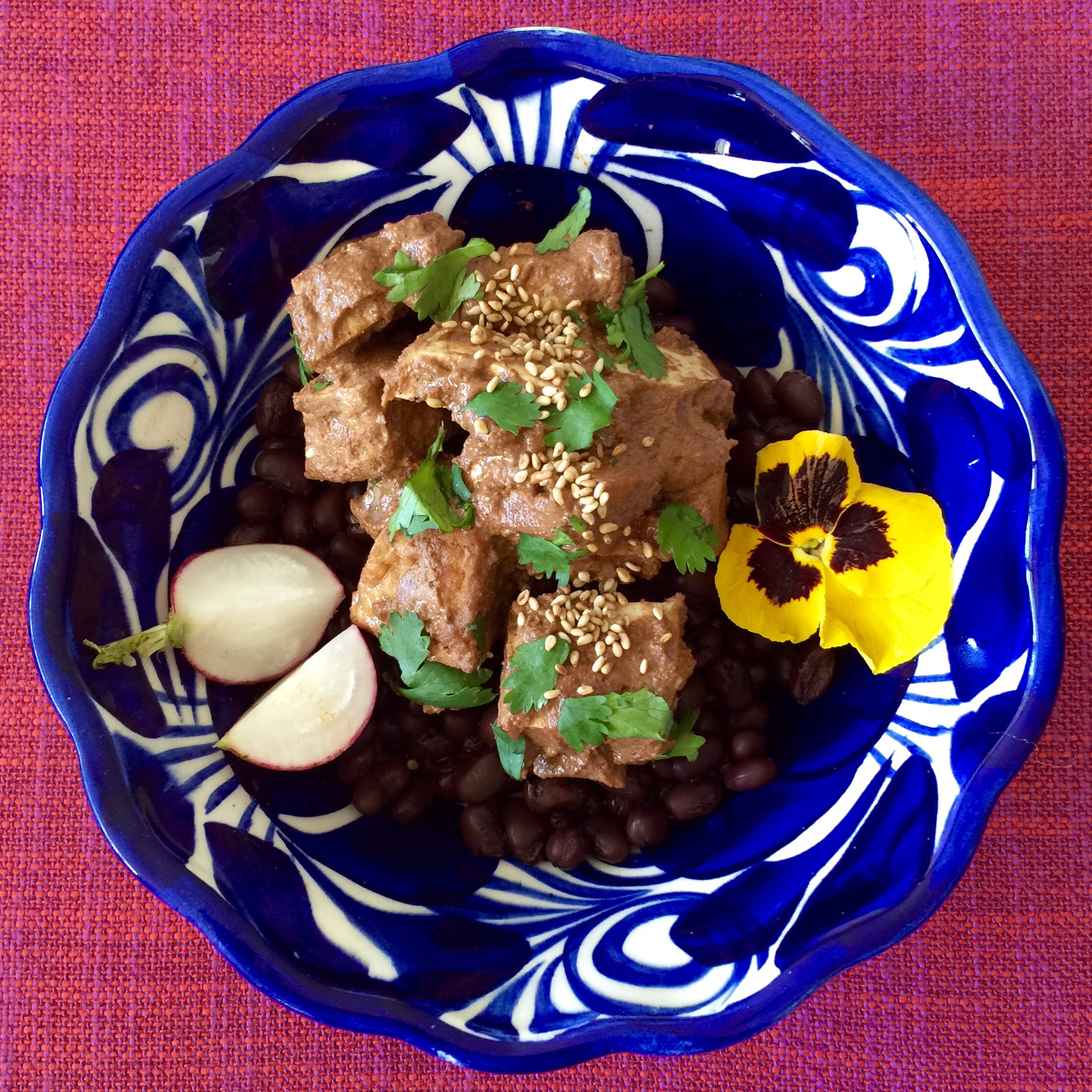 Another great way to serve mole is tossed with extra firm tofu or over grilled vegetables. Its nice to sprinkle sesame seed or pumpkin seeds over the top and garnish with fresh torn cilantro. It's also really yummy on scrambled eggs or tofu at breakfast. You can even serve it as a dip with chips alongside guacamole as a snack.  I'm sure you'll think of lots of creative ways to enjoy it! xJacq
Ingredients: makes approximately 3 cups
1/2 cup Raisins
1 cup Onion, roughly chopped
1 cup Tomatoes, roughly chopped
1/4 cup vegetable Broth
2 Garlic cloves
1 Jalapeño, trimmed and deseeded (unless you like it hot!)
3 Tomatillos, husk removed
1/4 cup Tahini
1/4 cup Pumpkin Seeds
3 Tbsp raw Cacao Nibs
2 Tbsp Cacao Powder
2 tsp Chili Powder
1 tsp Smoked Salt
1/2 tsp Kosher Salt
1/2 tsp Black Pepper
1/4 tsp Cinnamon 
1/4 tsp Anise Seed (substitute with fennel seed if necessary)
1/4 tsp Cumin
1/4 tsp Dried Oregano
1/4 tsp Cayenne (optional)
Cover the raisins with warm water in a bowl while you measure the rest of the ingredients into a blender. Drain the raisins, add to the other ingredients and blend starting on low then bringing up to high speed. You may need to scrape down the sides as you blend. If you are not using a high speed blender you may need to add more broth. Blend until smooth. This produces a thick sauce, for a thinner sauce add a bit of broth or olive oil until desired consistency is reached.
If using a blender such as Vitamix, you can allow the blender to run for approximately 2 minutes after the mole is smooth to gently heat it, without cooking it if you're a raw foodie, or you can add a splash of olive oil and broth to a pan and gently simmer the sauce for a few minutes to allow the flavors to meld together.