Here is another healthy, flavorful meal you can throw together in 10 minutes or less. I served this with toast topped with protein-rich sage hummus that I made by blending regular hummus with a couple of fresh sage leaves. It was quick, delicious and super satisfying!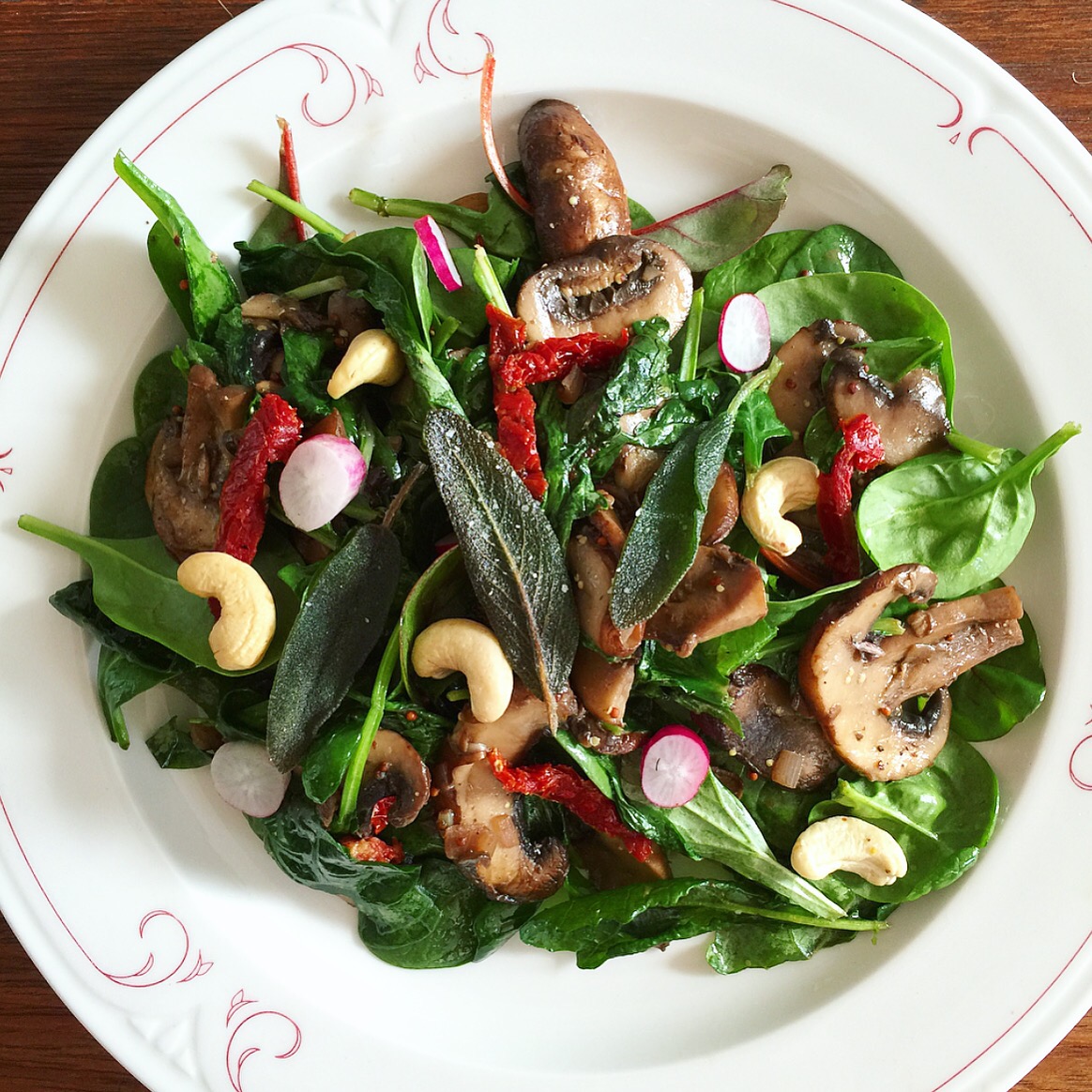 Ingredients:  2 Servings

3 Tbsp Olive Oil, divided
6-8 Sage Leaves
1 Shallot, chopped
1 lb. Button or Cremini Mushrooms, thinly sliced
1 Tbsp Balsamic Vinegar 
1 tsp Dijon Mustard, preferably whole-grain
Sea Salt & Black Pepper
6 cups Baby Greens (spinach, kale and/or chard etc.)
1 Radish, thinly sliced
1/4 cup Cashew, Raw
1/4 cup sun-dried tomato, sliced
Heat a pan over medium-high then add 2 Tbsp olive oil. When hot, fry the sage for 30-60 seconds, if it starts to brown remove immediately from the pan. Use tongs or a fork to transfer the leaves to a plate covered with a paper towel to drain and crisp.
In the same pan add the chopped shallot and mushrooms and cook 5 minutes until the mushrooms have softened. Add the remaining (1 tbsp) olive oil, balsamic vinegar, Dijon and a big pinch of sat and pepper.
Turn off the heat and toss in the baby greens to wilt slightly. Plate and top with the radish, cashews, sun-dried tomato and fried sage leaves.  Enjoy! xJacq