Spring has sprung which means strawberries will soon be at their peak. Here they're paired with french green beans, the skinny, sexy cousin of regular green beans. Also known as haricot vert, they're longer, crisper, more tender and quicker cooking than their standard counterpart. Green beans and strawberries are both high in vitamins A and C; antioxidants know for their anti-aging properties. This delish dish will keep you feeling bright-eyed and bushy-tailed all season long. Enjoy!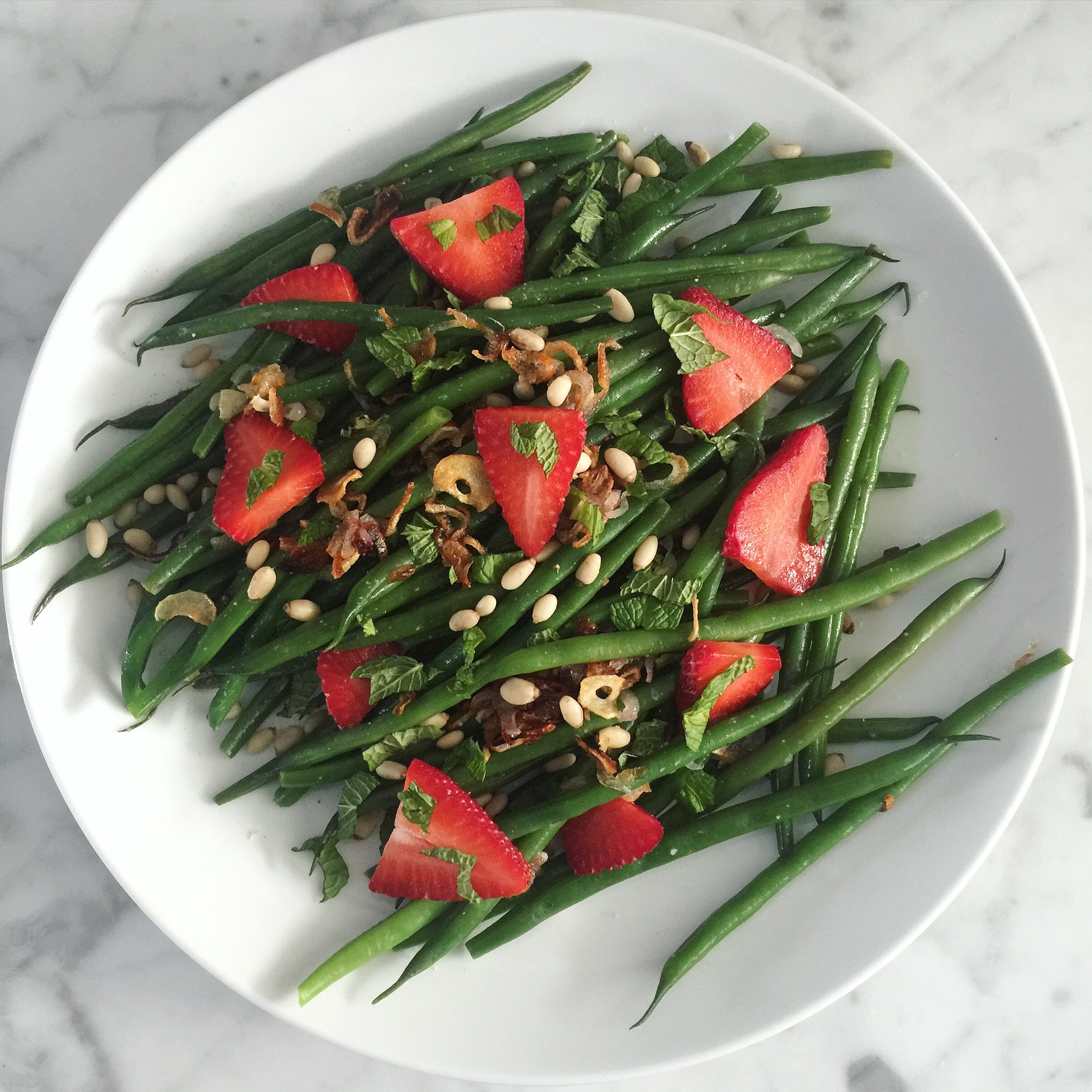 Ingredients: 4-6 Servings
 
2 Tbsp Coconut Oil
1 medium Shallot, thinly sliced
1 lb French Green Beans
1 large or 2 small Garlic Cloves, thinly sliced
1 tsp fresh Lemon Juice (1 lemon wedge)
1 tsp Lemon Zest 
1/4 cup Strawberries, thinly sliced (2-3 berries)
2 Tbsp Pine Nuts
1 1/2 Tbsp Mint, thinly sliced (chiffonade)
Pinch of White Pepper
1/8 tsp Maldon or other flaky Sea Salt (optional)
Add the oil and shallot to a large frying pan and heat over medium until the shallots become translucent (about 2 minutes), lower heat to medium-low and continue cooking, stirring occasionally.
Trim the tops off the green beans. If you are not planning to serve them immediately after cooking, prepare an ice bath.
Fill a pot large enough to hold the green beans 3/4 of the way full with water. Salt the water as if you were making pasta and bring to a boil. The water should be about as salty as the ocean. Once the water is boiling, add the green beans to the water and add the garlic to the shallots. Boil the green beans over medium until they turn bright green and tender but still crisp. This will take about 2-4 minutes depending on their thickness. It is better to err on the side of undercooking since you will finish them in the pan.
Drain the beans into a collander. If you are serving them immediately rinse with cool water, then add them to the shallot mixture and toss to coat, allowing any excess water to evaporate. If you will serve them later, plunge them in an ice bath until cool, then drain and refrigerate; reheat them in the shallot pan just before serving.
Add the lemon juice and zest to the warm green beans and spread onto a serving plate. Top with strawberries, pine nuts and mint. Finish with pepper and a sprinkle of sea salt if desired.