Comfort food means different things to different people, but when I think of comfort food the first thing that comes to mind is a big bowl of yummy mexican food. I'm mexican on my mom's side so family gatherings almost always included fragrant pots of rice and beans simmering on the stove along with some other flavorful and spicy veggies. This recipe is inspired by those meals, but adapted to come together in far less time. While cooking rice and beans from scratch is wonderful, it takes a bit of planning, requiring soaking and simmering for hours. Instead here we substitute quicker cooking quinoa for the rice and canned black beans for the dried version making this easy enough for lunch or a weeknight meal. While this recipe cuts down on time, it doesn't lose any of the delicious traditional flavor that make it one of my favorites. I hope you love it to! This makes more portions than most of my everyday recipes, but it makes for great leftovers so if you have extra you can use them later in the week as stuffing for a lettuce tacos or a burrito or throw them on a bed of greens for a tasty fiesta salad.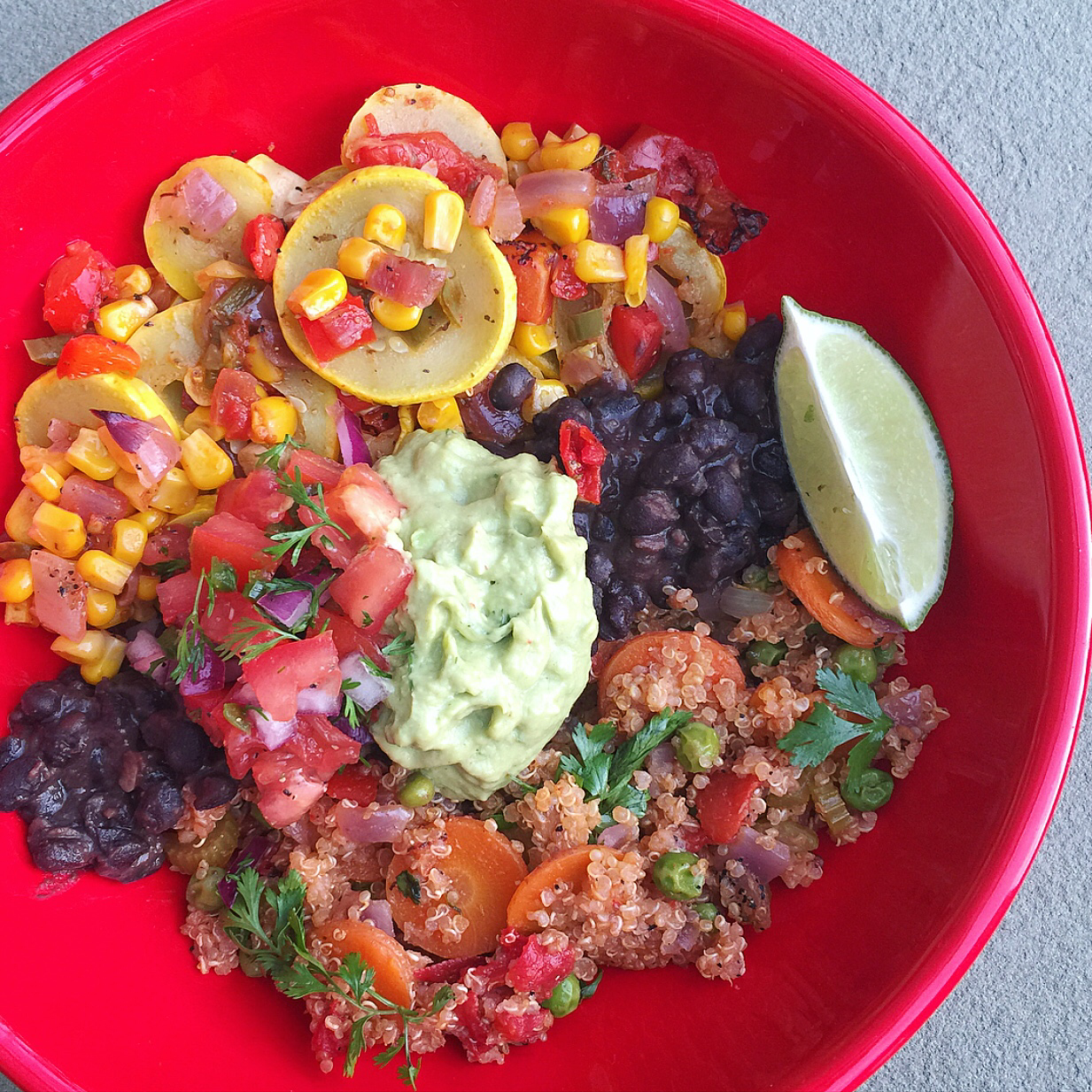 Ingredients: makes 6 serving

Quiona:

2 Tbsp Coconut or Olive Oil
1/2 Onion, diced
1 Carrot, thinly sliced
2 Celery Stalks, thinly sliced
1/2 can Diced Tomato (preferably fire-roasted)
1 cup Quinoa, rinsed
1 3/4 cups Vegetable Broth
3/4 tsp each Sea Salt & Black Pepper*
1/2 tsp Cumin
8 oz. Frozen Peas (1/2 package)
1/2 cup Cilantro, fresh chopped  
Saute onion in oil on medium until soft and translucent, about 3 minutes. Add carrots, celery and tomatoes and stir until most of the liquid from the tomatoes evaporates, about 3 minutes more. Add the quinoa and toss to coat with the vegetable mixture, then add the broth and spices. Bring to a boil then lower heat to a simmer (on my stove that's medium-low). Cover and allow to cook 13 minutes, then fold in frozen peas, re-cover and cook until all of the liquid is evaporated, the quinoa is tender and the grains have tiny tails, about 5 minutes more. Once you check for doneness re-cover and let it sit for a couple of minutes before removing the lid and fluffing with a fork.
Zucchini:

2 Tbs Coconut or Olive Oil
1/2 Onion
1/2 Red Bell Pepper, chopped
1 Poblano or Anaheim Chili, finely chopped
1 tsp Dried Oregano
1/2 can Diced Tomatoes (leftover from the quinoa) 
2 Zucchini or Yellow Squash, cut into 1/8 inch thick coins
2 Garlic Cloves, thinly sliced
Handful Fresh Cilantro Leaves
Sea Salt & Black Pepper 

Add oil, onion, peppers and oregano to a wide bottom pan and sauté over medium until the onions are soft and translucent, about 3 minutes. Add garlic and cook 30 seconds more, then add tomatoes, zucchini and a pinch of salt and pepper. Toss ingredients, then lower to medium-low and cover, leaving the lid partially ajar to let steam escape until the zucchini have softened. Sprinkle with cilantro leaves and season to taste with sea salt and freshly cracked black pepper.
Beans:

1 Tbs Coconut or Olive Oil
2 Garlic Clove, minced
2 Cans Black Beans
1/2 tsp cumin
Sea Salt & Black Pepper
Saute garlic in oil over medium heat for about 30 seconds until fragrant then add beans, cumin and a big pinch of salt and pepper. Lower heat and let simmer for a couple of minutes until warmed through.
Serve With:

Avocado Creme (click for recipe) 

Quick Pico De Gallo:

1 Medium Tomato, diced
1/4 Jalapeño, de-seeded and minced
1 inch wedge Onion, finely chopped
1/2 Lime
Sea Salt & Black Pepper

Mix the tomato, jalapeño and onion. Squeeze the juice from the lime over top. Sprinkle with salt and pepper and toss. Enjoy!