These healthy, hearty lettuce tacos are totally crave-worthy. Being both of mexican descent and from Los Angeles (where we take our tacos seriously!), I don't say that lightly.  The filling is flavorful, smokey and meaty thanks to all of its savory and umami packed ingredients. The smoked salt is pretty key, you can find it at many supermarkets or gourmet markets or try my favorite from Hepp's Salt Co. You'll absolutely love how it tastes paired with the cool and creamy avocado mousse and tangy coconut sour cream.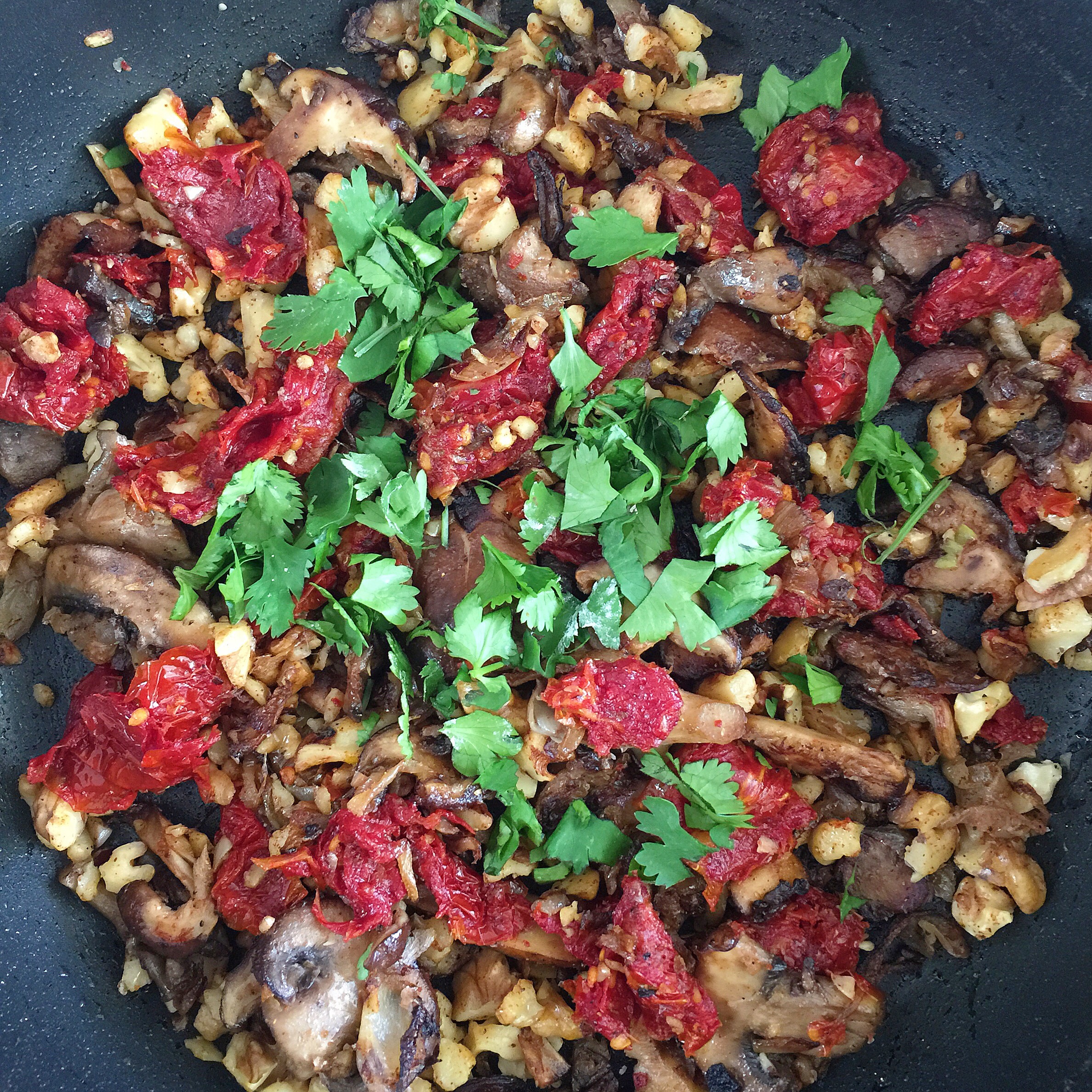 You can find coconut cream in cans in some supermarkets or asian markets, if yours doesn't carry it, just get a can of coconut milk instead and place it in the freezer until it's cold, about 30 minutes. The thick cream will rise to the top of the can. You can carefully scoop out the cream and use the remaining coconut water later in a smoothie or curry. You can read more about this and see pics here.
As for the veggies on top, I listed some suggestions that add great flavor and look beautiful, but really you can use whatever are your favorites. The more variety, the better. Even fruits like apple, mango or pineapple would work well. You can change it up every time depending on what you have in the fridge.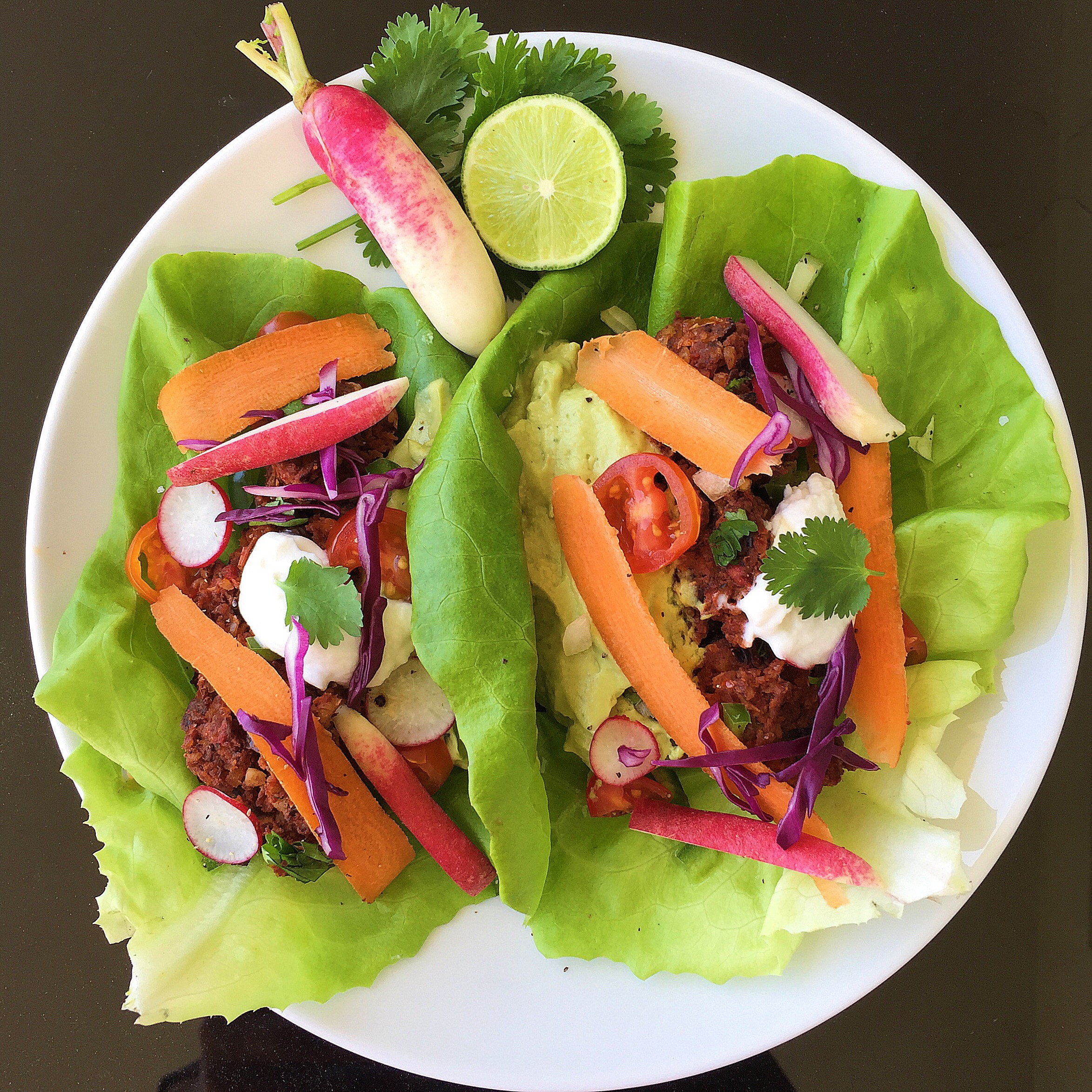 These tacos are super satisfying without being heavy because you get protein from the nuts and beans, healthy fats from the avocado and lots of fiber, vitamins and antioxidants from all the veggies. They're also great inside homemade corn tortillas, which are much easier to make than you would think. You can check out the recipe here.  These are one of my favorite weeknight dinners, hopefully you'll love them too. Enjoy! xJacq
Ingredients: 
Filling:
1 Tbsp Virgin Olive or Coconut Oil
1/2 cup Onion, chopped
4 oz. Mushrooms
1 Garlic clove
1/4 tsp each Smoked Salt, Black Pepper, Cumin, Chili Powder
pinch of cayenne (optional)
1/2 cup Walnuts, raw
1/4 cup Pecans, raw
1/2 cup Sun-Dried Tomatoes, oil-packed, drained 
1/2 cup cooked Black Beans
2 Tbsp Cilantro

Mousse:
1 Avocado, large
1/2 cup Cashew or Almond Milk
1/2 Lime, juice of
2 tsp Hot Sauce
Kosher Salt & White Pepper

Sour Cream:
1/2 cup Coconut Cream, refrigerated  
1/4 cup Cashew or Almond Milk, unsweetened
1 1/2 tsp Apple Cider Vinegar
1/8 tsp Kosher salt

To Serve:
4-5 large Butter Lettuce or Romaine Leaves
Cherry Tomato, Jalapeño, Onion, Carrot, Radish, Red Cabbage, Cilantro etc.
thinly sliced
1/2 lime
Filling:
Heat the oil and onions in a sauté pan over medium low. Meanwhile slice the mushrooms and finely chop the garlic. When the onion soften and become translucent, after about 8 minutes, raise the heat to medium and add the garlic, mushroom, seasonings and 1 tbsp of water, stirring occasionally. Once mushrooms are cooked down, add the nuts and cook 2 minutes more. Add the mixture along with the beans and cilantro to a food processor and blend until approximately the texture of ground meat. You can also use a blender, but you will have to scrape down the sides several times and may need to add a little water.
Mousse: 
Blend all of the ingredients on high in a blender until smooth and whipped.
Sour Cream:
Mix the ingredients together with a fork in a small bowl. Refrigerate until ready to use.
Serve:
Rinse and pat dry the lettuce. Divide the filling and the mousse between the leaves. Top with the additional veggies. Add a dollop of sour cream to each and garnish with cilantro. Squeeze lime juice over the top and sprinkle with a pinch of salt and pepper. Refrigerate any extra mousse or sour cream.