Homemade tortillas taste infinitely better than store-bought. The dough is super simple to make and takes all of 5 minutes to come together. When I first started making them I shaped them by hand, but since I invested in a tortilla press I haven't looked back. That was $15 well spent! I bought mine at a great restaurant supply store called Surfas in Los Angeles but they are widely available at Mexican markets and online.
Corn tortillas are made with a special corn flour called Masa Harina  which is made with corn that is dried and then treated in a solution of lime (calcium hydroxide) and water to loosens the hulls from the kernels, soften the corn and make it more easily digestible. My favorite brand is Bob's Red Mill because of its fresh corn taste. They also make a certified gluten-free version. Masa Harina is naturally gluten free but using a certified version is best for those with celiac disease as it ensures it has been processed in a gluten-free facility. As with all Bob's Red Mill products it is non-GMO.
Most recipes you find for corn tortillas include only masa harina and water, but I've found a bit of fat helps the flavor and pliability of the tortillas and a little salt makes them extra savory, but if you are avoiding either you can omit them. Enjoy! -Jacq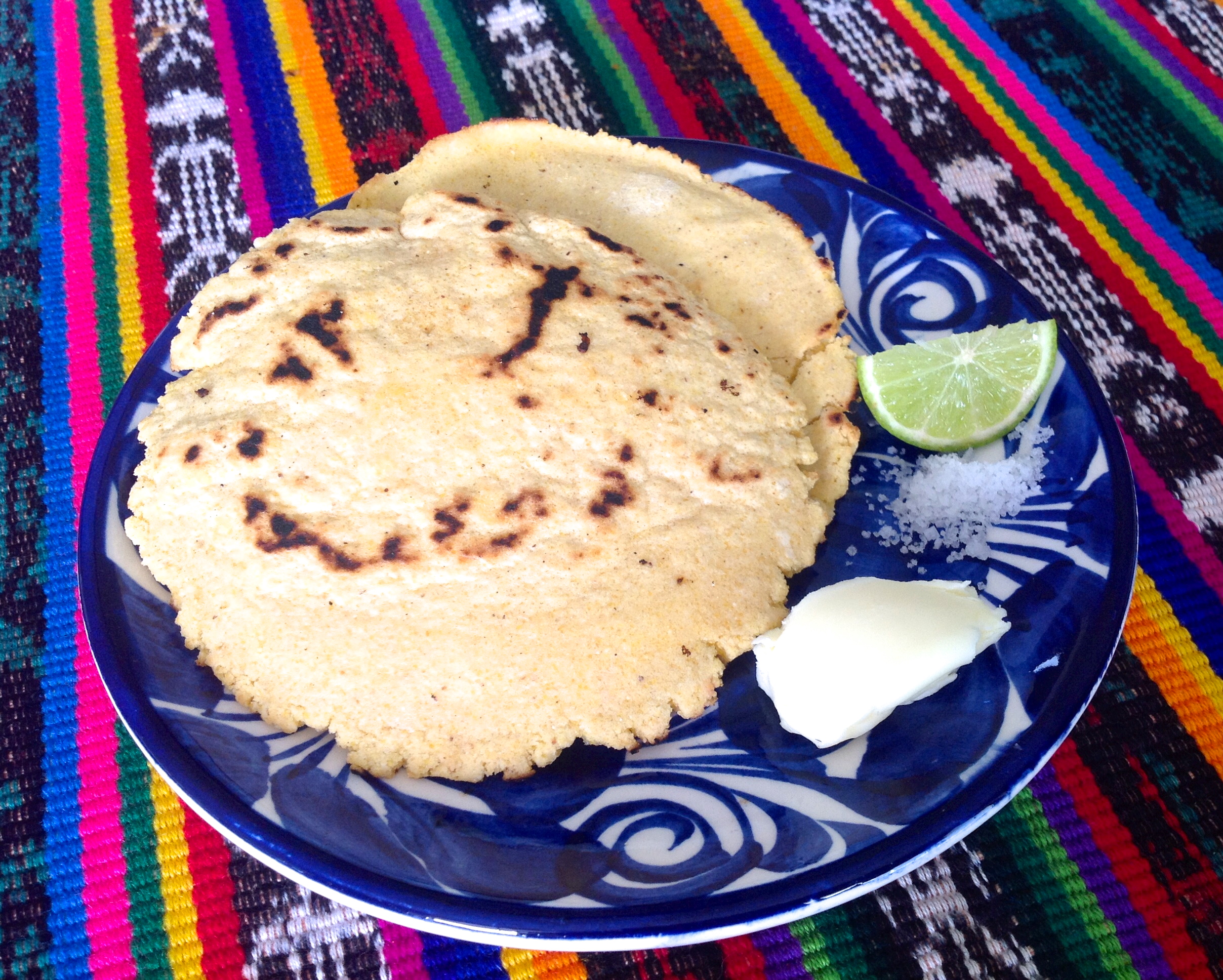 Ingredients:                      Yield 12 to 16 tortillas
2 cups masa harina
1/2 teaspoon salt
2 tablespoons vegetable oil
Approx. 1.5 cups warm water
1. Add masa and salt to a bowl. Pour the oil in and mix with your hand. Slowly pour the warm water in and continue mixing until the dough comes together into a ball. It should come away from the sides of the bowl. If it is sticky add a bit more masa, if it is dry and crumbly add a bit more water.
2. Knead about 1-2 minutes until the dough is smooth and soft. Wrap in plastic wrap and let it rest at room temperature for at least 30 minutes- 1hour.
3. Break off golf-ball sized pieces of the dough. Put them between 2 sheets of plastic wrap or wax paper and press them in a tortilla press or roll them out with a rolling-pin. You can also press them with your hands, but they come out a little thicker . Begin to cook the tortillas as you finish pressing the dough.
4. Put a large skillet ( preferably cast iron) over medium-high heat.  Once hot, cook the tortillas until brown spots appear on the bottom, about a minute. Flip, and do the same on the other side. Wrap the cooked tortillas in a towel to keep them warm and serve immediately. To store, tightly wrap and keep in the fridge for up to a few days or store between layers of wax paper and freeze.