When I was a kid growing up in Los Angeles I was often sent during summer break to spend time with family in Mexico. Sometimes I would visit family in big bustling cities like Guadalajara and Mexico City, but more often I spent time with family who lived in a small village Zacatecas. It was a very different world than California. My cousins lived in houses made of adobe in what appeared to be a desert save for the small creek nearby that swelled with each rainfall. It was a land of ranchers and cowboys, and with that of course,  lots of cows. They would walk through the dirt roads at noontime with bells on as they were shepherded from one place to the next.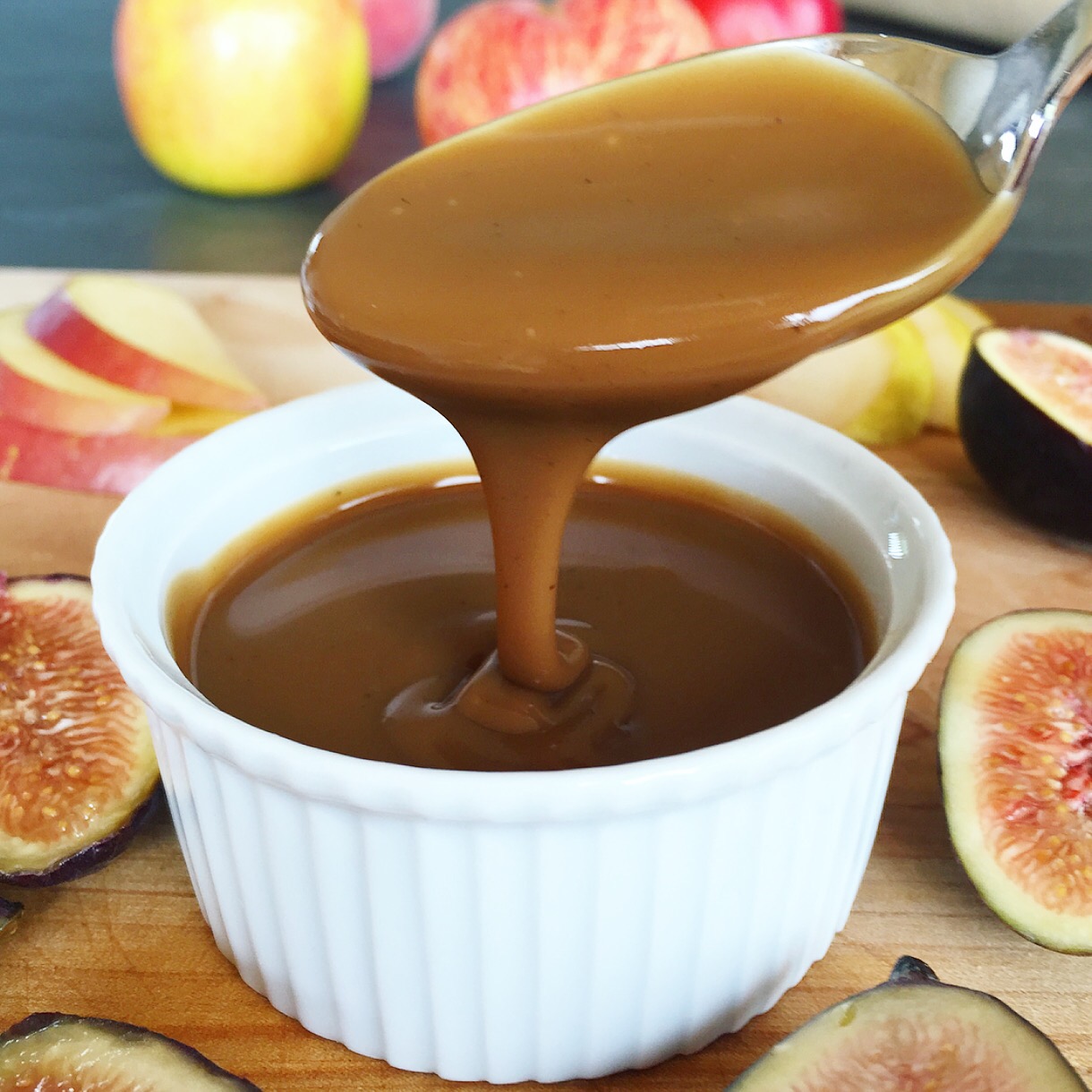 I was exposed to a variety of culinary treats on these trips, homemade tortillas, cactus salad, salsas made with fragrant chilies, but what stands out in my memory of those childhood travels was what was most appealing to my young palate. Rich and creamy dulce de leche, a thick caramel sauce made from the milk of those local cows. I would eat it spread on toast, as a dip for fruit, or even on its own sneaking a spoonful as a sweet afternoon snack.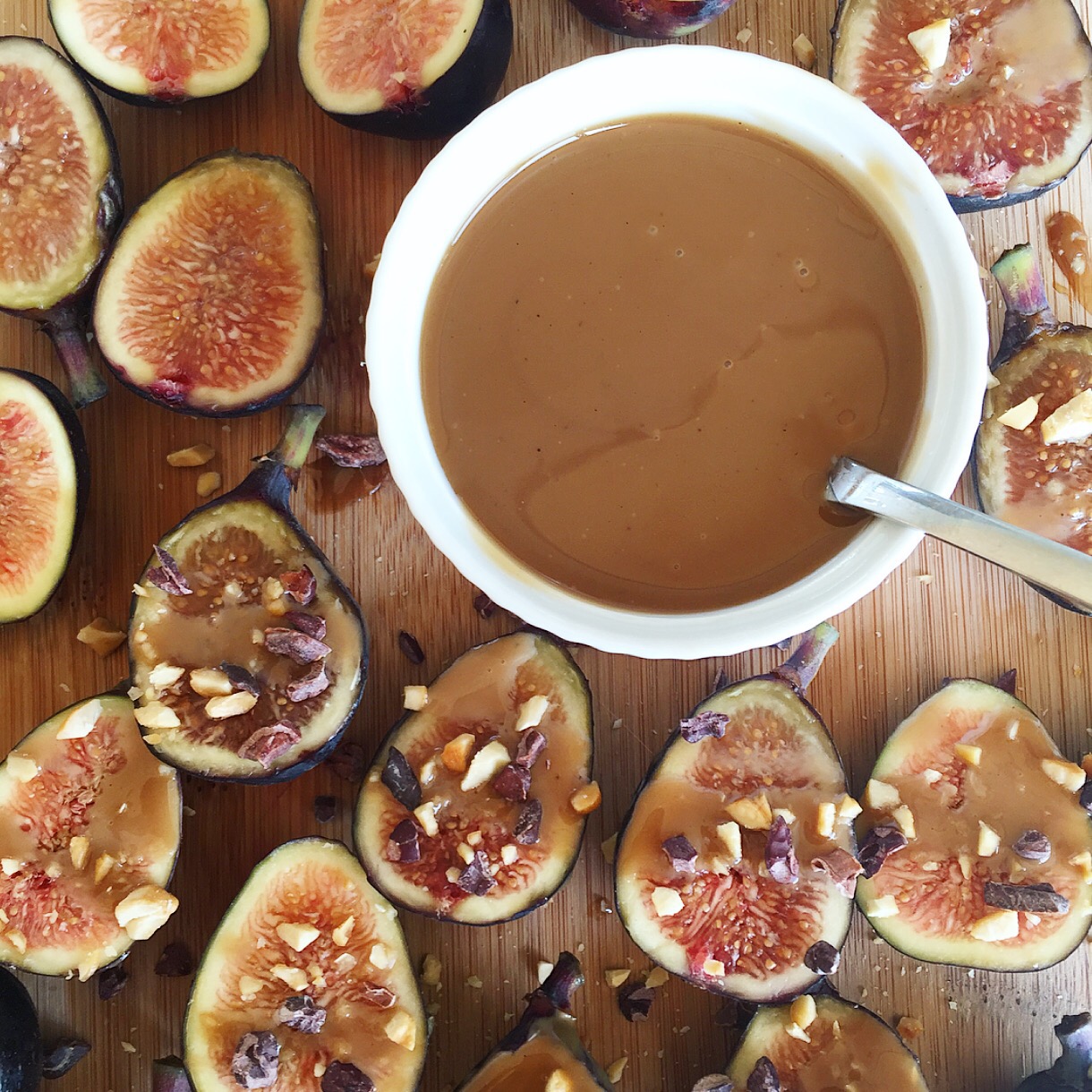 When I was recently planning a Mexican themed BBQ to celebrate graduating from culinary school I was inspired to attempt a dairy-free version made with organic coconut milk. I served it drizzled on grilled pineapple and loved the deep, slow-cooked, caramel flavor that reminded me of my old favorite. My classmates loved it too so I knew my judgement wasn't clouded by nostalgia.
Now that fall has fallen I decided to make it again to serve with one of my favorite fruits- figs. Their sumptuous flavor and alluring shape made even more appealing by the shortness of their season. When topped with this sticky sweet sauce, rich chopped cashews and bitter raw cocoa nibs they're rendered completely irresistible.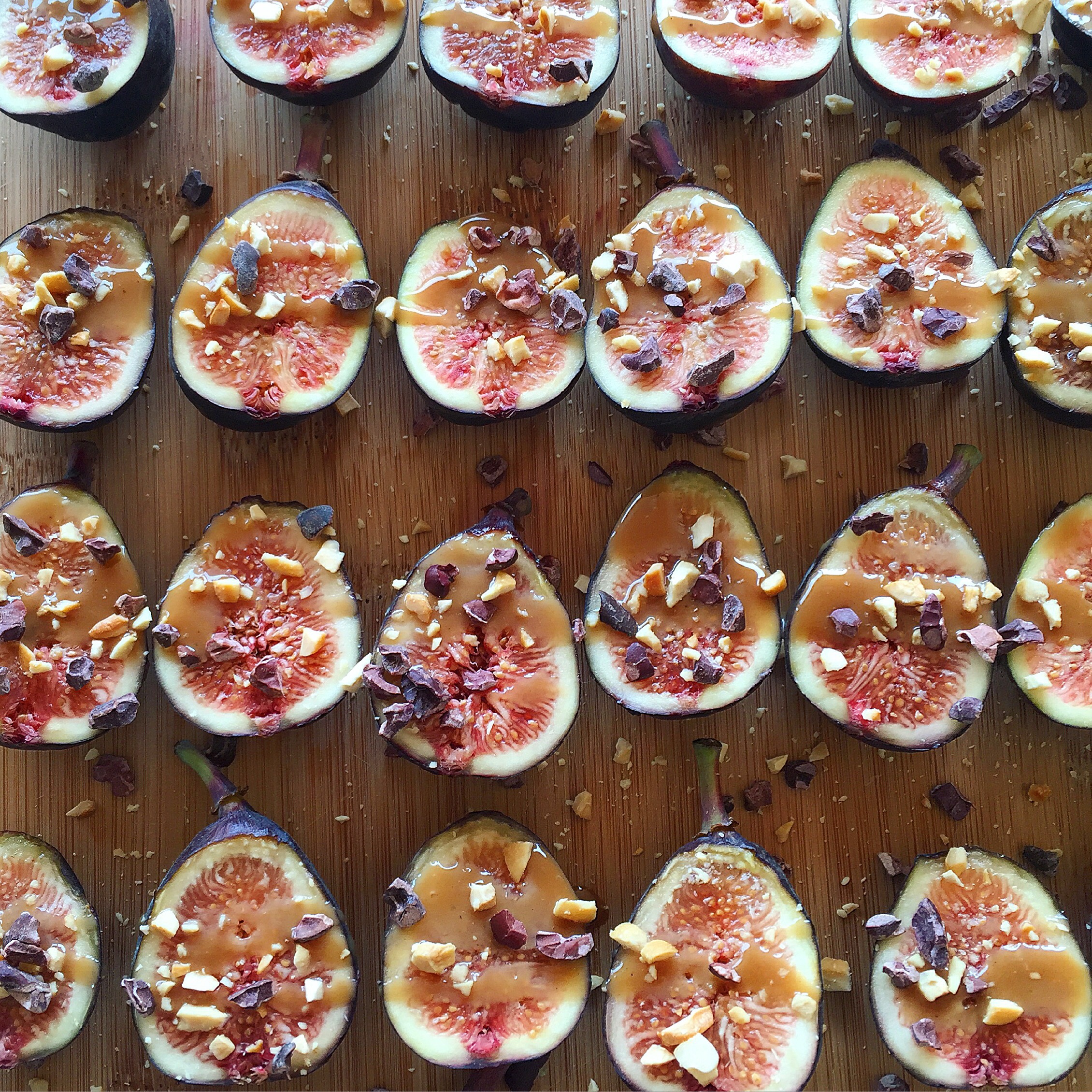 This recipe is perfect:
as a topping for ice cream or sorbet
for using in place of milk caramel in a recipe
as a drip or drizzle for your favorite fruits- add chopped nuts, cacoa nibs or chocolate chips for a quick dessert
to make your mouth happy with a spoonful, anytime!
Nutritional Information:
While not necessarily a "health food", this is a healthier alternative to a traditional recipe.
Coconut sugar is less refined than white sugar and contains iron,  zinc, calcium, and potassium and has a lower glycemic index than regular table sugar.
Coconuts are one of the best sources of lauric acid which has antibacterial and antiviral activities. Studies link lauric acid with improved cholesterol levels and heart health.
both cinnamon and cardamom have been shown to help regulate blood pressure and stimulate digestion.
Enjoy! xJacq
Spiced Coconut Milk Dulce de Leche
Ingredients: Yeild: Approx 1 1/4 cup

2 14 oz.cans Unsweetened Coconut Milk 
3/4 cup Coconut Sugar
1/2 tsp Sea Salt
1/2 tsp Cinnamon
1/4 tsp Cardamom
1 tsp Vanilla Extract
Directions:
Place coconut milk and coconut sugar in a saucepan over medium heat. Bring to a boil then lower to a simmer/ low boil for 35-45 minutes. Using a wooden spoon, stir occasionally to begin with and more frequently as the sauce thickens, scraping the bottom and the sides as you stir. If the bubbles begin to splatter or boil over, lower heat.
When your spoon leaves a trail as you stir and the sauce coats the back of your spoon, stir in the salt, spices and vanilla extract. The sauce should be a nice amber color at this stage. Remove from heat and serve warm or allow to cool slightly and transfer to a glass jar and refrigerate.
Notes:
Sprinkle in the spices little by little and stir vigorously as you do to prevent clumping. This sauce will thicken as it cools. Serve chilled for a spreadable consistency or reheat to use as a drizzle. Sauce should keep well in the refrigerator for up to 2 weeks.
For dessert try 1 lb halved figs sprinkled with 1/4 cup chopped cashews and 2-3 Tbsp cocoa nibs or chocolate chips. Also works great with sliced apples and chopped walnuts or your favorite fruit and nut combination.