After reading a friends post about delicious black bean brownies, I knew I wanted to try them for myself. When I read the recipe, however,  I realized it contained a lot of butter and eggs. I figured if I was making "healthy" brownies, I wanted them to be dairy-free and suitable for plant-based diets, so I would have to make some adjustments. I tried to adapt the original recipe and it turned out to be a dry, crumbly baking fail. I looked at other vegan black bean brownie recipes online, but to be honest, I didn't like the looks of them. They didn't look like real brownies in the pictures, so I didn't bother trying them. It was back to the drawing board. After a few more attempts (OK, 6) I finally came up with a recipe for these gorgeous things.
They have the perfect balance of ingredients to satisfy your sweet tooth, while still being packed with nutrients. When I finally got the recipe right I must admit I was feeling pretty sassy. One of the best things about them is that no one will ever guess what they are made of. This is especially great if you're feeding them to kids or people who are afraid of all things healthy. These brownies are full of chocolaty goodness but also have protein and fiber from the beans so they are quite filling. They also give you a nice little energy kick from the natural sugars in the dates, syrup and applesauce. This makes them not only great for dessert, but also a perfect afternoon snack. If you're looking for a much healthier version of a delicious, moist brownie, this will win hands down!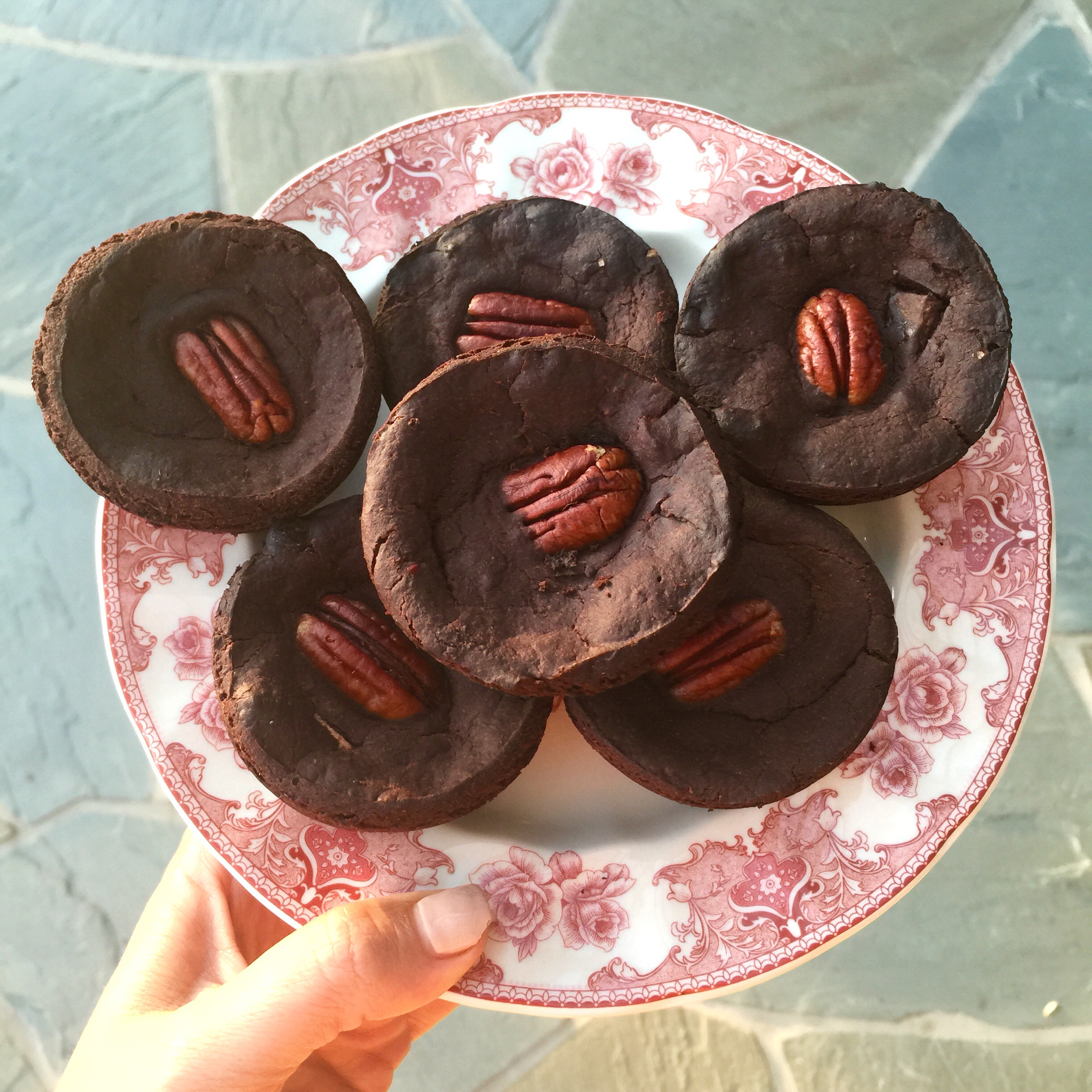 There are a couple of ingredients which I want to give more details about. I used refined organi coconut oil In the ones above, even though unrefined extra-virgin is a little better for you, because the unrefined adds a coconut flavor to the brownies. If you don't mind it, or maybe even like the idea, go with the extra-virgin. In the ones below I used unrefined extra-virgin and macadamia nuts for a tropical flavor combination.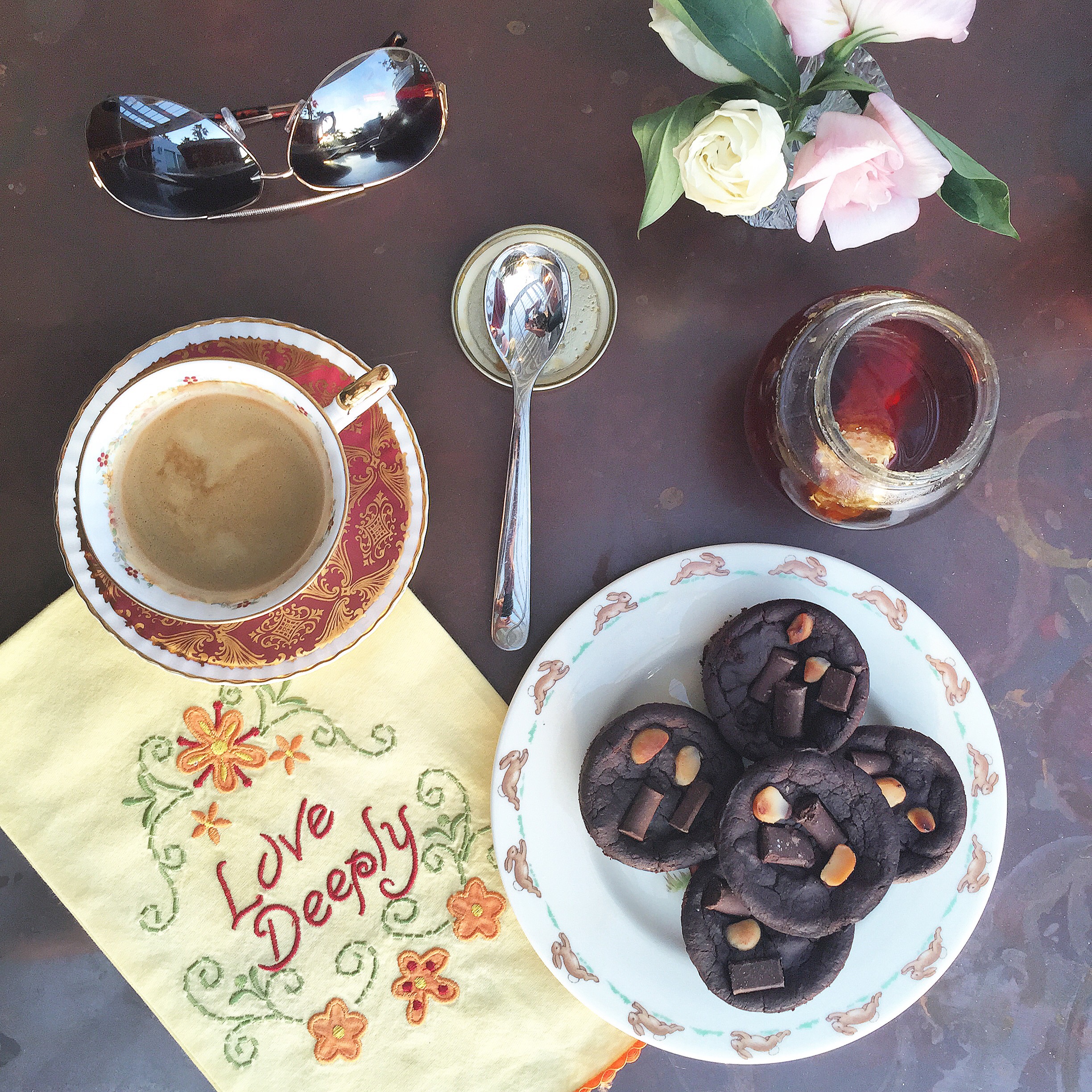 As for cocoa or cacao powder, either will work. Cacao powder is less refined, has a rich, full flavor and one of the highest anti-oxidant rating of any food; even higher than blueberries. It is, however, higher in calories, more expensive and in some areas harder to find than a cocoa powder, so it's up to you. Either way it's best to use a high quality organic powder, since this is really what gives the base flavor to the brownies. My favorites are Rapunzel Cocoa Powder and Navitas Cacao Powder. You can get these ingredients as well as dairy free chocolate at any health food market or online at Thrive Market.
The key to the moistness of these brownies is including the liquid from the canned beans, which is also called aquafaba. I only recently learned about using this ingredient to add moisture to baked goods from an inspiring group on Facebook called Vegan Meringue- Hits and Misses where people show off everything from macarons to pavlovas made with only the liquid from cooked or canned beans and sugar. If you're into vegan sweets you should definitely check them out.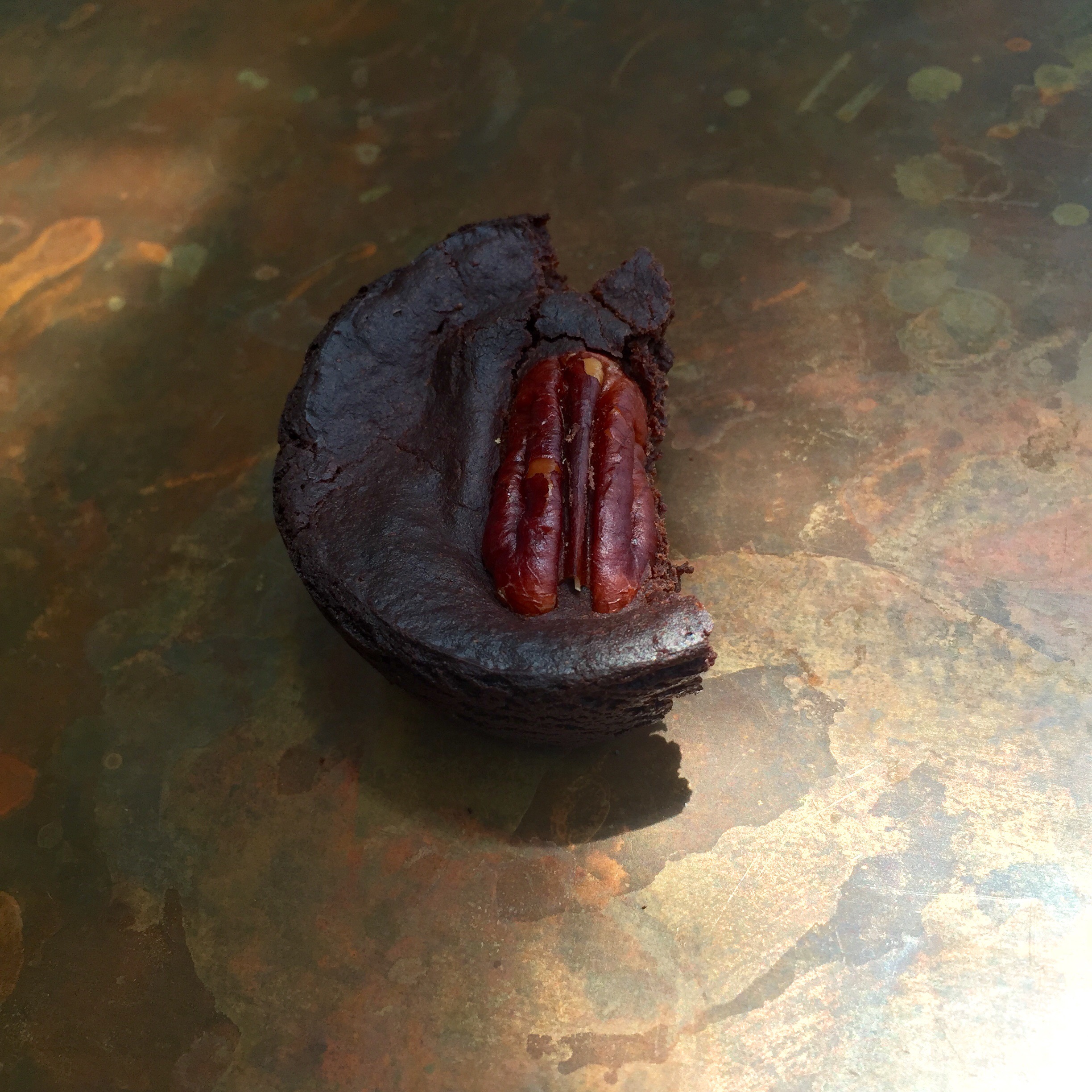 The hardest part about making these brownies is letting them cool after they come out of the oven! If you dig in while hot, they will have a molten center and not be set, which is not the worst thing in the world, but if you want a solid brownie you're going to have to wait. Did I mention they smell amazing while baking? Waiting is not easy. Good luck and enjoy! xJacq
Ingredients: Makes 12 Brownies

Blend:
1 Tbsp Ground Chia Seeds
1 can organic Black Beans including liquid (aquafaba)
1/3 cup Maple Syrup
1/2 cup Apple Sauce
2 1/2 tsp Vanilla Extract
1 shot Espresso or small cup strong Coffee
5 Medjool Dates, pitted
1/2 cup Coconut Oil
3/4 cup Cocoa or Cacao powder
1/2 tsp Baking Soda
1/4 tsp Kosher Salt

Add:
3/4 cups Whole Wheat or Brown Rice Flour
1/3 cup Pecans, chopped + more for topping
1/2 cup Chocolate Chunks or Chips
1.Preheat the oven to 350*. Place the first set of ingredients into a blender in the order listed. Blend starting on low and turning up to high until smooth, scraping down the sides if necessary. Pour into a mixing bowl.
2.Slowly sprinkle or sift in the flour a little at a time and stir to incorporate before adding more to avoid lumps. Once all of the flour is added, fold in the pecan pieces and chocolate chunks.
3.Grease a cupcake pan with coconut oil and fill evenly with the batter. Top each with a halved nut and a sprinkle of kosher salt if desired. Bake for 35 minutes and allow to cool completely before eating.