Mulled wine is my favorite drink to serve around the holidays. I love the way the smell hits you right when you walk in the door. It reminds me of a winter I spent in England where at every household I was greeted with a glass of mulled wine and a mince pie throughout the whole of December.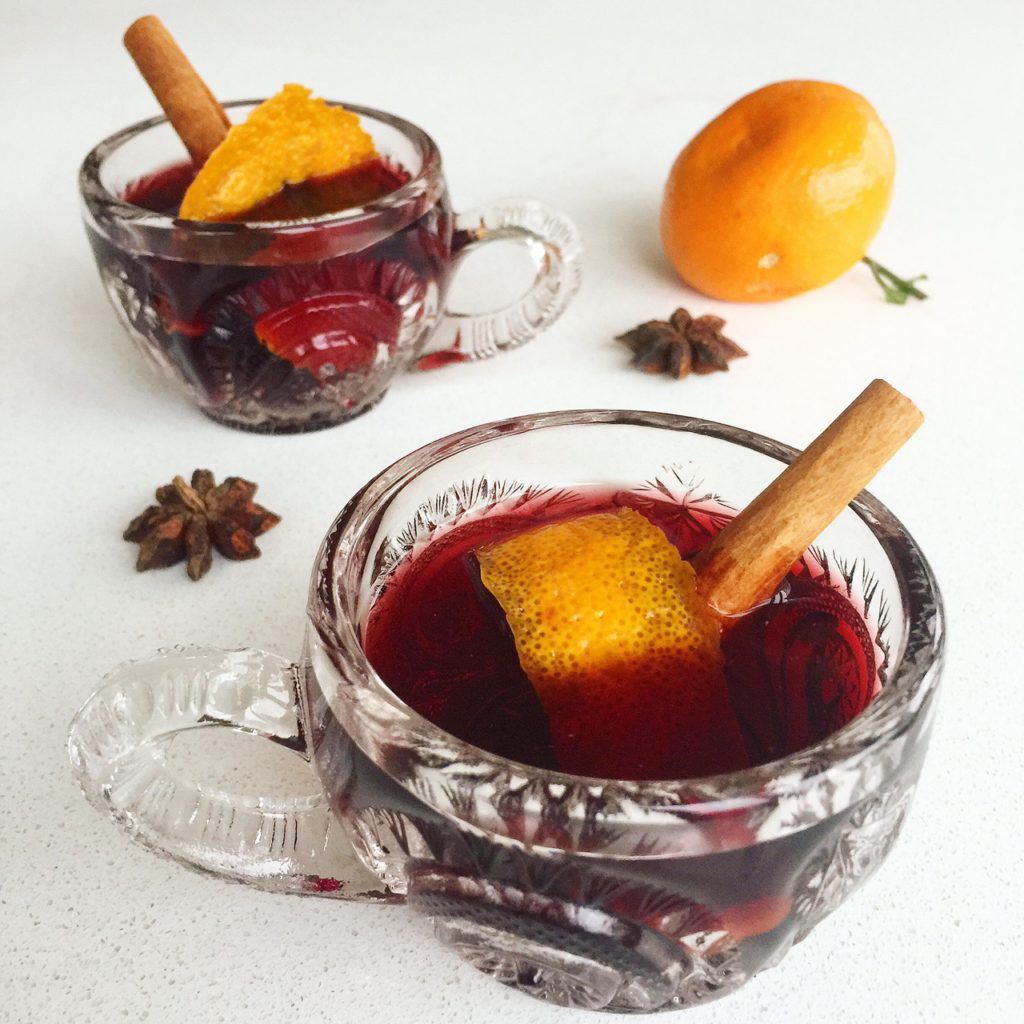 This is perfect…
for parties. You can make a few batches and let people serve themselves.
When you want the whole house to smell like the holidays.
when you want a warm and delicious drink on a cold winters night.
to drink while tree trimming, decorating or baking cookies with friends.
Merry Mulled Wine
Ingredients: 12 Glasses
 3 tangerines
1 medium Lemon
 3/4 cup Agave Syrup
 1 Cinnamon stick + more for garnish
 1 tsp ground Cinnamon
 3 fresh Bay Leaves
 1 whole Nutmeg
 6 whole Cloves
 1 whole Vanilla Bean, halved
 2 bottles of Chianti, or other medium bodied red wine
 2 star anise
1. Peel the tangerines and lemon using a vegetable peeler and add the peels to a large saucepan. Squeeze the juice from the tangerines into the pan, add agave, and heat over medium.
2. Add the cinnamon stick, ground cinnamon, bay leaves, 20 gratings of nutmeg, cloves, and vanilla pod.  Stir in 1 glass of red wine. Simmer gently until the agave has completely dissolved into the red wine and then bring to the boil. Keep on a rolling boil about 4 to 5 minutes, or until you've got a thick syrup.
3. When your syrup is ready turn the heat down to low and add your star anise and both bottles of wine. Gently heat the wine (remember not to boil it since it will remove the alcohol, which kind of defeats the purpose of a holiday drink 😉 ) and after around 5 minutes, when it's warm and delicious, ladle it into glasses and serve. Grate a little nutmeg over each glass and decorate with a cinnamon stick if desired.
Notes:
If you can't find tangerines, sub with 1 large orange. Remember to buy organic especially since you will be using the peel.
If you don't have a whole nutmeg, sub with a tiny pinch of ground nutmeg.
Refrigerate any leftovers and gently reheat before serving within a couple of days.