We know by now that eating a diet rich in vegetables is good for our health, our mood and even our looks. Here's a list of the veggie swaps you can make to get more of them into your meals while lightening up on calories. If you're worried about feeling deprived, don't. Because they're so nutritionally dense, you may actually fuller with the veggie versions!

1. Instead of Flour Tortillas use Collard Greens-
Swap out the refined flour for a crunchy collard greens next time you make a wrap and save over 100 calories while getting the anti-inflammatory benefits of vitamin K and omega-3 fatty acids.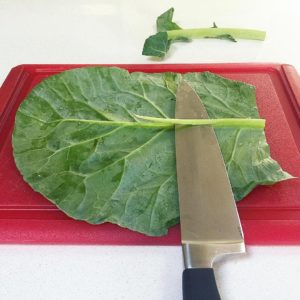 How-to:
Cut off the thick stem and carefully slice the rib so that it is flush to the leaf. That way it won't break when you roll it up. Remember to always cut with the knife cutting away from your hand to avoid accidents. Add your filling in the center of the leaf, perpendicular to the stem, then fold in the sides and roll it up like a burrito. Try a delicious mediterranean collard green wrap by filling it with hummus, sun-dried tomatoes, olives, artichoke hearts, assorted veggies and pesto.
 2. Instead of White Rice use Cauliflower Rice-
Cauliflower is high in the antioxidants vitamin C and A and very low in calories at about 30 per cup vs. 200 for white rice.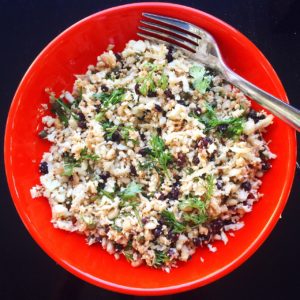 How-to:
Cut a head of cauliflower into florets cutting off most of the stem. Pulse the floret tops in a food processor to get a rice like texture. You can also use a blender, but you'll have to work in batches. Alternatively you can grate a head of cauliflower on a cheese grater. This is actually my favorite method, because it creates a texture that most closely approximates rice, but it is a bit more work. Some stores like Trader Joe's even sell pre-riced frozen cauliflower if you want to make it really easy on yourself.
You can serve it steamed, but for the best flavor sauté the cauliflower and a couple of cloves of minced garlic over medium-high for about 3 minutes until it is tender but not mushy. Use it under stir-frys or curries instead of regular rice. You can also use half cauliflower rice in your fried rice recipes. You can even serve it raw in place of rice or cous cous in salad preparations.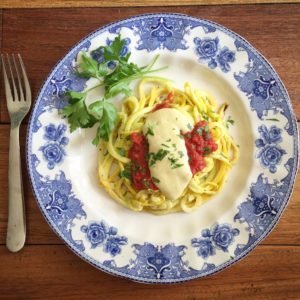 3. Instead of Pasta use Zucchini Noodles-
Zucchini is a wonderful source of heart-friendly potassium, a nutrient that helps regulate your blood pressure levels and counters the effects of too much sodium. In fact, a zucchini has more potassium than a banana. It's also very low in calories at only about 20 per cup.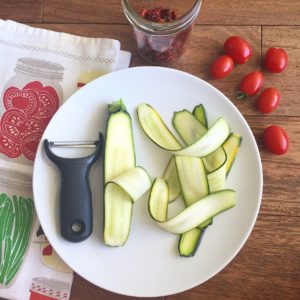 How-to: 
Use a spiralizer or a vegetable peeler to turn two zucchini into noodles. Mince a clove of garlic and add to a pan along with 2 tsp olive oil, heat for 30 seconds over medium then add the zucchini noodles, and sprinkle with a pick of salt and pepper. Cook 2-3 minutes, tossing occasionally, until warm and tender. Serve with your favorite pasta sauce or try this Zucchini Noodle Pesto Pasta with Cannelini Beans & Sun-Dried Tomatoes recipe.
4. Instead of Pizza Crust use Sweet Potatoes-
Sweet Potatoes are one of the most nutritionally dense vegetables with a variety of vitamins and minerals. They are high in fiber which can help with feelings of fullness and weight management.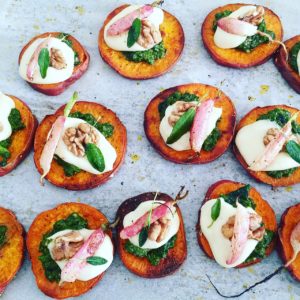 How-to:
 Make mini pizzas by slicing sweet potatoes into thick slices tossing with olive oil. Bake on a parchment lined baking sheet for about 7 minutes per side in a 425* oven until browned. Add toppings and return to oven until toppings are heated through. Try it with pesto and gooey vegan mozzarella on top.
5. Instead of Croutons use Pumpkin Seeds-
Croutons are filled with empty calories. Try pumpkin seeds (pepitas) for a dose of heart healthy magnesium and plant-based omega-3s instead.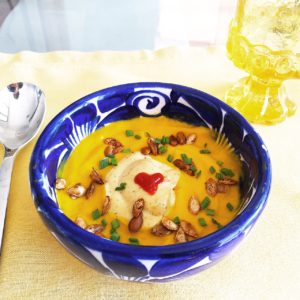 How-to:
Toss the seeds from a pumpkin or butternut squash in coconut oil, sea salt, black pepper, cumin and paprika. Bake at 275* until crispy and browned, approximately 15-20 minutes. You can also find packaged roasted seeds at the market.
6. Instead of Spaghetti use Spaghetti Squash-
Instead of noodles made with refined flours try spaghetti squash. It's rich in antioxidants, such as vitamins A and C, B-vitamins, and essential minerals. You'll also save over 150 calories per cup by making the swap.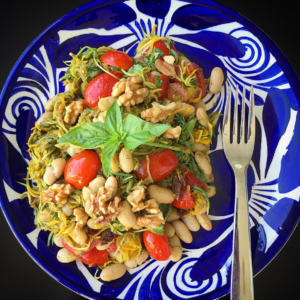 How-to: 
First, cut the squash in half, lengthwise. Remove the seeds from the cavity, brush with olive oil and season with salt and pepper. Roast in a 450* oven for 30 to 40 minutes until fully cooked. Remove from the oven and when squash is cool enough to handle, scrape a fork across the baked flesh to separate it into pasta-like strands. Toss the spaghetti squash with your favorite pasta sauce. It's particularly delicious with Tempeh Bolognese.
7. Instead of Crackers use Watermelon Radish or Cucumber-
Many of the popular crackers most Americans grow up eating contain unhealthy ingredients like added sugar, corn syrup, hydrogenated oils and preservatives. Try a beautiful pink watermelon radish slice or a refreshing cucumber slice instead. Both are mostly water so they are very low calorie while being a rich source of antioxidants, vitamins and minerals.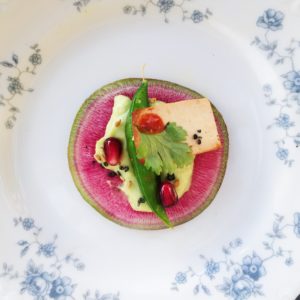 How-to:
Simply slice watermelon radish or cucumber into rounds and add your favorite toppings.
8. Instead of Corn Chips use Jicama Chips-
Dips such as hummus and guacamole can be a healthy snack, but calories from fried chips can add up quickly without adding much nutritional value. Instead try hydrating prebiotic jicama as your dip delivery system.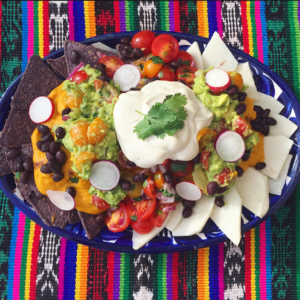 How-To:
Peel the jicama using a vegetable peeler or a knife then carefully cut off a large slice from the bottom of the jicama so that it doesn't roll around as you cut it into chip shaped slices.
9. Instead of Nacho Cheese use Sweet Potato Cheese-
Dairy is one of the most common allergens and is thought to contribute to everything from heart disease to weight gain. Nacho cheese is generally made with processed cheese and butter, making it full of saturated fat and cholesterol. Instead try this delicious plant-based sweet potato nacho cheese sauce.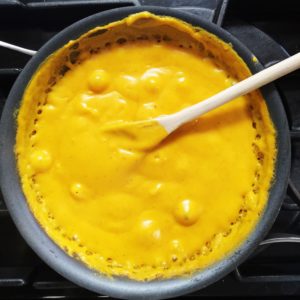 How-to:
Click here for a link to the recipe
10. Instead of Corn Tortillas use Lettuce-
Everyone loves tacos. Save 60-100 calories each by using lettuce instead of corn or flour tortillas. That means you get to eat more tacos! There's no more fun way to get greens into your diet.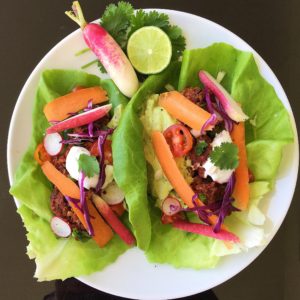 How-to:
Simply use a lettuce leaf in place of a tortilla in your taco. Butter lettuce leaves are my favorite for this purpose because they are crunchy and pliable with a mild flavor. Try these Feel Good Lettuce Tacos. 
I hope you enjoy all of these delicious veggie swaps; a simple way to get more feel good foods into your diet! xxJacq