This hearty, spicy dish is inspired by a traditional Spanish stew called Fabada. It has all of the warm, comforting flavors of the original, but with an extra helping of veggies and plant-based meaty goodness in place of pork sausage and bacon.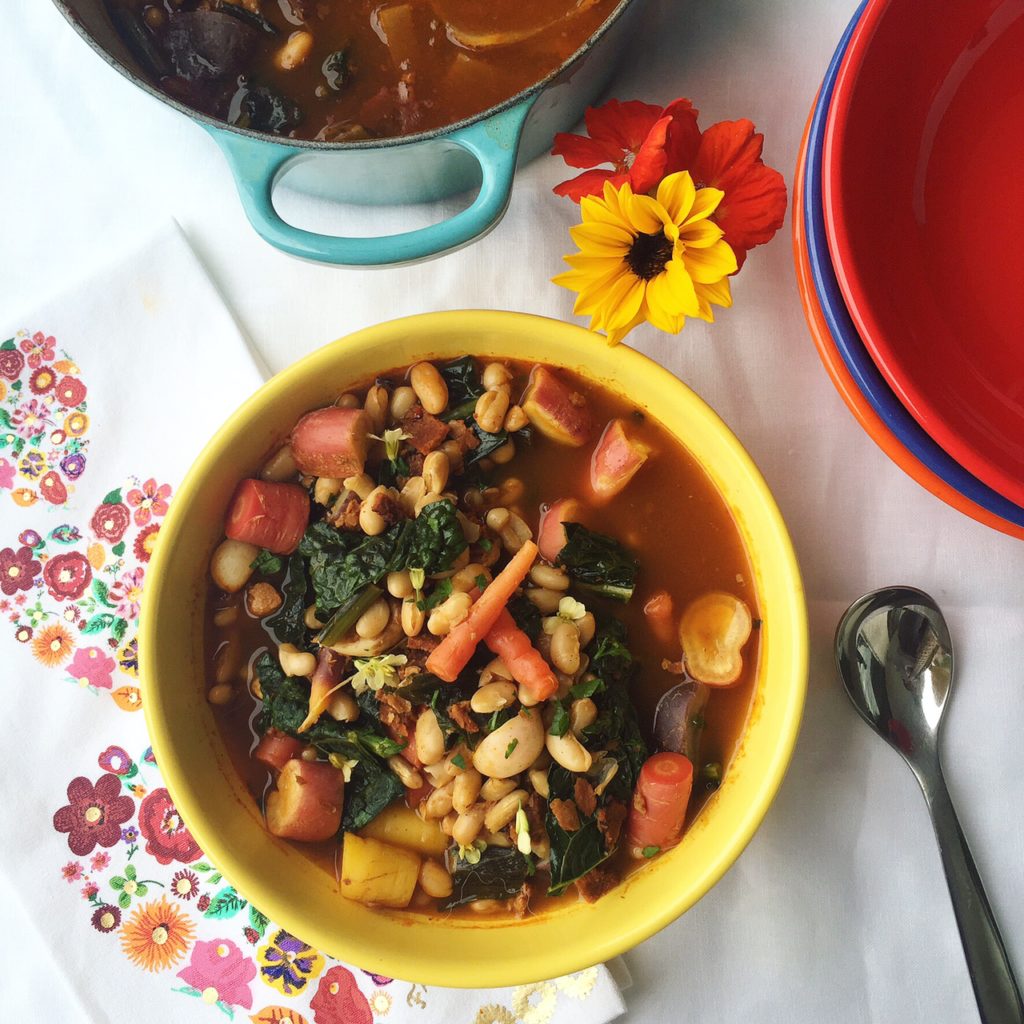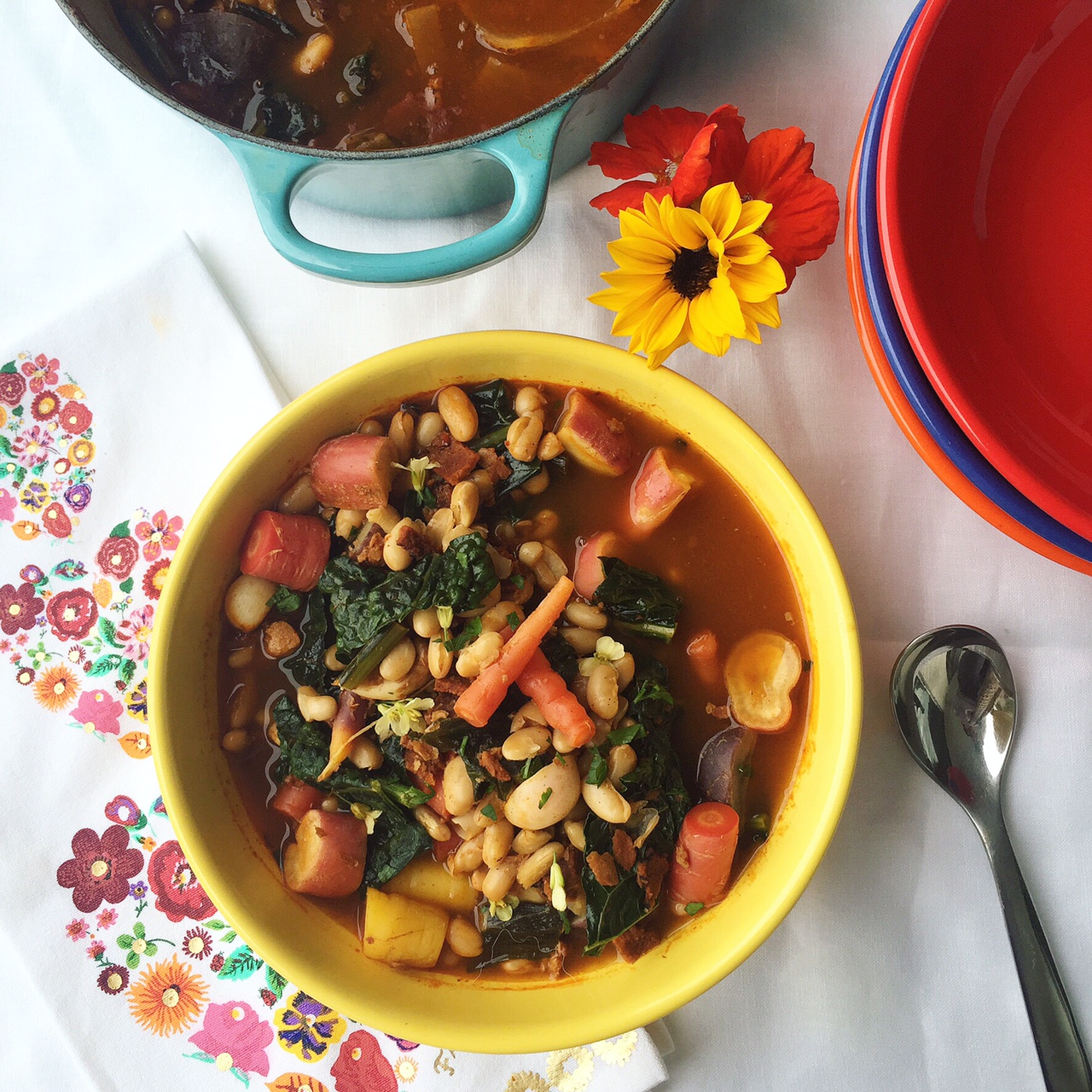 This recipe is perfect…
comfort food on a cold winter's night.
to feed a group without breaking the bank.
to serve to people who think a meal is not complete without meat. This will change their minds!
when you want a filling, replenishing meal after a workout.
Nutritional Highlights:
The beans, soyrizo, and seitan bacon make this a very protein rich dish with all of the essential amino acids. Studies have shown that plant protein can be more filling and satiating than meat sources.
One teaspoon of paprika has 37 percent of the recommended daily intake of vitamin A which can help protect your eyes bright and your skin clear.
Beans are considered heart healthy because they contain an abundance of soluble fiber, which can lower cholesterol and triglyceride levels when you make them a regular part of your diet.
So next time you feel like cozying up with a big bowl of soup, I hope you try this easy, flavorful and satisfying dish. Enjoy! xo
Hearty Spanish White Bean and Vegetable Stew
 Ingredients: 4-6 servings

 1 Tbsp Extra Virgin Olive Oil 
 1/2 large Onion, cut into 1/4 inch thick slices
 4 cloves Garlic, peeled and halved
 1 cup Cannellini or other large White Beans,soaked overnight, rinsed, drained
 1 1/2 Tsp Smoked Paprika
 1 pinch Saffron Threads, crushed
 1 bunch Kale or other Leafy Greens
 5 Fingerling or Baby Potatoes, quartered
 3 large Carrots, cut into 1- inch pieces 
 2 Celery ribs, cut into 1- inch pieces
 3 slices Seitan Bacon or Tempeh Bacon, diced 
 4 oz. Soy Chorizo 
 1/2 tsp each Sea Salt and Black Pepper
 1 Tbsp Italian Parsley, chopped
 1 lemon cut into wedges
1. Heat oil over medium in a large Dutch oven or pot, add onion and garlic and sauté until lightly browned. Add the beans, paprika, crushed saffron, and 7 cups cold water and bring to a boil. Reduce the heat and simmer 35 minutes.
2. Remove the stems and any thick ribs from the kale and chop them. Roughly chop the kale leaves separately and set aside. Add the kale stems & ribs, potato, carrots, celery, tempeh bacon, chorizo, salt, and pepper to the pot and simmer until the vegetables and beans are tender and the cooking liquid is slightly reduced, about 25 minutes longer.
3. Stir in the kale leaves to wilt. Season lightly with salt and pepper if needed. Serve in bowls, garnish with parsley and squeeze the juice from a lemon wedge over each bowl. Refrigerate any leftovers.
Notes:
If you did not soak beans overnight, you can do the quick soak method by covering beans with water, bringing to a boil for a couple of minutes, turning off the heat and allowing to soak covered for 1 hour before draining and rinsing.