My aunt recently told me she had tried to make tempeh, but thought it tasted like cardboard. I had to agree with her, on its own it can be pretty bland. However, when prepared the right way it can be a savory, hearty, protein filled base for a delicious meal. She was skeptical, but willing to try a dish that might redeem it for her, so I shared this Veggie Tempeh Bolognese recipe that is one of my weeknight favorites.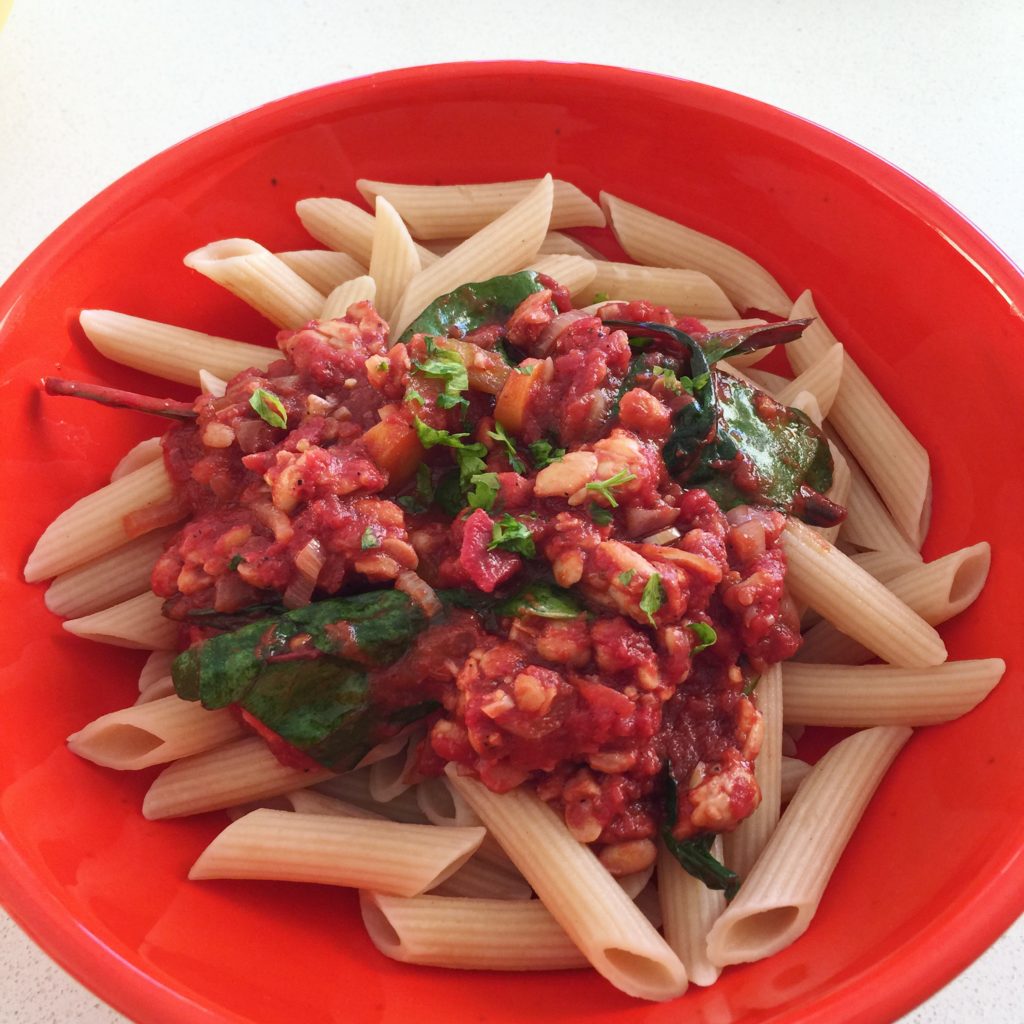 Later that night she messaged an adorable picture of her toddler gobbling it up with spaghetti and my uncle with an empty bowl and a big smile on his face. Now, he is not what you would call an adventurous eater, so a little white lie was in order. She let him think it was a turkey Bolognese until after he had cleaned his plate. Now it is one of their favorite easy dinner recipes and hopefully it will be one of yours too.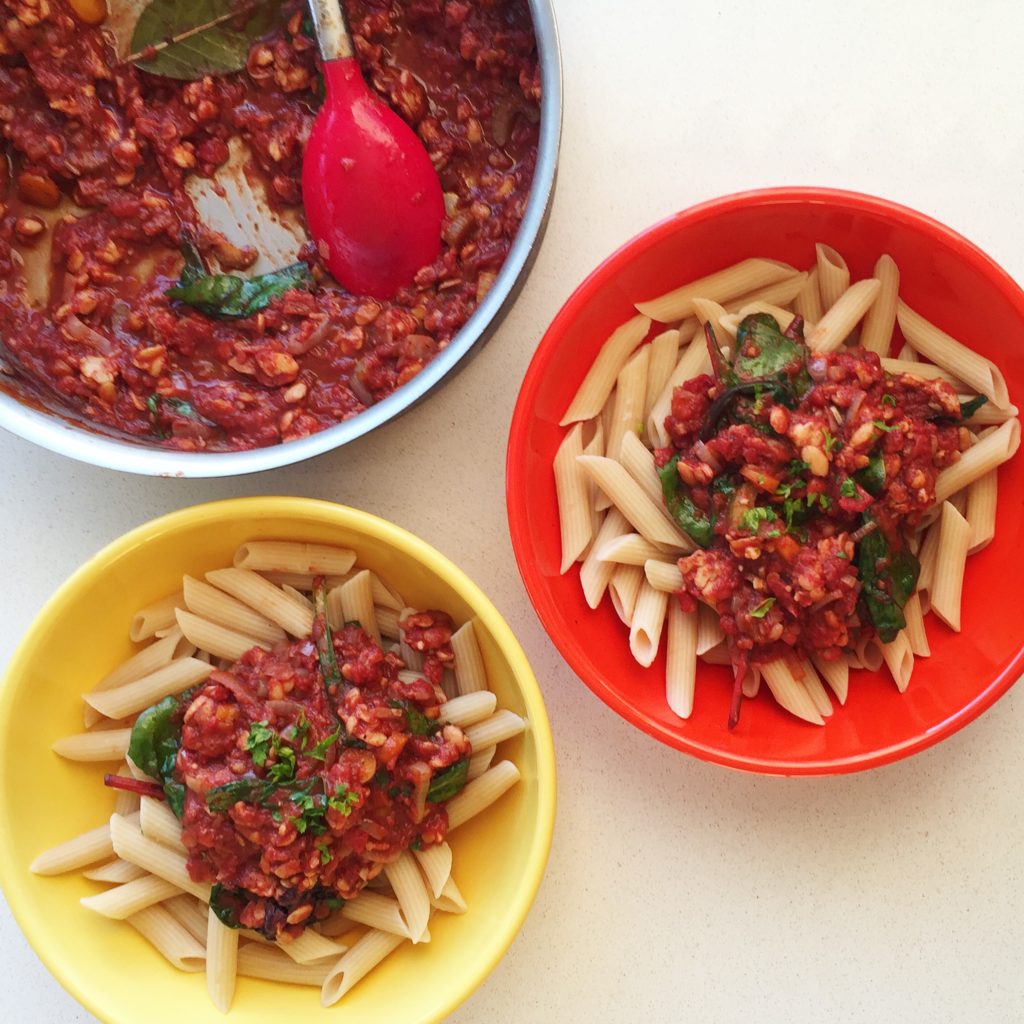 This recipe is perfect…
When you want a quick, filling, delicious and healthy meal
to get kids (or reluctant partners ) to eat their veggies
if you are on a budget. It tastes fancy but is filled with low-cost ingredients
Nutritional Highlights:
Tempeh is a complete protein with a whopping 42 grams of protein in each 8 oz. packet!
This sauce is an antioxidant powerhouse with many known immune boosting ingredients including garlic and oregano, which are particularly helpful during cold and flu season.
Tomatoes and carrots can help make your skin look great thanks to beta-carotene, which helps protect skin against sun damage. The lycopene in tomatoes also makes skin less sensitive to UV light damage, a leading cause of fine lines and wrinkles. How's that for a good excuse to eat pasta?
So mangia, mangia and buon appetito! xo Jacq
Veggie Tempeh Bolognese
Ingredients: 4 servings
3 Tbsp Extra-Virgin Olive Oil
1 small onion, diced 
1 medium Carrot, thinly sliced 
1 Celery Rib, thinly 
sliced 2 Tbsp Tomato Paste 
4 cloves Garlic, minced 
8 oz. Tempeh, crumbled 
Sea Salt 
Black Pepper 
1/4 cup Red Wine 
1 28 oz. Crushed Tomatoes 
1/4 cup Cashew or Almond Milk
1 tsp oregano 
1 bay leaf 
Pinch of ground Nutmeg 
Pinch of Chili Flakes 
1/2 cup baby spinach or other greens
Heat oil in a large saucepan pot over medium heat. Add onions and cook, stirring frequently with a wooden spoon, until soft and translucent but not browned, about 3 minutes. Add celery and carrots and cook, stirring frequently, for 3 minutes more, Add tomato paste, garlic, tempeh and 1/4 tsp sea salt and continue cooking until tempeh begins to lightly brown, about 5 minutes. Add wine and deglaze the pan to remove any stuck brown bits.
Add the tomato, milk, oregano, bay leaf, nutmeg and chili flakes. Season with 3/4 tsp each sea salt and black pepper. Lower heat to a simmer until sauce thickens, about 10-15 minutes. Add spinach or baby greens and stir until wilted. Serve over cooked pasta, zucchini noodles or rice.