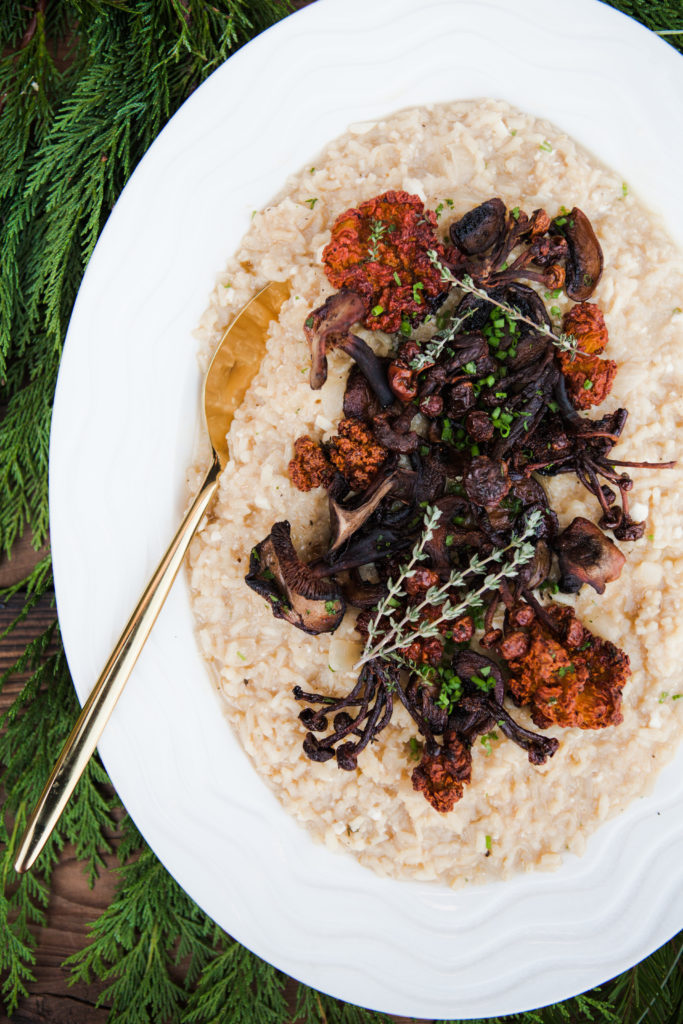 If you're looking for a beautiful and delicious main dish to serve this holiday season, look no further than this creamy White Wine Risotto with Roasted Mushroom and Thyme. I lived in Italy for a while and have so many memories of celebratory dinners with risotto at the center. I think of it as the world's most elegant comfort food. It's so satisfying and warming, but still feels like a special occasion food.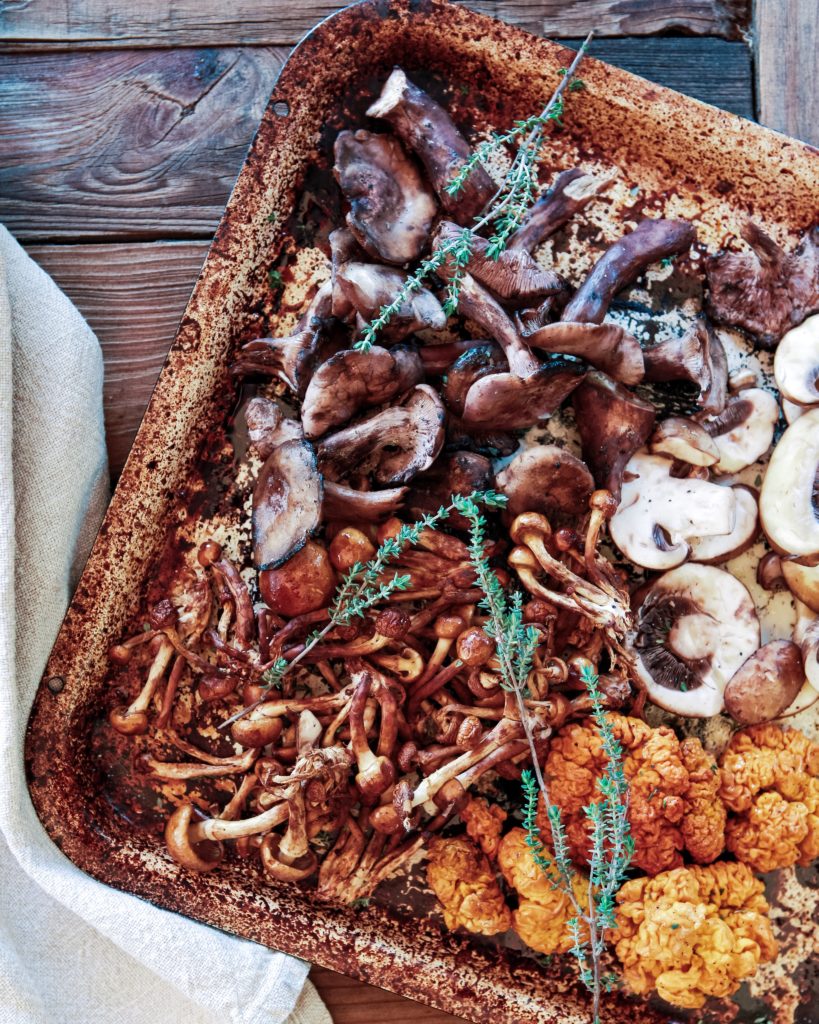 Like a lot of people, I assumed that to get a creamy risotto, you have to add a lot of butter and cheese, but as I began to study plant-based cooking I found out that is absolutely not true! The creaminess is actually achieved by coaxing the starch out the of the special type of rice that is used to make risotto. You do this by adding hot liquid, a little at a time as it cooks, and by stirring a lot. To get the umami flavor that is usually provided by parmesan we add a little miso paste and nutritional yeast instead. We top it off with roasted mushrooms, their meaty texture and flavor in lovely contrast with the creamy risotto.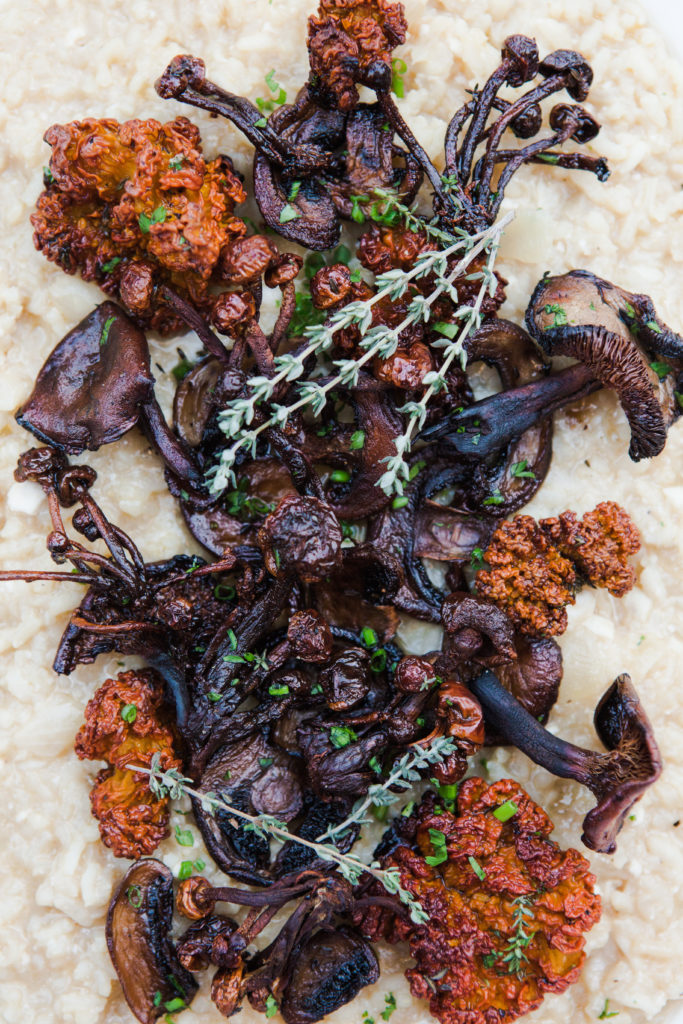 The combination of the right technique, the balance of ingredients that add depth of flavor, and the beautiful presentation of this dish make it the perfect star for your holiday meal. Wishing you so much joy, love and deliciousness this holiday season! xoxo, Jacq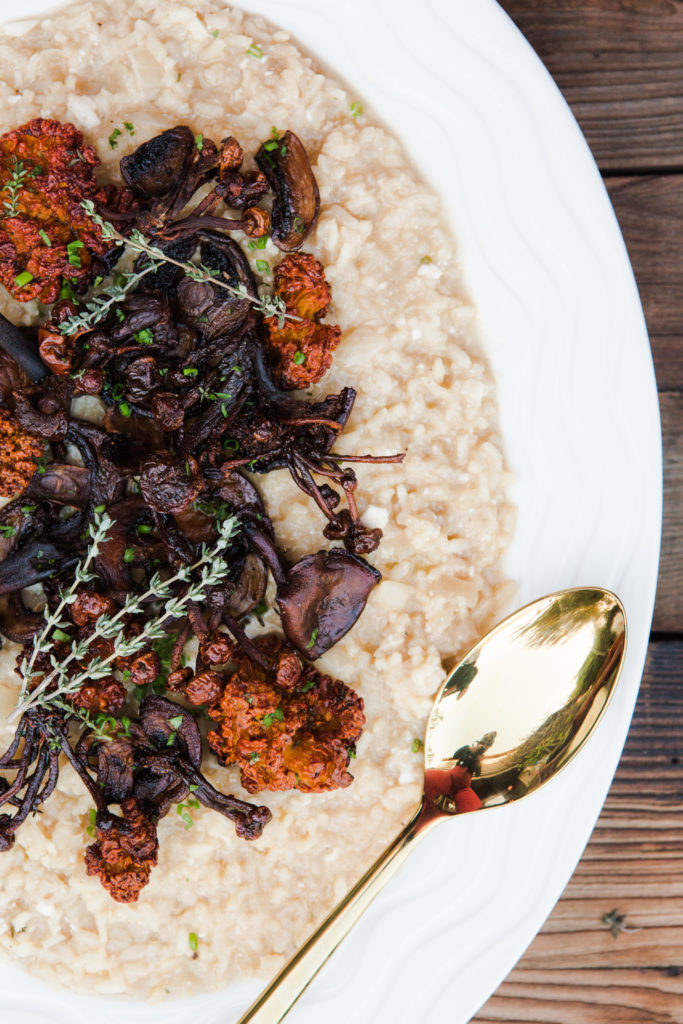 Creamy White Wine Risotto With Roasted Mushroom and Thyme
---
Prep: 10 minutes     Cook Time:  25 minutes
Ingredients:        Serves 6        
Risotto:
4 cups vegetable broth
2 cups filtered water
1/4 cup extra-virgin olive oil
1 yellow onion, finely diced (about 1 1/2 cups)
sea salt
4 garlic cloves, minced
2 cup aborio or carnaroli rice
1 heaping teaspoon fresh thyme leaves, plus additional sprigs for garnish
2 cups aborio or carnoli rice
3/4 cup dry white wine
2 tablespoons chickpea miso
2 tablespoons nutritional yeast
1/4 teaspoon white pepper
Truffle oil
3 tablespoons Italian parsley, minced
Mushrooms:
1 lb. mixed mushrooms, such as cremini, chanterelles, hen of the woods (aka maitake), oyster, shiitake, etc. cut or torn into bite-size chunks
3 tablespoons olive oil
2 tsp fresh time leaves
4 garlic cloves, roughly chopped
1/4 tsp sea salt
1/4 tsp freshly ground black pepper
---
Directions:  Pre-heat oven to 450°
Add the broth and filtered water to a pot and bring to a simmer.
Heat the oil in large, heavy-bottomed pan over medium. Add the onions and a pinch of salt and sauté, stirring frequently with a wooden spoon, until the onions soften and start to become translucent, about 4 minutes.
Add garlic and thyme to the onions, stir, then add the rice. Continue to stir frequently to coat the rice in the oil and to prevent sticking. Toast the rice for a few minutes until it smells nutty and edges of the grains look translucent. Pour the wine into the rice and stir until it is completely absorbed.
Ladle in a cup of broth and continue cooking and gently stirring until the liquid has been absorbed before adding another cup. Adjust the heat if necessary to keep both pots at a simmer. Continue to add the broth one cup at a time and cook the rice until it is tender, about 20 minutes. You do not need to stir continuously, but stirring frequently will help your risotto cook evenly and achieve the desirable creamy consistency.
Meanwhile toss the mushrooms, oil, thyme, garlic, salt, and black pepper on a baking sheet then spread the mushrooms out in a single layer. Roast until the mushrooms are browned, about 14 minutes, turning once midway.
Once the risotto is done, stir in the miso paste, nutritional yeast and white pepper. Just before serving, stir in a splash of hot liquid to loosen the consistency, if necessary. Plate and drizzle with a bit of truffle oil, about 1 teaspoon per serving. Top with the roasted mushrooms and garnish each dish with a generous sprinkle of fresh parsley and a sprig of fresh thyme. Enjoy immediately.
Notes:
Both chickpea miso and nutritional yeast have a strong flavor, so be sure to use level tablespoons when you are measuring.
If you are watching your salt intake you can use low-sodium broth and only 1 tablespoon each nutritional yeast and chickpea miso.
The risotto should be loose enough that if you put a scoop in the middle of the plate and shake it, it will spread out. If it holds it's form, it is too dry, so stir in a bit more hot liquid to loosen it.
The photos in this post were taken by Ashley Randall Photography