Roasting in the oven is the easiest way to make the most out of any vegetable. It's my favorite way to cook veggies for many reasons:
It brings out natural sweetness in vegetables giving them a caramelized exterior while keeping the inside moist and tender.
It's versatile, you can use whatever produce is in season at the market.
Roasting is the perfect technique for batch cooking or feeding a crowd. Since you cook on a sheet pan, you can make a large quantity all at once. That means you can turn on your oven once, cook up a couple different types of veggies and have them ready to go in the fridge for the rest of the week. (3-5 days)
You can roast without a recipe. Every vegetable will be enhanced by the simple addition of olive oil, salt, pepper and a little time in a hot oven.
That being said, roasting is a great opportunity to get creative with your favorite spices. Once you are comfortable with the basic technique, you can have fun experimenting with different flavor combinations.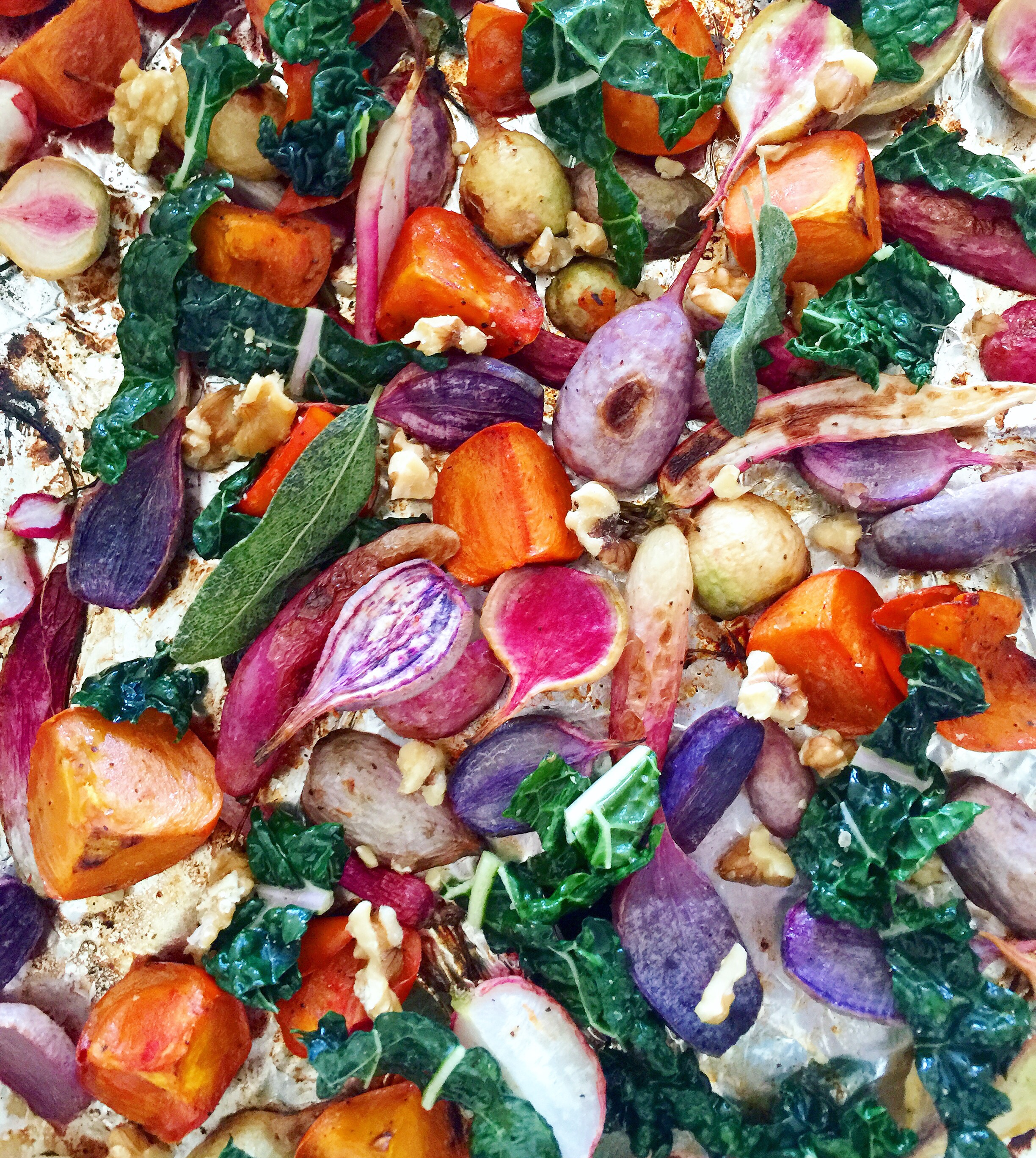 Sounds great right? Here's what you need to know to make delicious roasted veggies every time.
Vegetables that are good for roasting: Potatoes, sweet potatoes, carrots, parsnips, beets, all types of squash and pumpkin, asparagus, fennel, brussels sprouts, onions, broccoli, broccolini, cauliflower, radish, tomatoes, mushrooms, eggplant and more!
Not so great: Green Beans- they get can dried and shriveled before they get tender, Leafy Greens- they'll dry out and turn into chips, which who knows?, might be OK with you. Garlic- can be wonderful if you roast a whole head or cloves wrapped together in a foil packet, but individual garlic cloves are likely to burn and nobody likes burnt garlic.
Cooking Times: This will vary depending on your oven, the vegetable, and how tender or crispy you like your vegetables to be. In general, root vegetables will cook in 30-45 mints. Most others will take between 15-30 minutes. Smaller pieces cook faster while larger pieces may take longer. The only vegetable I would say you have to be really careful with is asparagus, because overcooked asparagus is just plain awful. It should take no more than 7-8 minutes for thin Asparagus, 12-15 for thick spears. With a little practice you'll be able to gage approximately how long each veggie will take in your oven, and if in doubt you can always google to find an approximate time frame.
The Basics: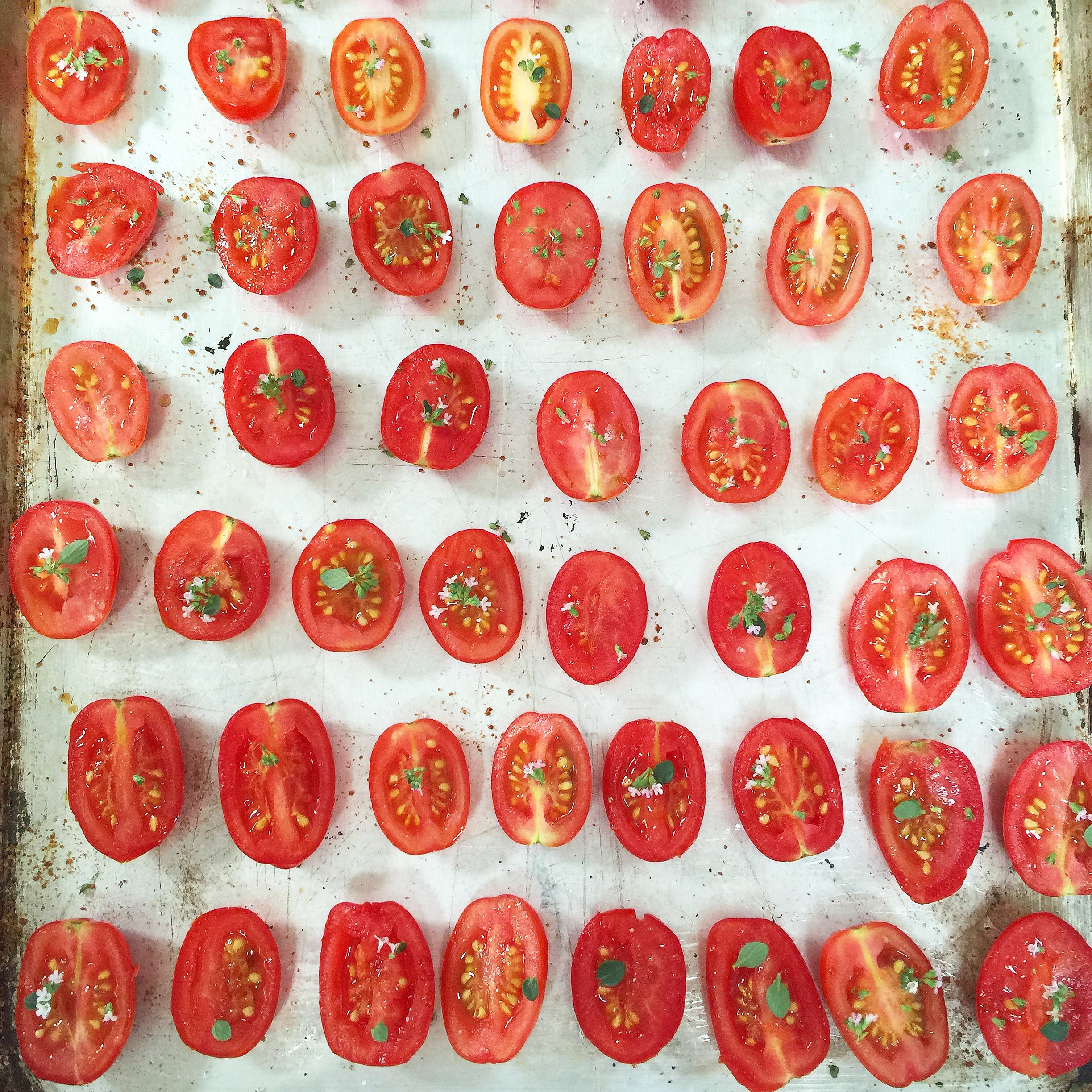 Pre-heat your oven to 400*
Cut veggies into even- sized pieces. This will ensure even cooking. In general for larger vegetables like root vegetables or squashes you'll want to cut them into large bite-sized pieces (about 1-1 1/2 inch chunks), for smaller items like new potatoes, cherry tomatoes, radish, brussels sprouts etc, you can cut them in halves or quarters depending on their size. Again, think bite-sized. Really tiny ones can be left whole. Thinner items like asparagus or young skinny carrots can be left trimmed and whole.
Place them in a large bowl and drizzle with olive oil or melted coconut oil. Toss to coat evenly so the vegetables have a nice sheen. Sprinkle with sea salt and pepper and toss again. At this stage you could also add a splash of balsamic vinegar, other spices, hearty fresh herbs such as thyme, oregano, rosemary and sage or dried herbs such as herb d' Provence.
Place vegetables on a parchment lined baking sheet leaving any extra oil behind in the bowl so they don't get soggy. Using parchment ensures that they won't stick to the pan and makes for easy clean up.
Spread them out in a single layer, creating a little space between each piece so dry air can circulate around it. This will create nice caramelization. If veggies are crowded and on top of each other, they will start to steam as them cook which can lead to a mushy, unappealing texture instead of the tender-crip browned look you're going for.
Flip or toss vegetables when they're about halfway done cooking to get browning on both sides. The exception to this is cut tomatoes, which you'll want to cook skin side down only and brussels sprouts and asparagus which will likely be cooked through by the time the first side browns.
 Once vegetables are tender and lightly browned, remove from the oven and top with fresh herbs, seeds, chopped nuts and/or a squeeze of lemon if desired. Dig in!
Now that you know the basics, here are some variations to try, all times are in a 400* oven:
Roasted Radish With Fresh Mint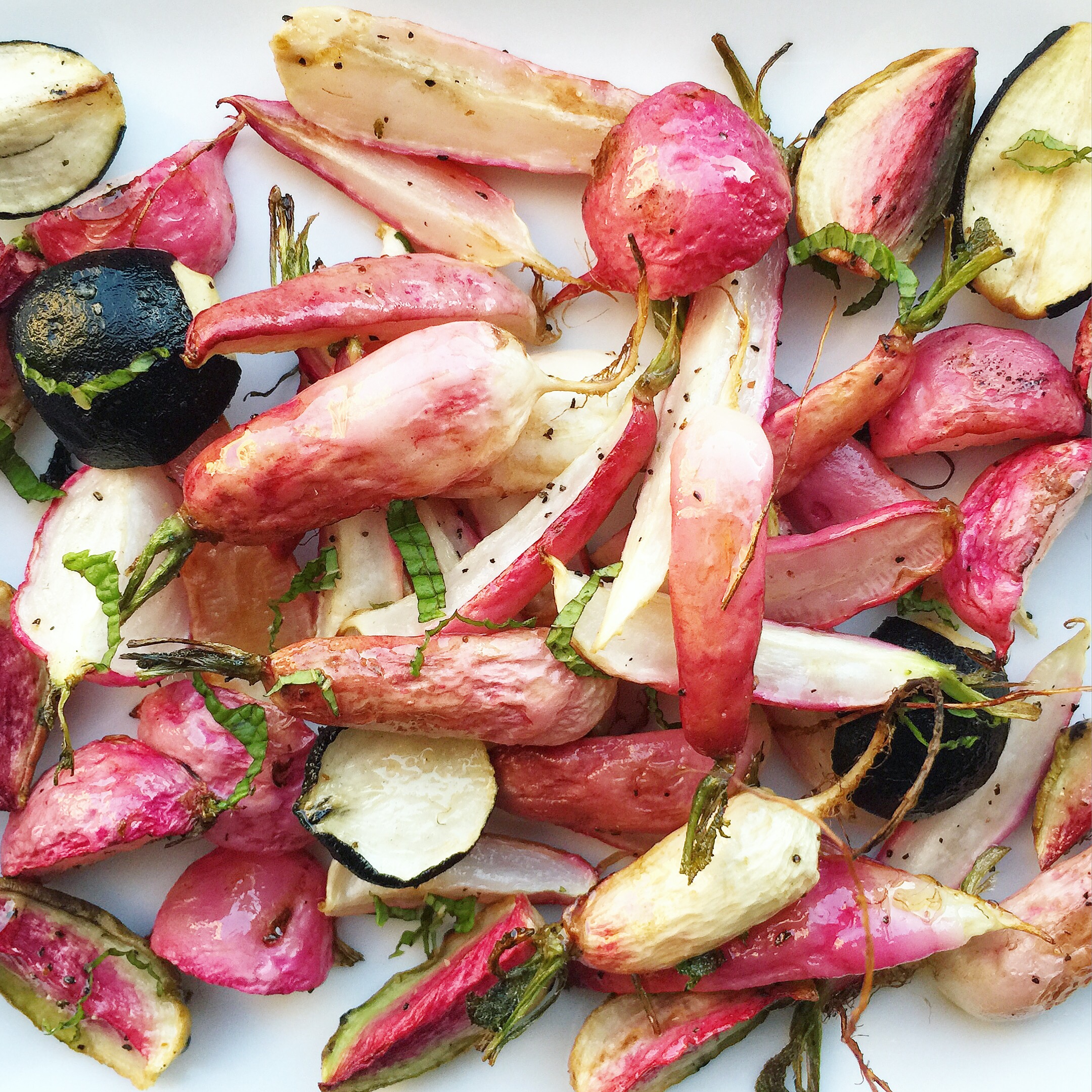 Cut radish into halves or quarters, toss with oil, sea salt and pepper and roast until tender, about 15 minutes. Finish with fresh chopped mint. Add a squeeze of lemon if you like. Roasted radish is earthy, mellow and sweeter than raw radish. Perfect as a side or in your next buddha bowl.
Easy Honey-Orange Roasted Carrots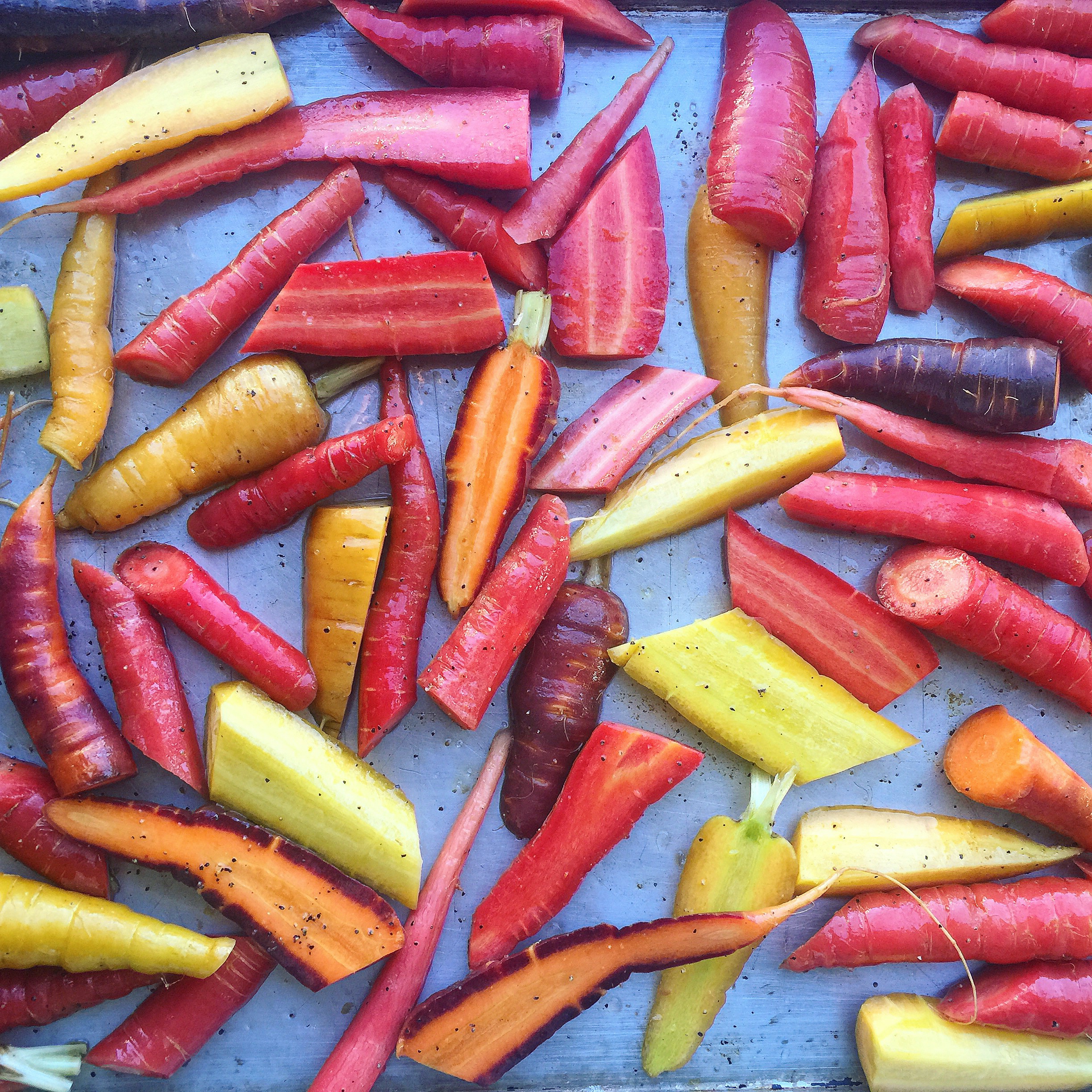 Toss cut carrots in a little olive oil, the juice from half an orange, and a big pinch each of sea salt, black pepper and cumin.  Roast for about 25 minutes then drizzle a little honey, turn the carrots, and cook 10-15 minutes more or until they're nice and tender. Timing will vary depending on the thickness of the carrots. Vegans can sub maple syrup for the honey. Garnish with a little fresh chopped parsley.
Roasted Brussels Sprouts with Dried Cherries and Walnuts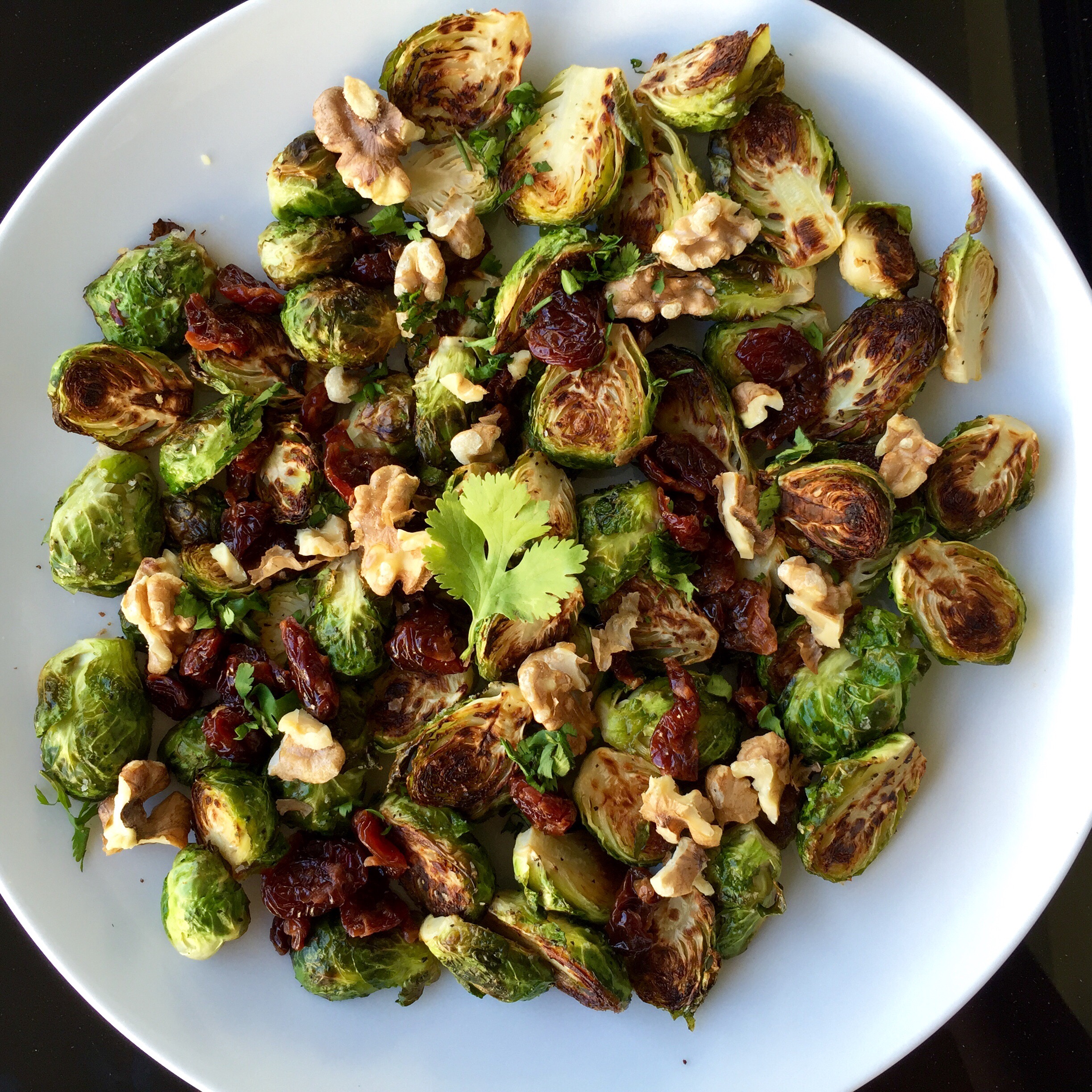 Cut the sprouts in half, toss with coconut oil, sea salt, black pepper and a pinch of chili flakes. Lay cut side down on the baking sheet and roast till browned, about 12 minutes. Finish with a sprinkle of crumbled walnuts, dried cherries and a little fresh chopped cilantro. These are wonderful over warmed and seasoned white beans for a nutritious, protein rich meal.
Roasted Curry Cauliflower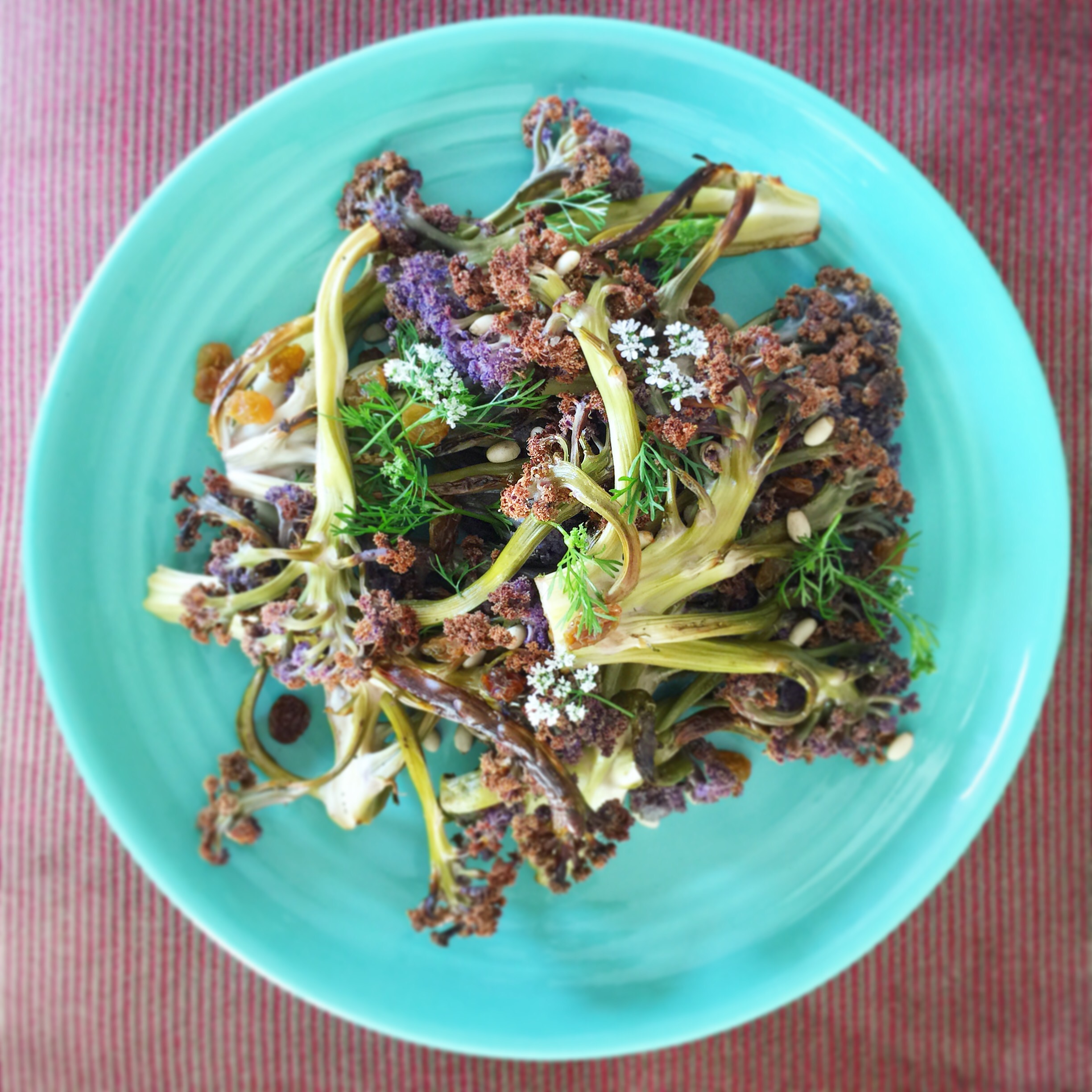 Cut cauliflower into florets, toss in olive oil and a big pinch each sea salt, black pepper and curry powder. Roasted 30-40 minutes until browned. Finished off with a sprinkling of pine nuts, golden raisins and fresh cilantro.
Now go ahead and get cooking some delicious roasted vegetables. If you have any questions, leave them on the comments here or on Instagram @thefeelgoodkitchen. Enjoy! xJacq