This Avocado Ranch is an updated version of my favorite ranch dressing recipe from before I went dairy free. That one called for buttermilk and mayo. Instead, we use avocado, nut milk and apple cider vinegar to create a creamy texture and bright flavor that is even better than the original!
The myriad of healthy fats and nutrients found in avocados – oleic acid, lutein, folate, vitamin E, monounsaturated fats and glutathione among them – are believed to help protect your body from heart disease, cancer, and even some brain diseases. That's why so many consider it a superfood. Fresh onion, garlic and herbs make all the difference in any ranch dressing flavor-wise and pack a surprising amount of nutrients and health benefits of their own as well.
Creamy Avocado-Herb Ranch Dressing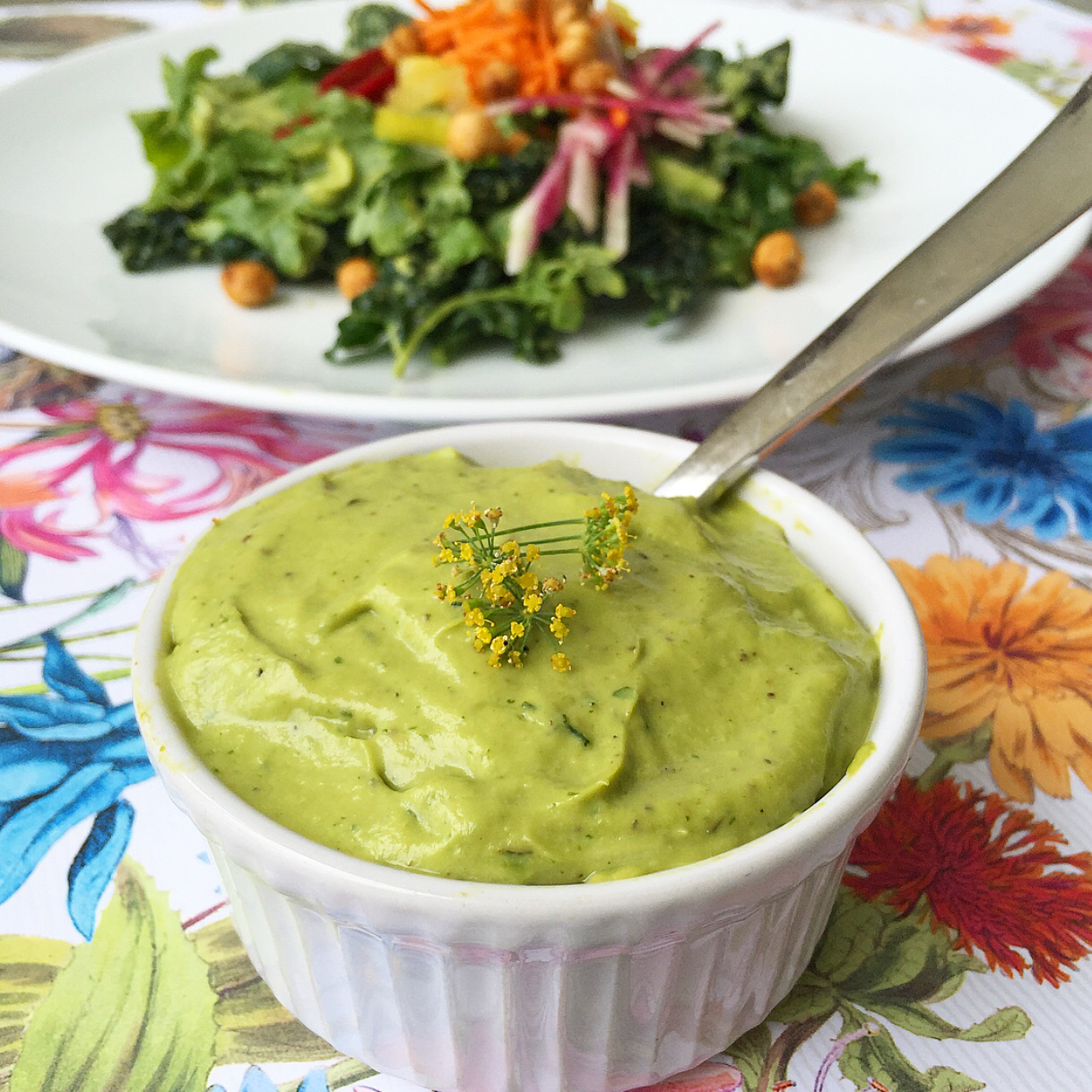 This will beat any bottled dressing hands down and takes just a few minutes to throw together in a blender. This recipe makes a very thick, creamy dressing, to make it more fluid simply add more milk. In the unlikely event you have any leftover, place it in the smallest bowl that will contain it and place a piece of plastic wrap on top. Gently press down to eliminate any air pockets to prevent browning. It's best if used within 24 hours. I hope this will be your new favorite ranch! Have it on salad, as a dip for crudités  or as a topping for a bowl. Enjoy! xJacq
Ingredients:

1 medium Avocado 
1/4 cup unsweetened Almond or Cashew Milk, plus more to taste
1 clove Garlic, peeled
1 Tbsp Onion, chopped
1 Tbsp Apple Cider Vinegar
1/2 teaspoon Dijon mustard
1 tsp nutritional yeast
1/4 teaspoon freshly ground black pepper
1/8 teaspoon sea salt, plus additional to taste
1 small handful each fresh chives, flat-leaf parsley, dill*
Scoop the avocado flesh into a blender, add all of the ingredients except the herbs. Blend until smooth. Scrape the sides and add additional milk to thin out, if needed. Add the herbs and pulse until finely chopped. Taste and add more salt if desired and pulse again.
Note: These herbs will give the dressing a traditional ranch taste. I also like to add basil if I'm serving it on tomatoes or cilantro when pairing with asian or mexican dishes.