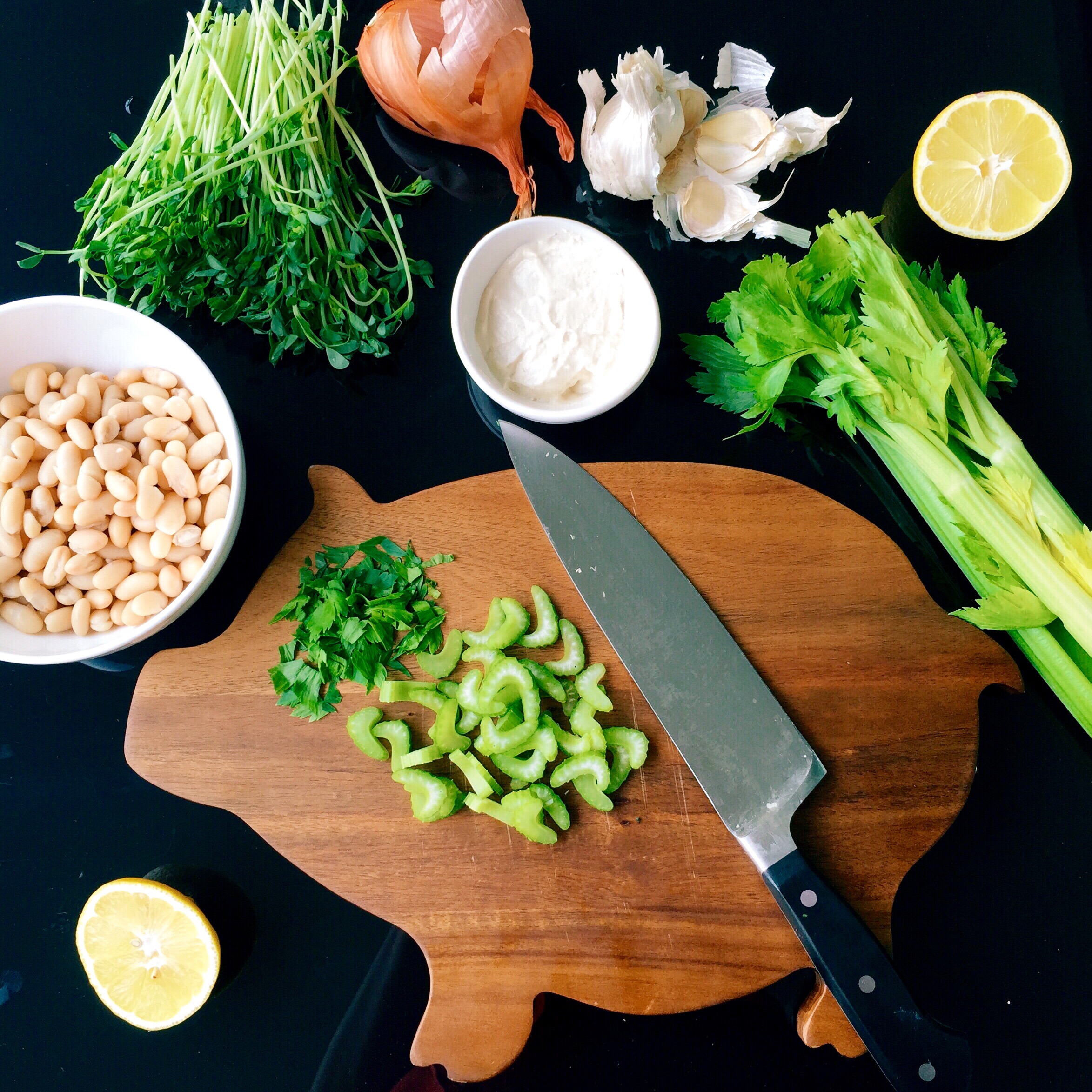 I love this hearty bowl filled with delicious springtime flavors. It is perfect as a main dish because it has a good balance of healthy protein, fats, fiber and complex carbs. I spotted these gorgeous pea shoots at whole foods which are baby pea plants packed with vitamins A, C and folic acid. If you can't find pea shoots, try substituting with spinach leaves, arugula or baby romaine leaves. The celery in the beans not only adds crunch and lots of flavor, but also contains antioxidants and is believed to have anti-inflammatory properties. What really makes this dish special, however, is the walnut aioli, which is pretty much to die for. You can also try making it with blanched almonds. Enjoy! xJacq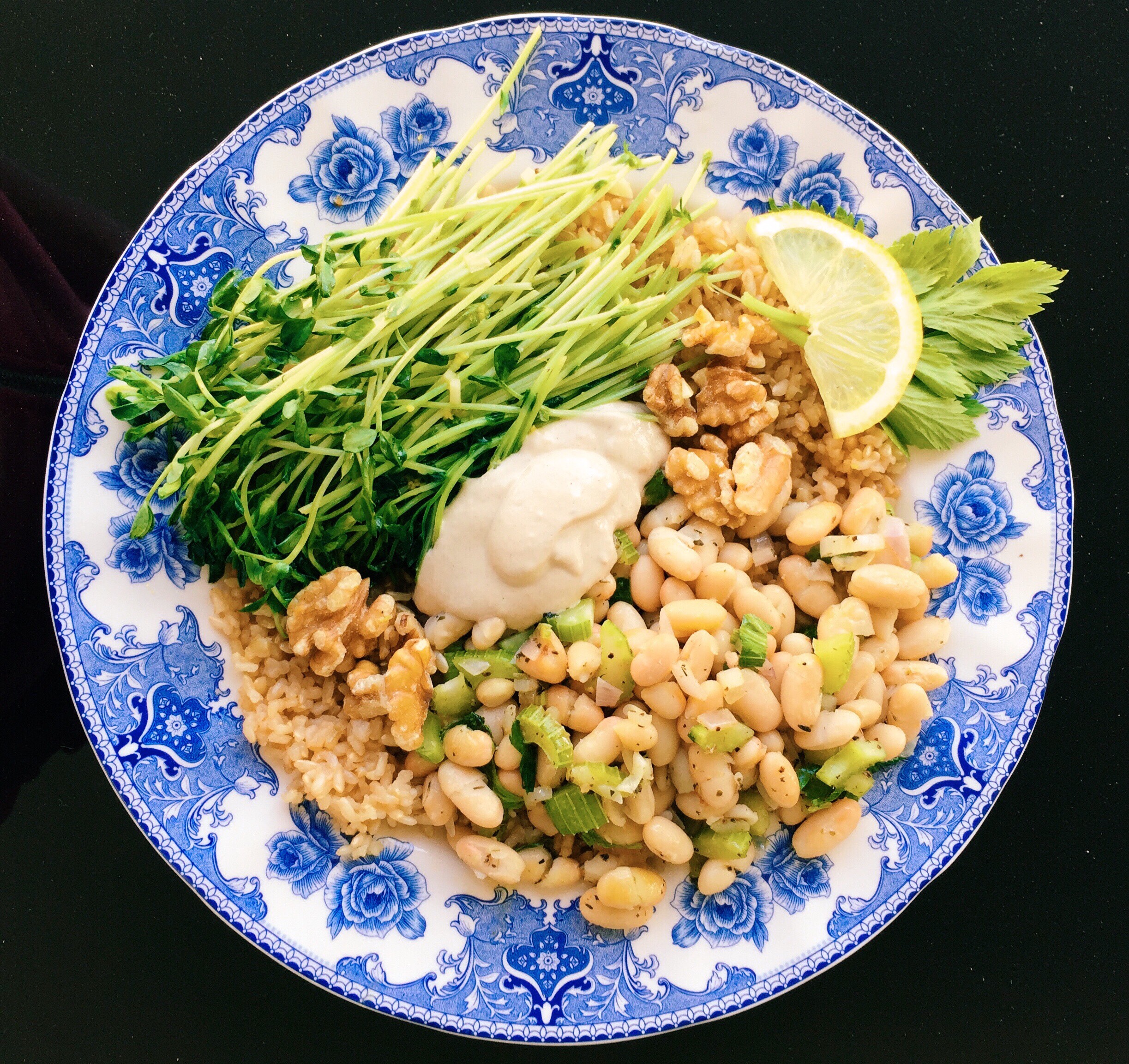 Spring Clean Bowl with Wilted Greens, Cannelini Beans and Walnut Aioli
Ingredients: Serves 2

Rice:
1 cup Brown Rice 
1 cup Vegetable Broth
1 Tbsp Tamari

Walnut Aioli:
1 cup Raw Walnuts
3-4 Cloves Garlic 
Juice of 1 medium Lemon
1/2 tsp Kosher Salt
1/4 cup + 2Tbs Water
1/2 cup Olive Oil

Beans:
1 Tbsp Olive Oil
1/4 tsp Herb d' Provence
1 Shallot Clove, thinly sliced 
1 Celery Rib, thinly sliced
1 can Cannelini Beans
Splash White Wine or Water 
1 Tbsp Celery Leaves,chopped
1/4 tsp Kosher Salt
1/4 tsp Black pepper

Greens:
1 tsp olive oil
1 Garlic Clove, minced
1 bunch Pea Shoots* 
1/2 Lemon
Pinch of Kosher Salt

Garnish:
2 handfuls Raw Walnuts
2 Lemon slices
Celery Leaves


Rice: Cook according to package directions replacing one cup of the water called for with the vegetable broth. Meanwhile…
Walnut Aioli: Blend the ingredients in a high-speed blender or food processor for 1 minute or until smooth.
Beans: Heat the oil in a pan over medium heat, add the herb d' Provence, shallot and celery and sauté until shallots just begin to brown, about four minutes. Add the beans along with a splash of white wine or water, celery leaves salt and pepper and gently stir. Cook until beans are warmed through, then turn off the burner and cover the pan with a lid.
Greens: Heat the garlic in olive oil over medium heat for about 30 seconds until sizzling. Add the pea shoots or other greens, squeeze the juice of the lemon and grate the zest over top, sprinkle with salt, toss in the pan to coat and turn off the burner. They should be just slightly wilted
Serve: Stir the tamari into the rice then divide into 2 bowls. Divide the beans and wilted greens into each bowl and top with a generous dollop of aioli. Garnish each with a handful of walnuts, a slice of lemon and a few more celery leaves.
*If you can't find fresh pea shoots substitute with approximately 1.5 cups spinach, arugula or baby romaine leaves