Once you try making your own, you'll never buy packaged granola again. Not only will it be the best you've ever had, but it's super easy, preservative-free, and way less expensive than buying ready made. Its great for breakfast,, but also on top of baked fruit for dessert as a snack. If there are any other nuts you love, go ahead and add or substitute a 1/2 cup of them. Sunflower seeds, pepitas, pecans, they're all great. You can also use honey instead of maple syrup. Or try it with macadamia nuts, dried pineapple and coconut for a tropical flair! My favorite oats to use are Bob's Red Mill Gluten Free Whole Grain Oats.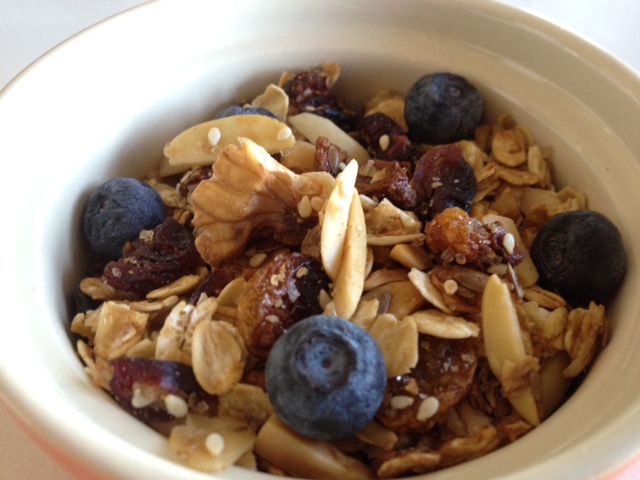 Good Morning Maple Nut Granola
2 cups rolled or old-fashioned oats
1/2 cup walnut pieces
1/2 cup slivered almonds
1/2 cup dried cranberries
1/2  cup golden raisins
3 tbsp sesame seeds
3 tbsp flax seeds
3 tbsp maple syrup
3 tbsp agave
1.5 tbsp walnut oil
1 tbsp turbinado sugar 
1 teaspoon vanilla extract
1/4 tsp salt
1/4 tsp cinnamon
1/16 tsp nutmeg
1/16  tsp chili powder (my secret ingredient, Shhh.)
Coconut oil
Set cranberries and raisins in a bowl and barely cover with hot water to plump
Preheat oven to 325*, dip a paper towel or basting brush in coconut oil and rub it over a baking sheet in a very thin layer to coat.
Place all other dry ingredients except the sugar and spices in large bowl and mix together with your hands. In a separate bowl, whisk together the liquids and spices and drizzle over the oat mixture. Toss to coat. Drain the cranberries and raisins and add to the mixture, add the turbinado sugar and toss again. Spread evenly over baking sheet and bake until golden brown, about 30 min, stirring halfway through.
Remove from oven and break up any big chunks. Let cool and serve your favorite way. Store in an airtight container for fresh granola all week long.
Enjoy!-JK