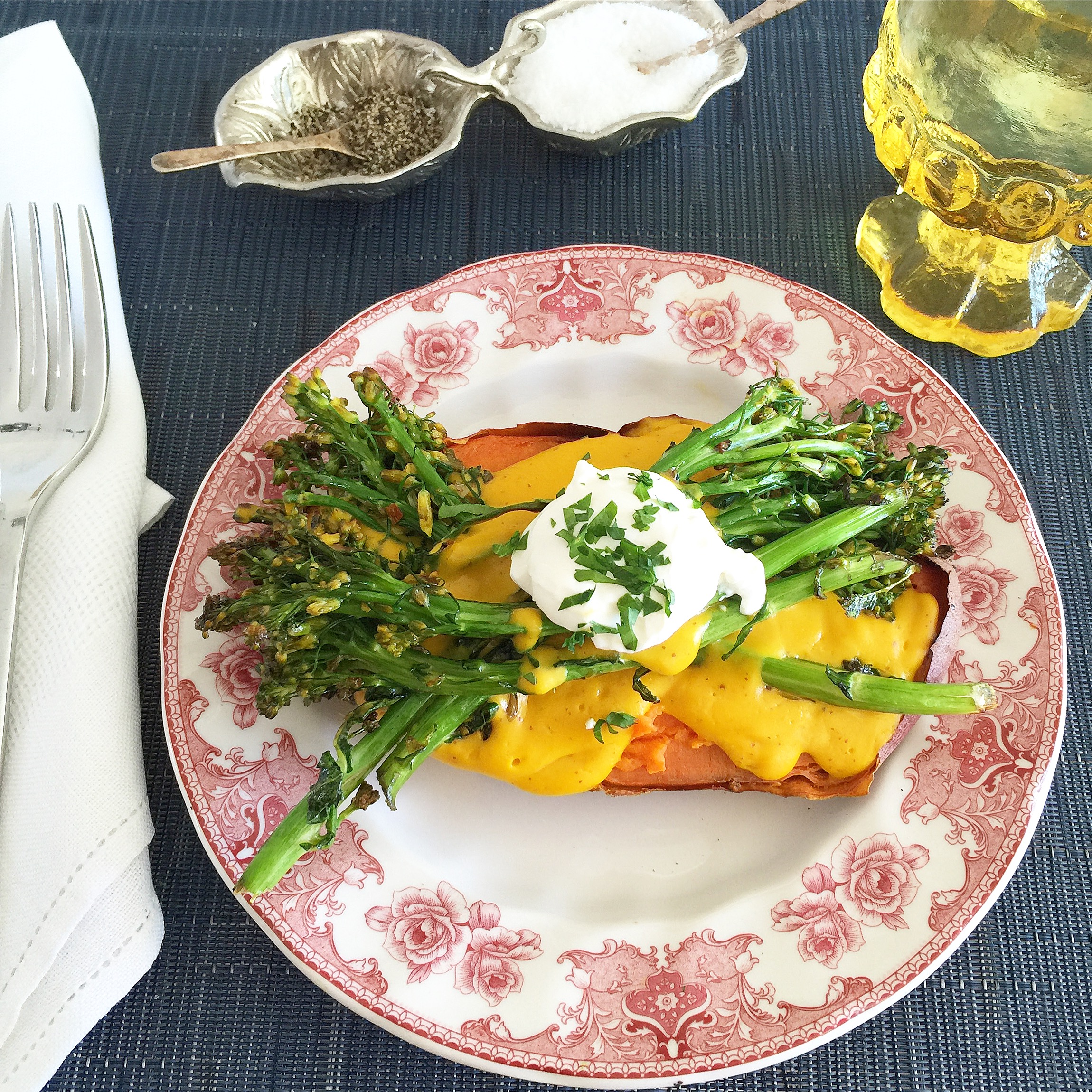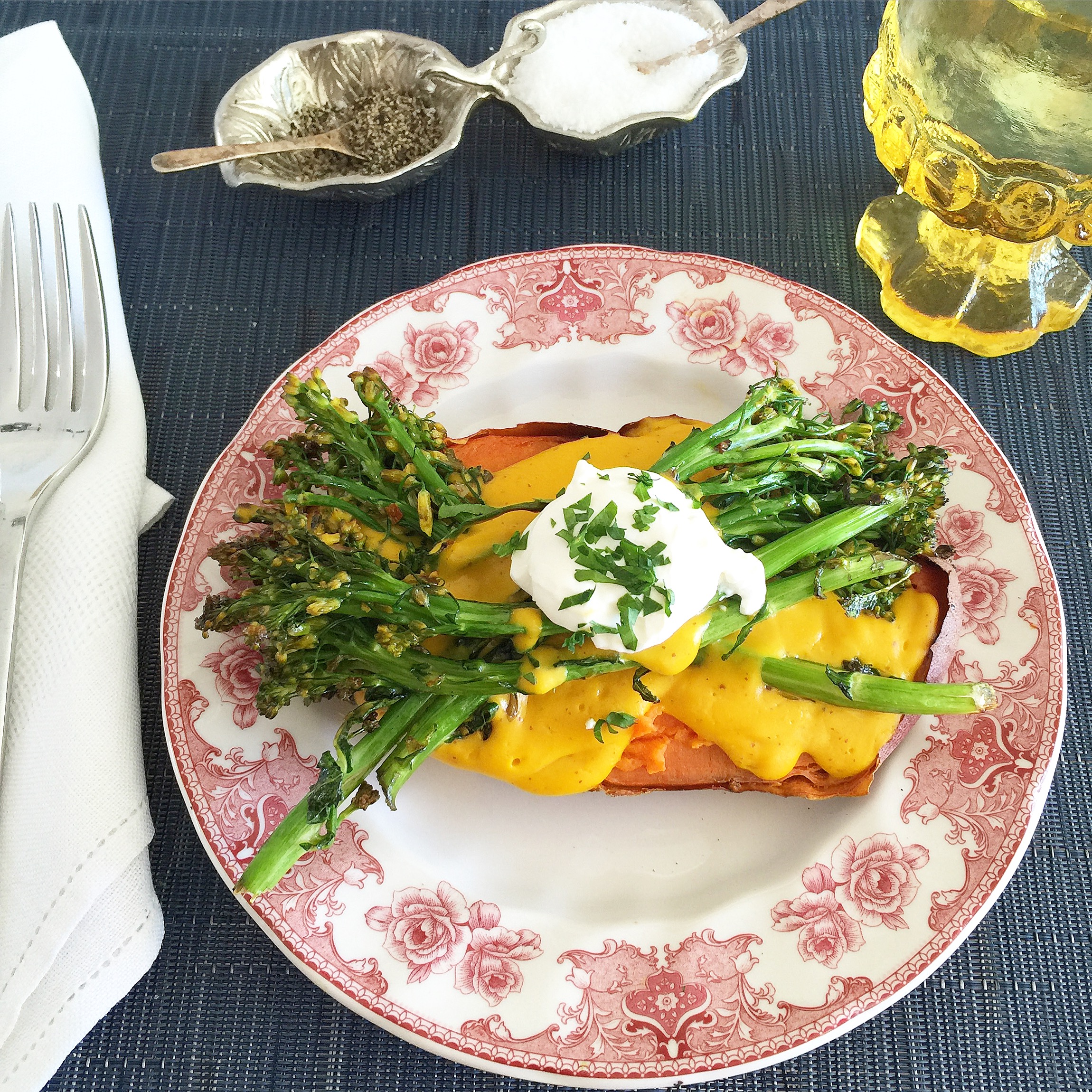 This recipe is such a treat! It tastes so rich it almost seems like it must be bad for you, but it's actually packed with nutrients. The secret ingredient is tapioca flour, sometimes called tapioca starch, which is made from the cassava plant and naturally gluten-free. This is what gives  your cheese sauce a thick, creamy, too good to be good for you  texture! I use Bob's Red Mill brand available at Whole foods and Trader Joe's.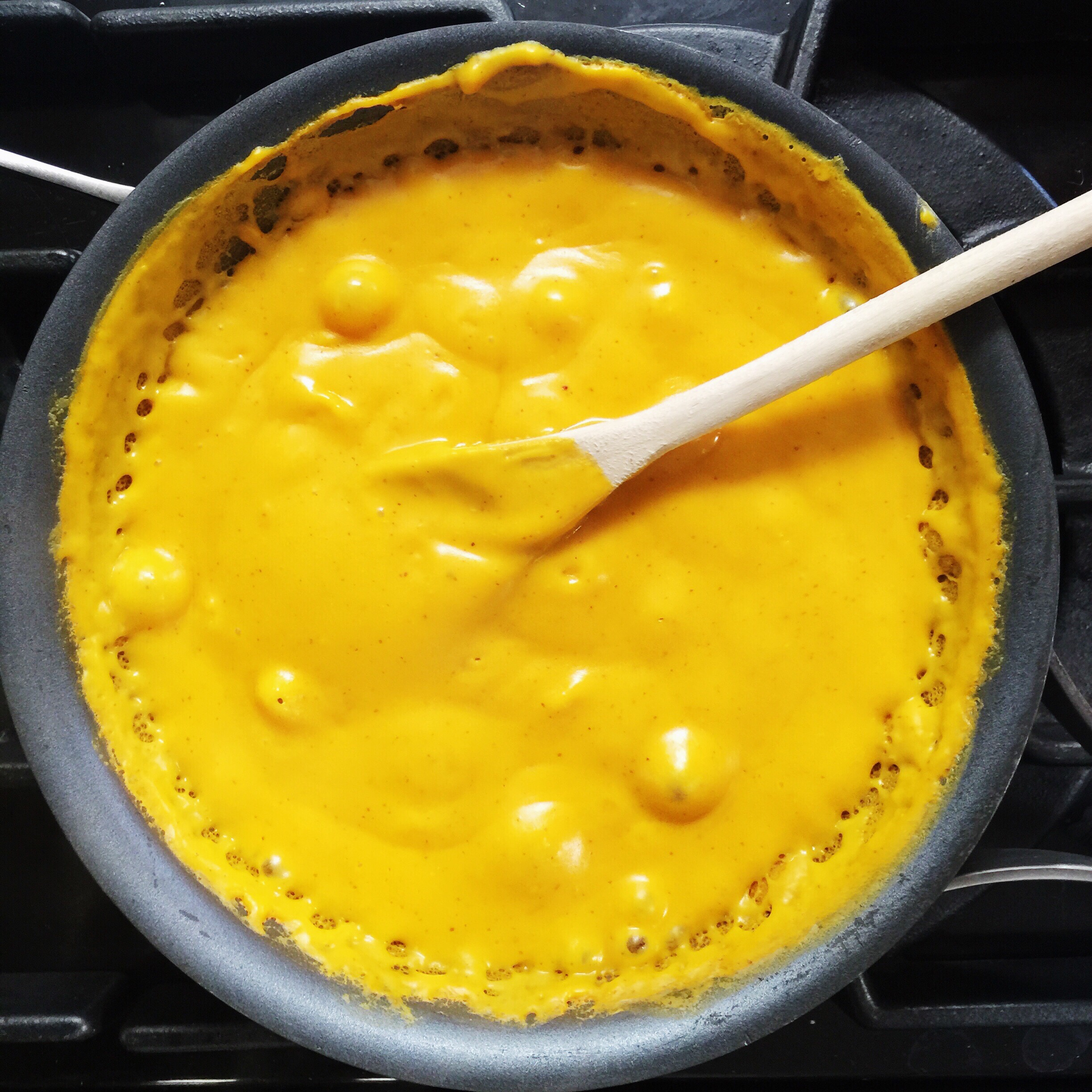 Sweet potatoes are high in fiber, vitamins A, B5, B6, thiamine, niacin and riboflavin. They get their pretty orange color from the plant pigments carotenoids which are powerful antioxidants. The broccolini has vitamin C and calcium and you get some protein and healthy fats from the nuts so you'll feel full and satisfied for hours. Best of all you get to enjoy the sweet, spicy, cheesy, yummy flavor! Enjoy xJacq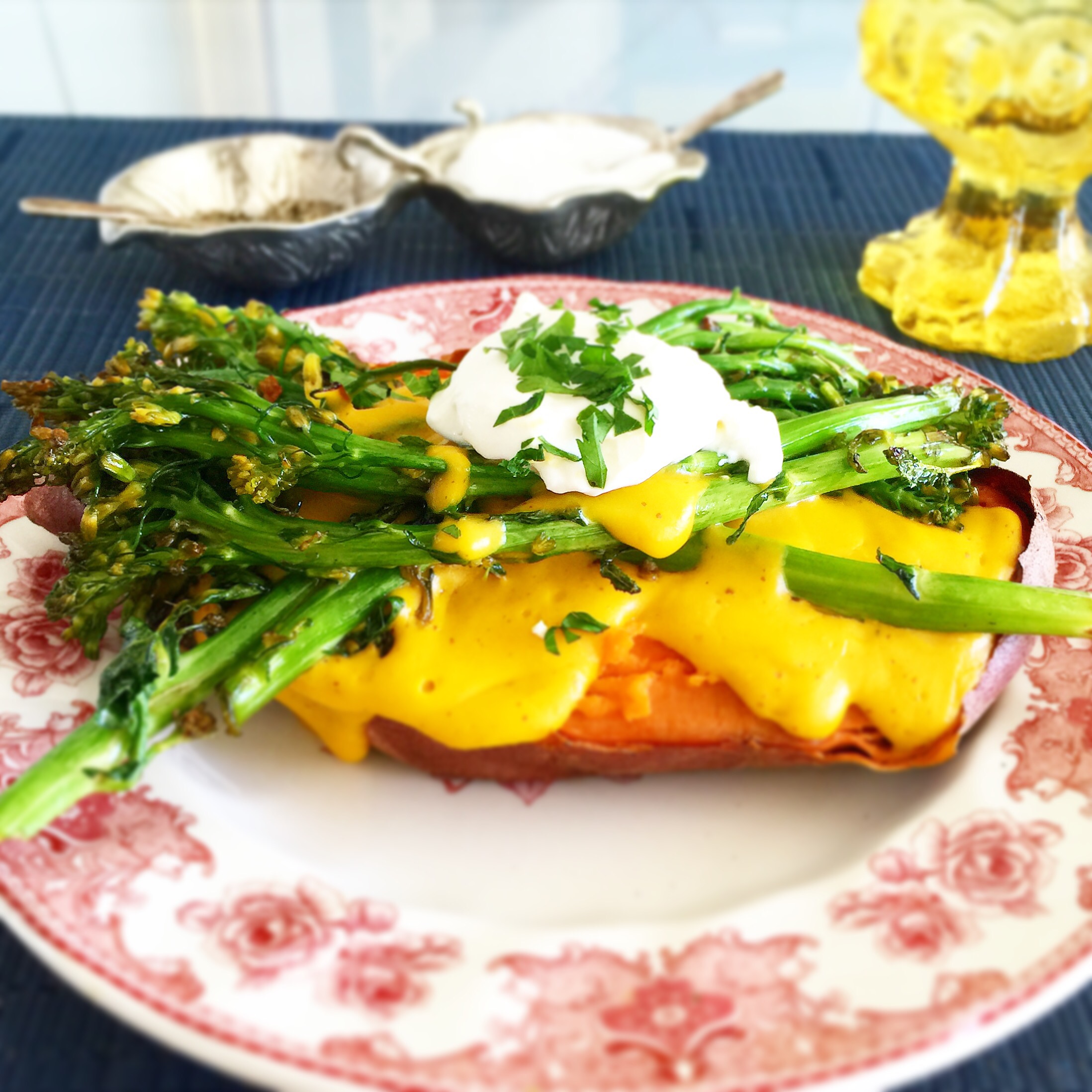 Pre-heat oven to 400*
Ingredients: 2-3 servings 

Sweet Potatoes:
2 Sweet Potatoes
1 tsp Coconut Oil
3 tsp Cashew Sour Cream
Fresh Parsley or Chives, chopped, for garnish

Broccolini:
1 tbsp Coconut Oil
small bunch Broccolini
Splash of vegetable broth
1 Garlic Cloves, minced
Kosher Salt & Black Pepper
Pinch of Chili Flakes (optional)

Cheese Sauce:
1/4 cup Raw Cashew Nuts, soaked and rinsed*
1 1/4 cup Hot Water
2 Tbsp Nutritional Yeast
2 Tbsp Tapioca Flour
1 1/2 tsp Apple Cider Vinegar
1 tsp Dijon Mustard
3/4 tsp Kosher Salt
1-2 tsp Sriracha (optional)
Sweet Potatoes: Rub the skin of the sweet potatoes with coconut oil, poke a few holes in each with a fork and place directly on the oven rack. You can lay a sheet of aluminum foil underneath to prevent drips if you like. Bake for approximately 45 minutes until you can easily pierce the center with a fork.  Remove from oven and set aside.
Broccolini: Heat coconut oil in a skillet over medium heat, add garlic, vegetable broth and broccolini. Sprinkle with salt, pepper, and a pinch of chili flakes if you like it spicy. Sauté 4-5 minutes until bright green and crisp-tender.
Cheese Sauce: Cut the baked sweet potatoes in half lengthwise. Scoop the flesh from half of one sweet potato into the blender. Set the other 3 sweet potato halves aside. Add the rest of the ingredients for the sauce to the blender and blend until smooth. It will be somewhat watery. Pour into a small sauce pan and heat over medium heat, stirring continuously with a spatula or wooden spoon. Scrape the sides and bottom as you stir and soon the mixture will turn into a gooey cheese sauce. Lower heat to low while you plate your dish and continue to stir occasionally.
Serve: Place the sweet potato halves on your serving plate(s). Pour cheese sauce over each half and top with broccolini. Finish with cashew sour cream and fresh herbs. Bon Appetit! 
*To Soak nuts- Soaking nuts makes them easier for your body to digest and absorb nutrients from. Cover nuts in water and soak for 4 hours to overnight. Drain and rinse. Alternatively you can boil them for 10 minutes which does not have the same nutritional benefits, but will make them easier to blend.