This is another in my Real Food Fast series of healthy and delicious recipes that take 10 minutes or less to whip up. This flavor packed dish is a nutritious plant-based, gluten-free alternative to traditional pasta that leaves you feeling full and satisfied thanks to all the fiber, plant protein and heart healthy fats. Zucchini and summer squash also happen to be some of the lowest calorie vegetables around meaning this is the perfect kind of dish to help maintain a healthy weight.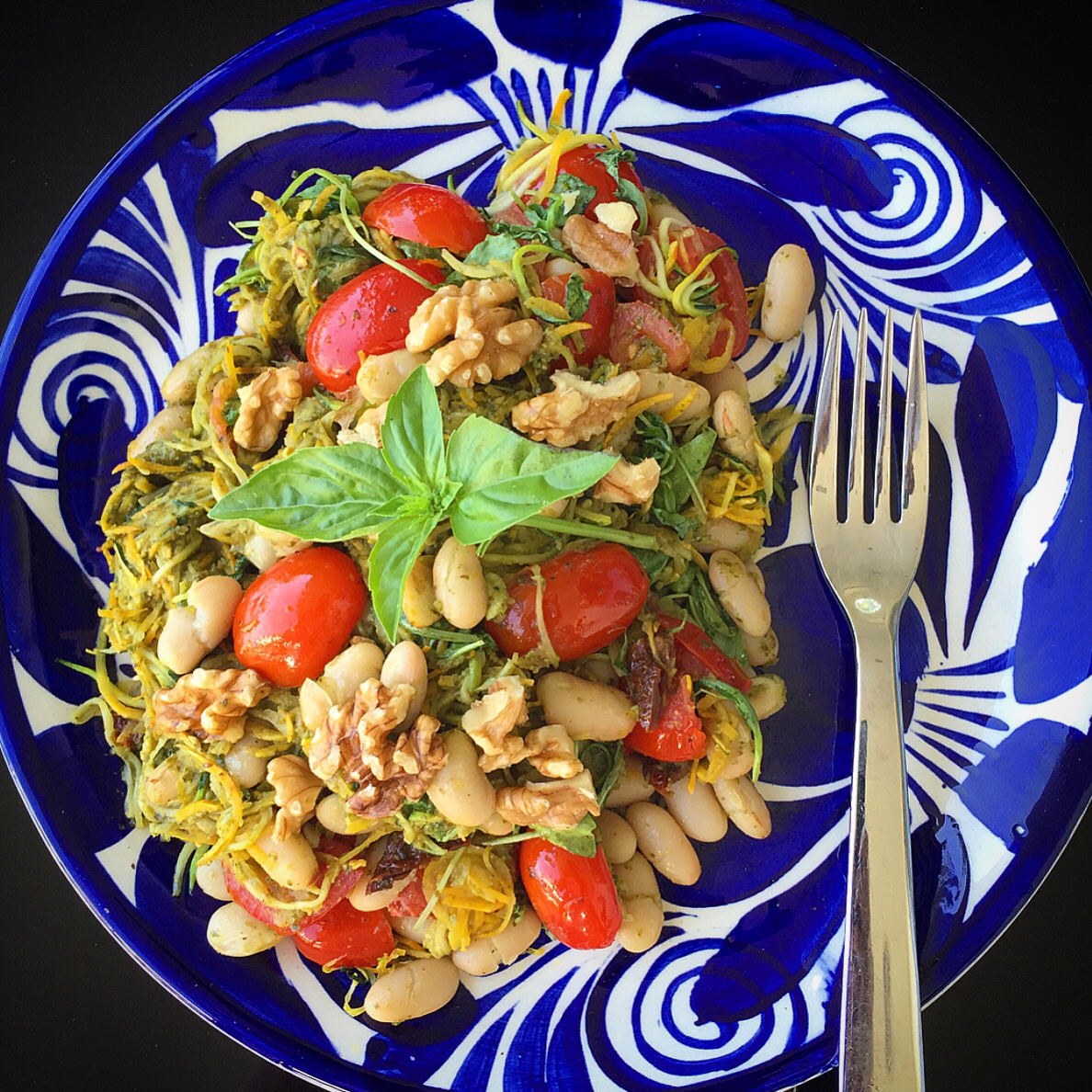 You can get a spiralizer to turn your veggies into noodles online or most places where they sell kitchen appliances. I use the 4-blade spiralizer from Paderno which has settings for angel hair, spaghetti and shoestring noodles plus a blade for accordion cuts. Angel hair and spaghetti sized noodles work well for this. If you don't have one however, don't worry! You can use a regular vegetable peeler to make thin, wide pappardelle noodles. Just press down firmly along the length of the zucchini to make the noodles with your peeler.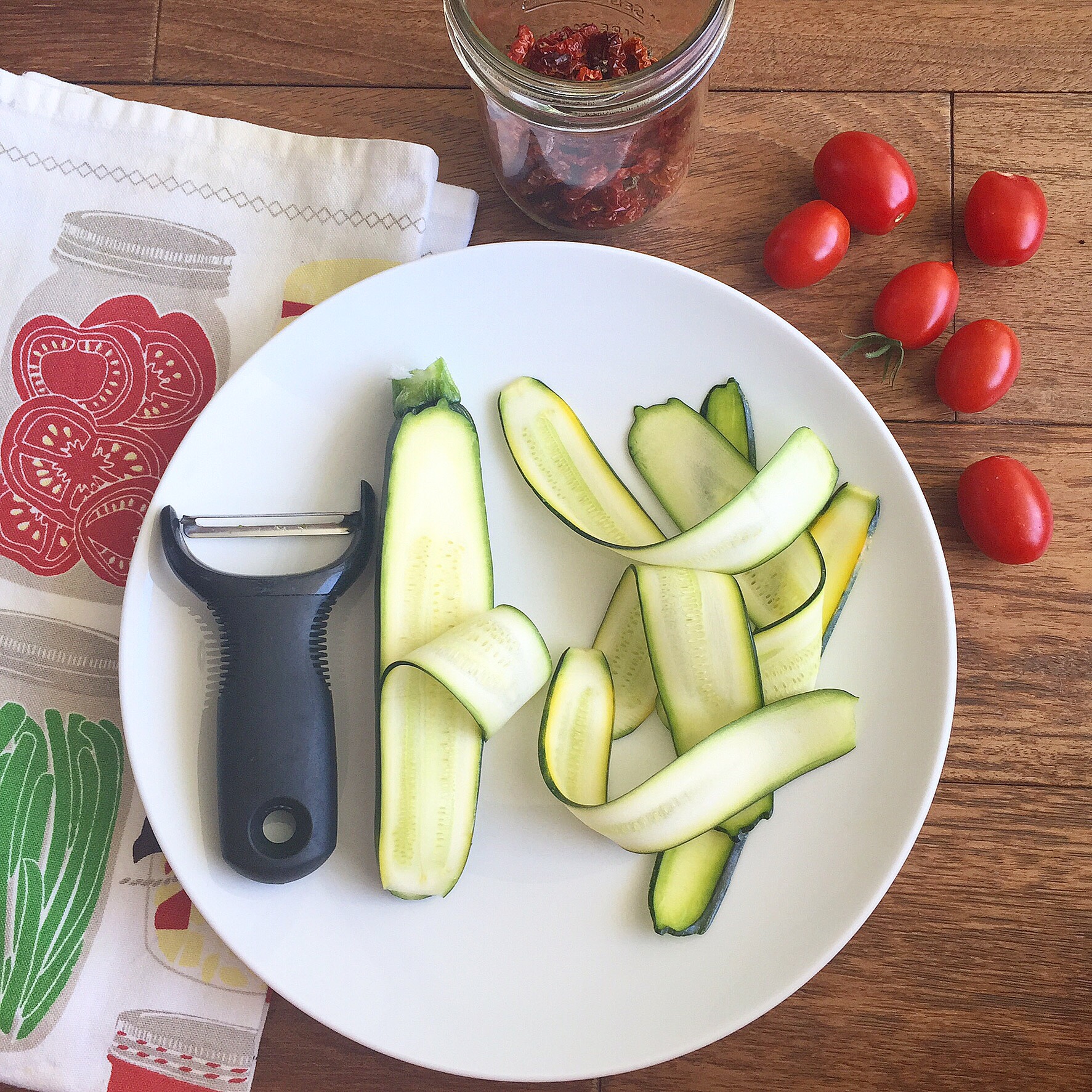 This has become one of my go to summer dishes. Whether I make it as a main for a quick dinner for myself and my husband, or as a side dish for a backyard BBQ, it always goes fast and everyone loves it. I hope you do to! If you like it spicy just add a pinch of chili flakes at the beginning. Enjoy! xJacq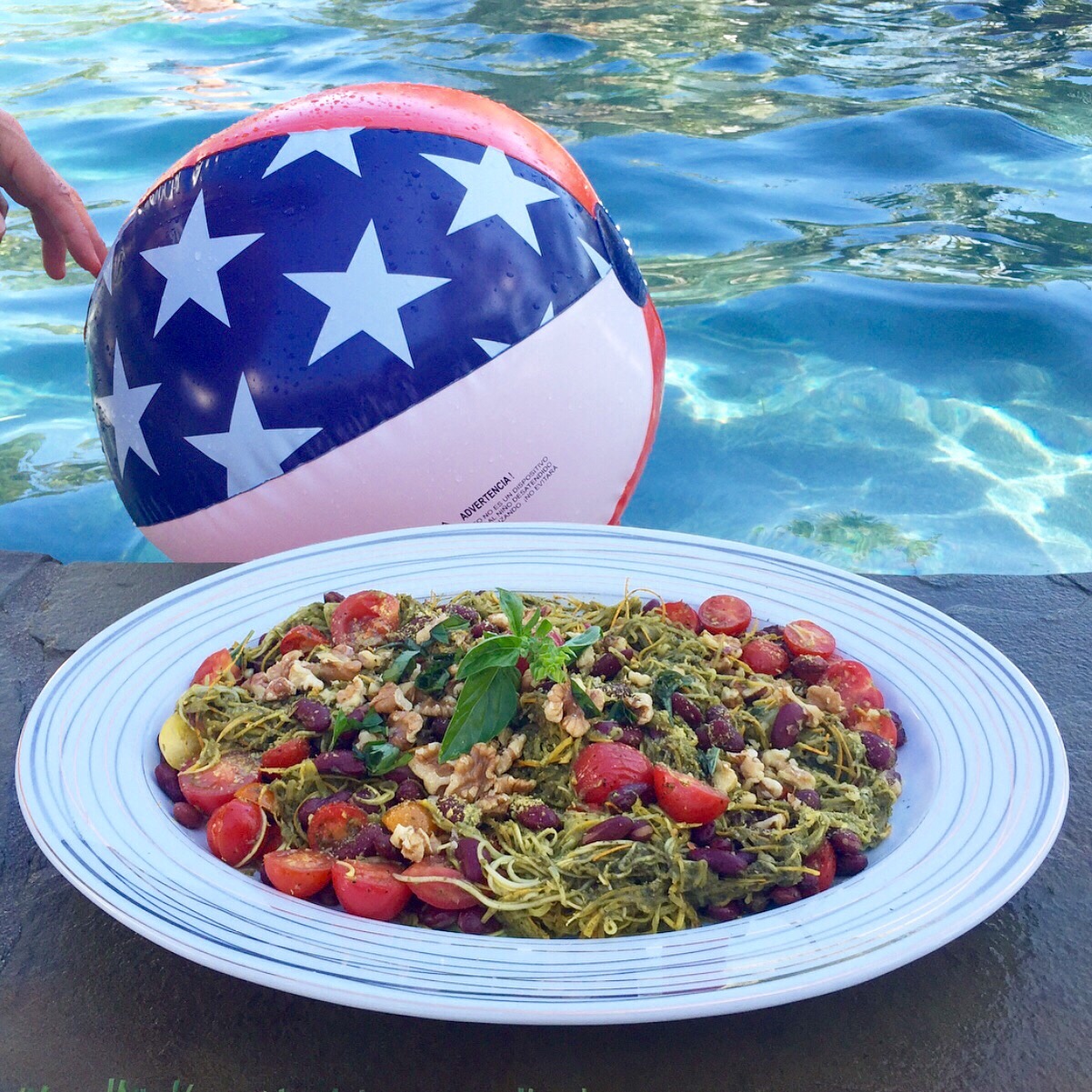 Ingredients: Serves 2

2 Zucchini or Summer Squash, spiralized or peeled into noodles
2-3 Tbsp Pesto
1.5 cups Cherry Tomatoes, halved
1/4 cup Sun-dried Tomatoes, drained if in oil and sliced
1 can Cannelini Beans, drained and rinsed
1 handful Arugula
1 handful Walnut pieces
Nutritional Yeast and Fresh Basil for garnish (optional)
Over medium heat in a large non-stick frying pan add the vegetable noodles, pesto and tomatoes and gently toss to coat. If the pesto is too thick add a splash of olive oil. Allow to cook for 2 minutes then add the sun-dried tomatoes and beans and lightly toss again. Once beans are heated through, about 1 minute more, add in the arugula and toss again to wilt then serve immediately using tongs or a slotted spoon. Sprinkle with crumbled walnuts and serve with nutritional yeast and fresh basil on top if desired. It is also delicious served chilled as a salad.