This recipe was given to me by our Summer neighbor in Muskoka Canada, Martha Stigler. She is a brilliant entertainer and prints a cookbook with her recipes every year to share with friends and neighbors. What a wonderful gift! Enjoy! -Jacq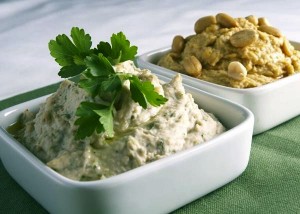 4 servings, may be multiplied 
Ingredients:
1 15 oz can Eden Organics White Kidney (Cannellini) Beans
1/3 cup good Olive Oil
3 Garlic Cloves
3/4 tsp ground Coriander
1/2 tsp ground Cumin
1/2 tsp Hot Sauce
1/4 cup fresh Lemon Juice
1 tbsp Tahini Paste
Kosher Salt & White Pepper to taste
3 Tbsp fresh finely chopped Cilantro (Coriander)
Place ingredients except cilantro in a food processor and puree. Stir in half the cilantro leaves and garnish with the rest. Serve with warm Pita bread or Crudite.