This is my Californian variation on a traditional Mexican breakfast dish. Soyrizo is a GMO-free, organic version of the Mexican sausage that's easily available in most big super markets and pretty much the only meat substitute meat eaters always like. Even my Grandpa who is from Oaxaca likes it just as much as regular chorizo. He even buys it himself! This is the perfect breakfast for a weekend brunch or as a healthy start to a busy workday. You can sub kale or chard for the mustard greens if you prefer. Enjoy! 🙂 Jacq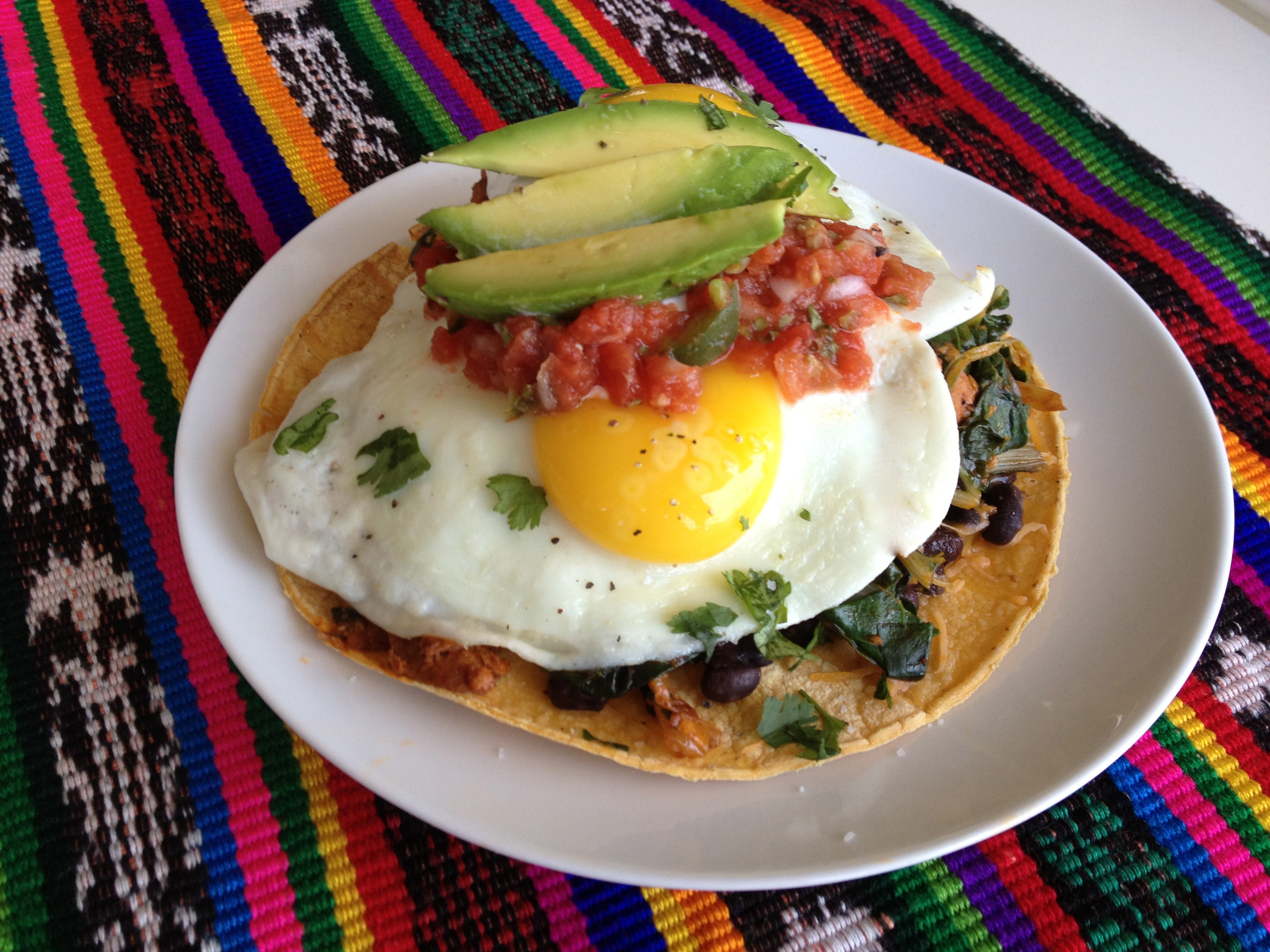 Huevos Rancheros with Soyrizo and Mustard Greens
Ingredients: Serves 2
Olive Oil
1/2 Medium Onion, thinly sliced
2 Corn Tortillas
1 can whole Black Beans, rinsed Kosher salt
Black pepper
Paprika
Cumin
1 Garlic Clove, cut in half
1 small bunch Mustard Greens
1/2 package (6 oz.) Soyrizo
2 Eggs
1/2 cup Fresh Salsa
2 tbsp Cashew Sour Cream
1/2 Avocado
Fresh Cilantro for Garnish
1.Place 1 tbsp olive oil in a pan over medium heat, add onions and stir to coat.
2. Place tortillas in the oven directly on baking rack, turn oven to 400.
3. Heat beans in a saucepan over medium low heat, adding a tiny pinch of salt, pepper, cumin and paprika. Add the garlic clove halves. (remove before serving)
4. Separate leaves and ribs of mustard greens and chop separately. Add ribs to onions and sauté for 1-2 minutes then add Soyrizo and a pinch of salt and pepper then stir. Cook Soyrizo for 4 minutes, add mustard leaves and stir, cooking another 2 minutes till completely wilted. Meanwhile…
5. In a separate pan heat 1 tbsp olive oil over medium heat, crack eggs into the pan, yolks intact, cook egg until whites set but yolks are still soft.
To Serve:
Remove tortillas from the oven. They will be crispy at this point. Place on individual plates and top each with black beans, add a layer of Soyrizo and mustard greens then carefully lay egg on top. Spoon salsa over egg, add a dollop of sour cream. Top with avocado slices and sprinkle with Kosher salt, fresh cracked black pepper and cilantro leaves.
Buen Provecho!