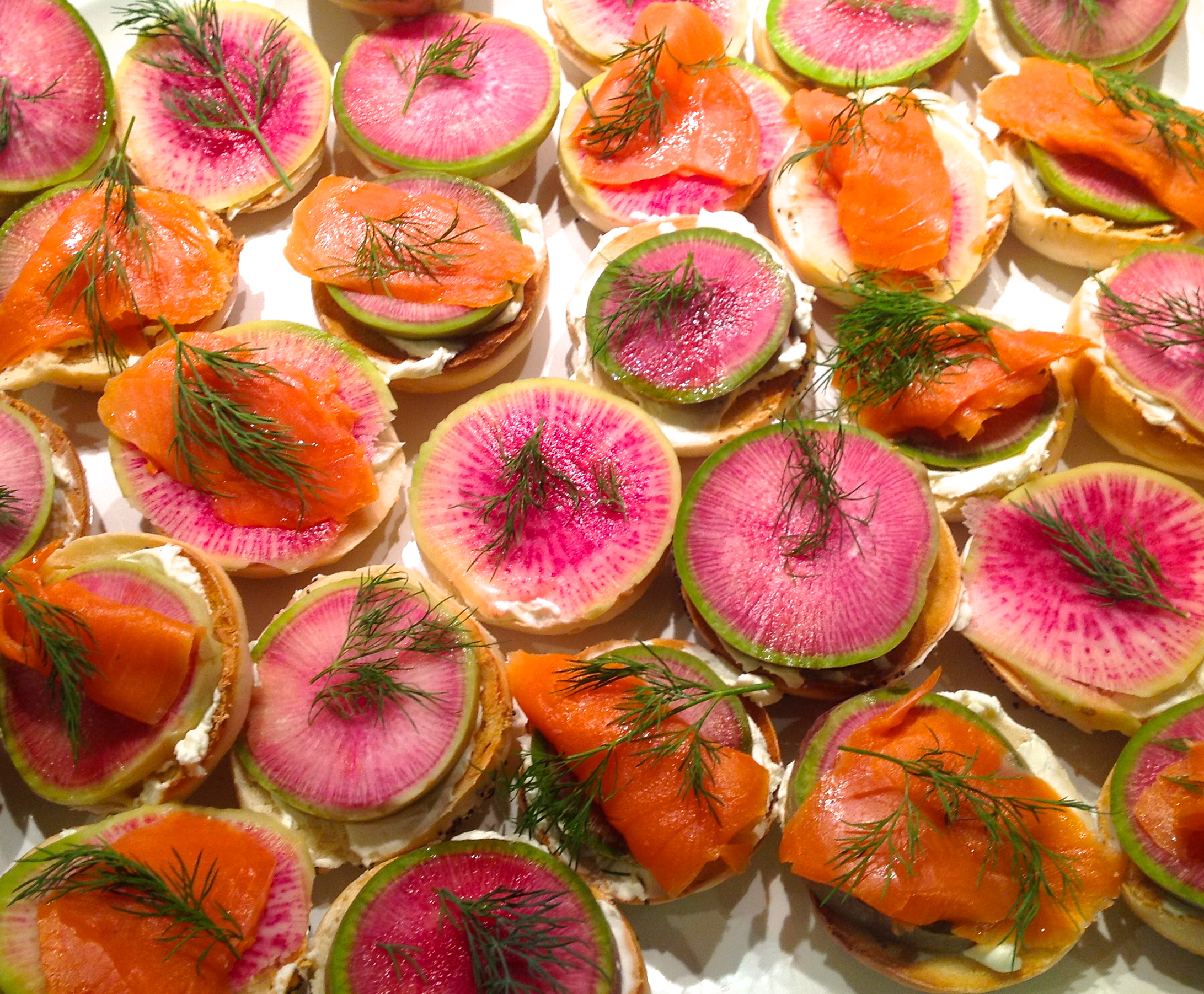 I love watermelon radishes! They are a bright, beautiful addition to the winter table. These are one of my favorite appetizers to serve around the holidays. They are quick and easy, not too heavy, and always a big hit. Watermelon radishes are a rich source of antioxidants, vitamins and minerals and smoked salmon is high in heart healthy omega-3s. I am growing these in my garden this winter but they weren't quite ready for the holidays so I picked some up at the farmer's market. They can be a little difficult to find at regular supermarkets, but I have seen them at Whole Foods and other natural foods markets. If you've never tried them before- they look very similar to a turnip and taste savory and peppery like a regular radish, but are a touch sweeter and milder.

Watermelon Radish and Cream Cheese Toasts (Smoked Salmon Optional)
 Makes approx. 25 Toasts
Ingredients:
1 pkg. Pumpernickel Cocktail Bread or Mini Bagels cut in half*
3-4 lg. Watermelon Radishes sliced into large coins
8 oz. Cashew Cream Cheese
1 Bunch Fresh Dill
1 8oz. package Smoked Salmon (optional)
1/2 small Lemon
Black Pepper
Toast bread on a baking sheet in oven heated to 375* about 6 minutes. Generously spread with cream cheese. Top with a radish slice. Add small slices of smoked salmon on top if desired. Garnish with fresh dill, squeeze the juice from the lemon over top and sprinkle with black pepper.
For a party make about 1/3 without the fish for those who don't eat fish and for maximum visual effect. 

*For a lighter, gluten-free option make them without the bread using the radish as a chip with the cream cheese on top.