Cauliflower is a vegetable that is easy to overlook. It may conjure up memories of piles of steamed, formerly frozen vegetables that you were forced to eat as a kid in order to "earn" your dessert.  Well, this scrumptious side will change all that!  Roasting at a high temperature saves cauliflower from a potentially dull and lifeless fate and transforms it into a crispy, savory, nutty treat. Paired here with plump, sweet raisins and earthy pine nuts, it's a dish that will leave you craving more. No one has ever called a cauliflower dish sexy… but if they did, they'd be talking about this one. Enjoy!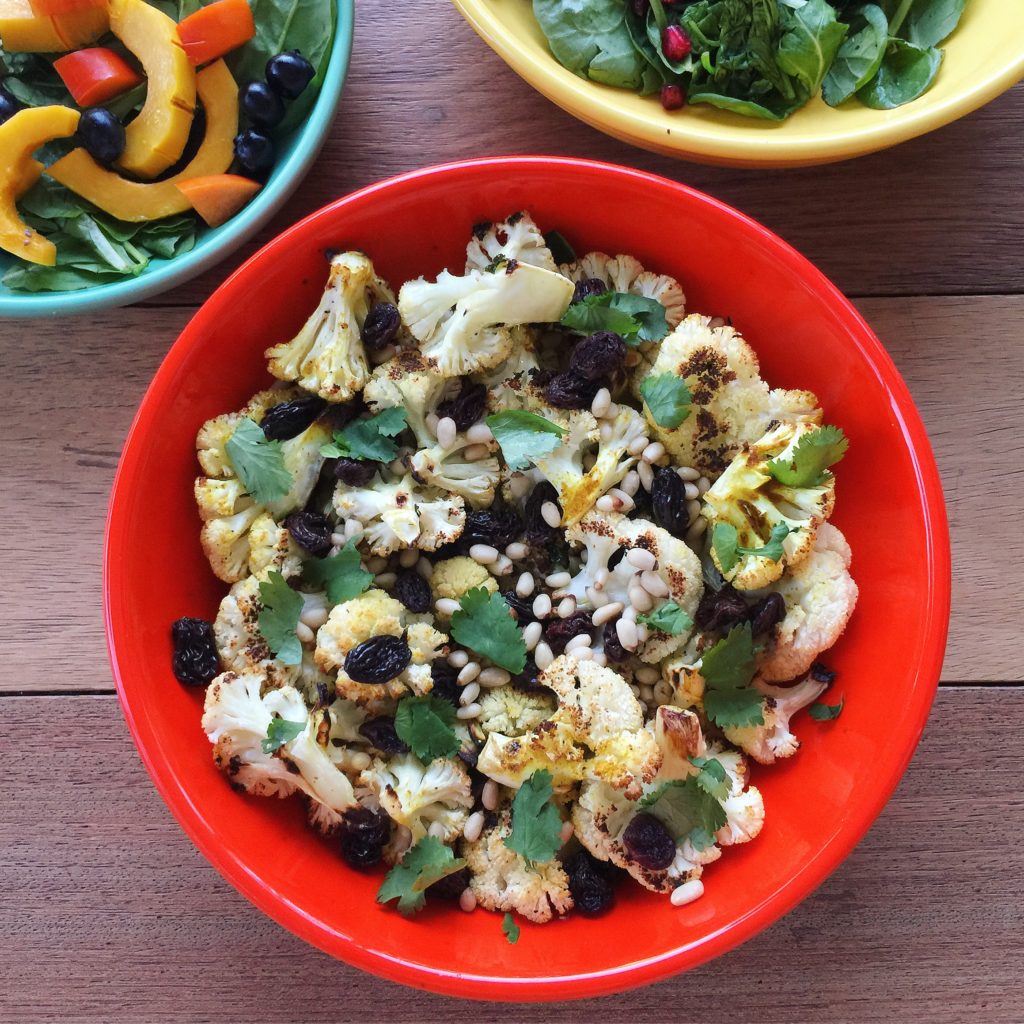 ---
Ingredients: 4 Servings
1/4 cup Raisins
3 Tbsp Olive Oil
4 cloves Garlic, roughly chopped
1/2 tsp curry powder
1/4 tsp Sea Salt
1/8 tsp Black Pepper
1 Tbsp Fresh Cilantro, plus more for garnish, chopped
1 large head Cauliflower (about 2 lbs), cut into florets
1 1/2 Tbsp Pine Nuts
---
Directions: Preheat Oven to 450*
Bring an inch of water to boil in a small pot, add the raisins and turn off the heat to allow raisins to soak and plump up.
In a large bowl whisk the olive oil, garlic, curry powder, salt, pepper and tablespoon of cilantro. Add the cauliflower to the bowl and toss to evenly coat it with oil. Spread the florets on a parchment lined baking sheet. Roast for 15 minutes, turn once, and return to oven. Remove cauliflower when tender-crisp and browned, about 10 minutes more, and transfer to a serving bowl.
Place the pine nuts on the hot baking sheet and toast them in the oven for 2 minutes. Be sure to remove them promptly as they burn easily. Drain raisins in a colander and sprinkle over the cauliflower. Add in the pine nuts and remaining tablespoon of cilantro. Toss, taste and finish with a little more salt & pepper if needed.
Notes:
This recipe can travel or be made ahead with some minor adjustments. Remove the cauliflower from oven after 15 minutes and add the soaked raisins. The cauliflower will steam a bit as it cools. Before serving stick in a 450* oven for 5 minutes or until heated through and crisp-tender. Add pine nuts and remaining cilantro before serving.
If you can get your hands on a purple cauliflower, use it along with golden raisins in this recipe for a beautifully colorful dish.
This recipe can be multiplied, just make sure to keep the florets in a single layer when roasting.