This luscious Almond Butter Mousse Pie is made with simple ingredients and is the perfect way to showcase fresh fall fruit. The base is a delicious savory crust flavored with sesame seeds and fragrant rosemary. The rich and creamy filling is made with almond butter, coconut cream, maple syrup and a touch of plain yogurt to balance the sweetness. It's all topped off with your favorite seasonal fruit. I've made it using plums, figs, and persimmons  and each was wonderful.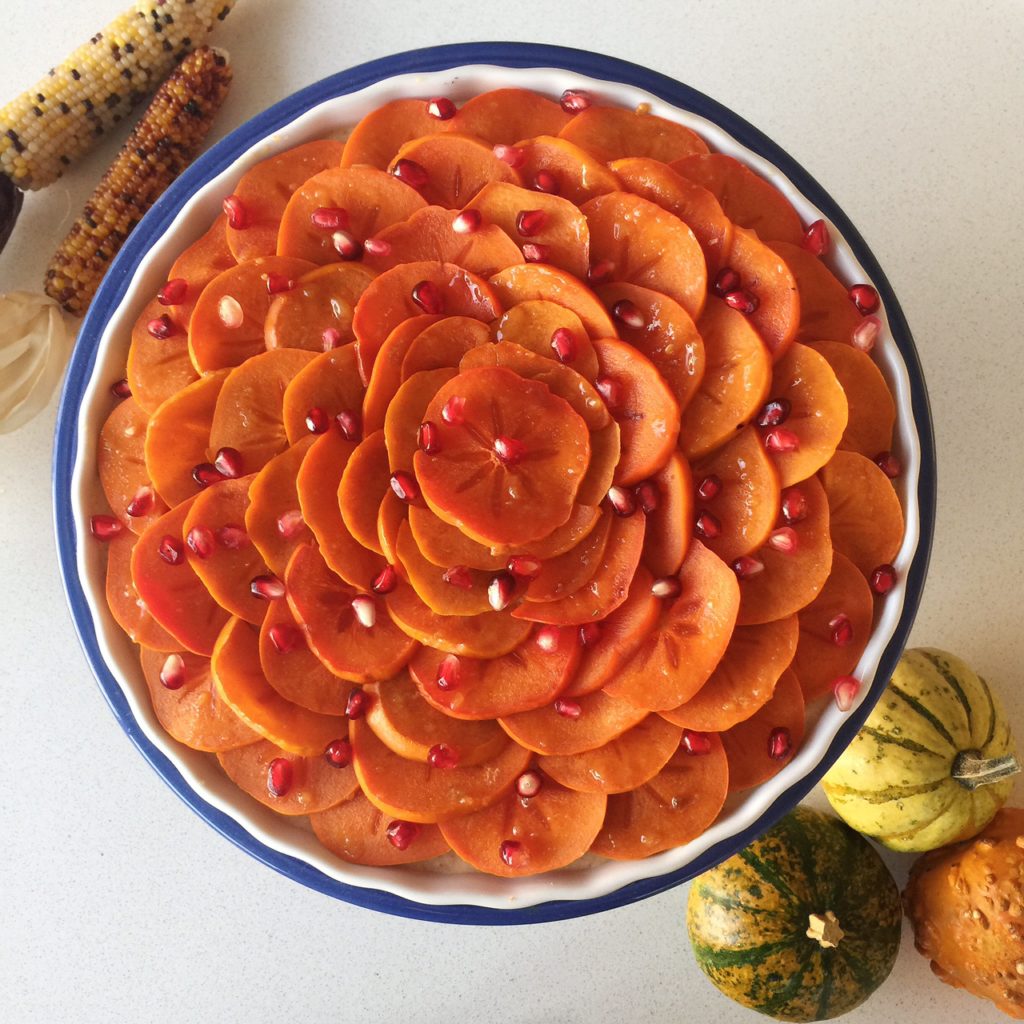 This recipe is perfect…
for Thanksgiving or any dinner party. You can bake the crust and make the mousse ahead of time and assemble it on the day.
 to feed a crowd. The filling is very rich and satisfying so a small slice per person will do.
when you want a decadent tasting dessert, but want to use wholesome  ingredients that also happen to be vegan.
When you want to serve a dessert that is as beautiful as it is delicious.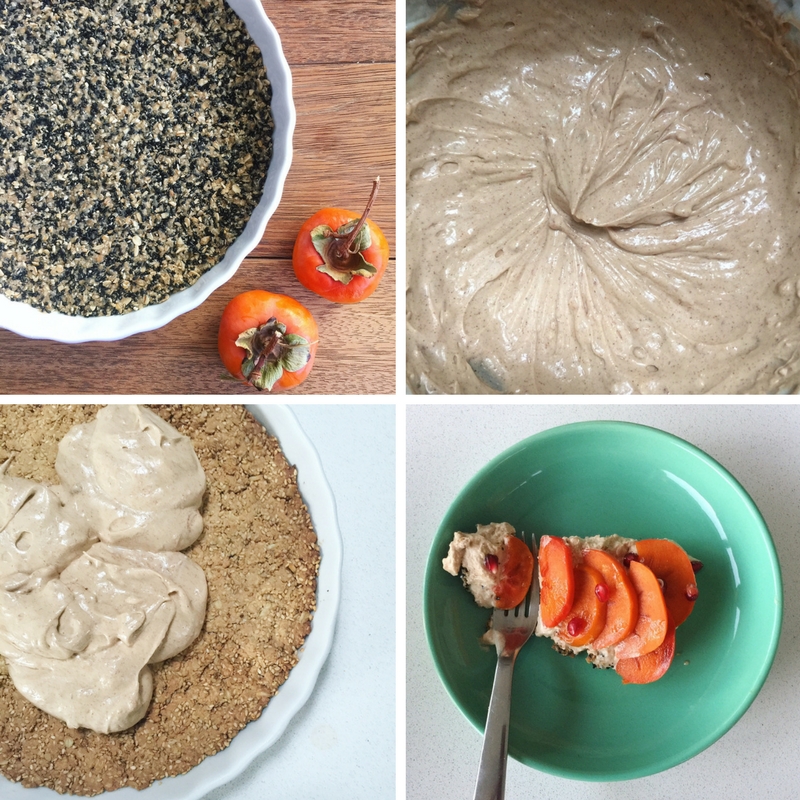 Nutritional Highlights:
Any raw fruit you choose will be rich in vitamins, minerals and healthy enzymes.
Almonds contain monounsaturated fatty acids (the same kind of beneficial fat found in olive oil) and antioxidants that support heart health and prevent factors of cardiovascular disease.
 The fat content of coconut milk can help slow the rate at which sugar is released into the bloodstream, better controlling insulin levels and preventing a "sugar high". This is one reason why coconut milk is especially good to add to sweetened recipes like desserts.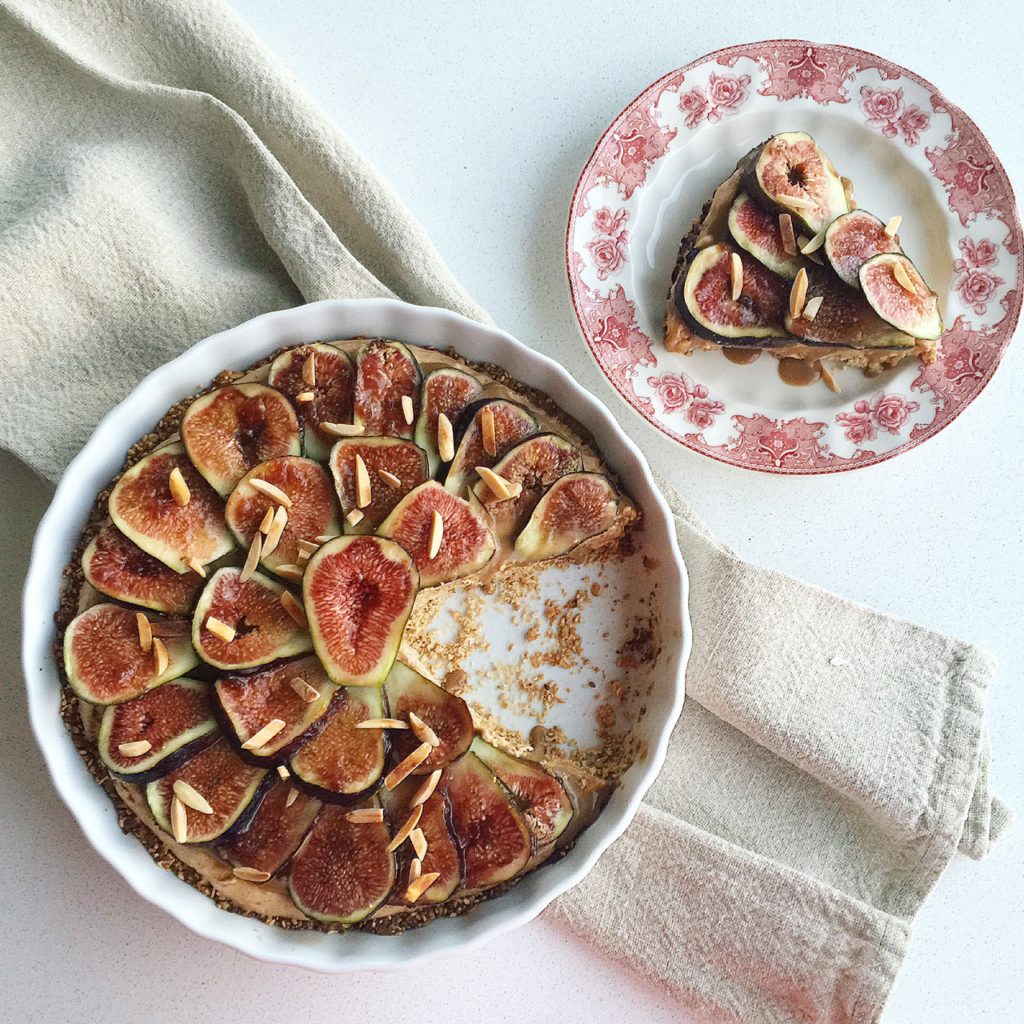 I hope you enjoy this pie as much as we do! xJacq
---
Ingredients: 8-12 servings
Crust:
3/4 cup Rolled Oats
1/2 cup Whole Wheat Pastry Flour
1/2 cup Toasted White or Black Sesame Seeds
1/4 tsp Sea Salt
1 1/2 tsp fresh Rosemary or 3/4 tsp dried, finely chopped
1/4 cup melted Coconut Oil
2 Tbsp warm water
1 Tbsp Maple Syrup
Filling:
2 cans full fat Coconut Milk
1 cup unsalted Almond or Peanut Butter
1/4 cup Maple Syrup or more to taste
1/2 tsp Vanilla Extract
1/2 tsp Sea Salt
5.3 oz (150g) Plain Almond, Soy or Coconut Milk Yogurt
Topping:
1 1/2 lbs your choice of Fruit
1 Tbsp Fruit Jam or Preserves
2 Tbsp Toasted Almond Slivers or Pomegranate Seeds
---
Directions
Crust: Preheat oven to 350*
Process oats in a food processor or blender to create a coarse flour. Mix together oats, pastry flour, sesame seeds, salt and rosemary. Add oil, water and maple syrup and mix with a fork to combine. The mixture should look crumbly, but hold together when you squeeze a ball of it in your hand. If it is too dry, add more water 1 tsp at a time.
Oil a 9-inch pie or tart pan with coconut oil. With wet fingers press mixture into the pan to create an even layer. Bake 20-25 minutes until golden. Allow to cool completely.
Filling:
Chill your coconut milk overnight in the fridge or for an hour in the freezer. Without shaking or tipping, remove the lid and scoop out the solid cream from the top into a chilled mixing bowl. Refrigerate the remaining liquid to use later in smoothies.
Using a mixer, beat the coconut cream until light and fluffy, about 1 minute. Add in the nut butter 1/2 cup at a time and continue beating to incorporate. Add the maple syrup, vanilla and yogurt and beat again. Taste and add more maple syrup if desired.
Spread evenly onto cooled crust and place in the freezer while preparing your fruit.
Topping: 
Slice fruit into 1/4 inch thick slices. Remove pie from freezer and arrange fruit in overlapping concentric circles starting around the outside edge and working towards the middle. Brush the fruit with a thin coating of jam. I like to use the same flavor as the fruit I'm using, for example fig jam on figs, but apricot jam works well with any fruit also.
Top with Toasted Almond Slivers or Pomegranate Seeds. Serve immediately or refrigerate until ready to eat.
Notes:
You can make the crust and the mousse a day ahead of time. The crust can be left out, covered with a towel. Refrigerate the mousse in a covered container until just before assembling the tart.
While almond butter is nutritious and has a great earthy flavor, it can also be very expensive. Peanut butter is a great alternative. Look for nut butters with just one ingredient- nuts.
  Because the fruit is raw, this pie is best when eaten fresh, but it will keep for a couple of days covered in the fridge.