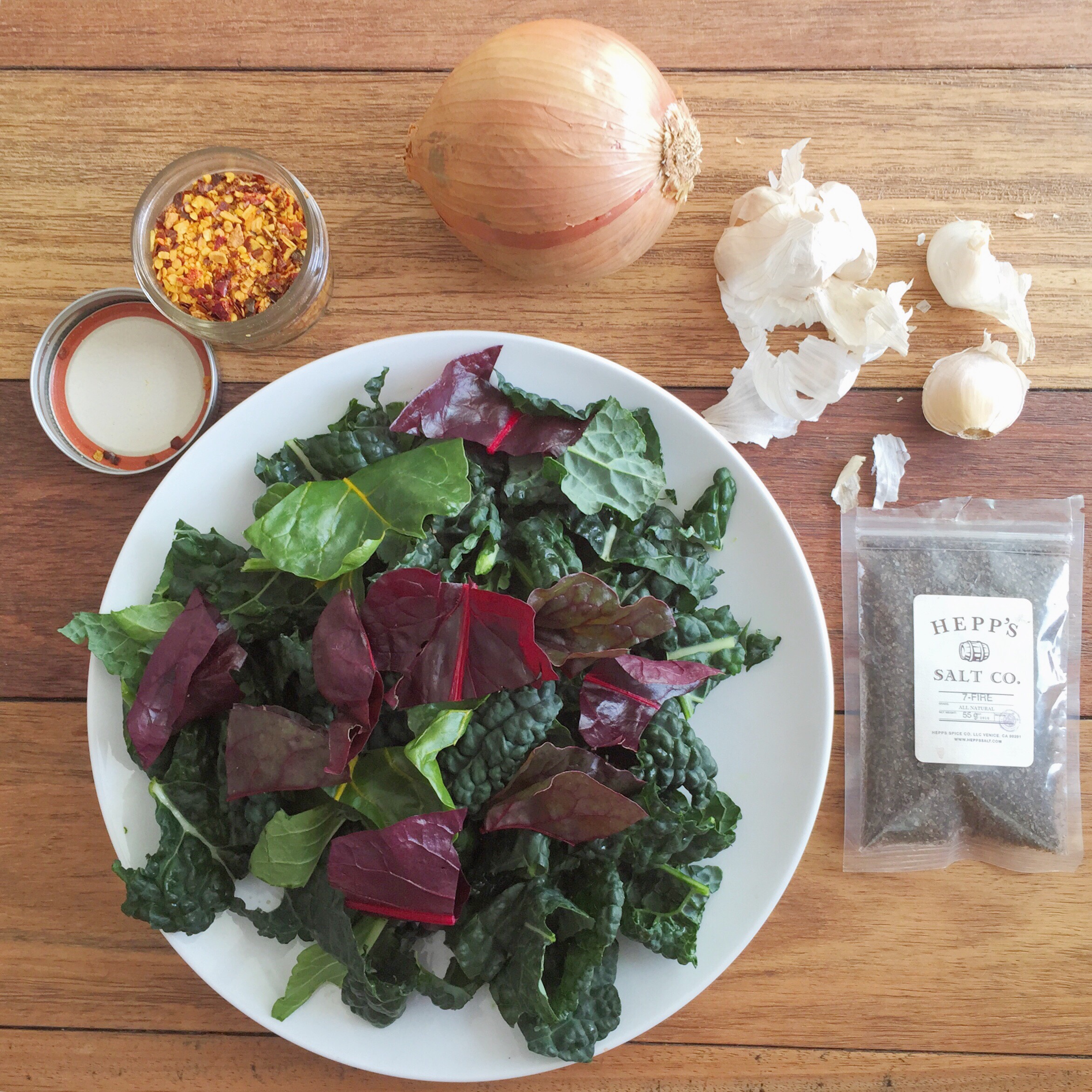 Sautéed greens with smoked salt are my new favorite thing to eat at the moment! Smoked salt adds amazing depth to the flavor to any vegetable dish. My absolute favorite is called "7-fire" from  Hepp's Salt Co., available at farmer's markets around Los Angeles and online, but you can also find smoked salt at Whole Foods, Walmart and most gourmet markets. You could also make some next time you BBQ. The greens are very tasty on their own, but even better with this warm cherry tomato vinaigrette and crunchy Marcona almonds. This makes a delicious and nutritious side or a light meal. You can also serve it over quinoa or brown rice to make it a hearty bowl.
Ingredients:  serves 2 as side 1 as a main dish
For the Vinaigrette:
1 cup Cherry Tomatoes, halved
1/2 Shallot, chopped
1 cloves Garlic
1 sprig Thyme
Salt & Pepper
Olive Oil
Red Wine Vinegar
For the Greens:
1 bunch Kale or Swiss Chard
1 cup packed Baby Spinach
1 Tbsp Olive or Coconut Oil
1/4 Onion, thinly sliced
2 Garlic cloves, chopped
Organic Vegetable Broth
Chili Flakes
Smoked Salt
Top with:
1/4 cup Marcona Almonds
Micro Greens and/or chopped Chives
Vinaigrette: Sauté the shallot in 1.5 Tbsp olive oil over medium heat for 2 minutes then add garlic and cook 2 minutes more. Add tomatoes and thyme leaves. Turn heat to Low and simmer until tomatoes begin releasing their juices but still hold shape, about 6 minutes more. Start on the greens in the meantime. When tomatoes start to wrinkle mash 4-5 tomatoes in the pan with a fork to release juices and stir in a splash of red wine vinegar and a sprinkle of Kosher salt and black pepper and remove from heat.
Greens: Chop up the greens keeping the stems and leaves separate. Heat the oil in a sauté pan over medium heat.  Add the stems and onion and sauté for about 6 minutes until the stems start to soften and the onion begins to brown then add the garlic, a splash of veggie broth, the chopped leaves, and a pinch of chili flakes. When the greens cook down, after about 5 minutes, add the baby spinach and toss until it wilts. Finish with a generous pinch of smoked salt and black pepper and toss again.
Serve: Pile greens on a plate and sprinkle with the almonds. Add the tomatoes on top and garnish with micro greens or chopped chives. Enjoy! xJacq