REAL FOOD FAST is a new series consisting of super fast, healthy, plant-based recipe ideas that take around 5 minutes to make. People often make excuses about being too busy to eat right, but there are lots of healthy meals and snacks you can make in less time than it would take to hit a drive through. These are my go-tos for a quick meal on the run.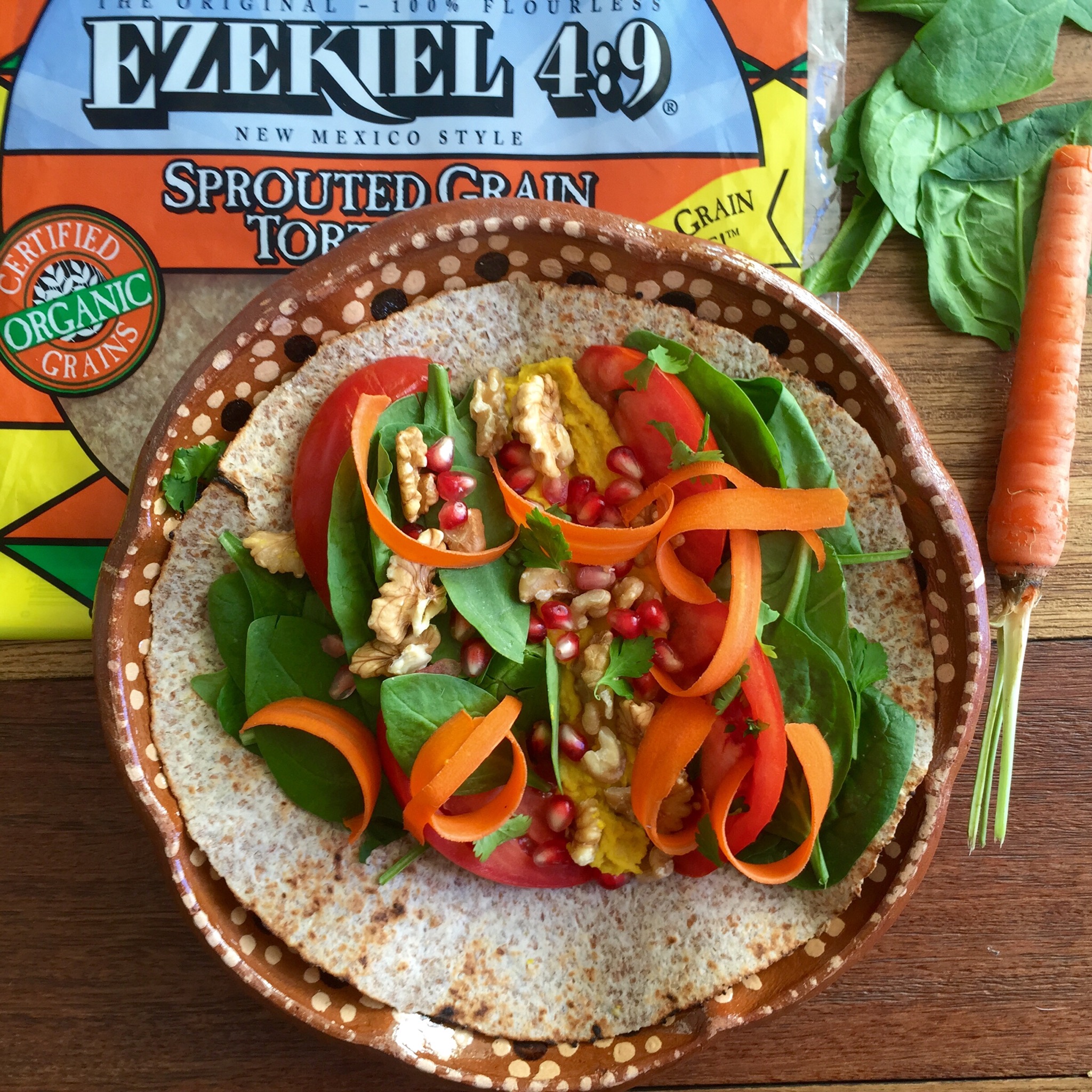 Ezekiel Bread Hummus Wrap– What you'll need:
1. Ezekiel Bread or other whole grain or gluten free tortillas – I love Ezekiel sprouted whole grain tortillas because they are preservative free, organic, and since they are made with a variety of grains and legumes they are actually a complete protein! You can find them at Whole Foods or Trader Joe's.
2. Hummus- today I used lemon, but any flavor you like will work. Since hummus is so rich in protein and fiber, it fights off hunger and can balance blood sugar levels. Try my Artichoke Hummus  or my Canellini Bean Hummus  recipes.
3. Veggies- I like to start with a leafy green like spinach or kale, then add lots of sliced veggies that I have in the fridge. Radish, celery, broccoli, carrots, tomatoes, fennel, zucchini and cauliflower are some of my favorites. Anything you like to eat raw is a good choice.
4. Nuts or Seeds- for crunch, minerals and healthy fats. Walnuts are my favorite because they have a really meaty flavor and texture, but I also love, almonds, pecans, pepitas and sunflower seeds.
5. Something sweet, today I used pomegranate seeds, but berries, raisins, dried cranberries or apple slices and persimmon are all delicious.
I like to finish with a squeeze of lemon or a dash of vinegar and a sprinkle of salt & pepper. If you're in the mood for spicy you can add your favorite hot sauce. It takes about a minute to throw together, is super flavorful and keeps you full and energized for hours!