This is my favorite fall salad! It's so scrumptious and full of vitamins, minerals, and antioxidants. The lettuce has a delicate, mildly sweet flavor that works beautifully with the sweet/tart flavor of the persimmon and dried cherries. The green beans add substance and the pistachios and shallot add a ton of flavor and crunch. It's so good that I've decided to add it to my Thanksgiving menu this year. The great thing about making this for a holiday or dinner party is you can make the persimmon pickles and cook the green beans a couple of days ahead of time, making it really easy to put together on the big day.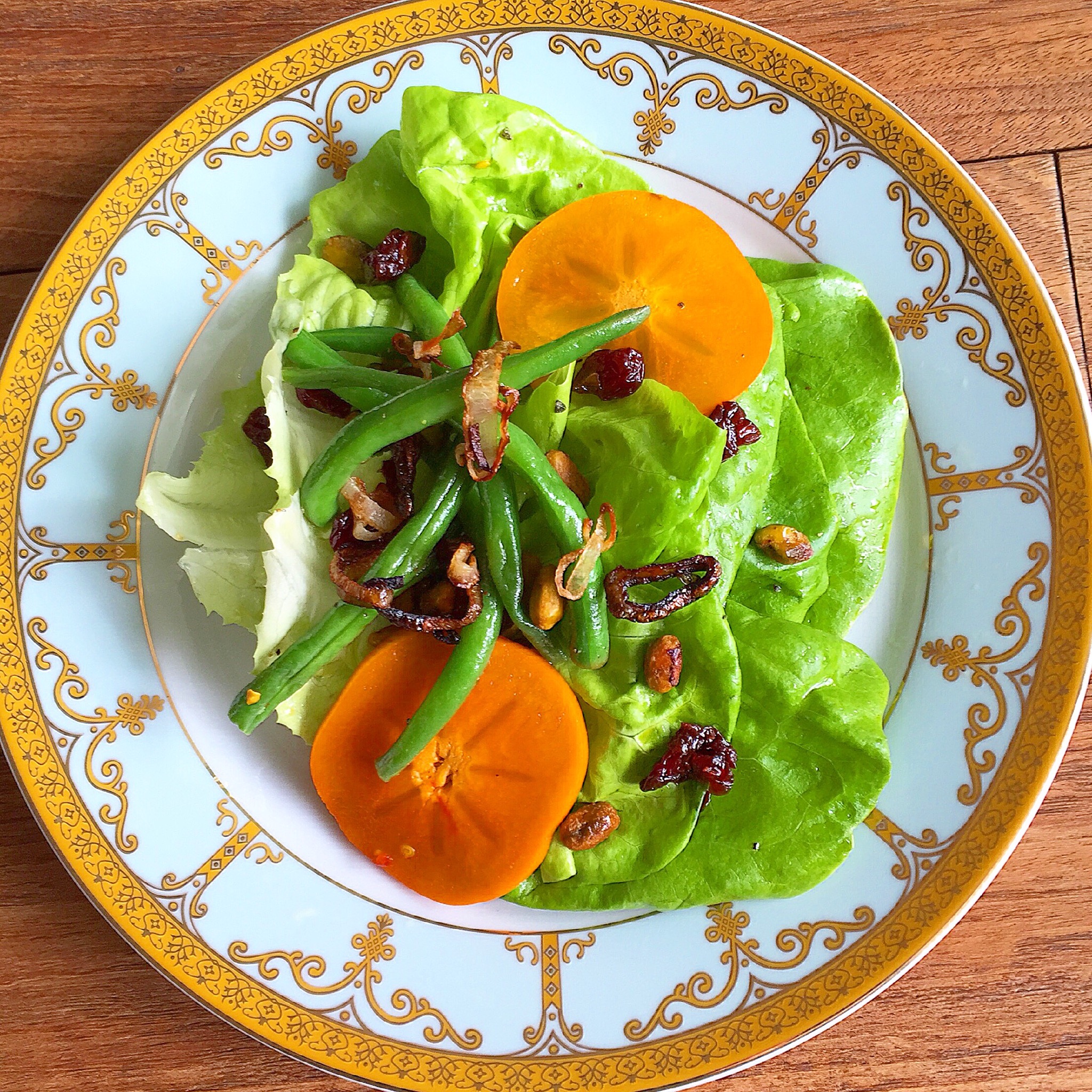 Ingredients: Serves 4

 Green Beans: 

 1/2 lb Green Beans, trimmed
 1 tsp salt
 
 Shallot:

 3-4 Tbsp Olive Oil
 1 Shallot, thinly sliced, separated into rings
 
 Salad:

 1 head Butter or Green Leaf Lettuce
 1/4 cup Pistachios
 1/4 cup Dried Cherries
 8 slices Ginger-Chili Pickled Persimmon
 Sea Salt & Black Pepper

 Dressing:

 3 Tbsp Vinegar from the Pickles
 1/4 cup + 2 Tbsp Olive Oil
 Juice of 1/2 Orange
 Pinch of Herb d' Provence
 1 tsp coarse ground Mustard
Green Beans:
Add a tsp of salt to a pot of water, bring to a boil and add green beans. Cook for 2 minutes exactly then drain in a colander and rinse with cool water.
Shallot:
Heat a thin layer of oil in a small frying pan over medium. Add shallot rings and fry until browned, about 2 minutes. Remove with a fork and set on a plate covered with a paper towel in a single layer to drain and crisp up. (You can use the leftover oil to sauté greens or drizzle on top of veggies or meat.)
Dressing:
Measure 3 Tbsp of vinegar from the persimmon pickle jar into a bowel. (I used a strainer to keep out the chili flakes.) Add the olive oil, orange juice and pinch of herb d' Provence.
Salad:
In a large bowel toss the lettuce with half the dressing and a pinch of salt & pepper. Add mustard to the remaining dressing, whisk and toss with green beans in a separate bowl.
Layer the lettuce leaves on a platter, arrange green beans and persimmon on top, sprinkle with pistachios, cherries and fried shallot rings. Enjoy! 🙂