This recipe was inspired by a dish I had years ago on vacation at a wonderful but now defunct restaurant on Martha's Vineyard called Bittersweet. This is my favorite starter ever! I even had the catering company serve it at my wedding.  You can also try it for lunch on a slice of toasted bread using the purée as a spread for a delicious open-faced sandwich.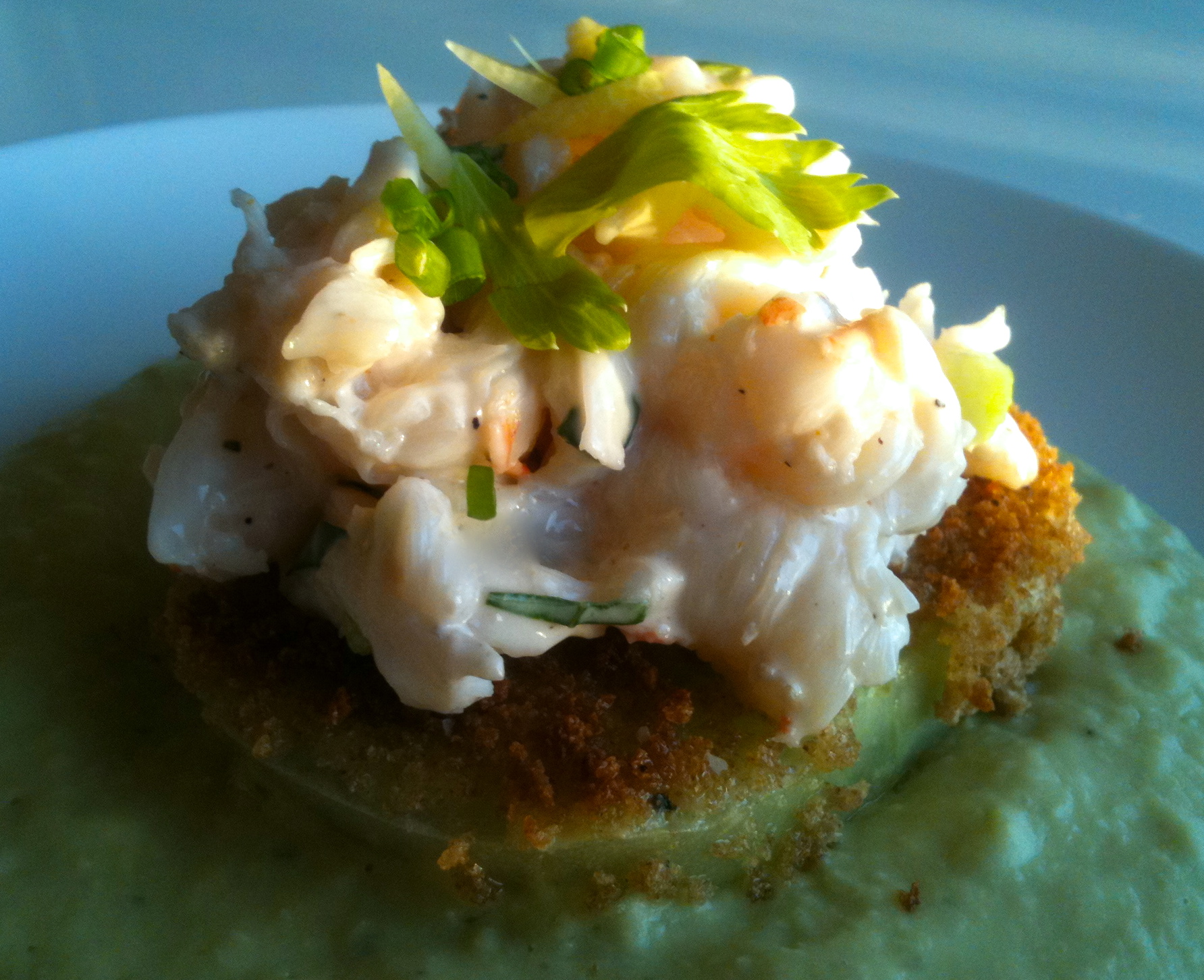 Serves 4
Lobster Salad
1 1/2 cups boiled, shelled lobster meat cut into chunks
1 Tbsp each vegan Mayonnaise and Coconut Yogurt
2 Tbsp finely diced Celery
1 tsp each finely chopped tender Celery Leaves, fresh Chives, and fresh Tarragon
Dash of Heinz Ketchup or Sriracha
Pinch of Salt and Black Pepper
Lemon Zest for garnish
Mix all ingredients except lemon zest in a bowl and chill.
Lima Bean Puree
1 cup cooked Lima Beans
1/4 cup good Olive Oil
1 clove Garlic
3-5 chopped Basil leaves
3 Tbsp Vegetable Broth
Salt if necessary to taste
Puree in a food processor until smooth. If too thick add a bit more broth. If using a blender you may have to double recipe for purée to work.
Fried Green Tomato
1 large Green Tomato
1 Egg or 3 Tbsp Aquafaba, beaten
Panko Bread Crumbs (whole wheat or gluten-free)
Olive Oil
Flour
Salt and Black Pepper
Heat enough olive oil to coat the bottom of a frying pan over medium. Slice 4 half-inch thick tomato rounds. Place a mound of flour on one small plate and a mound of bread crumbs on another. Dip slices into flour, dust off excess, dip in egg or aquafaba, then bread crumbs. Pan-fry till golden brown on both sides. Place on paper towels to drain and sprinkle 1 side with a bit of salt and pepper.
To Assemble
Place a heaping tablespoon of lima bean purée on the center of a small plate. Place one fried tomato slice in the middle and top with 1/4 of the lobster salad. Garnish with a bit of lemon zest, tender celery leaves and chives. Bon appetit! xJacq