Spring  is in the air which means it's time for gorgeous fresh strawberries! Make the most of these sweet beauties with this refreshing pudding. Mint can help aid digestion making this a great light dessert, but it's also wonderful in the morning as a breakfast pudding. It's a thick and creamy change of pace from your typical breakfast smoothie.  Mint is also full of potent antioxidants and a natural stimulant, even the smell is uplifting! So this nutritious whole food pudding will put a smile on your face and a pep in your step.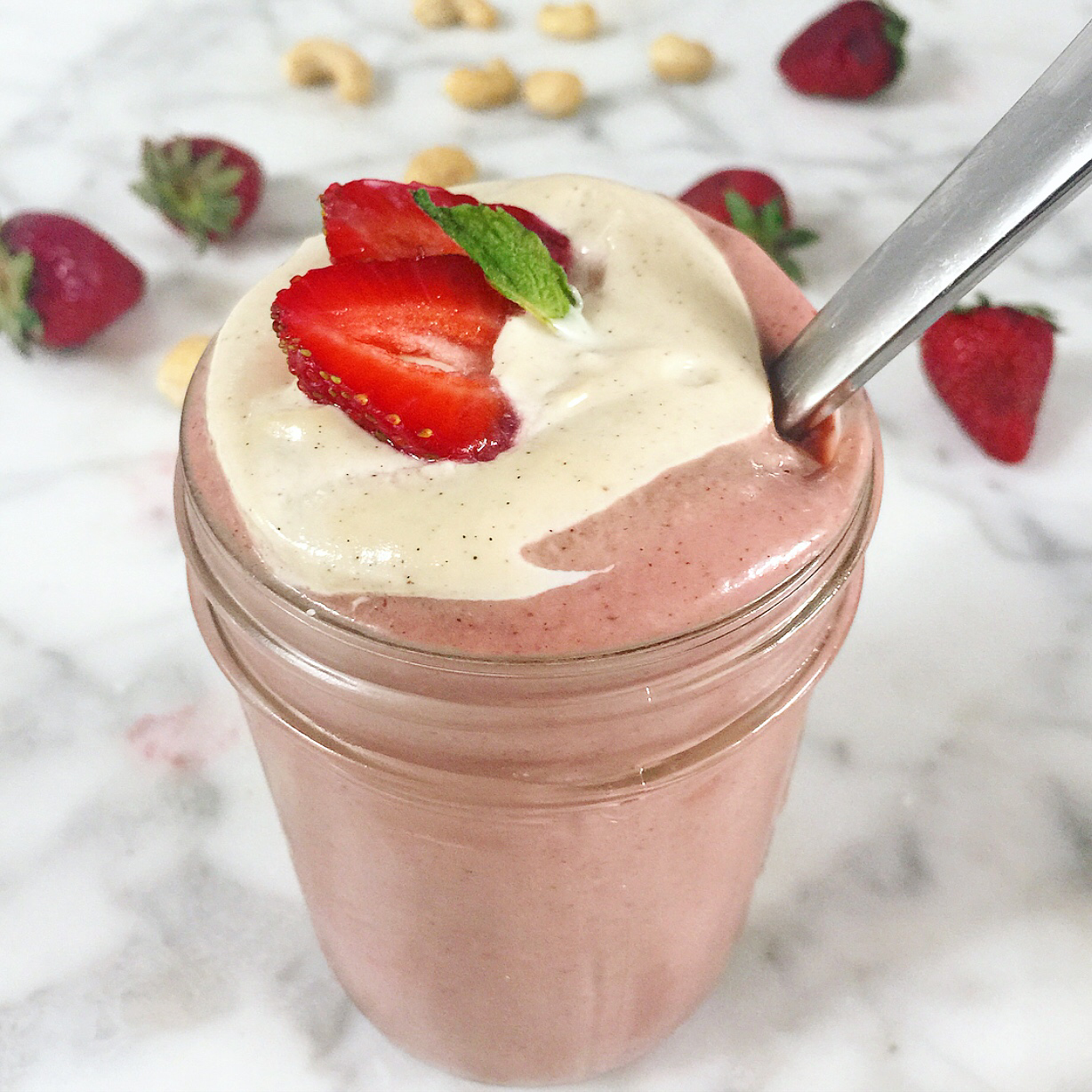 This recipe makes more vanilla cream than you'll need for your pudding, but you have to make that much to get the blades of your blender to turn. Good thing it's so rich and delicious that you'll be happy to have leftovers! You can use it as a topping on oatmeal, desserts or in smoothies later in the week. Enjoy! xJacq
Ingredients: 1-2 servings

Pudding:

1/2 large or 1 small Avocado
1 cup Strawberries, sliced
1 Medjool Date, pitted
1 1/2 tsp Fresh Ginger, chopped
1/4 cup Fresh Mint, lightly packed
1/4 cup Orange Juice
1/4 cup Raw Cashews, preferably soaked 2-4 hours and drained
1 Tbsp Maple Syrup
6 ice cubes

Vanilla Cream:

1 cup Raw Cashews, preferably soaked 2-4 hours and drained
1/2 Vanilla Bean, end trimmed, or 1 tsp vanilla extract 
1 Tbsp Maple Syrup
1/4 cup Water
tiny pinch Sea Salt
Pudding:
Blend the first 7 ingredients in a high-speed blender until smooth. Add the ice cubes and blend again. Pour into 1-2 small glasses
Vanilla Cream:
Blend all of the ingredients together until smooth, scraping down the sides as needed. If the mixture is too thick add more water as needed for a thinner consistency.
Serve: 
Top the pudding with 1 Tbsp of Vanilla Cashew Cream. Garnish with a fresh mint leaf and a sliver of strawberry. Refrigerate leftover vanilla cream to use later as a topping or in smoothies.