This is a delicious fall treat to serve for breakfast or dessert. It has all the sweet and spicy flavor of carrot cake but is made with wholesome superfood ingredients. Chia are packed with omega-3 oils, fiber and protein, the spices are anti-inflammatory and aid digestion, and the carrot is high in beta-carotene so it's the perfect way to start your day or finish your meal. I use a julienne peeler to make the carrot toppings which makes it really easy. It's the perfect thing to throw together before bed so you wake up and have breakfast sorted, just add your toppings and go. My favorite chia seeds to use are the organic white chia from Nutiva. The white seeds just look a little nicer in this pudding, but black ones work too.
If serving it for dessert candied walnuts are great on top for a little extra sweetness. Another nice touch for dessert is to top it off with a dollop of cashew sour cream mixed with maple syrup which gives it that cream-cheese frosting flavor. The pudding keeps 3-5 in the fridge, but may dry out a bit so add a splash of almond milk or coconut water if needed to thin it out. Enjoy! xJacq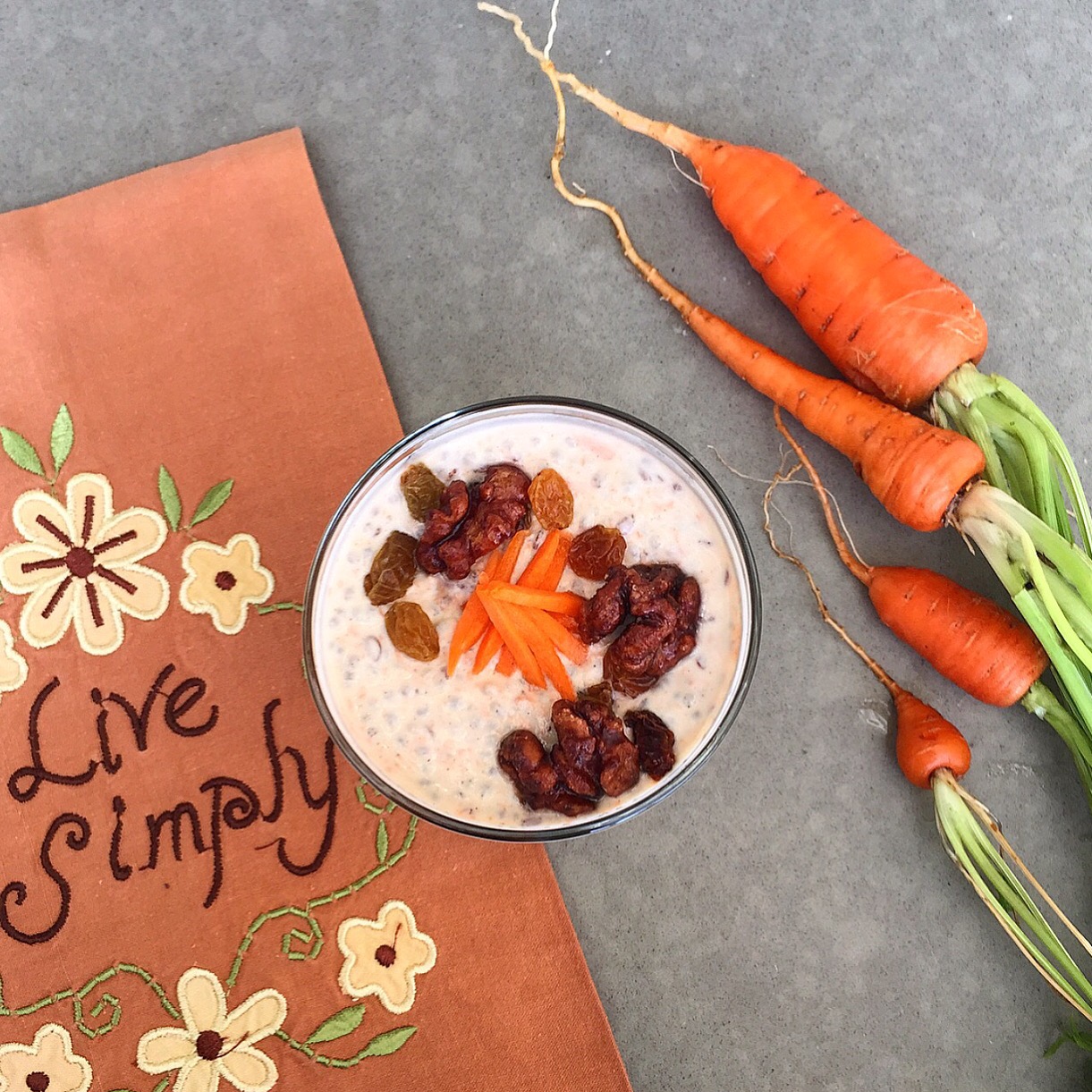 Ingredients: for 1 breakfast or 2 small desserts

Blend:
1/4 cup raw Cashews,preferably soaked 2-4 hrs in warm water rinsed & drained
3/4 cup water
1-inch chunk of carrot or 1 Tbsp grated
1 tsp Vanilla Extract
1/8 tsp Cinnamon
pinch of Nutmeg & Ground Ginger
a few grains of Ground Clove
1-2 Medjool Dates

Stir In:
2 1/2 Tbsp Chia
1 Tbsp grated carrot, packed
2 Tbsp golden raisins (a small handful) 

Toppings:
Golden Raisins, Walnuts and Shredded Carrot
Blend the first 8 ingredients until smooth, about 1 minute in a high-speed blender or 5 minutes in a regular blender. Pour into a cup and whisk in grated carrot and chia seeds with a fork. Stir in raisins. Refrigerate for a minimum of 2 hours to allow the pudding to thicken and the chia to soften. Stir before serving and top with walnuts, raisins and shredded carrot.